The Only Choices For Who Should Host The 2022 Oscars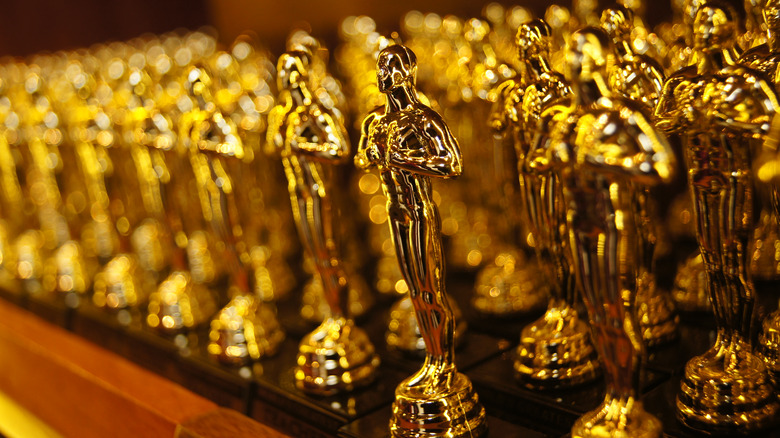 Faheem Salimullah/Shutterstock
Our long national nightmare is over — the 2022 Oscars will have a host. After three years of no one taking the stage to corral Hollywood's biggest night, the Academy of Motion Picture Arts and Sciences has decided the Old Ways were the best ways. There will be someone around to do an opening monologue. Someone around to crack jokes between awards. Someone around to absorb the pain and punishment dealt out by live-tweeters. In these unprecedented times, we're glad that this, the most pressing of problems, has been addressed.
But who will take on the thankless task of hosting the 2022 Oscars? The /Film staff hunkered down, put on their thinking caps, and devised an entirely serious and not-at-all silly list of who is capable of taking on the gig. We hope you're reading, Oscar producers. 
The Throat Singer From Dune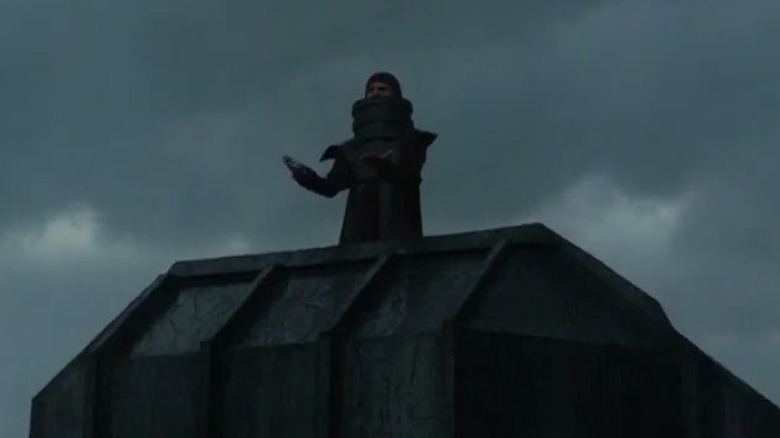 Warner Bros.
Picture this: It's Oscar night. A crowd of glitzy celebs, some of whom are wearing masks, sits in the audience, muttering excitedly. Then the orchestra rises up. The curtain parts. And out onto the stage comes ... the throat singing dude from "Dune." Yes, that's right, out strolls a bald, pale fellow all in black, ready to unleash four straight hours of Sardaukar Chanting onto the audience. Perhaps a sooty, filthy rain will begin to fall in the auditorium, who knows. One thing is for sure: the audience of stars won't be able to get enough of it. No awards will even be given out – the entire night will be devoted to those Sardaukar chants. (Chris Evangelista)
Jared Leto In-Character as Paolo Gucci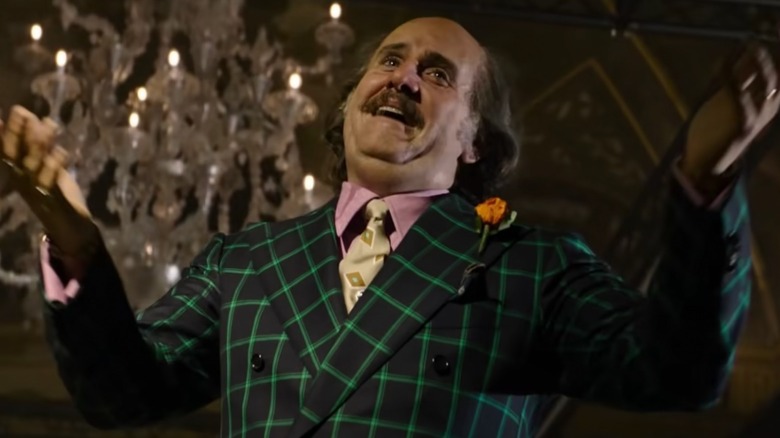 MGM
Jared Leto is an infamous method actor. His on-and-off-set antics have become the stuff of Hollywood legend, because the guy apparently really devotes himself to his roles. What better chance for him to show off his method acting chops than by hosting the Academy Awards ceremony in-character as Paolo Gucci from Ridley Scott's "House of Gucci"? Trapped beneath his heavy prosthetic makeup, the stage lights threatening to melt his facade away, can Leto hold it together and correctly announce Best Picture? Or is this going to be like "Moonlight" all over again? Just imagine Leto's Spaghettio's-inspired "Italian" accent reading off the lists of nominees. It would be as if Mario escaped the Mushroom Kingdom just to host an awards show for the night. I guess if Leto can't do it, they could always get Chris Pratt. (Danielle Ryan)
Gabriel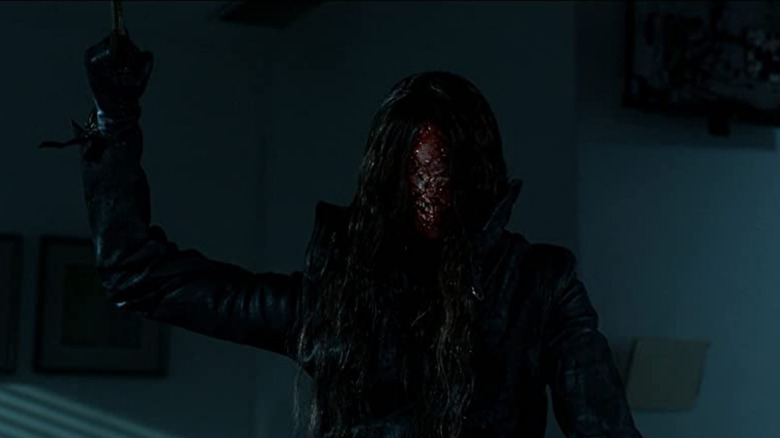 Warner Bros.
Director James Wan returned to the horror genre in 2021 with the celebrated "Malignant." The film's star, Gabriel, would make for the perfect Oscars host, he represents everything we love about cinema, all in one neat, flexible package. A genre beloved by moviegoers, inventive special effects, cool-looking knives, and a stylish jacket. Plus, it would be a way to shine a bit of light on a film that was perhaps a little underseen in a challenging year for the industry. In that way, Gabriel's inclusion as the show's host would also be a respectful nod to the notion that cinema, in its truest forms, will never die. (Ryan Scott)
The Green Knight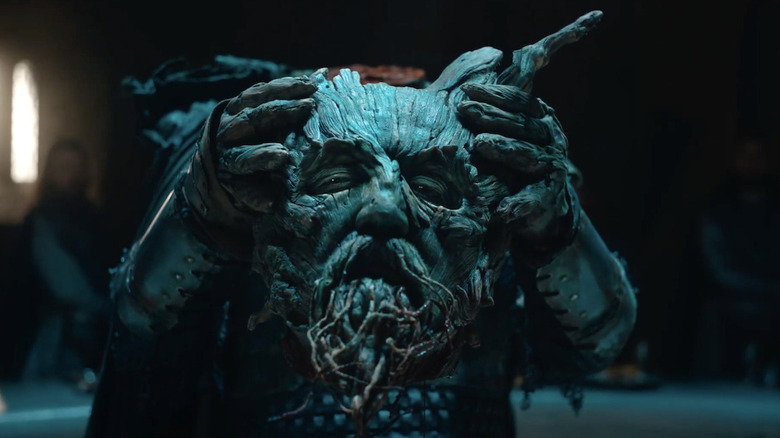 A24
I admit the Green Knight is an unconventional choice for an Oscar host. But the guy certainly knows how to make an entrance, and as all Oscar fans know, it's crucial that the show starts with a bang. He also has the type of stage presence and take-charge energy that can wrangle a room that's gotten a little out of control. I mean, this dude had King Friggin' Arthur eating out of the palm of his hand. But the biggest selling point, of course, is that the Oscars would be setting themselves up for an even bigger ceremony in 2023. Why? Because, in keeping with the Green Knight's whole "thing," he gets to come back a year later and take the Oscars from everyone who accepts one. (Watch your back, Cumberbatch!) Hollywood loves a sequel, and putting this ancient tree-man on stage pretty much guarantees people will tune in for a follow-up. (Ben Pearson)
The Sex Car From Titane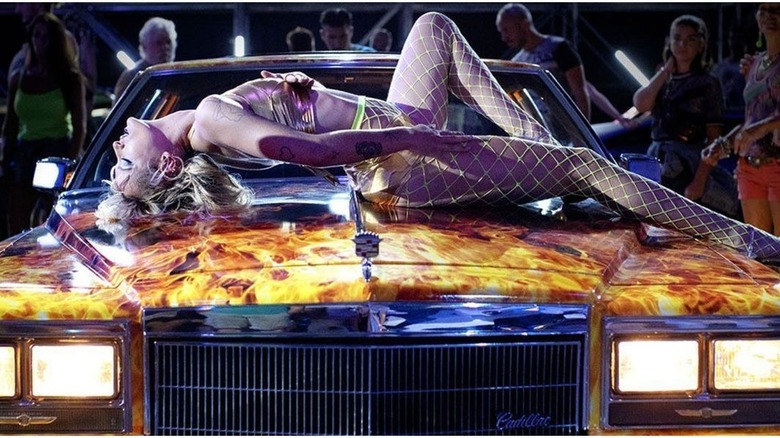 Neon
We know that the Oscars are notorious for awarding actors with statues for performances in years they may not necessarily have deserved it as a means to make up for the years where they were snubbed in favor of someone else who was receiving an award during a year they may not have deserved it. When the Oscars shortlist was announced, Julia Ducournau's "Titane" was not on it. The second woman in history to win the prestigious Palme d'Or and the first woman to win the Palme d'Or single-handedly, the lack of "Titane" is an Oscar snub of the highest caliber, and the only way to remedy the situation is by letting the star of the film host the ceremony, the sexy lady Cadillac that impregnates Agathe Rousselle's character Alexia. The "Titane" star will bring the sex appeal needed to draw in new audiences, and there's no possibility of an offensive joke or incorrect announcement if the host can only communicate by flashing lights and honking horns. (BJ Colangelo)
The Pig From Pig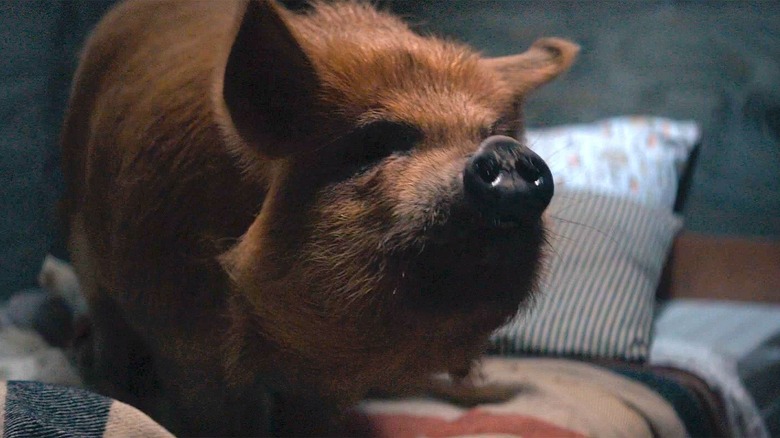 A24
If there's one thing an Oscar host needs, it's star quality. A certain charisma; a certain charm. The host has to roll with the punches, think on their feet, and leave the audience laughing. And who better to do that than Brandy, the small domestic pig from New Zealand who starred in the Nicolas Cage film "Pig"? Her tufts of hair perfectly quaffed, a string of pearls around her porcine neck, Brandy would have the audience enraptured as she grunted and squealed her way through the ceremony, ending the show by foraging for some truffles beneath Ed Harris' chair, perhaps. (Chris Evangelista)
That Hot Twi'lek From the Boba Fett Show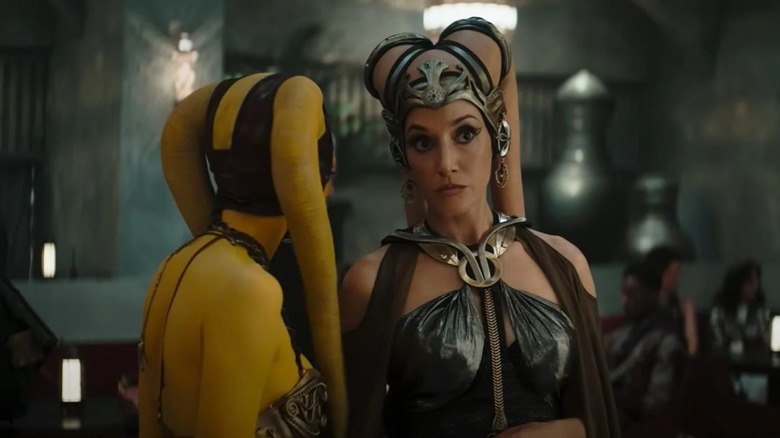 Lucasfilm
You know what the Oscars ceremony really needs? Some interstellar sex appeal. Enter Garsa Fwip, the smoking-hot Twi'lek madam from "The Book of Boba Fett." Earthlings may know her better as actress Jennifer Beals, but this lekki'd looker is the perfect choice to host the Academy Awards. She has a team of scantily clad Twi-leks to carry trophies and award envelopes at the ready, and she could probably borrow a few of those dummy thicc Gamorreans from Fett for security, too. Besides, Garsa is probably pretty used to handling entitled rich folks who have had a few too many drinks, so she's not going to have any problems keeping things on time. Now if we can just get Max Rebo and the Jizzwailers to replace the house orchestra... (Danielle Ryan)
Bronco Henry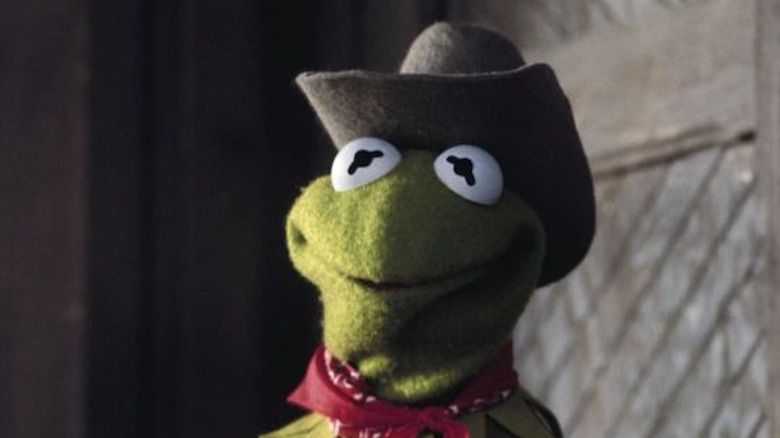 Disney
"The Power of the Dog," released by Netflix and directed by Jane Campion, may well be the movie to beat for Best Picture. So why not have one of the most influential figures from that film host Hollwyood's big night? No, we assume Benedict Cumberbatch will be too busy to do so. However, Bronco Henry is the way to go. The mysterious rancher who we never actually get to see on screen in the powerful film would make the perfect host, as the world at large would finally get to meet this clearly wonderful cowboy for the first time. In a night full of big reveals, why not have the host, in itself, be a big reveal? Who is this Bronco Henry fella? We want to know! (Ryan Scott)
Baby Annette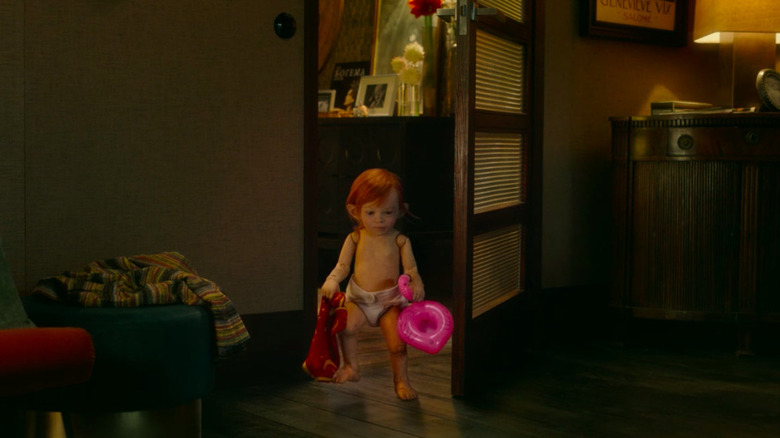 Amazon
Dwayne Johnson might physically be the largest movie star on the planet right now, but when you stop to think about it, is there really a bigger star out there than Baby Annette? The world went absolutely wild last year when the singing superstar went on her global tour, so it only makes sense for this pint-sized powerhouse utilize her killer pipes during the Academy Award ceremony to regale the audience with operatic, incomprehensible ballads in those downtime moments between handing out awards. If the Academy is looking to boost dismal viewership numbers, this feels like the only truly sure-fire way to get people to tune in. And imagine the disappointed looks she'd shoot at all the terrible fathers sitting in the crowd. Devastating stuff. (Ben Pearson)
Tommy Doyle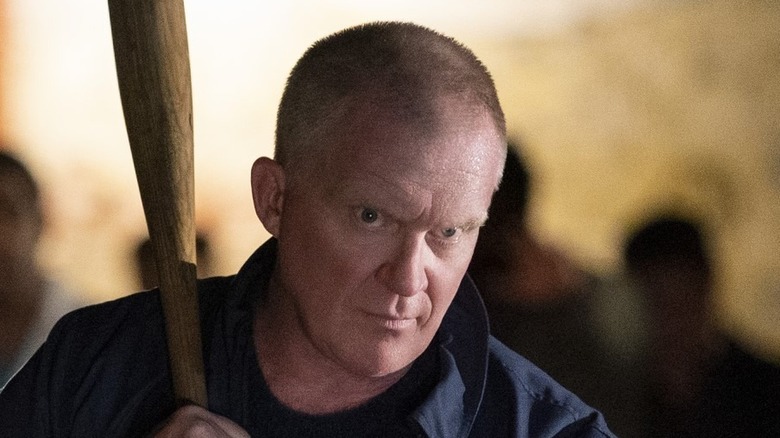 Universal
EVIL DIES TONIGHT! EVIL DIES TONIGHT! EVIL DIES TONIGHT! EVIL DIES TONIGHT! EVIL DIES TONIGHT! EVIL DIES TONIGHT! EVIL DIES TONIGHT! EVIL DIES TONIGHT! EVIL DIES TONIGHT! EVIL DIES TONIGHT! EVIL DIES TONIGHT! EVIL DIES TONIGHT! EVIL DIES TONIGHT! EVIL DIES TONIGHT! EVIL DIES TONIGHT! EVIL DIES TONIGHT! EVIL DIES TONIGHT! EVIL DIES TONIGHT! EVIL DIES TONIGHT! EVIL DIES TONIGHT! EVIL DIES TONIGHT! EVIL DIES TONIGHT! EVIL DIES TONIGHT! EVIL DIES TONIGHT! EVIL DIES TONIGHT! EVIL DIES TONIGHT! EVIL DIES TONIGHT! EVIL DIES TONIGHT! EVIL DIES TONIGHT! EVIL DIES TONIGHT! EVIL DIES TONIGHT! EVIL DIES TONIGHT! EVIL DIES TONIGHT! EVIL DIES TONIGHT! EVIL DIES TONIGHT! EVIL DIES TONIGHT! EVIL DIES TONIGHT! EVIL DIES TONIGHT! EVIL DIES TONIGHT! EVIL DIES TONIGHT! EVIL DIES TONIGHT! EVIL DIES TONIGHT! EVIL DIES TONIGHT! EVIL DIES TONIGHT! EVIL DIES TONIGHT! EVIL DIES TONIGHT! EVIL DIES TONIGHT! EVIL DIES TONIGHT! EVIL DIES TONIGHT! EVIL DIES TONIGHT! (BJ Colangelo)