Steven Spielberg's The Fabelmans Adds David Lynch To Its Stacked Cast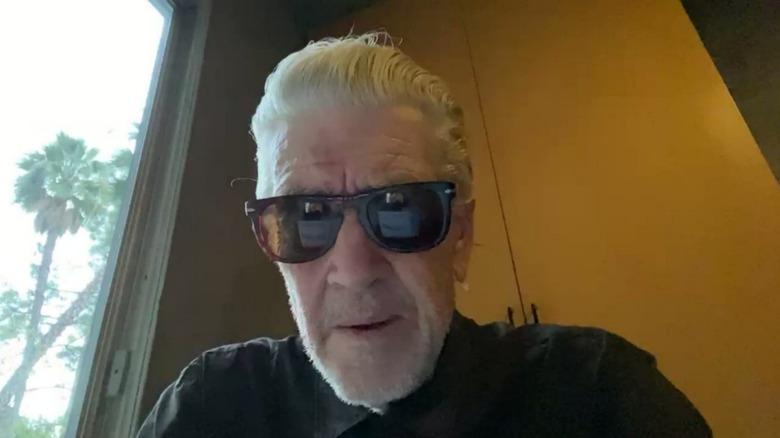 YouTube
Well, here's a slice of casting news that you won't see every day. Hot off his impressive musical debut with his "West Side Story" remake, legendary filmmaker Steven Spielberg is back at it once again, rounding out his A-List ensemble cast for "The Fabelmans" ... and this time, he's recruiting another legendary filmmaker in his own right. That's right, folks. Let's all give a hearty welcome to David Lynch, the director with an all-out cult following thanks to his work on 1980's "The Elephant Man," "Dune," the acclaimed "Twin Peaks" series (and its movie and TV revivals over the years), "Mulholland Drive," and most recently his collection of "Weather Report" YouTube videos released every Friday (seriously, do yourself a favor and check it out — it's delightful).
This unexpected news, to put it very mildly, comes from Variety. The report notes that this marks the first-ever collaboration between the two longstanding directing talents, despite working consistently and to great acclaim for well over 4 decades now. Of course, Lynch has appeared on the other side of the camera numerous times over his career, particularly as FBI Regional Bureau Chief Gordon Cole in his "Twin Peaks" shows and movies, but also including guest appearances on "Louie," "The Cleveland Show," and 2017's "Lucky." And, well, those Weather Report videos we mentioned earlier. We're big fans of his social media presence here, as you might be able to tell. Read on for all the details of his unlikely casting in the next Spielberg film!
The Fablemans is Now Officially 'Lynchian'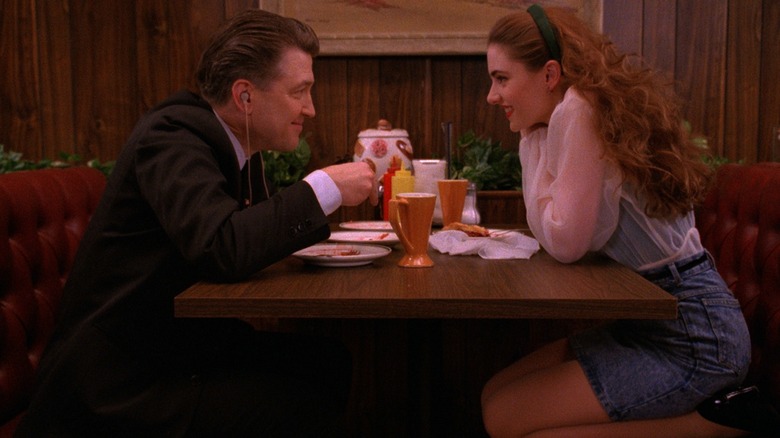 Showtime
Nope, you're not dreaming. David Lynch has joined Steven Spielberg's latest and everyone rejoiced! David Lynch is just the latest recognizable name to join the ensemble cast of "The Fablemans," joining the likes of Michelle Williams, Seth Rogen, Paul Dano, Judd Hirsch, Julia Butters, Oakes Fegley, Nicolas Cantu, Isabelle Kusman, Robin Bartlett, and newcomer Gabriel LaBelle. The film is based loosely on Spielberg's own life, with much of the cast playing roles inspired by Spielberg's real-life family when growing up in Phoenix, Arizona. Unfortunately, Variety notes that Lynch's role is still unknown at this point in time.
However, perhaps this particular casting choice isn't so out-of-left-field as we may have thought. Spielberg has been known to cast other established directors in his own movies before throughout his career, with some notable examples including François Truffaut in "Close Encounters of the Third Kind" and Cameron Crowe in "Minority Report."
The semi-autobiographical "The Fabelmans" is currently in post-production, with Spielberg splitting his time between overseeing the final touches on "The Fabelmans" while focusing on "West Side Story" and its awards run. As far as roles that we know so far, Williams and Dano are expected to portray versions of Spielberg's parents, while Rogen's is based on Spielberg's favorite uncle. LaBelle makes his acting debut as "Sammy," an aspiring filmmaker and obviously a close analog for Spielberg himself. The movie is scheduled for a Thanksgiving holiday release on November 23, 2022.