Death On The Nile Ending Explained: All You Need Is Love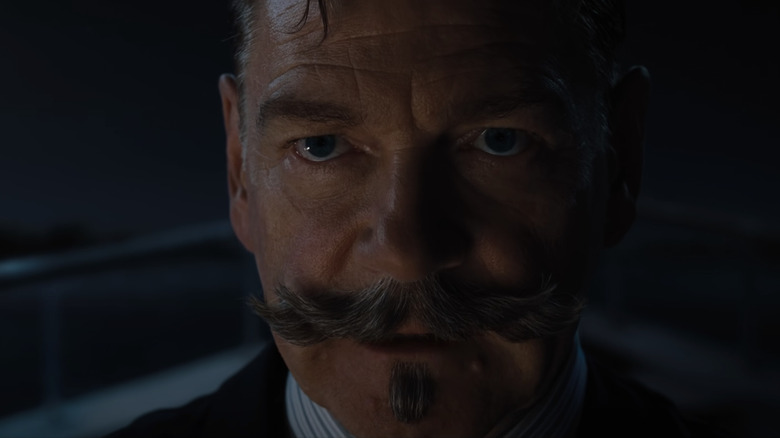 20th Century Studios
After many, many, MANY delays, Kenneth Branagh's second time donning the exquisite mustache of Agatha Christie's eccentric private detective Hercule Poirot has finally arrived. The press leading up to "Death on the Nile" could not have been worse, as it features a cast featuring at least one person who appears to be ... let's just say not great, Bob. Naturally, there were calls to reshoot the movie, but with a giant production like this, shot on 65mm with an all-star cast, Disney would not be crazy about taking on that level of additional expense. Also, Branagh was busy making a whole other movie in the meantime with "Belfast," which just so happened to get nominated for Best Picture and Best Director.
Anyway, "Death on the Nile" is here, and despite our less than glowing review, I was immensely pleased with Branagh's second foray into the glamorous whodunnit. He has a stronger hold on the Poirot character, both in amplifying his comedic eccentricities and channeling his underlying sadness. The 65mm photography by Haris Zambarloukos, Branagh's regular cinematographer since 2007's "Sleuth," glimmers and shines, matching Branagh's delightfully over cranked tone that he has comfortably honed for all these years. Barring the problematic cast members, the ensemble still has plenty of tremendous actors playing big, broad, fun characters. It's a hoot and a half in my book.
Of course, no whodunnit can truly be satisfying without a great reveal. The ending where Poirot comes in and perfectly explains the events of the central murder is a crucial lynchpin to the effectiveness of the Agatha Christie structure. Seeing someone do their job well is always a thrill, and Poirot is the self-described greatest detective in the world. While the "who" of the whodunnit usually is the important part, in the case of "Death on the Nile," it is the "why" that makes it an interesting film for how it ties to our main character.
Love Is a Battlefield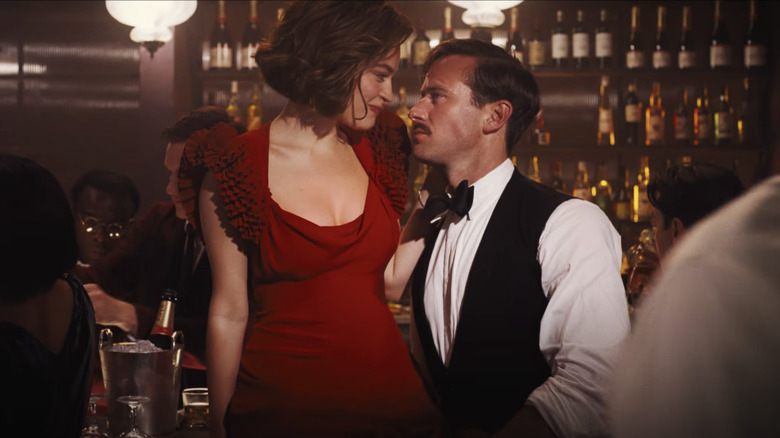 20th Century Studios
In most murder mysteries, the motive for killing will either be love or money. They are classic pillars of the genre because they are incredibly potent and understandable ideas. Many people would do whatever they had to for the person they love or to obtain greater wealth. "Death on the Nile" tackles both of those ideas simultaneously. The first victim of the film is Gal Gadot's Linnet Ridgeway-Doyle, an heiress on her honeymoon in Egypt with her new husband, Simon Doyle (Armie Hammer). Celebrating their recent nuptials with them is a cast of family members and friends, all of whom become suspects. The natural first suspect is Jacqueline de Bellefort (Emma Mackey), Simon's former fiancée and Linnet's former friend, who has become an extremely jealous stalker, but she was out cold, given a decent amount of morphine after shooting Simon in the leg and almost shooting herself. Could it be Linnet's spurned former boyfriend (Russell Brand)? Or maybe the lawyer cousin (Ali Fazal) keen on inheriting some wealth? Or another one of the many people on board?
Linnet's killer turns out to be Hammer's Simon, a poor man who married Linnet for her money. But he is not in it alone: He is still very much in love with Mackey's Jacqueline, and they have planned this whole charade of the jealous ex-lover to throw suspicion into the air when she could not have been the killer. The trouble comes when Linnet's maid Louise (Rose Leslie) happens to see Simon exiting Linnet's room after the killing, and after trying to bribe her for silence, Jacqueline offs Louise. That murder is witnessed by Bouc (Tom Bateman), Poirot's friend and confidant, and he is then murdered. A lot of casualties in this one. Upon Poirot revealing the entire scheme, Jacqueline cannot accept the notion that the two will be separated after their eventual arrests. She pulls Simon close and shoots him directly in the back, making sure the bullet makes its way through him and kills her too.
So, we get one murder for money and two for love — or really four if you count that final murder/suicide. Money may have been the first reason, but love is the motive that truly grabs ahold. The filmography of Kenneth Branagh is filled with high emotions and grand gestures, and love typically brings out those extravagant impulses. Think of the finale to his adaptation of William Shakespeare's "Much Ado About Nothing," where the final shot is this elaborate long take that basically shows a whole town dancing and singing in delight at the prospect of love. The power of that emotion makes people do the most dramatic things — in this case, kill a bunch of people. But Simon and Jacqueline are nowhere near the only characters in "Death on the Nile" grappling with intense love.
Who Do You Love?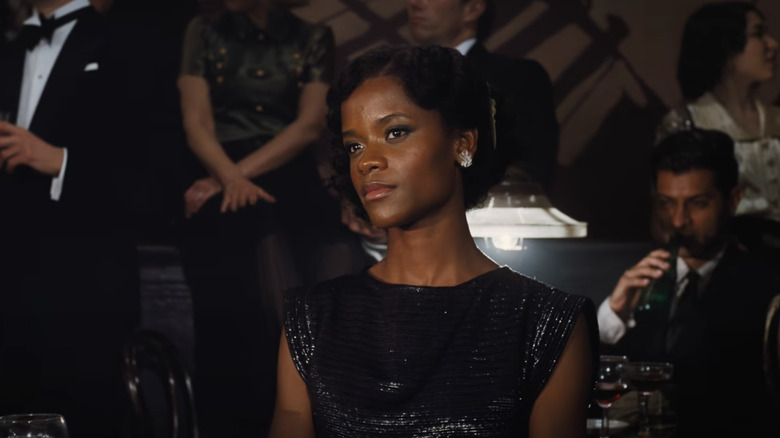 20th Century Studios
The other key romance of the film is between Tom Bateman's Bouc and Letitia Wright's Rosalie Otterbourne. Rosalie was a classmate and friend of Linnet and serves as the business manager for her aunt Salome (Sophie Okonedo), a blues and jazz singer. The two have been in love for quite some time, much to the disdain of Bouc's mother and benefactor Euphemia (Annette Bening). She's had so many bad experiences with potential partners that she rejects the entire idea outright. While initially claiming to be on vacation, Poirot's actual reason for being in Egypt to be a part of all this was because he was hired by Euphemia to investigate Rosalie for any potential defects in her life and personality. Even when he reveals he has found none and confirms she is quite a catch, Euphemia still cannot accept her as suitable.
This dilemma gets at the sadly ever-present question of who society allows you to love. While Bouc believes the reason for his mother's objections to Rosalie are based on class and that she is American, the unspoken truth of the matter is that she is Black, and this film takes place in the 1930s. Euphemia has Poirot check Rosalie's accounts and money management to see if she is an honest person — which, you know, is what a racist would do. Plus, her not budging one inch when learning about Rosalie's true character only reinforces her prejudice even more. Thankfully, Rosalie is given the space to be rightly horrified and offended at the whole investigation, because it deserves that kind of scorn.
This is not the only "forbidden" relationship in the film, either. Linnet's godmother, Marie Van Schuyler (Jennifer Saunders), and her nurse, Mrs. Bowers (Dawn French), are a lesbian couple who have to keep their relationship a secret due to the social mores of the time. They have to settle for being an employer/employee relationship in public settings, with their codependent doting being seen as constant health treatment. Their love motivates all of their actions and behaviors in the film, as does Bouc and Rosalie. Even Euphemia, however wrongheaded, still comes from a place of a mother's love for her son.
The Man Behind the Mustache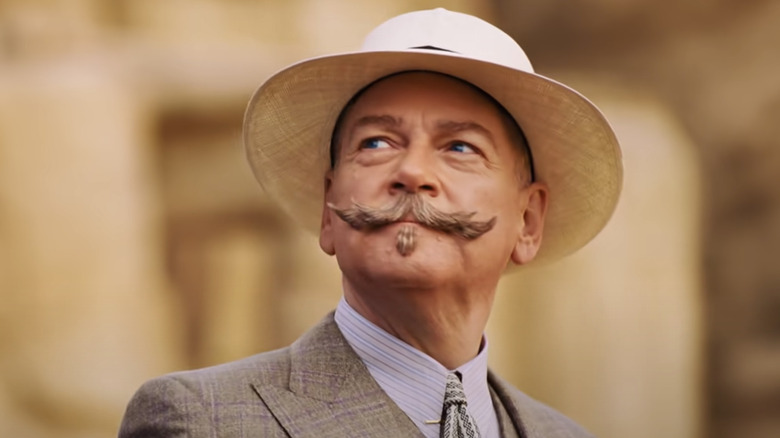 20th Century Studios
Then there's Branagh's Poirot. He is a man who knows the power of love and has tried desperately for years to suppress it. As we learned in "Murder on the Orient Express," Poirot keeps a photo of his deceased love, Katherine. "Death on the Nile" opens with a prologue (in gorgeous black and white that actually looks better than anything in "Belfast") showing a young, clean-shaven Poirot is in the trenches of World War I and deduces the perfect ambush attack on the enemy soldiers. While the sneak attack does work and saves his troop, he cannot save his commanding officer who accidentally activates a trip wire bomb that leaves him dead and Poirot's face scarred. Recovering in the army hospital, he receives a visit from Katherine, played by Susannah Fielding, and even though he is horrified by the scars on his face, she merely suggests growing a mustache. That's right: The reason Poirot has that giant, ridiculous thing on his face is in tribute to his beloved dead wife. He also feels partially responsible for Katherine's death, as she died in a train accident on her way to come see him at the hospital for Christmas. Since then, he has stuck to the notion that he has loved enough for one lifetime and will focus solely on his detective work.
So, when he meets Sophie Okonedo's Salome Otterbourne, it surprises him how taken he is with her music, her strength, and her beauty. While society has put a damper on the other relationships in the film, the only thing holding back this one from happening is Poirot himself. I mean, the man has a picture of his wife within arm's reach at all times and wears a tribute to her on his face as a constant reminder. When he tries to verbalize his feelings to Salome, he can barely get out two words before sinking back into himself. It is incredibly sad to see a man who knows how love enriches life not be able to let himself give into it. The people he loves die, be it Katherine or his friend Bouc.
While the resolution to the whodunnit would usually be the finale of the story, the actual ending to "Death on the Nile" is entirely focused on Poirot's progression in accepting love. We see him six months after the central story, entering an empty London jazz club just before closing time. Salome is performing, and Poirot watches her in awe. However, he has shaved off his mustache, letting his facial scars show proudly. It's a surprisingly beautiful and moving ending. Branagh films the entirety of the scene with stage spotlights, putting the entire situation in a heightened state of style that feels like classic Hollywood. Even with all of Poirot's quirks and eccentricities, Branagh has truly made us care for this man and his pain, and seeing this finale is such a satisfying release from that.
Did They Have Enough Champagne to Fill the Nile?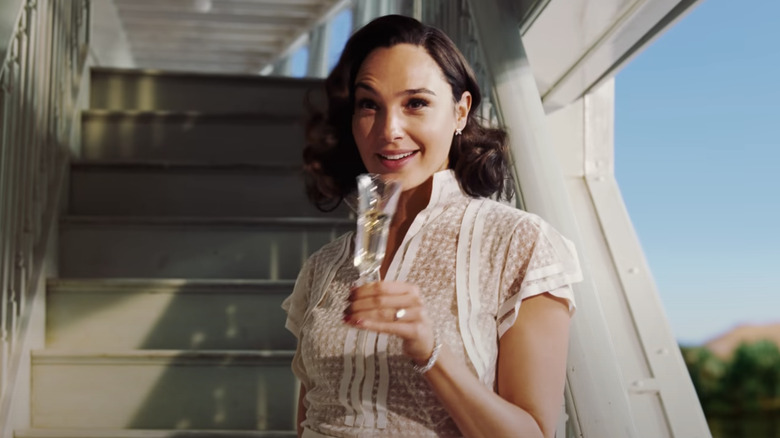 20th Century Studios
Look, I know all this stuff about Kenneth Branagh's ideas of the power of love and how it affects our lives is not what you came here for. What you all have been waiting for is the tantalizing question posed in the film's trailer. Does the Karnak actually have enough champagne aboard to fill the Nile River? Considering the river has about 79 billion gallons flow through it per day, it is highly unlikely one luxury boat could carry that much champagne without sinking and drowning everyone aboard. So, no. They don't. Gal Gadot lied.
"Death on the Nile" is in theaters now.