Kenneth Branagh Has Now Been Nominated For Seven Oscars, All In Different Categories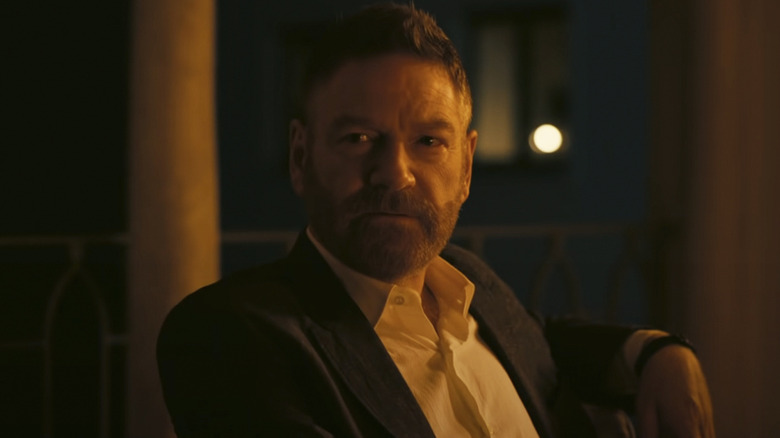 Warner Bros.
It's not every day you can wake up one morning and find out that you've set a new record for Academy Award nominations by the longstanding institution which is set to hold its 94th ceremony (94!) in March of this year. Well, that's precisely the position Kenneth Branagh finds himself in after his latest film, the largely black-and-white picture "Belfast," earned Branagh an additional three nominations that he's never accrued in his career until now. With the film's specific nominations for Best Original Screenplay and Best Picture, Branagh has now set a new record for 7 nominations in 7 different categories over his career. The multi-hyphenate director, writer, producer, and actor had previously earned nominations for Best Director and Best Actor in a Leading Role for his 1990 historical drama "Henry V," Best Live Action Short Film in 1993 for "Swan Song," Best Writing (Adapted Screenplay) for 1997's "Hamlet," and Best Actor in a Supporting Role for "My Week with Marilyn" (2011). 
"Belfast" is also up for Best Director, Best Actress in a Supporting Role for Judi Dench (whom Branagh has worked with before on "Hamlet"), Best Actor in a Supporting Role for Ciarán Hinds, Best Original Song for "Down to Joy," and Best Sound, bringing its total to 7 — enough to land the Oscars hopeful in third place in the overall field of competitors, tied with Steven Spielberg's "West Side Story" and behind both "Dune" (10) and "The Power of the Dog" (12). Of course, this will likely remain as mere trivia unless "Belfast" pulls through with some actual wins in its eligible categories next month, but it's pretty neat trivia all the same! Finding consistent success in the industry with just one job is hard enough, and Branagh has managed to do so while wearing numerous different hats over the years and gaining accolades on the absolute highest level.
Is 7 the Lucky Number?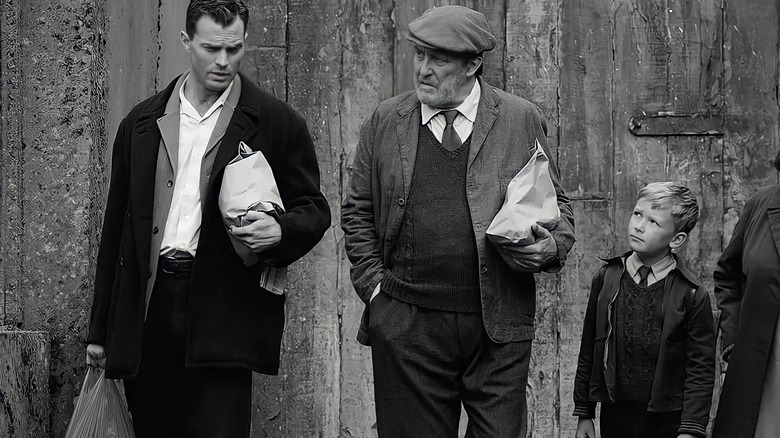 Focus Features
Regardless of how the results ultimately turn out on Oscar night, today's a day of celebration for Kenneth Branagh and the entire creative team behind "Belfast." In the aftermath of this morning's announcement of all the nominees, Entertainment Weekly caught up with the writer/director to get his thoughts on his record-breaking achievement and the overall success of "Belfast" (even if its supporting actress, Caitriona Balfe, may count herself among the many snubs). For his part, Branagh credits the film's performance among the crowded field of Oscars hopefuls to his starring cast.
"We know that this is a phenomenally competitive year. They're just some wonderful films out there, and inevitably, there are wonderful performances. What I know for sure is that I wouldn't have any nominations, for sure, without the incredible work of Jamie Dornan, Caitriona Balfe and Jude Hill. It sounds clichéd, but I mean it when I say these nominations absolutely belong to them."
Branagh has previously referred to his script for "Belfast" as his "most personal film" yet, which details the coming-of-age story of a young Irish boy growing up on the chaotic streets of 1969 Belfast during increasing tensions between Protestants and Catholics, threatening to escalate into full-blown riots. In his review for /Film, Chris Evangelista described the film as,
"...often a charming and lovely film. The characters are kind and heartfelt, played by talented actors who bring their all to the roles. The black and white cinematography, with touches of color, courtesy of Haris Zambarloukos, is gorgeous and clean. There's a sense of humor to the whole thing that can be quite funny. People clap and dance and laugh and sing, full of life and energy. And yet, something is missing in Kenneth Branagh's semi-autobiographical feature..."
We'll find out on March 27, 2022 if "Belfast" can take this promising momentum all the way to Academy Award gold. Either way, Kenneth Branagh joins notable names such as Steven Spielberg and Jane Campion as the answer to interesting nuggets of awards trivia.