Sex Education Season 4 Is Coming – Let's Break Down What Could Happen Next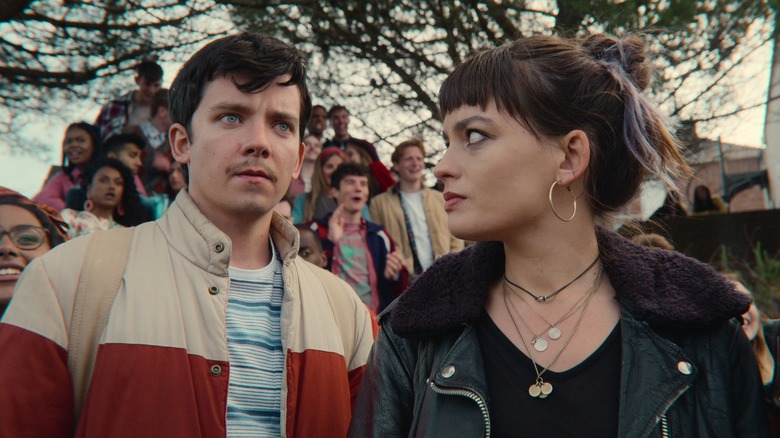 Netflix
Moordale isn't done with us just yet. The teens of "Sex Education" still have a lot to learn about love, relationships, and the wide world around them. Many fan-favorite characters spent the third season finally coming into themselves and it would be a shame to miss out on what comes next. But no worries there — Netflix just renewed the series for a fourth season.
Netflix's weekend TUDUM event came with many special announcements and new footage from their upcoming season of TV, but "Sex Eductation" was a special case. The third season of the series released earlier this month, so there was nothing new left to offer fans — except, of course, the very good news that more is on the way. Given the twists, turns and many cliffhangers of season 3, this is great news for "Sex Education" fans. As for everyone else, this announcement is an excellent opportunity to finally get on board with one of Netflix' best-written shows to date.
"Sex Education" follows the teens and adults circulating Moordale Secondary School as they contend with all their personal drama and intimacy issues. At the show's center is socially awkward teen, Otis Milburn (Asa Butterfield), who has absolutely no experience in the lovemaking department but somehow becomes the resident sex expert at school. Thanks to his mom's (Gillian Anderson) job as a sex therapist and a parenting style that involves lots of manuals, videos, and uncomfortably open conversations, he has all the insider info needed to improve his status at school.
So Otis teams up Maeve Wiley (Emma Mackey), a whip-smart bad girl with a heart of gold, to start a secret sex clinic and deal with his classmates' problems. Their little business venture makes them some extra cash but, most importantly, the students of Moordale learn a lot more about each other and, most importantly, themselves.
Where Does Season 3 of Sex Education Leave Us?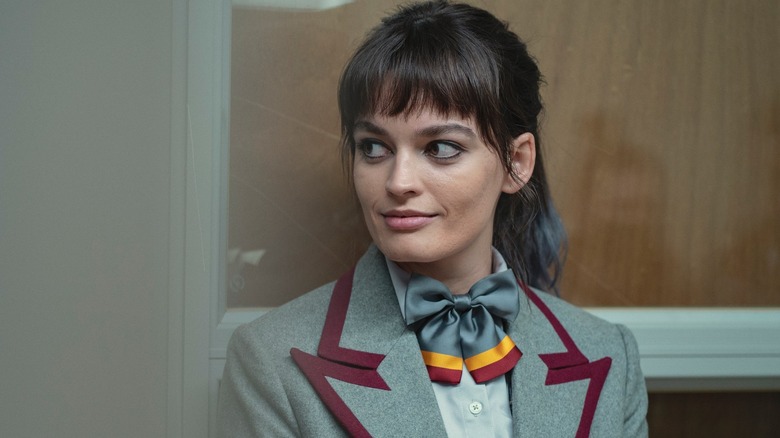 Netflix
For those of us who have already binged through the third season of "Sex Education," there is so much to consider going forward. After an entire season of continuing the infuriating will-they-won't-they Maeve/Otis relationship drama, the pair finally decided to go for it and began their relationship in earnest. Sadly, in the very last moments of the season, Maeve made a grand exit — deciding to accept an opportunity to study abroad and leaving Otis behind. Did her departure feel abrupt to anyone else?
By all means, it was a relief to put an end to the Otis and Maeve drama either way, and joyous to see Maeve choose herself over a high school crush, but the goodbye was so sudden. Also, it was a bummer of a season finale. And as it turns out, Maeve's departure might have felt odd for a reason. In an interview with Hunger Magazine, Mackey sparked some speculation when she said the following:
"It's a complicated thing to me. Sex Education is so momentous as a concept, as a show, and the cast are phenomenal. I genuinely care about them all a lot and I made lifelong friends. We've kind of grown up together. But the bittersweet nature of it is that I also can't be 17 my whole life."
Mackey could very well be signaling her departure from the series for good. So far, there's been no comment from the cast, crew, or Netflix on the matter. At the very least, the finale sets Maeve up for a much smaller role in the fourth season. While Mackey has served as a series lead in the past, Maeve just left the country! Unless there's a lot of Zoom use in the future of "Sex Education," she might find it hard to connect with her Moordale friends. Although... given how the season ended for the rest of the students, maybe this distance is purposeful.
What's Next For Sex Education?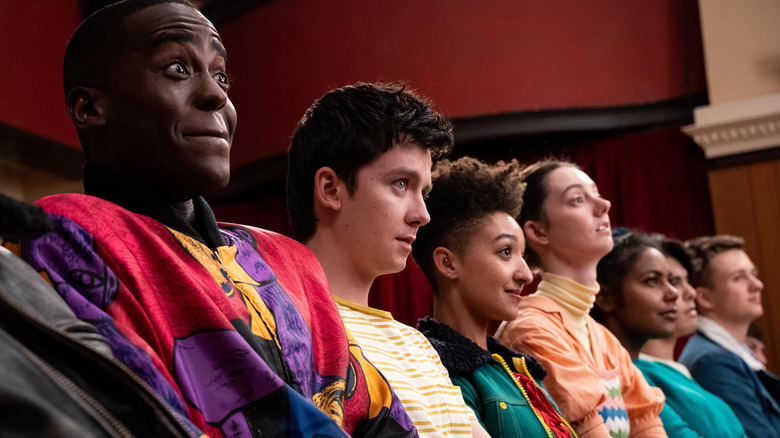 Netflix
Thanks to the work of the monstrous new headmistress Hope Haddon, Moordale has been dissolved. The upperclassman were told to find alternative schooling arrangements going forward and the finale left this major announcement hanging. Now that Moordale no longer unites the students, maybe season 4 will spread them out on purpose.
Separating the ensemble would be a shame but, in the long run, it might serve "Sex Education" well to shift away from its main cast. While we began with Otis, Maeve and Eric (Ncuti Gatwa) at the forefront (and are always wanting for more time with Eric), those three have grown immensely over the seasons and are the closest to completing their high school journeys. Otis no longer fears intimacy, Maeve is pursuing her education, and Eric is embracing himself on all fronts. But what of everyone else?
"Sex Education" has an incredible ensemble of characters who still have plenty of growing to do. Plotlines focused on characters like Lily (Tanya Reynolds) and Jackson (Kedar Williams-Stirling) prove that they can easily carry the show on their shoulders. So why not make more room for newer and lesser focused characters to shine? Think of all the plotlines we could explore with gems like Rahim (Sami Outalbali), Anwar (Chaneil Kular), Ruby (Mimi Keene) or the newly introduced Cal (Dua Saleh) and Layla (Robyn Holdaway)?
Whatever season 4 of "Sex Education" has in store, they writers have nothing but options. So many characters still have ways to go, and hey, there's always room for more sex advice from Otis!