The Horror Movies We Can't Wait To See In 2022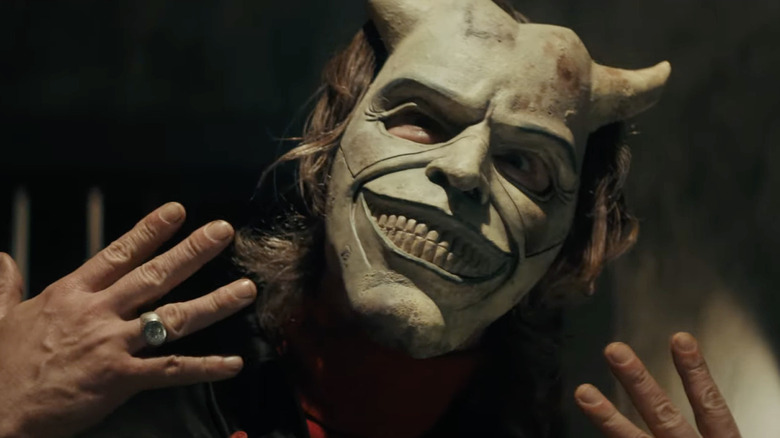 Universal Pictures
As 2022 begins, it's time to look forward to some seriously spooky stuff. We're talking about horror movies, folks — scary, thrilling, chilling tales of terror that are bound to give us the heebie-jeebies. Every month is a good month for a horror movie, so we're looking ahead to our most anticipated horror films of 2022. To be clear: this isn't every horror movie on the way this year, and I'm sure additional titles will catch our eye as the days and weeks tick by. For now, though, here are the 2022 horror releases we're well aware of and very excited to see. And by the looks of things, this year is going to be a good year for horror. Stay scary. 
Scream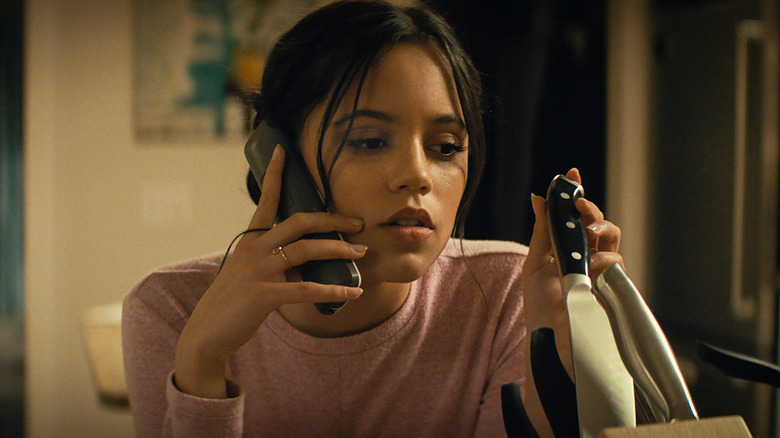 Paramount Pictures
Release Date: January 14, 2022
What's your favorite scary movie? If it's the first "Scream," then you're probably pumped for the new "Scream," which, in true modern Hollywood fashion, is also called "Scream." Matt Bettinelli-Olpin and Tyler Gillett, the filmmaking duo responsible for the wonderful horror-comedy "Ready or Not," are at the helm of this fifth entry in the series, which introduces a new group of doomed Woodsboro youths being stalked 25 years after the original film. But don't expect "Scream" 2022 to be nothing but new faces. The surviving legacy players, Neve Campbell, Courtney Cox, and David Arquette, are all back as well. The three of them have survived the franchise this far. Will they make it out of this entry alive? 
You Won't Be Alone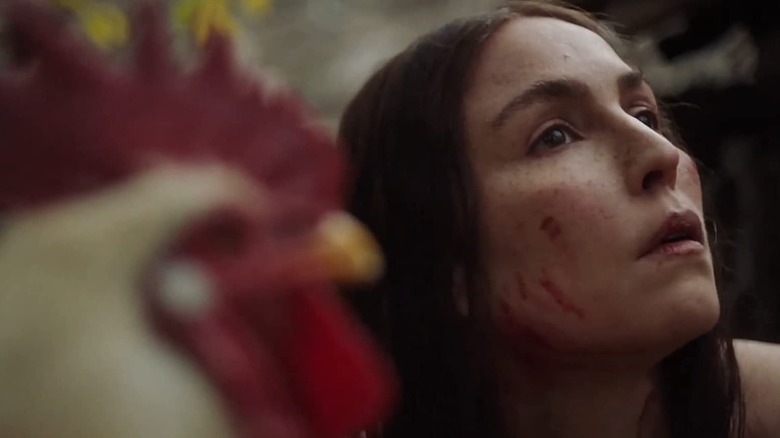 Focus Features
Release Date: January 28, 2022
"You Won't Be Alone" looks to be a great new entry in the always-interesting subgenre of folk horror. Set in a small village in the 19th century, the story follows a witch who murders someone and then takes the dead person's skin in order to live as a human and see what being mortal is all about. This premise makes "You Won't Be Alone" sound akin to Jonathan Glazer's chilling masterpiece "Under the Skin," and that should be enough to get most folks interested. The film will have its debut at the Sundance Film Festival before arriving at the end of January. 
Texas Chainsaw Massacre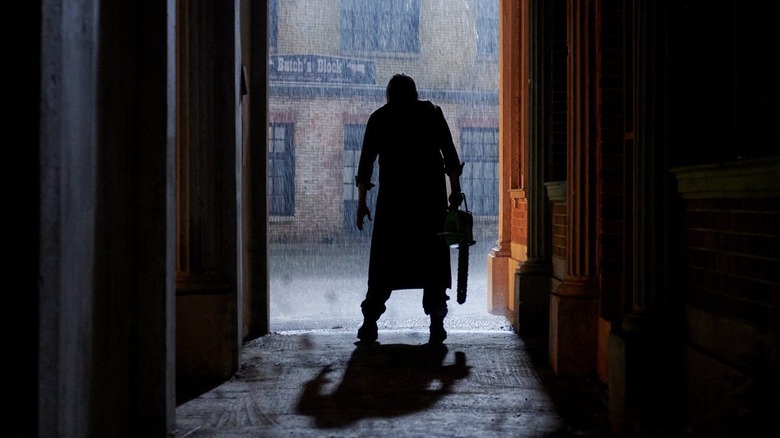 Netflix
Release Date: February 18, 2022
The "Texas Chainsaw Massacre" franchise has been a little wobbly, to say the least. So you're forgiven if your initial reaction to a new entry is caution. But let's stay positive! Let's hope that the newest sequel, directed by David Blue Garcia and headed straight to Netflix this February, bucks the trend and gives us something worthwhile. This new entry, titled simply "Texas Chainsaw Massacre," appears to be taking the approach of "Halloween" 2018 and ignoring the other sequels. Many years have passed since the first film, and everyone's favorite cannibal Leatherface has gone into hiding. But when a new group of travelers in the Lone Star State crosses his path, it's time to rev up the old chainsaw one more time. 
X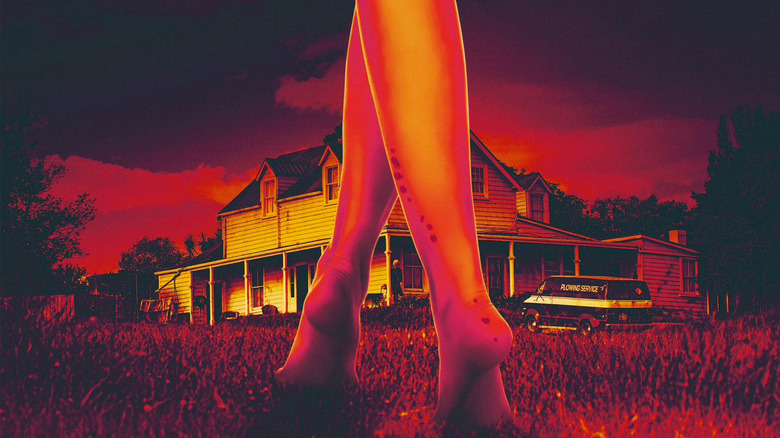 A24
Release Date: March 18, 2022
Ti West, the indie horror filmmaker behind "The House of the Devil," "The Innkeepers," and more, is back with "X." Set in 1979, the film follows a group of young filmmakers who head off to make a porn film at a remote house somewhere in rural Texas. Unfortunately for them, the owners of the house have other ideas. The end result looks like a cross between "The Texas Chain Saw Massacre," "Hereditary," and some hanky panky thrown in for good measure. 
The Northman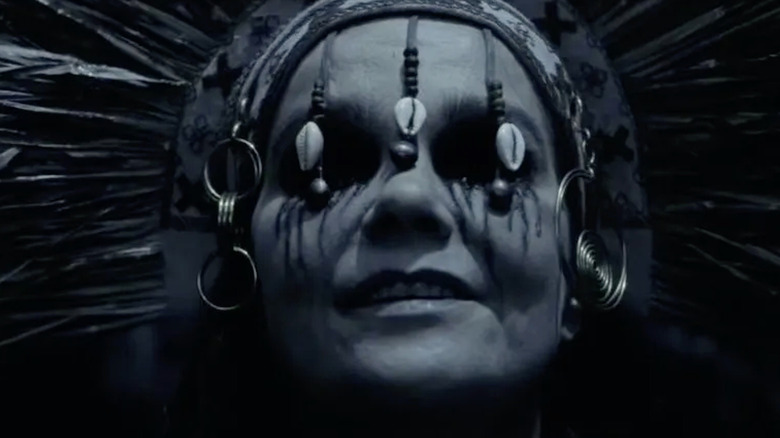 Focus Featurs
Release Date: April 22, 2022
Robert Eggers excels at making weird, disturbing movies set in the past; movies that appear to perfectly invoke the aesthetic and atmosphere of the era they're portraying. Following "The Witch" and "The Lighthouse," Eggers is headed to 10th century Iceland with "The Northman," telling the tale of a Viking warrior (played by Alexander Skarsgård) who sets out to avenge his murdered father. While "The Northman" isn't exactly a horror film, it's certainly loaded with plenty of horrific elements, and Eggers' relationship with the genre makes this a film horror fans are going to want to seek out. 
The Black Phone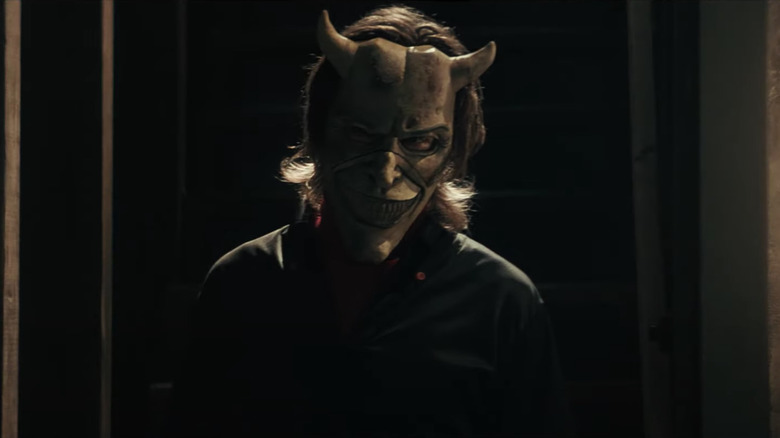 Universal Pictures
Release Date: June 24, 2022
The "Sinister" team of Scott Derrickson, C. Robert Cargill, and Ethan Hawke reunites for "The Black Phone." Based on the short story by Joe Hill, son of Stephen King, "The Black Phone" follows a kidnapped boy (played by Mason Thames) trying to escape from his abductor, played by Ethan Hawke sporting a seriously creepy mask. That set-up is spooky enough on its own, but then you factor in the supernatural. You see, there's a disconnected phone in the basement where the abductee is being held — and that phone starts receiving calls from the ghosts of the kidnapper's previous victims. Set for a June release, "The Black Phone" played at Fantastic Fest last year, where it won plenty of praise.
Nope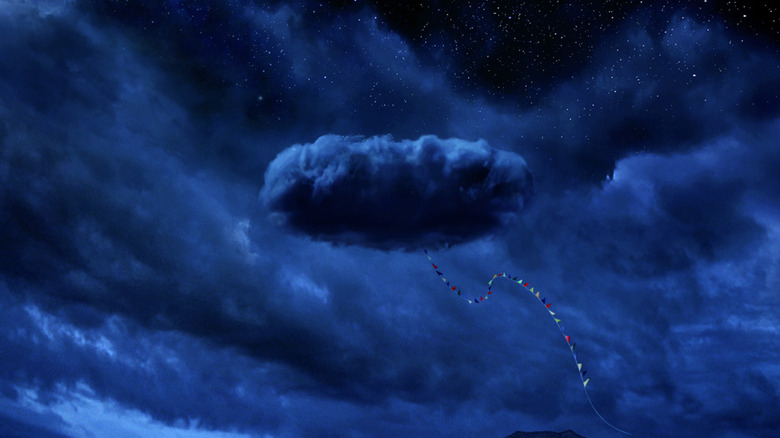 Universal Pictures
Release Date: July 22, 2022
What the heck is "Nope"? We still don't know. Here's what we do know: the film stars Daniel Kaluuya, Keke Palmer, and Steven Yeun. It's also described as "a new terror from the mind" of Jordan Peele, and honestly, that's all we need to know at this point. With "Get Out" and "Us," Peele has solidified himself as one of the most interesting horror filmmakers working today, creating unique, socially relevant tales of terror that require reflection in between all the thrills and chills. For now, all we have to go on is the enigmatic poster, which features a cloud trailing some sort of string covered in brightly colored flags. Does the film involve aliens, perhaps? Bad weather, maybe? Who knows!? Peele likes to play things close to the vest so I'm sure that even after we actually get a trailer and synopsis for "Nope," the film will still remain shrouded in secrecy. 
Dark Harvest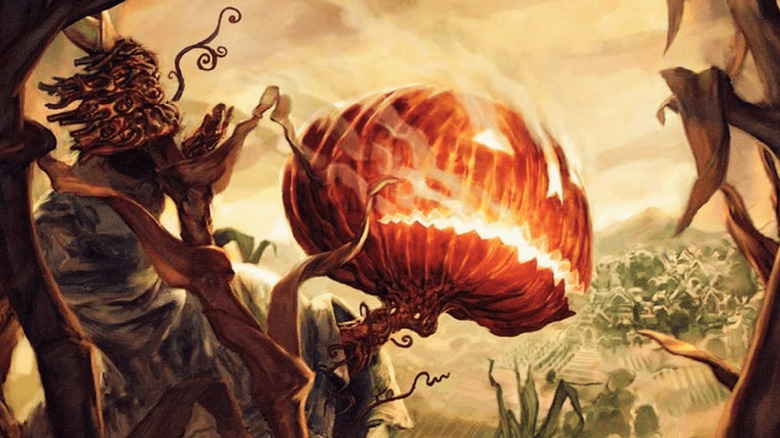 Tor Books
Release Date: September 9, 2022
"Dark Harvest" sounds like a Halloween lover's dream. Directed by David Slade ("30 Days of Night"), and based on the novel by Norman Partridge, "Dark Harvest" is set in a small Midwestern town besieged by a supernatural force. Every fall, a pumpkin-headed ghoul known as Sawtooth Jack appears. Rather than hide from the creature, though, gangs of youths annually set out to confront Jack, and those who vanquish him are able to finally escape their hometown. Will the kids this year beat Sawtooth Jack and be able to flee their dead-end town — or just end up dead? 
Salem's Lot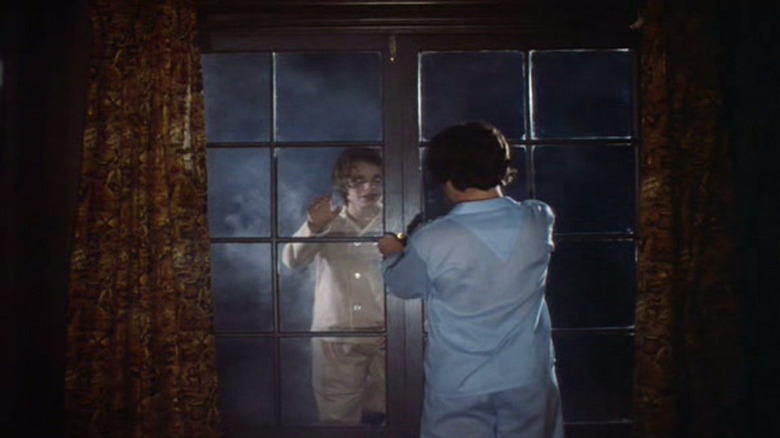 Warner Bros. Television Distribution
Release Date: September 9, 2022
Stephen King's vampire novel "Salem's Lot" has been adapted twice before — both times in miniseries form. Now it's getting the movie treatment courtesy of "Annabelle Comes Home" director Gary Dauberman. The story concerns a writer who returns to his childhood hometown — just in time for that town to be overrun with vampires. Don't you hate it when that happens? Stephen King adaptations experienced a boom when 2017's "It" ended up being a huge hit, and while that boom has resulted in some uneven projects, there's a lot of great stuff to mine from King's novel, and there's a good chance that "Salem's Lot" will deliver the blood-soaked goods. 
Halloween Ends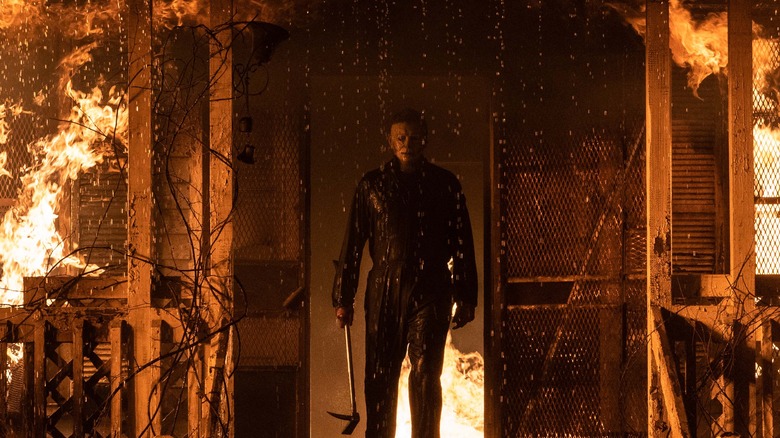 Universal Pictures
Release Date: October 14, 2022
David Gordon Green's 2018 "Halloween" brought back Michael Myers and Laurie Strode and threw out all the other sequels. For the most part, the reaction was positive — especially in regard to Jamie Lee Curtis returning to the franchise. It was quickly decided that Green's film would spawn a new trilogy, and last year we got the second entry, "Halloween Kills." That one didn't go over so well, with even those who loved the 2018 film feeling a little miffed at what Green and company came up with this time. Now, Green will have a chance to finish his trilogy and hopefully right some wrongs with "Halloween Ends." While the previous two movies were set on the same night, this third film jumps forward in time, and will even bring the COVID-19 pandemic into the mix. And once again, Laurie Strode and Michael Myers will face off — for the final time. Until they decide to make another sequel or reboot, that is. 
Bones & All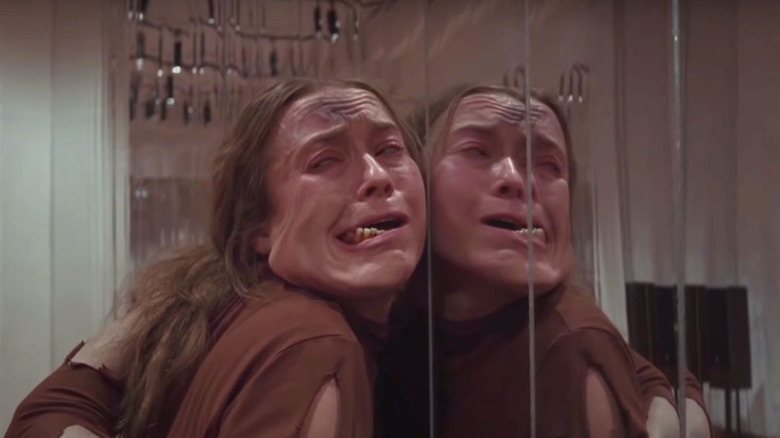 Amazon Studios
Release Date TBA
The last time Luca Guadagnino dabbled in the horror genre we got the wonderful, twisted "Suspiria" remake. With "Bones & All," Guadagnino is returning to horror, and reuniting with "Call Me By Your Name" star Timothée Chalamet, too. In "Bones & All," Chalamet and Taylor Russell play young lovers on a road trip that takes them "through the back roads, hidden passages, and trap doors of Ronald Reagan's America." And what could be scarier than Ronald Reagan's America, right? 
Evil Dead Rise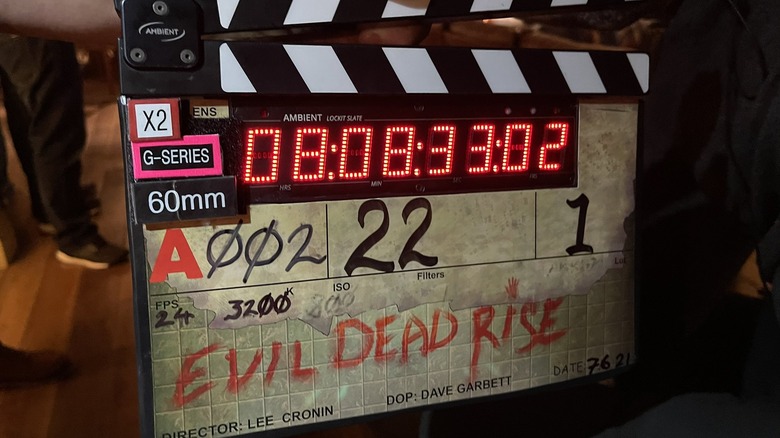 Lee Cronin
Release Date TBA
"The Hole in the Ground" director Lee Cronin is ready to unleash some fresh Deadites with "Evil Dead Rise." Original "Evil Dead" grandaddies Sam Raimi and Bruce Campbell are on board as executive producers, and this entry is considered to be canonical with the original franchise (and not the 2013 "Evil Dead" remake). But it's not going to be more of the same. While the other "Evil Dead" movies take place in secluded, rural settings, "Evil Dead Rise" is set in a Los Angeles apartment building, where two sisters have to deal with all sorts of unspeakable horrors after they discover the cursed book known as the "Necronomicon Ex-Mortis." 
Hellraiser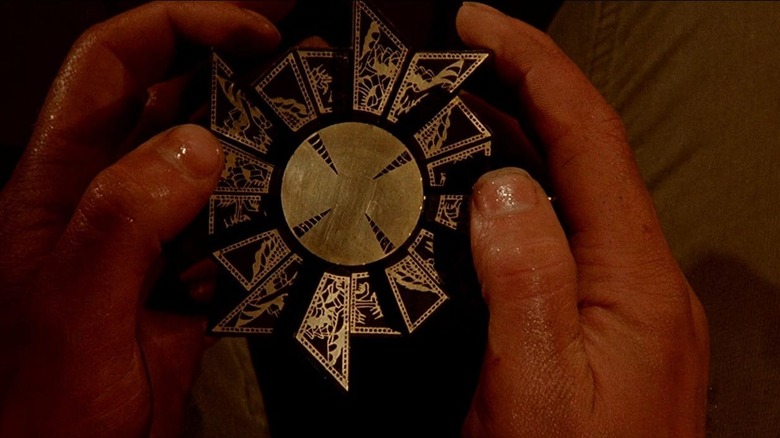 Entertainment Film Distributors
Release Date TBA
If there's one horror franchise in dire need of a reboot, it's "Hellraiser." The series has spawned a whole slew of lousy sequels, most of which began as unrelated scripts that then shoehorned in mentions of Pinhead and his Cenobite pals. David Bruckner, who helmed last year's spooky "The Night House," hopes to bring "Hellraiser" back to its glory days with a new movie and a new Pinhead. "Sense8" actress Jamie Clayton will be taking on the iconic role, giving us the first on-screen female Pinhead. Beyond that, plot details are being kept locked away in a cursed puzzle box somewhere, but it's safe to assume the film will involve lots of disgusting, moist body horror tinged with fetishistic elements, since that's kind of what "Hellraiser" does best. 
My Best Friend's Exorcism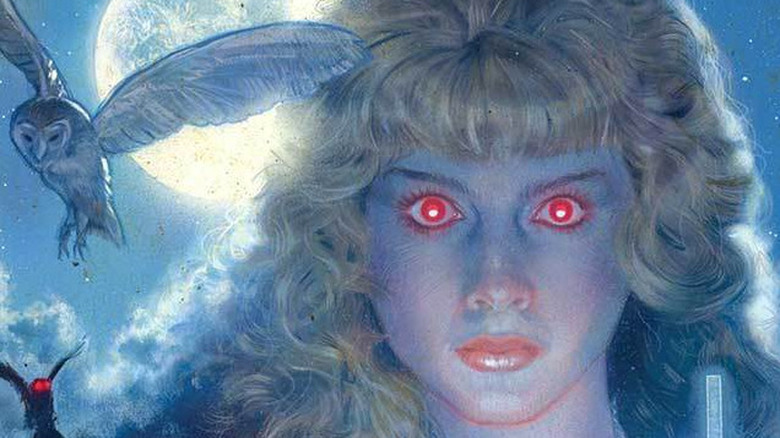 Quirk Book
Release Date TBA
Grady Hendrix's novel "My Best Friend's Exorcism" is both creepy as hell and surprisingly sweet; a story of both demonic possession and enduring friendship, set against the backdrop of the '80s. The blend of full-fledged horror and earnest sweetness isn't easy to maintain, so here's hoping the upcoming film adaptation from director Damon Thomas pulls it off. The story follows two lifelong friends, Abby and Gretchen. They met when they were small children and the story picks up with them as teenagers, with Abby blissfully assuming they're going to be friends forever. But all of a sudden Gretchen starts acting strange, and a wedge is formed in their friendship. Are the girls just growing apart ... or does something sinister and supernatural have ahold of Gretchen? Crank up the '80s pop tunes and find out. 
Bodies, Bodies, Bodies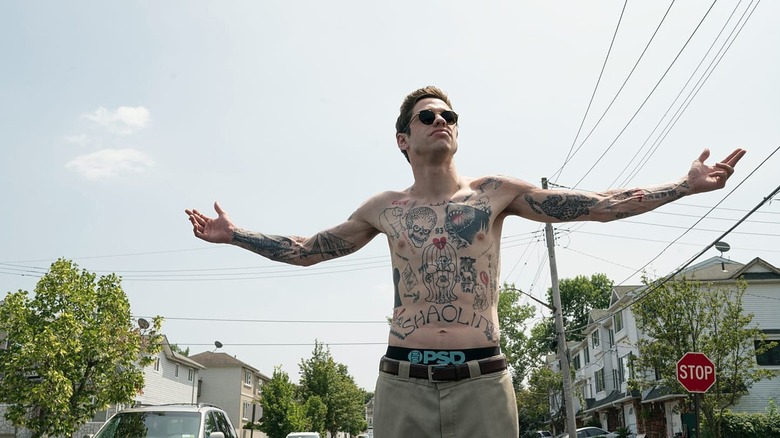 Universal Pictures
Release Date TBA
"Bodies, Bodies, Bodies" is a pretty secretive project, so we don't have a whole lot to tell you just yet! For now, we know that it's a slasher movie from the folks at A24. And we know that Amandla Stenberg, "Borat 2" breakout Maria Bakalova, Pete Davidson, and Lee Pace all star in the film, which hails from director Halina Reijn. A24 has kept a lid on this one, but it was recently reported that they rejected an offer to screen the film at the upcoming virtual Sundance film festival out of fear of piracy. If a festival screening is an option, though, the movie is likely finished — or close to finished. Which means we could very likely see some "Bodies" before the year is out. 
Something in the Dirt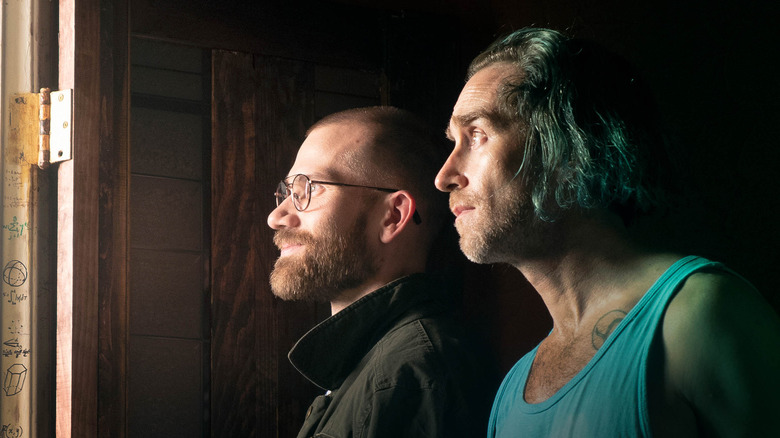 XYZ Films
Release Date TBA
Aaron Moorhead and Justin Benson, the indie horror filmmakers responsible for "Spring," "The Endless," and more, are back with "Something in the Dirt." As was the case with their previous film, "Synchronic," details for "Something in the Dart" are almost maddeningly vague. Here's what we know: the story concerns two friends in Los Angeles. One day, they witness "something impossible in one of their apartments" — something that has the power to "change their lives and give them a purpose." But what could it be? Benson and Moorhead are masters of doing so much with so little, spinning complex, strange, sprawling tales with small budgets, and this is bound to be another weird winner from the duo. 
The Munsters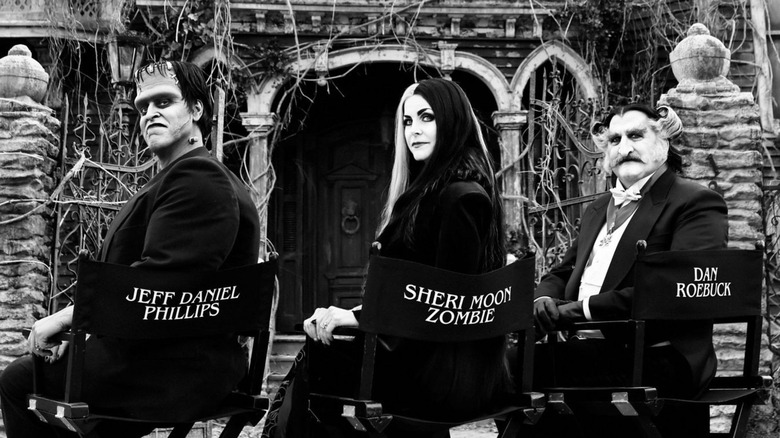 Universal Pictures
Release Date TBA
While some might not think of Rob Zombie as an obvious choice to direct a movie based on "The Munsters," those who are familiar with Zombie know he's a certified "Munsters" fanatic. So it actually makes sense that Zombie was hired to write and direct "The Munsters" movie, which is due out sometime this year. Of course, we have to wonder: just what the heck does a Rob Zombie "Munsters" movie look like? Will the familiar sitcom characters behave like the vulgar rednecks who occupy all of Zombie's other films? Or will he change up his style a bit here? It's still too early to tell, but we're very curious, especially since behind-the-scenes images have revealed that Zombie and his team are working hard to recreate the look of the original series, right down to the make-up. 
Haunted Mansion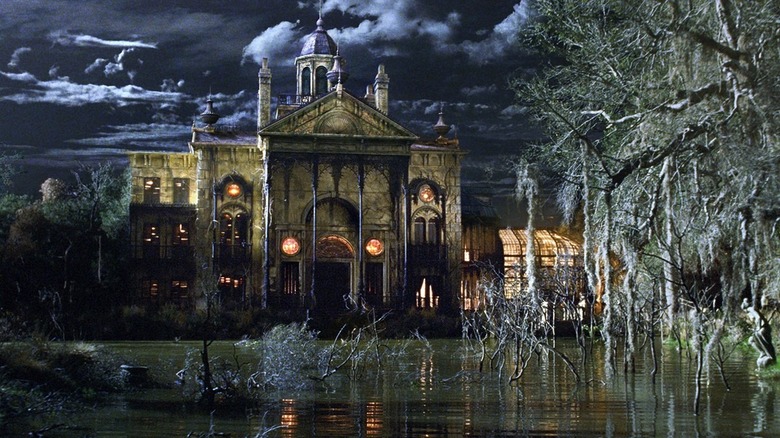 Disney
Release Date TBA
The Haunted Mansion is a Disney institution, so it makes sense that the House of Mouse would want to translate that to the big screen. They tried once back with 2003's "The Haunted Mansion," starring Eddie Murphy — but that didn't go over so well. Now, "Dear White People" director Justin Simien is giving it a go with "Haunted Mansion," starring Rosario Dawson, Tiffany Haddish, Lakeith Stanfield, Owen Wilson, and Danny DeVito. The story involves a single mother trying to rid her newly purchased home of ghosts, and by all accounts, it looks like this film will follow the 2003 film's lead and lean into comedy over creepy stuff. Perhaps that's not the best idea — perhaps "Haunted Mansion" would be better served if it embraced its horror elements. But then again, maybe this will turn out to be a wonderful surprise full of grim grinning ghosts who come out to socialize. Fingers crossed. 
Firestarter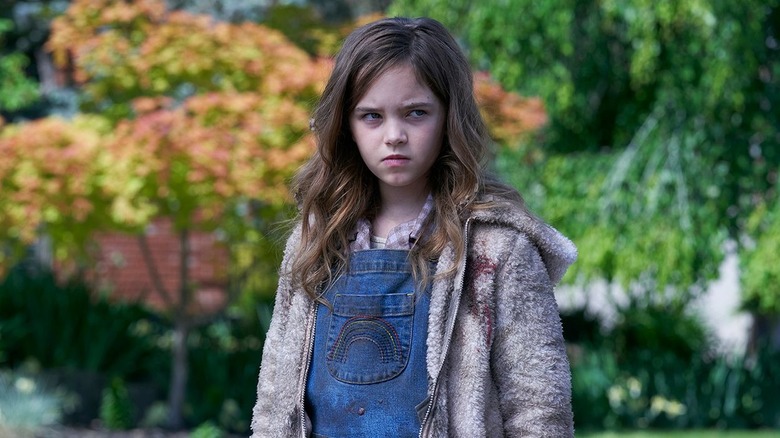 Universal Pictures
Release Date TBA
"Firestarter" is yet another Stephen King adaptation getting an update. King's book about a young girl with pyrokinetic powers was first adapted into a film in 1984, with Drew Barrymore playing the fire-starting girl. While that's a well-known film, it's not particularly good — which means there's plenty of room for improvement. This new take updates things to the present day and will star Zac Efron as the father of the titular firestarter. There's no release date in place just yet, but the film just received an R rating from the MPAA, which means it's completed — and likely coming our way before 2022 is over. 
Crimes of the Future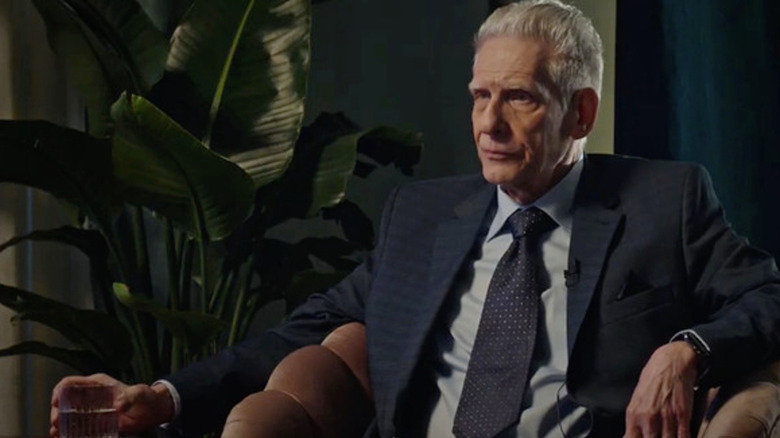 Content Media Corporation
Release date TBA
With "Crimes of the Future," filmmaker and body horror expert David Cronenberg is back behind the camera for the first time since 2014's "Maps to the Stars." For his return to directing, Cronenberg has assembled a killer cast including Viggo Mortensen, Léa Seydoux, and Kristen Stewart, to tell a story set in (you guessed it) the not-too-distant future. According to co-star Kristen Stewart, the film is set "in a world where people have evolved to a point where we don't feel physical pain." A world where "Sex has changed quite a bit, and the new art form is growing organs." Yep, sounds like a David Cronenberg movie.