You Won't Be Alone Trailer: This Sundance Film Looks Like The Witch Meets Under The Skin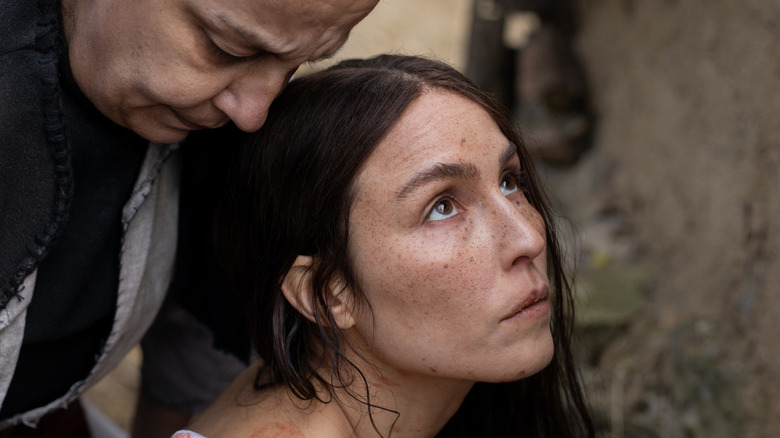 Focus Features
Prepare to shudder in fear but stare on in fascination — the first trailer for the skin-scrawling feature "You Won't Be Alone" has arrived. Steel yourself for some eerie imagery, this film looks like "The Witch" and "Under The Skin," with a light sprinkling of everyone's favorite cult exploration, "Midsommar."
If you've seen even one of those titles, then you might have an inkling of the dark territory we're delving into. "You Won't Be Alone" comes from Australian-Macedonian writer-director Gioran Stolevski, making his feature debut with its premiere at Sundance Film Festival this coming January. His film has already been described as "unexpectedly emotional and profoundly humanistic," hinting at an experience that goes well-beyond just terrifying the masses. Though brief, the trailer offers a glimpse of the film's tone, a blend of horror and fable, as the story follows a witch, includes some shapeshifting action and indicates even more mystery lingering beneath the surface.
You can check out the first trailer for "You Won't Be Alone" below.
You Won't Be Alone Trailer
Noomi Rapace never fails to amaze, once again showcasing her range with another intriguing role. After spending the past year grazing some fields with the world's most-adorable lamb-human hybrid, Rapace is here to make our skin-crawl in "You Won't Be Alone." She stars in a pretty complex role, as a character we can neither name nor identify. In fact, the role isn't wholly hers — shared with other actors throughout the film, including Alice Englert, Carloto Cotta, and Sara Klimoska.
The trailer opens on a baby girl taken from her mother at a young age, by what looks to be a malevolent creature. Transformed into something new, the now witchy girl wanderers the world with curiosity and wonder, but she's noticeably feral. Things only get weirder from there: we're treated to the hazy blaze of fires, streaks of blood and music that would work as a lullaby, if not for all the sinister imagery flashing across the screen. No doubt, "You Won't Be Alone" is promising an odd, bloody journey for its audience. The young girl never really stops transforming, assuming the body of another and eventually being embodied by Rapace. As telling as the eerie trailer may seem, it's just a fraction of the twisted journey to come.
"You Won't Be Alone" is making its world premiere at the 2022 Sundance Film Festival in January, with a theatrical release date already slated for April 1, 2022. For a better sense of the film, check out the official synopsis and poster below.
Set in an isolated mountain village in 19th century Macedonia, YOU WON'T BE ALONE follows a young girl who is kidnapped and then transformed into a witch by an ancient spirit. Curious about life as a human, the young witch accidentally kills a peasant in the nearby village and then takes her victim's shape to live life in her skin. Her curiosity ignited, she continues to wield this horrific power in order to understand what it means to be human.