Rob Zombie's The Munsters Has Begun Production, And Has The Logo To Prove It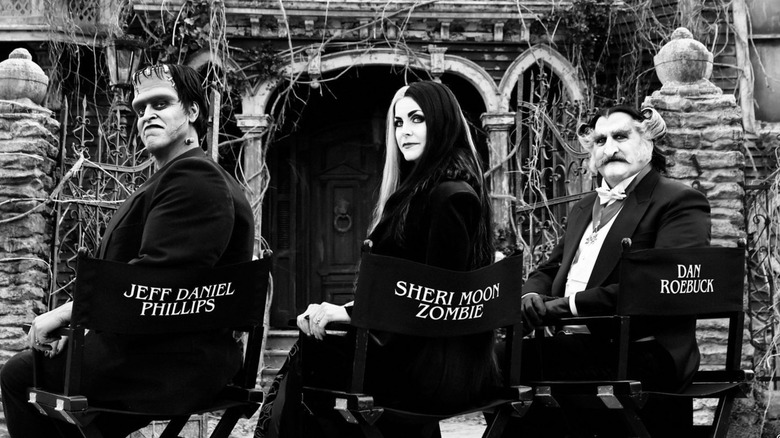 Universal Pictures
Less than a month after Rob Zombie debuted the first look at frequent collaborators Jeff Daniel Phillips, Sheri Moon Zombie, and Daniel Roebuck as Herman, Lily, and Grandpa in his film adaptation of "The Munsters," Zombie has taken to social media to showcase his years-long passion project is currently shooting in Budapest. To celebrate, Zombie provided the tiniest sneak peek inside the home built on 1313 Mockingbird Lane.
A lifelong fan of "The Munsters," Rob Zombie owes his success to his love of the show. Long before Zombie created horror films like "House of 1000 Corpses," 'The Devil's Rejects," "Lords of Salem," and his reboot of the "Halloween" franchise, he was a popular industrial shock rock artist with his most famous song being "Dragula," named after the "Drag-U-La" drag racing car Grandpa makes in the episode "The Munsters: Hot Rod Herman."
While Zombie's films are known for their gritty and grunge aesthetic, everything we've seen from "The Munsters" so far looks like a respectful honoring of the iconic series. In Zombie's most recent Instagram post, he shows the director's chair featuring the film's logo of "The Munsters" name. Check out the image below — and if you squint, you might be able to make out some of the features inside the Munster manor.
A Fresh Spin on a Classic Title Card
Zombie's Instagram photo prominently displays the new version of "The Munsters" title card, incorporating the original font featured in the original 1964 series, but with the addition of cobwebs. Commenters quickly noticed that the photo was presented in color, a departure from everything else Zombie has released regarding the film. There has been no confirmation whether or not his "The Munsters" movie will be released in black and white or color.
The image also gives a look at Zombie's director's monitor, and there's honestly not much that can be made out. There are some masked crewmembers (kudos on the safe set, Rob) and gothic looking home interiors, and some interesting looking artwork on the walls. Even without any specifically unmistakable visuals, the house definitely seems to have the correct energy of 1313 Mockingbird Lane.
This new "Munsters" reboot is the latest in a line of attempts, following the sequel series that ran from 1988 to 1991 and the unsuccessful pilot from Bryan Fuller, NBC's "Mockingbird Lane." The original run of "The Munsters" only lasted for two seasons, but became a generational favorite after decades in syndication.
"The Munsters" is scheduled to receive a theatrical release in addition to streaming on Peacock, though there is currently no release date announced.