Resident Evil: Welcome To Raccoon City Clip Features A Terrifying Introduction To Lisa Trevor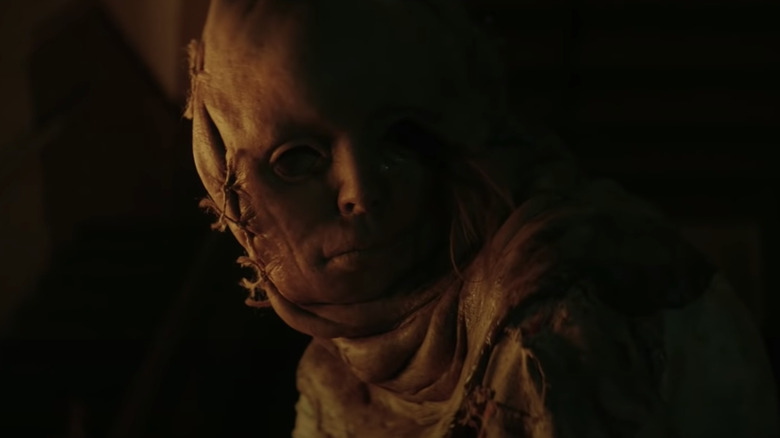 Sony Pictures
Over the last few weeks, it feels like I've left my position as a /Film news writer in exchange for becoming a one-person "Resident Evil: Welcome to Raccoon City" hype train. Have I seen the movie yet? No. Does it look like it has everything I've ever wanted from a "Resident Evil" movie so I'm deliciously excited about it? YES. Sony has been really cool about releasing a variety of featurettes in preparation for the film's release, but their most recent featurette delivers on a character fans of the "Resident Evil" video games have been begging to see for nearly two decades: the mutated creation of Lisa Trevor.
The featurettes usually showcase director Johannes Roberts discussing the film and characters being highlighted, but this one is completely different. There's no side interview, no flashy graphics, no actor's commentary, just a sneak-peak look at the cinematic version of Lisa Trevor, in all of her tragic, horrifying Progenitor glory. Check out the featurette below for a solid look at Leon S. Kennedy (Avan Jogia) coming face to face with Lisa Trevor (Marina Mazepa).
Meet Lisa Trevor
The story of Lisa Trevor is one of the most compelling in the entire "Resident Evil" video game franchise, and one that was completely ignored in the original run of films, so unless you've played the game, chances are she just looks like another run-of-the-mill creepy monster. The reality is far more depressing, and makes her far more sympathetic in the canon of "Resident Evil" creatures. If you want to go into "Resident Evil: Welcome to Raccoon City" as spoiler free as possible, this is your sign to skip the rest of the article. Otherwise, continue on and allow me to be your humble guide.
Lisa Trevor is the daughter of architect George Trevor, the man responsible for the design of the Spencer Mansion, where a huge chunk of the events of "Resident Evil" take place. Soon after the mansion's completion, George's wife Jessica and Lisa were kidnapped by Dr. Spencer's security detail as part of a retroviral research project which would later become Umbrella Pharmaceuticals. Jessica would be killed in the ensuing test trials, but Lisa's body survived the exposure to a Progenitor strain, giving her superhuman abilities albeit a full body mutation and justifiably explosive emotional outbursts. Members of staff were frequently tasked with placating Lisa while disguised as her mother, but she began ripping them off and wearing them on her own form as catharsis. We're unsure how much of this backstory will be relevant in "Welcome to Raccoon City," but her inclusion is exciting, nonetheless.
Who Plays Lisa Trevor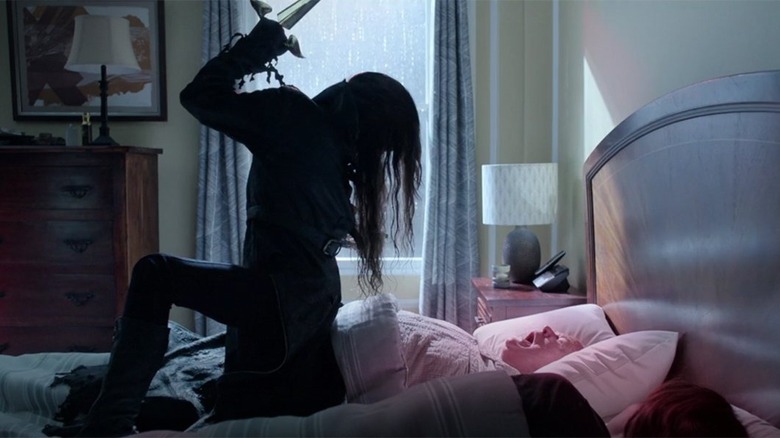 Warner Bros.
Marina Mazepa made a name for herself as a contortionist dancer on season 14 of "America's Got Talent." Although she did not win the reality TV talent show, her skills put her on the radar of genre filmmakers. She first played Mary Elnor, also known as The Virgin Mary, the main antagonist of the 2021 film "The Unholy," and plays The Echo on the Peacock series "The Girl in the Woods." Most notably, however, Mazepa played Gabriel in James Wan's "Malignant." While Lisa Trevor is known more for being a hulking creature rather than a super twisty or bendy one, the choice to use Mazepa is a smart one, as her body is capable of moving in seemingly inhuman ways. Her movement as Trevor will look unnatural, only adding to a hopefully haunting performance.