How The Harder They Fall Reinvents, And Remains True, To The Classic Western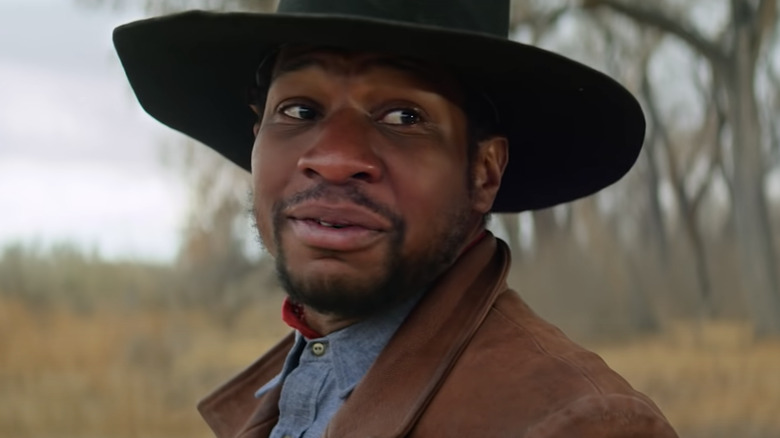 Netflix
Saddle up for "The Harder They Fall," a new Netflix Western that puts a fresh twist on an old genre that has traditionally been dominated by white actors like John Wayne and Clint Eastwood.
The film stars Jonathan Majors and Idris Elba as cowboy gang leaders embroiled in a feud that is sure to have deadly consequences. Regina King is a member of Elba's gang, and she already appeared in a show that brought attention to one Black cowboy: the real-life historical figure of deputy U.S. marshal Bass Reeves, who served as an inspiration for the world's first superhero in HBO's "Watchmen." Now, Majors, Elba, and King are co-starring in an all-Black Western with Zazie Beetz, Lakeith Stanfield, and Delroy Lindo.
/Film's own Shania Russell recently spoke with director Jeymes Samuel, Majors, and Beetz during their promotions for "The Harder They Fall." In the interviews, they each addressed the film's stylized take on the Western.
Zazie Beetz on the Film's Diversity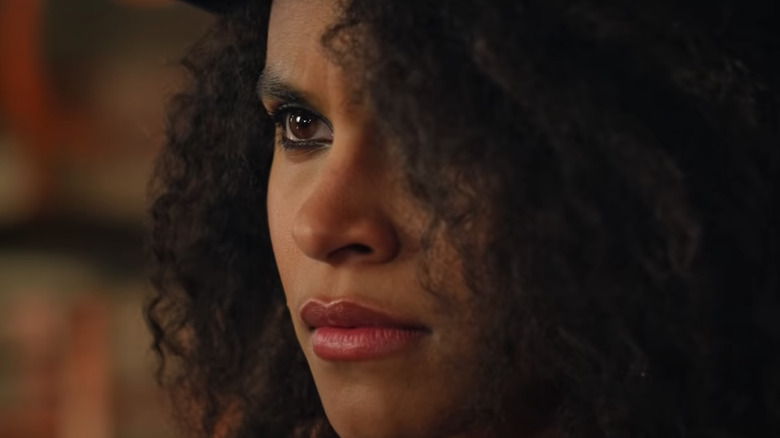 Netflix
Beetz first spoke about what it meant to her to take on a role in the heightened world of a Western where Black characters are not defined by whiteness. She said:
"I think there's a lot more diversity than we were sort of presented from the Hollywood point of view. I also think that in terms of film and genre, the way Jeymes has approached it, it's how music is involved and the kinds of shots and the kinds of editing around it. A really popular thing to do right now, I think is to play heightened world, heightened space, but sort of a grounded story in a way.

"And I feel like this takes on that kind of, I think, trend that's a little bit in film right now. If I think of different popular films or things that I like. And yeah, I think adding sort of modern twists to the traditional structure, I suppose. But I really liked the idea of Black people in this film not being defined by whiteness at all, like the bad guys and a white guy or something like that. But we're just living in our world and we were there and to just really acknowledge that felt powerful to me. And we were there on our own terms essentially."
Jonathan Majors on the New West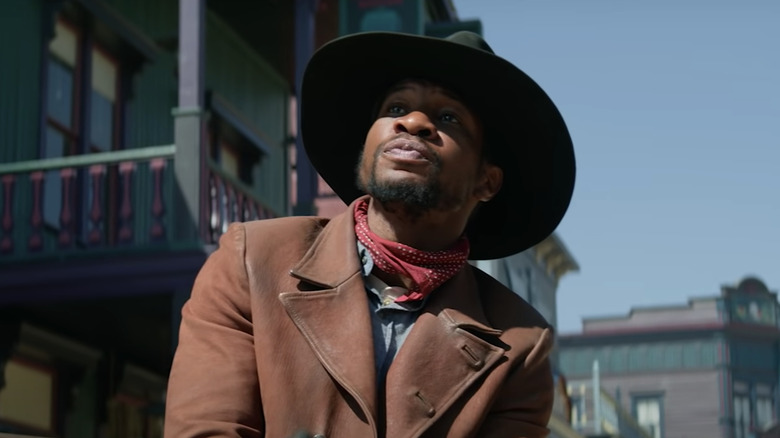 Netflix
The most recent trailer for "The Harder They Fall," released last month, promises, "This ain't your granddaddy's Western." It sounds like the film conjures a vision of the New West, as opposed to the Old West, which we've already seen depicted many times before. Majors elaborated:
"What does the New West mean? It's a bit of a metaphor, isn't it? It's an idea. It's a metaphor of things that are so fresh and new and wild and youthful, and it has the joy and the aggression and the surprising elements of something that is so undiscovered. And in two hours and 10 minutes, we drop you right into it, and there's still things that you haven't... I feel like there's still things we can explore within it. But the New West is, it's the new guard. It's the avant-garde of not just this genre, but of how cinema can maybe be made, I guess."
Jeymes Samuel on Adding Black Perspective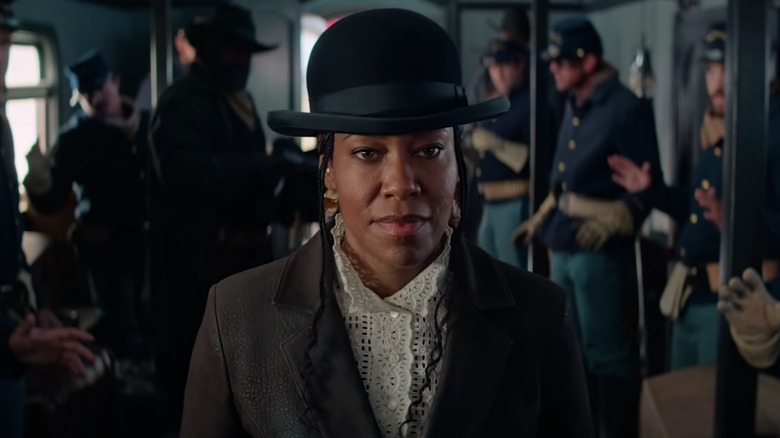 Netflix
Finally, Samuel discussed the history of the Western, his love for the genre, and how his revisionist entry will bring a new voice to it:
"Obviously, there weren't people of color working in those power positions in Hollywood when a lot of the westerns were being made. There weren't a slew of Black directors working in Hollywood, getting big budgets and big movies in the 30s and 40s, and 50s. Even though there were pockets of Black people actually making films and making westerns, like The Bronze Buckaroo with Herb Alpert and stuff. And those are old, old, old movies. But people just never had a voice. There wasn't a slew of prominent female directors working in the 40s getting big Hollywood projects. So we wouldn't have female voices to give us a more accurate depiction of the Old West.

"It didn't happen. And for me, I love westerns so much, even though they fed us those storylines through a really narrow scope. I still love the westerns. I still love the genre, I loved the horses, I love everything about the saloons and just all the quick draws and the High Noon, Gary Cooper. I loved all of that stuff. I just thought they could be much more. Growing up, I would read as much as I can and find out about all of these real life characters, and read as much information as I could get on them. So it was just literally, almost like breathing for me to have my debut film be a western with all real characters and just try to bring balance to the force."
"The Harder They Fall" rides into Netflix on Wednesday, November 3, 2021.