The Harder They Fall: Release Date, Cast, And More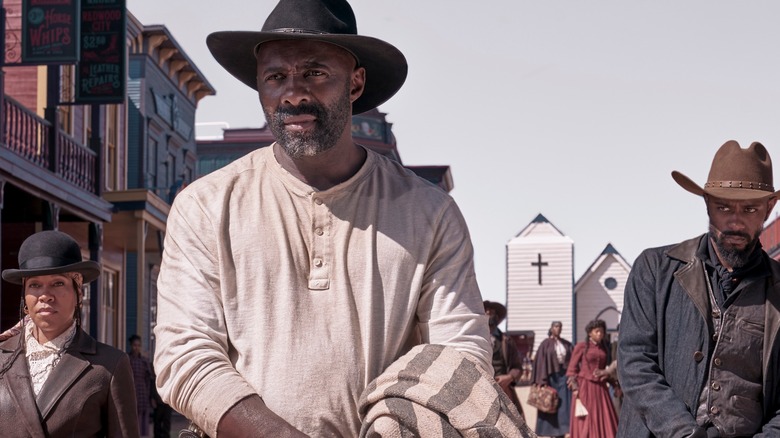 Netflix
(Welcome to ...And More, our no-frills, zero B.S. guide to when and where you can watch upcoming movies and shows, and everything else you could possibly stand to know.)
Regina King, Jonathan Majors, and Idris Elba are starring in a "new-school"-style Western — what more could movie fans want? Believe it or not, it only gets cooler from there. This exciting film is just a few weeks away from release, with a thrilling premise and a star-studded cast. If you're looking to stay in the loop, here's everything you need to know about the upcoming release of "The Harder They Fall."
The Harder They Fall Release Date and Where To Watch It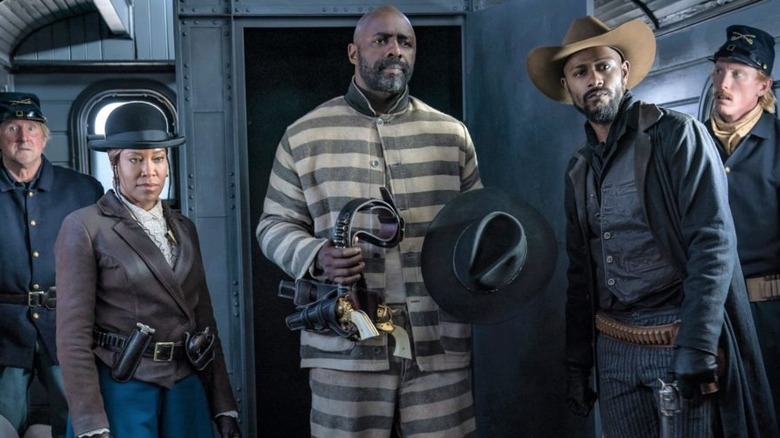 Netflix
"The Harder They Fall" will be released to Netflix on November 3, 2021. Before this, the film will premiere at the BFI London Film Festival on October 6, 2021.
What is The Harder They Fall?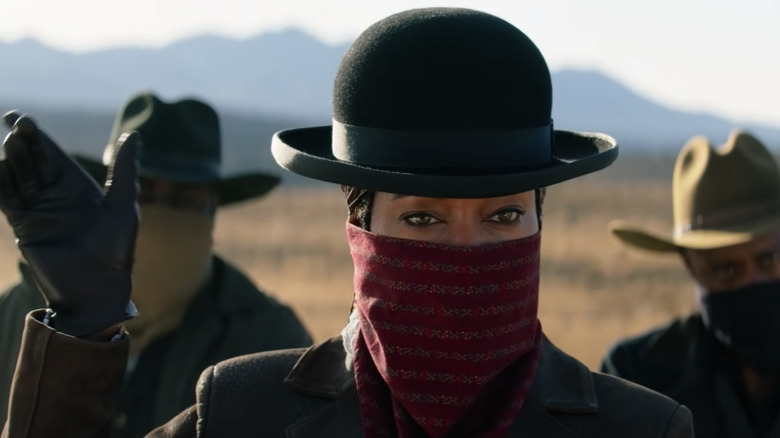 Netflix
"The Harder They Fall" chronicles a blood feud between two warring gangs. This homage to classic Westerns centers around characters who shoot first and ask questions later — especially when loved ones are involved. Best of all, the film features an impressive lineup of Black stars, giving space to the often overlooked legacy of Black Cowboys.
"The Harder They Fall" sees an outlaw seeking revenge for the murder of his parents, and with that simple premise comes all the Western staples: daring train robberies, masked bandits, and intense shootouts. The film promises to marry the best of old-school Westerns with modern stylization. Many of the characters featured in the film are loosely based on real people, like the famed Nat Love and Bass Reeves, but plays fast and loose with their stories.
The Harder They Fall Synopsis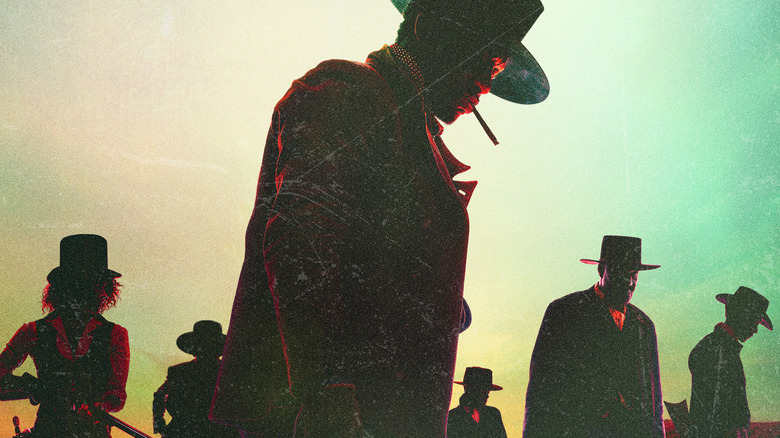 Netflix
Here's the official synopsis for "The Harder They Fall":
When outlaw Nat Love (Jonathan Majors) discovers that his enemy Rufus Buck (Idris Elba) is being released from prison, he rounds up his gang to track Rufus down and seek revenge. Those riding with him in this assured, righteously new school Western include his former love Stagecoach Mary (Zazie Beetz), his right and left hand men — hot-tempered Bill Pickett (Edi Gathegi) and fast drawing Jim Beckwourth (R.J. Cyler)—and a surprising adversary-turned-ally. Rufus Buck has his own fearsome crew, including "Treacherous" Trudy Smith (Regina King) and Cherokee Bill (LaKeith Stanfield), and they are not a group that knows how to lose.
The Harder They Fall Cast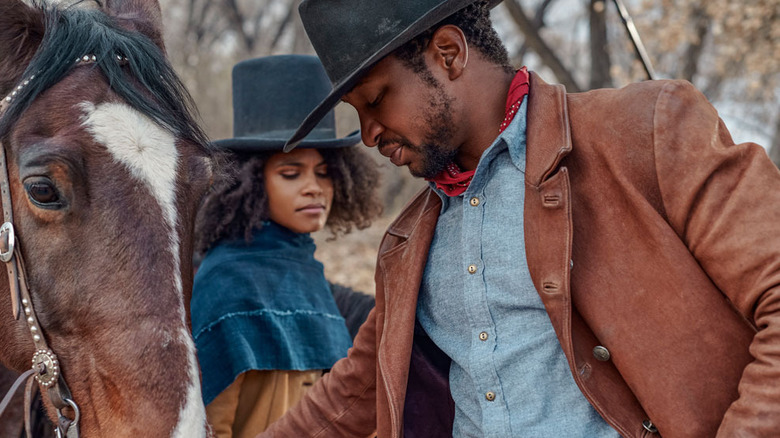 Netflix
Here's where things get really fun: "The Harder They Fall" is full of stars. Jonathan Majors plays outlaw Nat Love, a gang leader on the hunt for revenge. Love spends the film hunting down Idris Elba's Rufus Buck, the man who murdered his parents. Majors will be backed by Zazie Beetz as his former love, with Edi Gathegi as his hot tempered pal Bill Pickett, and R.J. Cyler as the fast drawing Jim Beckworth. On Elba's side is Regina King as the "treacherous" Trudy Smith and LaKeith Stanfield as his right hand man, Cherokee Bill. Delroy Lindo appears as Texas folk hero Bass Reeves.
"The Harder They Fall" also stars Danielle Deadwyler, Damon Wayans Jr., and Dean Cole.
The Harder They Fall Director, Writers, and More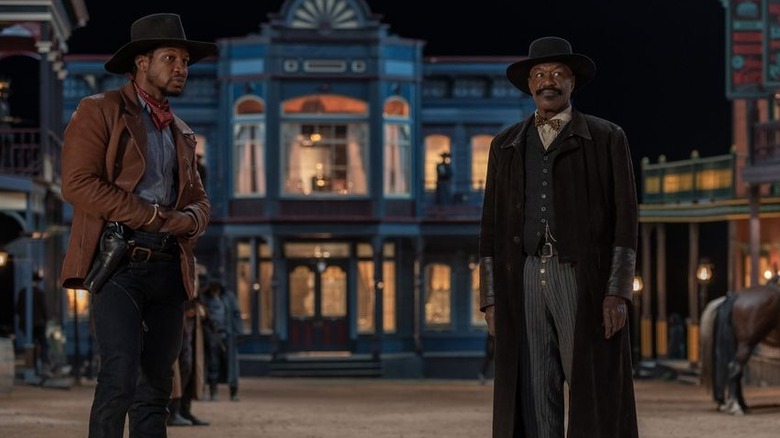 Netflix
Big stars are also behind the scenes of "The Harder They Fall." The film is directed and co-written by musician Jeymes Samuel, making his feature debut. Back in 2013, Samuel released the short film "They Die By Dawn," a Western starring Michael K. Williams and Rosario Dawson. For this film, Samuel teams up with longtime collaborator Jay-Z, who's not only producing but writing original music for the film. 
Other producers include James Lassiter ("King Richard," "Bad Boys For Life") and Lawrence Bender ("Pulp Fiction," "Inglorious Basterds"). Samuel co-wrote the film with "Now You See Me" and "The Rookie" screenwriter, Boaz Yakin.
The Harder They Fall Trailer