The Harder They Fall Trailer: This Ain't Your Grandaddy's Western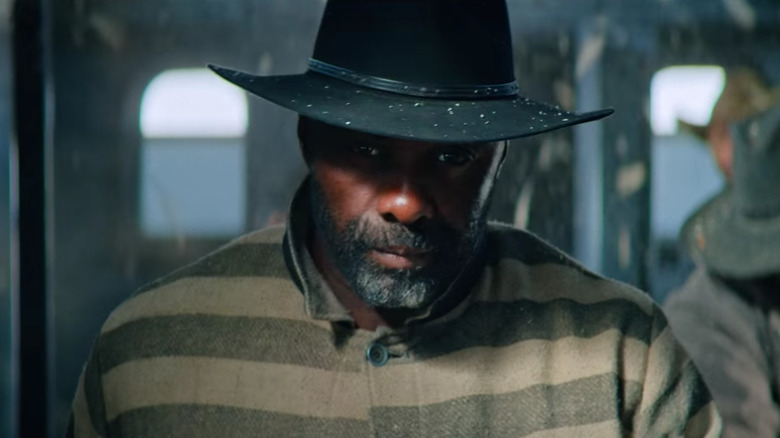 Netflix
Revenge has never been served colder than you see it dished out in Netflix's second trailer for "The Harder They Fall," the revisionist Black western with an all-star cast to die for. And as you can see in the trailer, plenty of folks do die at their hands. This new look at the film seems to encompass more of the entire story than the first trailer released back in June, which focused mostly on the opening breakout of Idris Elba's fearsome villain Rufus Buck. 
Here's the official synopsis:
When outlaw Nat Love (Jonathan Majors) discovers that his enemy Rufus Buck (Idris Elba) is being released from prison he rounds up his gang to track Rufus down and seek revenge. Those riding with him in this assured, righteously new school Western include his former love Stagecoach Mary (Zazie Beetz), his right and left hand men — hot-tempered Bill Pickett (Edi Gathegi) and fast drawing Jim Beckwourth (R.J. Cyler)—and a surprising adversary-turned-ally. Rufus Buck has his own fearsome crew, including "Treacherous" Trudy Smith (Regina King) and Cherokee Bill (LaKeith Stanfield), and they are not a group that knows how to lose.
The Harder They Fall Trailer
This movie looks like an absolute delight, especially as a fan of Black-led westerns like 1975's "Take A Hard Ride." The direction by British singer Jeymes Samuel (a.k.a. The Bullitts) feels stylish and fresh but with one foot still in traditional genre tropes (posses, shootouts, train robberies, etc). Even though this is his feature debut, Samuel is no stranger to the genre, having helmed a 50-minute short western film titled "They Die By Dawn" back in 2013 to accompany his album of the same title. 
"The Harder They Fall" is also an incredible actors showcase, especially for Jonathan Majors who is red hot right now after his roles in "Lovecraft Country" and as Kang the Conqueror in Marvel Studios' "Loki." Between this and Netflix's "Concrete Cowboy," 2021 is also the year that Idris Elba gets to reclaim the hat he should have worn as cowboy Roland Deschain in 2017's "The Dark Tower." And man, does he wear it well. The cast also includes Delroy Lindo, Danielle Deadwyler, Damon Wayans Jr., and Deon Cole.
Directed by Samuel from a screenplay he wrote with Boaz Yakin ("Fresh"), the film is produced by Shawn Carter (y'know, Jay-Z), James Lassiter, Lawrence Bender, and Jeymes Samuel. It is scheduled to have its world premiere at the BFI London Film Festival on October 6, 2021 before it drops in select theaters October 22, 2021 and on Netflix November 3, 2021.