The 15 Best Glenn Close Roles Ranked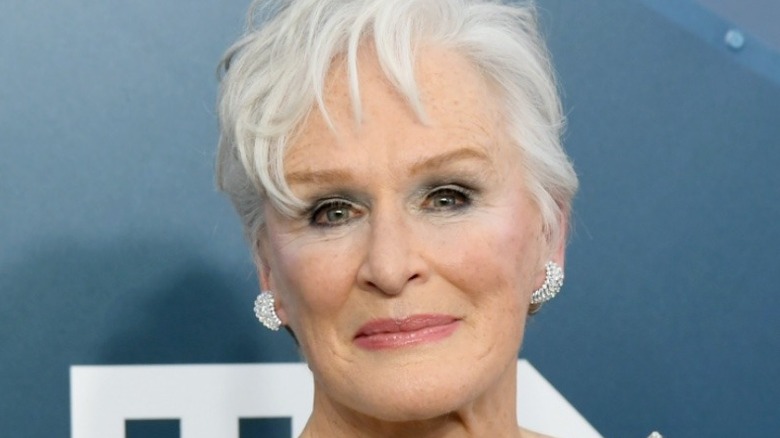 Getty Images
With a career that has risen to legendary status, Glenn Close has become one of the most treasured actors of her time. With characters have empowered female viewers everywhere and performances that have scared audiences from the first frame onward, Close has proven time and time again that she is a force to be reckoned with. Plus, with all of the incredible powerhouse directors she's collaborated with, Close has genuinely cemented herself as the secret ingredient to any great movie, regardless of the genre.
But given that Close has played so many memorable characters throughout her multi-decade-long career, it can be hard to decide which ones are  truly among the best of the best. From movies that are nostalgic blockbusters, intense family dramas, costume extravaganzas, and even some animated fare, Glenn Close's filmography offers a lot to choose from within  Without further ado, here are 15 significant roles from this dynamite actress' resume.
15. Gutless — Hook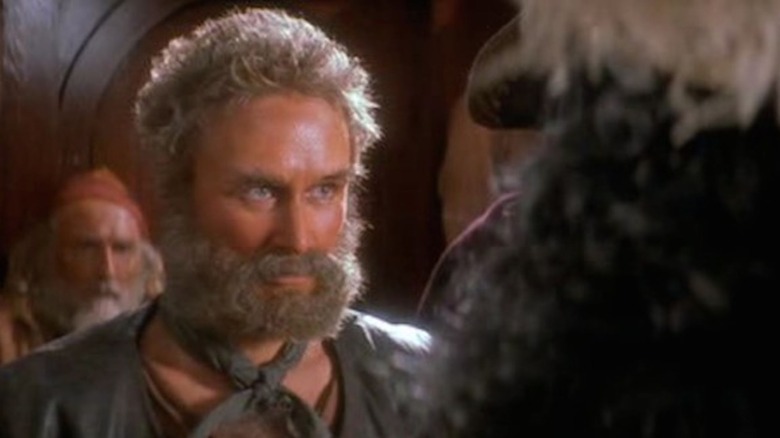 Tri-Star Pictures
In Steven Spielberg's "Hook," Peter (Robin Williams) returns to Captain Hook's ship after many years away, covered in a hilarious pirate disguise. As he listens to Hook (Dustin Hoffman) regale his crew with tales of how he kidnapped Peter's kids, he questions who amongst the crowd didn't believe in him. He eventually points to an older, bearded pirate — Gutless, a crew member who bet against Hook's ability to get revenge on Peter Pan. As punishment, Hook throws Gutless into the "Boo Box," resulting in a terrifically campy and absurd set of circumstances.
Though many casual viewers might be scratching their head when reading this, yes, Glenn Close did indeed portray this poor unfortunate pirate. And while Gutless doesn't last too long on screen, when you realize what part Close is playing, it's easy to see why Gutless deserves to be mentioned among her most memorable performances. She simply disappears into this over-the-top cameo.
14. Kala — Tarzan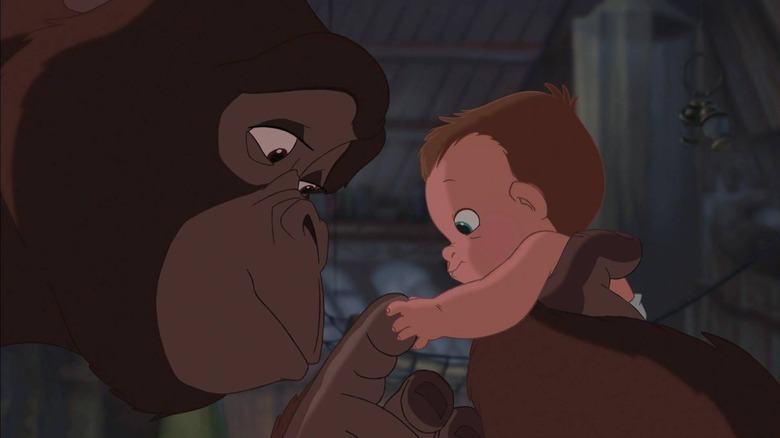 Disney
Though many tend to forget Close's voice acting work, it's hard to deny that her vocal talents made her a perfect fit for the role of Kala in Disney's adaptation of "Tarzan." A much more down-to-earth role for the typically dramatic actress, Kala gave Close a chance to show both her whimsical singing voice along with her tender side. And though some might think this was an easy task to accomplish, Close had a Disney legacy to live up to — one that she continued in her own unique way.
But what makes Kala one of Close's best (and underrated) performances is all about the voice acting chemistry she has with the rest of the "Tarzan" cast. From the moments when she has to stand up to her Gorilla husband, Kerchak (Lance Henriksen), to the sequences in which Kala has to advise Tarzan (Tony Goldwyn), Close embodies the great moms of Disney's past while still bringing a modern and empowering sensibility to the role.
13. Alicia Clark — The Paper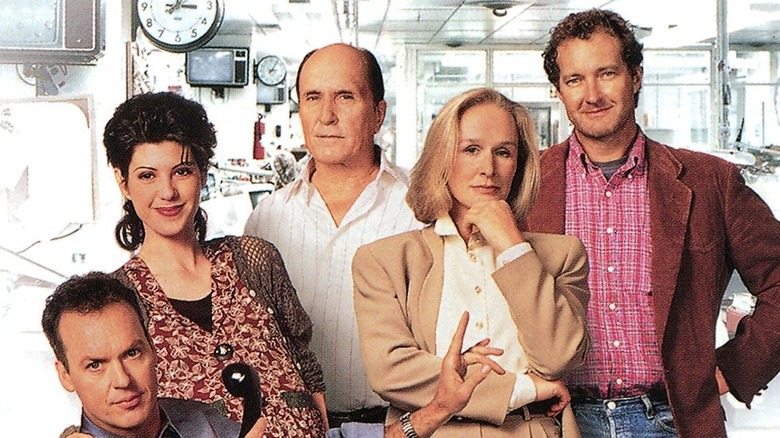 Universal Studios
Though considered a forgotten movie by most, Ron Howard's "The Paper" contains one of Glenn Close's most refined, calculated performances. In the movie, Close plays Alicia Clark, a managing editor of a New York tabloid who is more focused on advancing her career than preserving her integrity as a journalist. Clark is trying to be one of the guys in an industry that immediately assumes she's a mean girl simply because she wants something more. And that relatable aspect of Alicia is the core of Close's fantastic performance.
In one particular sequence, Alicia goes to a business dinner to try and speak to her boss' boss, hoping to get the kind of contract negotiation that she thinks she deserves. Although audiences would hope that the outcome would have changed in the 27 years since the movie's release, both "The Paper" and Glenn Close's performance remind viewers about the constant struggles women face in male-dominated industries.
12. Iris Gaines — The Natural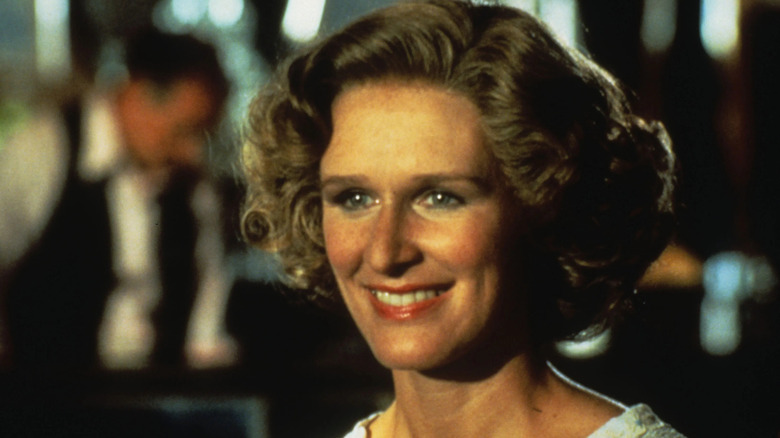 Tri-Star Pictures
In Barry Levinson's "The Natural," audiences follow the fairytale-like story of Roy Hobbs (Robert Redford), a '30's baseball player with extraordinary abilities who rises to the top. Close takes on the role of Iris Gaines, a part that shows off a glamorous side that many of Close's prior roles hadn't, proving that she was (and still is) a perfect match for Redford in both acting and visual presentation.
Close's abilities recall a memorable sequence in the film in which Iris stands out in a baseball-focused crowd. In the scene, Iris is watching Roy as he makes an impressive hit. Yet even with all eyes on his sports-driven successes, all Roy can think about is looking at Iris. The mixture of Close'scontrolled acting, the brilliant cinematography, and the romantic aesthetics, showcase how this talented individual truly takes command of the screen. Even without uttering a single word, the camera and audiences love her.
11. Vice President Kathryn Bennett — Air Force One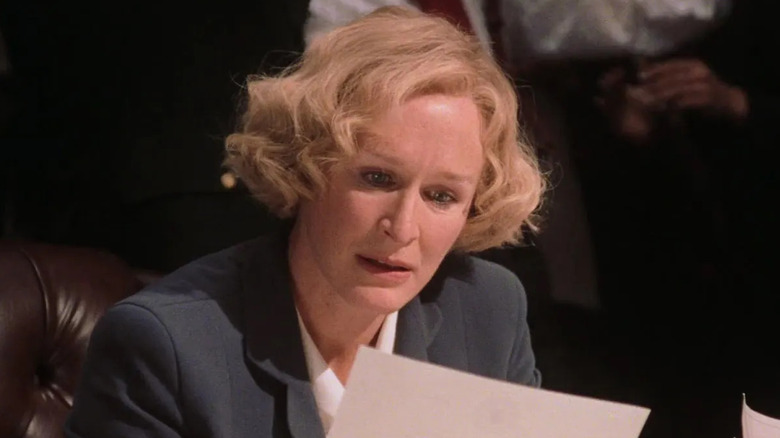 Sony Pictures
While "Air Force One" follows many of the same beats as action staples like "Die Hard," there's nothing in the genre comparable to Glenn Close as Vice President Kathryn Bennett. Serving alongside Harrison Ford's President James Marshall, it's up to Kathryn to "hold down the fort" as Marshall tries to stop a group of terrorists from taking over the titular plane. And while the President is kicking some Russian bad guys to the metaphorical curb, the real unsung hero of the film is Kathryn, who has to take on both the White House and the world during a highly intense situation.
Both regal and remarkably blunt, the best aspect of Close's performance in "Air Force One" is how she knows what kind of movie she's in. Whether it be the bold delivery of her over-the-top one-liners or her trailer-worthy looks during the most intense sequences, Close perfectly matches the movie's tone. Plus, seeing Close acting alongside heavy-hitters like Ford and Gary Oldman is the definition of cool — she holds her own against them with her uniquely captivating style. 
10. Gertrude — Hamlet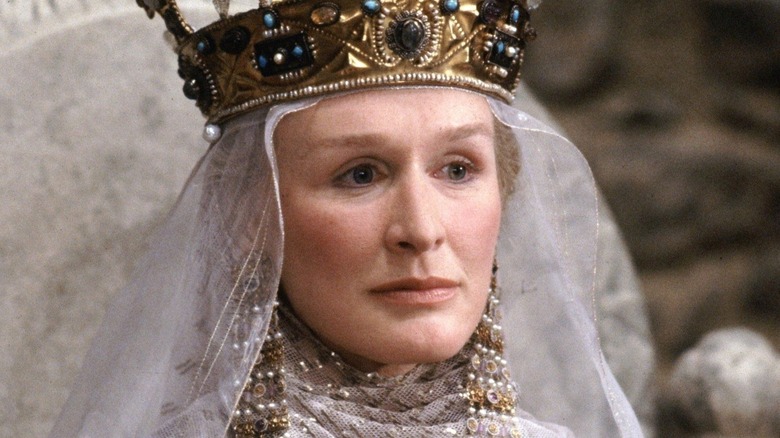 Warner Bros.
While many doubted that a Mel Gibson-led adaptation of "Hamlet" could work, this version of the classic Shakespeare tale surprised audiences, and while Gibson's performance in the title role is quite memorable, the secret sauce of this rendition is, of course, Glenn Close as Hamlet's mother, Gertrude.
Being one of the two leading ladies of the piece, Close's Gertrude is more comforting than other versions of the character. Close's take on the Danish matriarch is kind yet flawed. She's willing to do anything for her kingdom, especially if it gives her a distraction from her thoughts. But, as with any tremendous Close performance, there is a hidden layer to her approach — Gertrude seems to be keeping secrets close to the symbolic vest. And when Close gets to act alongside Gibson and the movie's other excellent cast members, the strength of her acting becomes crystal clear.
9. Jenny Fields — The World According to Garp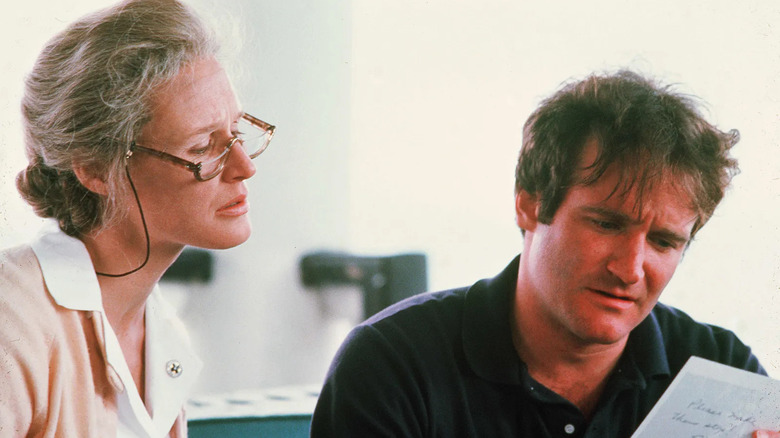 Warner Bros.
Famously known as Close's feature film debut, the role of Jenny Fields in "The World According to Garp" is undoubtedly an odd one. Not only did Close play mother to a then 31-year-old Robin Williams as Garp, but Jenny was certainly not your typical movie mom. From wanting to have a baby out-of-wedlock in the '40s to interviewing prostitutes at coffee shops in front of her son, Jenny is a character that certainly likes to color outside the lines of life — an aspect Close perfectly captures.
Despite the problematic elements of the plot (especially how Garp comes to be) and the awkward age difference in casting, Close elevates the character of Jenny into something even more special than she was in the pages of John Irving's original novel. And through countless fantastic sequences (mainly those with Williams in the later portions of the film), it's easy to see why this role established Close as a powerhouse of both the big and small screen.
8. Albert Nobbs — Albert Nobbs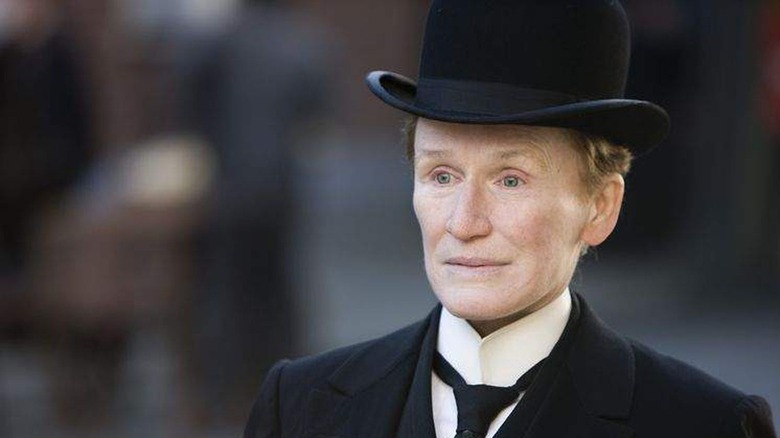 Entertainment One
Having played the role both on the stage and then on the screen, Glenn Close's performance as the quiet but complicated Albert Nobbs is one of the most intriguing pieces of her filmography. Based on the book and play "The Singular Life of Albert Nobbs," the film centers around a late-19th century butler born biologically as a woman who works hard to create his dream life. From opening a tobacco shop to getting married to a beautiful maid named Helen Dawes (played by Mia Wasikowska), all Albert wants is to have the life he's always dreamed of. Yet, it seems his already tough existence has more than a few bumps on the road ahead.
Though uneven with its LGBTQ+ representation from start to finish, there's no denying that Close's performance carries you through the film's cinematic flaws. Paired with the great Janet McTeer in many of the movie's most memorable sequences, Close truly becomes an acting force, proving that some iconic stage performances can indeed successfully translate to the screen, even if there are many years between them.
7. Sunny von Bulow — Reversal of Fortune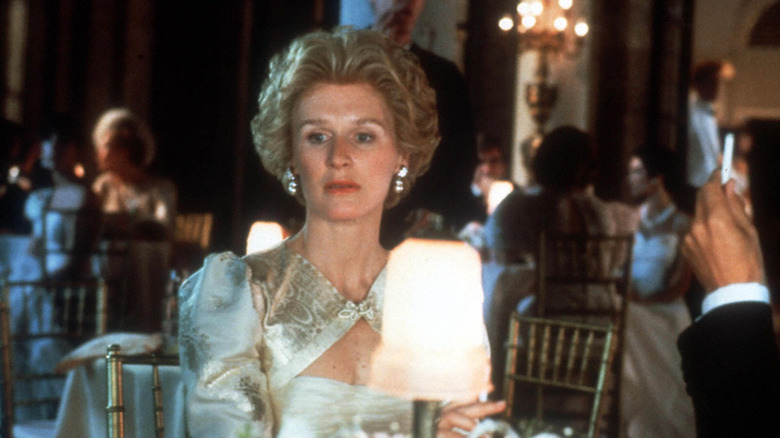 Warner Bros.
Based on a true story, the darkly funny "Reversal of Fortune" is about the murder trial in which Claus von Bulow (played by Jeremy Irons) is charged with killing his wife, Sunny von Bulow (Close). In the film, Sunny lies in a coma, trying to help the audience put together the puzzle of how she arrived at this moment. The film then takes us on a journey through both Sunny's past and the present day, allowing us to come to our own conclusion about the crime at hand.
Dressed to the nines and beyond, Close's take on Sunny von Bulow is a perfect blend of camp and the refined. She's a Hitchcock blonde without Alfred's direction. She looks at her life from a wickedly comedic angle, serving as both the narrator and the victim (in a "Sunset Boulevard" sort of way). Close showcases every piece  of Sunny's complexity from start to finish, making "Reversal of Fortune" intoxicating to watch. She also has a great collection of garments and hairstyles, and Close inhabits this character with dignity and grace.
6. Sarah Cooper — The Big Chill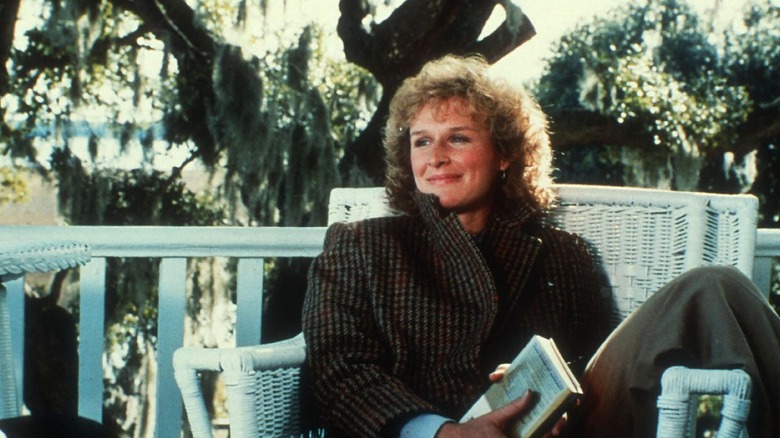 Columbia Pictures
Known as one of the most significant parts of her early career, Close's work in Lawrence Kasdan's "The Big Chill" set the tone for the kind of roles she'd take later on. Though Close would eventually play juicer and bolder characters throughout her filmography, Sarah showed Close's down-to-earth vulnerability in the best of ways. The film revolves around a group of friends who celebrate their late pal, Christopher, who took his own life. And though the film deals with many incredibly dark subjects, Close and the rest of the cast make it an enjoyable ride.
From her sweet dance sequences with the rest of the ensemble to the isolated moments in which she reflects on the intensity of the situation (especially the shower sequence), Close's portrayal of Sarah stands out as one of the more memorable aspects of this classic film. And when paired with the legendary cast, which includes Jeff Goldblum, Kevin Kline, and so many others, it's easy to see why both the movie (and Close's performance) left such an impact on movie-goers during its initial release.
5. Cruella de Vil — 101 Dalmatians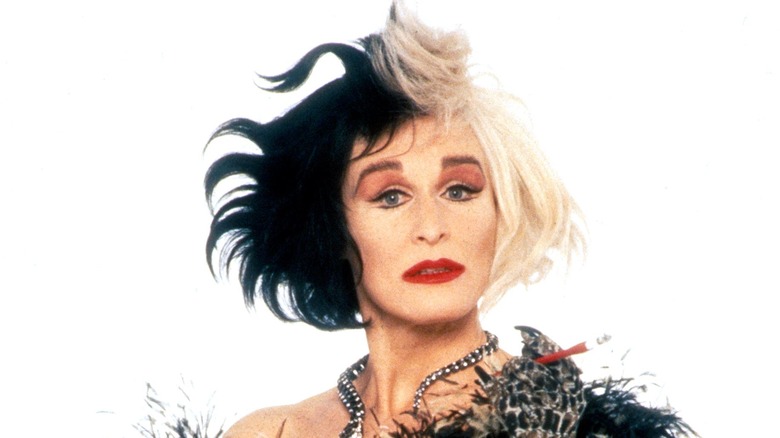 Disney
One of Close's most cherished roles, Cruella de Vil from Disney's 1996 live-action "101 Dalmatians" (and its sequel) is a character just as iconic, bold, and memorable as Close herself. From her larger-than-life aesthetic presentation to a laugh that sends shivers down any person or dog's spine, it's no wonder this antagonist continues to delight audiences. Yet it is the unique touches that Close brings to the legendary Disney villain that make this incarnation of the dognapping baddie all her own.
First of all, much like other roles mentioned on this list, Close is no stranger to camp, and while there are other examples on her resume, Cruella gives Close free rein to cut loose. But it is her perfect balance of comedy and terror, along with her tributes to Marc Davis' original animation, that makes Close's portrayal of Cruella a sight to behold. She is one of the few actors to truly bring one of Disney's animated characters to real life in the most delicious of ways.
4. Joan Castleman — The Wife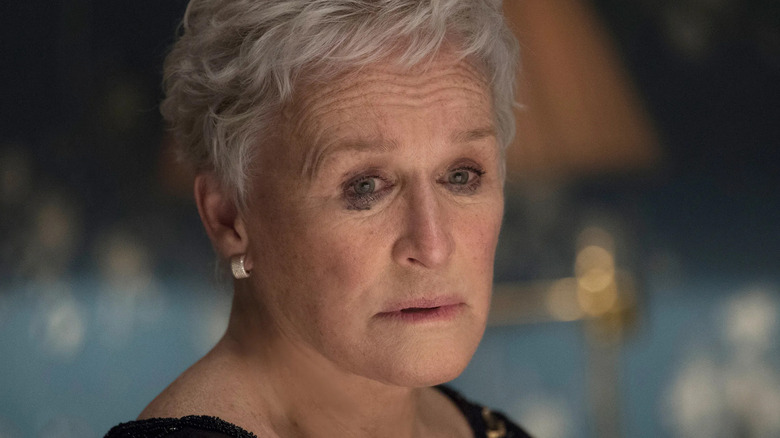 Sony Pictures Classics
One of the many roles that should have won her an Oscar, Glenn Close's work in "The Wife" is a masterclass in drama. Based on the novel of the same name, the movie tells the story of Joan (Close) and Joe Castleman (Johnathan Pryce), a married couple who seem to be the yin to each other's yang. Joe is an award-winning writer who is about to be given the Nobel Prize. Though it may seem like Joan is the perfect wife, there's more to her story than just being a supportive figure in Joe's career.
In one of the more outstanding examples of "show don't tell," Close perfectly captures Joan's complexities by simply shifting in her face. And as the film progresses towards its more dramatic sequences, Close produces one of the most compelling examples of intensity ever put on celluloid. She's a genius when it comes to making characters fascinating from beginning to end, and her work as Joan may be one of the most genuine and magnificent examples of Close's particular strengths.
3. Patty Hewes — Damages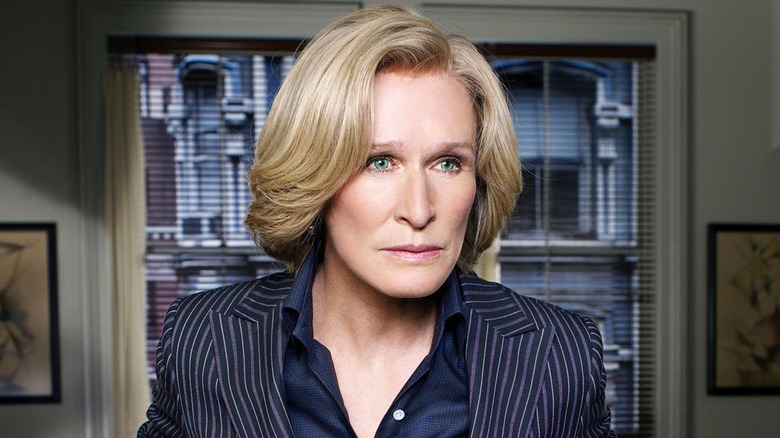 FX
Considered her most iconic TV role, Glenn Close's performance as Patty Hewes in "Damages" is an acting tour de force. The FX legal thriller centers around Patty, an incredible lawyer who keeps her emotions tucked under her sleeve. As the series progresses, Patty takes on a multitude of extreme cases. But the truly intriguing part of the show is Patty's relationship with her protégée Ellen (played by Rose Byrne), from their highs to the lowest of lows.
With memorable zingers and a cutthroat mentality, Close brings Patty to life in absolutely astonishing ways. From the character's obsession with perfection to not letting anyone (especially any man) stand in her way, Close makes every ferocious sequence in Patty's story as riveting as the next. And when she's acting alongside the other memorable cast members on "Damages," it becomes clear why Close won so many awards for this magnificent performance.
2. Marquise de Merteuil — Dangerous Liaisons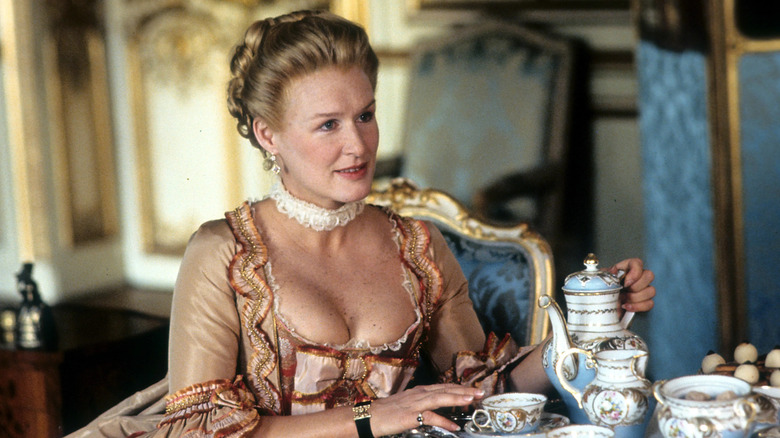 Warner Bros.
Driven by love and revenge, the role of the Marquise de Merteuil in "Dangerous Liaisons" is perhaps one of the most significant parts any actress can play. But no one has portrayed the character quite like Glenn Close. Not only did Close add her signature lightning-fast reflexes, unique choices, and delicious spin on villainy to her performance, but she brought this theatrical individual to life in some truly fascinating ways.
But perhaps the most extraordinary aspect of Close's performance are the hints of vulnerability the character exhibits. The Marquise de Merteuil is an individual who never wants to show her true feelings. Still, as the plot progresses, Close uses the tiniest expressions to convey the character's true feelings, making for one unforgettable finale. When considering that Close had only given birth to her daughter seven weeks before production, the results of her work are incredible.
1. Alex Forrest — Fatal Attraction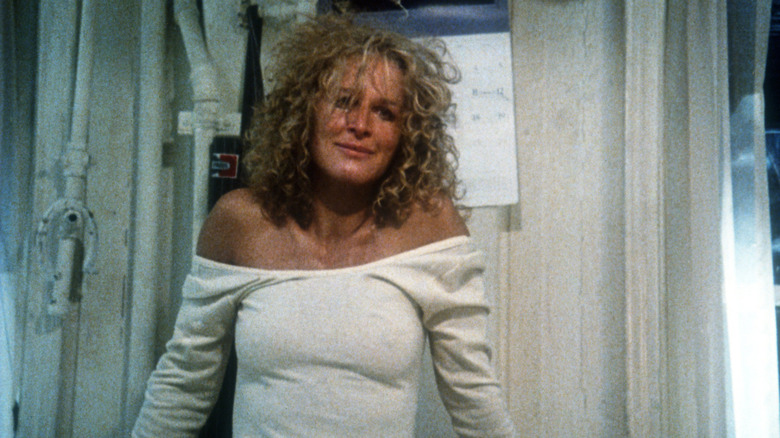 Paramount Pictures
While there have been many significant roles in Glenn Close's career, none of them are quite as crucial to her stardom as Alex Forrest in "Fatal Attraction." The film focuses on Daniel "Dan" Gallagher (played by Michael Douglas), a successful lawyer who seems to be existing in marital bliss. But when Alex crosses his path one weekend, the two have a passionate affair — one that Dan thinks is one and done, but Alex feels is more. What follows is the stuff of movie legend, primarily thanks to Close's incredible performance.
In many interviews, Close has said that she never viewed Alex as a villain, a perspective that greatly influenced her overall take on the character. Though many viewers would think otherwise, it is Close's dedication to this complex individual's genuine vulnerability that makes this piece of her filmography truly special. While some might remember Close's work on this movie more for her iconic one-liners and ridiculous antics, it is Close's tireless efforts on "Fatal Attraction" that make Alex arguably the most fantastic role of her entire career.