'The Girl With All The Gifts' Trailer: A Different Kind Of Zombie Movie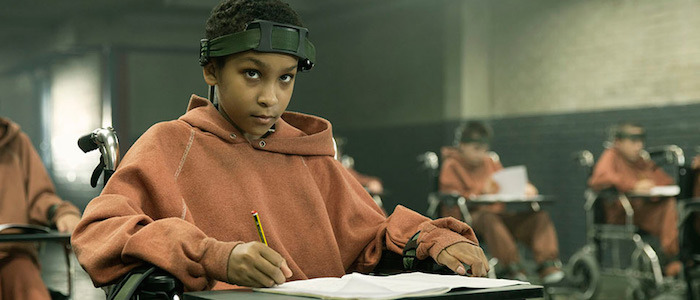 I missed seeing The Girl With All the Gifts at last year's Fantastic Fest and came to regret it as many friends and colleagues kept on telling my how much they enjoyed it, with director Colm McCarthy taking home a directing prize at the festival's awards. More than a few people compared it to The Last of Us, the incredible post-apocalyptic video game whose movie adaptation is currently mired in development hell, which is the kind of praise that would put anything on my radar.
It's been six months since we've seen a trailer for the film, so this new preview is a nice reminder that yes, this movie still exists and we'll all be able to watch it fairly soon.
Based on the novel of the same name by M.R. Carey, The Girl With All the Gifts takes place deep in the zombie apocalypse. Society has collapsed, but pockets of humanity still exist and continue to look for a cure to the plague that has transformed most of the world into ravenous monsters. The title character is  Melanie (Sennia Nanua), one of several children infected with the zombie virus who has managed to maintain her basic human emotions despite craving human flesh. Glenn Close plays the cruel scientist experimenting on her, Gemma Arterton plays her teacher, and Paddy Considine plays a soldier at their compound. And if you guessed that these four will have to embark on a road trip across the wasteland that once was civilization...you guessed correctly.
While I haven't read the original novel, I am familiar with Carey's comic book work and have enjoyed much of it (especially his Vertigo series The Unwritten). And while director Colm McCarthy isn't a household name, there's a strong chance you've seen some of his television work, as there are episodes of Sherlock and Peaky Blinders to his name. That's an unexpectedly strong combination of talent.
The Girl With the All the Gifts will be available for DirecTV on January 26 before hitting theaters and video on demand on February 24. Here's the official synopsis:
The near future; humanity has been all but destroyed by a mutated fungal disease that eradicates free will and turns its victims into flesh-eating "hungries." Only a small group of children seem immune to its effects.
At an army base in rural England, this group of unique children are being studied, subjected to cruel experiments by biologist Dr. Caldwell. Despite having been infected with the zombie pathogen that has decimated the world, these children retain normal thoughts and emotions. And while still being subject to the craving for human flesh that marks the disease these second- generation "hungries" are able to think and feel making them a vital resource in the search for a cure.
The children attend school lessons daily, guarded by the ever watchful Sergeant Parks. But one little girl, Melanie, stands out from the rest. Melanie is special. She excels in the classroom, is inquisitive, imaginative and loves her favorite teacher Miss Justineau.
When the base falls, Melanie escapes along with Miss Justineau, Sergeant Parks and Dr. Caldwell. Against the backdrop of a blighted Britain, Melanie must discover what she is and ultimately decide both her own future and that of the human race.