Ranking All 48 (Mostly Great) Movies Released By A24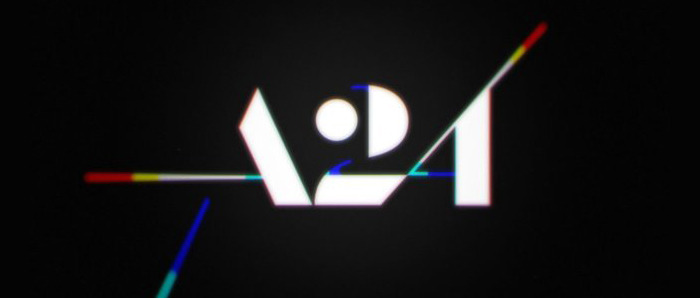 General audiences don't pay much attention to the distributors of most films (unless the distributor happens to be Disney). But most film distributors aren't A24 Films, the little start-up distribution company that could. Founded in 2012 by Daniel Katz, David Fenkel, and John Hodges, A24 is one of the rare independent film distributors to build up the type of rabid fanbase usually reserved for Disney-owned Marvel movies. And with good reason: since 2013, A24 has been releasing unique independent cinema worth talking about. "A24 films run the gamut of genre and style, but they all seem to be incredibly specific, personal visions," said James Ponsoldt, who directed two films released by A24. When you're in a theater and the lights go down, and the cool, retro, minimalistic A24 logo comes up, you know you're about to get something special. And they show no signs of slowing down. On May 5, they'll release Azazel Jacobs' The Lovers, with films like A Ghost Story, The Exception and It Comes At Night all on the horizon and already generating buzz.Ranking films is a time-honored tradition here on the internet. But most ranking tends to be of the Marvel or DCEU variety. Why should superhero movies have all the fun? Let's give an indie distributor a shot! You might ask: is it fair to rank different films from different directors just because they all fall under the same distributor? Probably not! But we're going to do it anyway. It's worth noting that, with a few exceptions, the films in A24's line-up are either good, very good or downright excellent. That's worth celebrating and applauding. That said, join us as we rank the films of A24.
48. A Glimpse Inside the Mind of Charles Swan III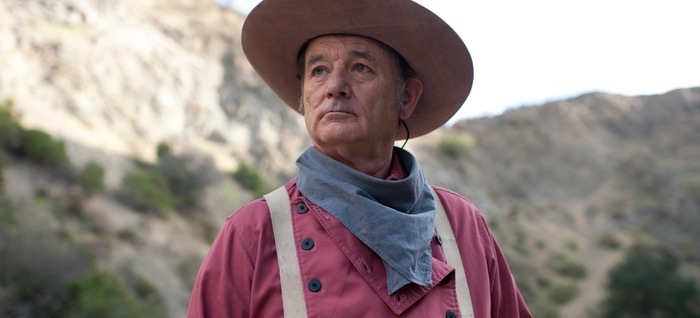 The first official release from A24 is probably better off forgotten. Writer-director Roman Coppola put Charlie Sheen, whose very public 2011 meltdown was still fresh in the public consciousness, front and center for A Glimpse Inside the Mind of Charles Swan III, a visually appealing but otherwise mess of a movie. Sheen plays Charles Swan III, a graphic designer who finds his life turned upside down when his girlfriend (Katheryn Winnick) dumps him. Not even a wonderful supporting cast, including Jason Schwartzman, Patricia Arquette, Aubrey Plaza, Mary Elizabeth Winstead and Bill Murray (dressed identically to John Wayne in The Searchers) were enough to salvage this misfire. Thankfully, A24 would go on to bigger and better things. Eventually.
47. Tusk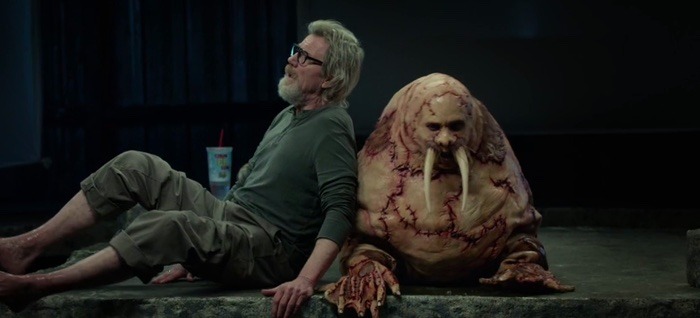 In 2011, Kevin Smith infamously screened his film Red State for an audience of executives, only to get up on stage afterward and tell them all they could not purchase the film for distribution after all – he was going to do it himself. As far as stunts go, it was rather audacious. But didn't stick with this distribution model for long. His follow-up to Red State, Tusk, was released by A24, and for their part the start-up film distributors seemed excited to be in business with the Clerks helmer. "We had the privilege of visiting Kevin on the Tusk set and seeing some of his early footage," A24 said in the press release that announced the acquisition. "We can say with certainty that this movie will blow people's minds. Truly one you'll have to see to believe." Unfortunately, what could've been a fun, gross-out midnight movie is just a dull, almost unwatchable joke. Save for a great performance from Michael Parks as a deranged sea captain, and some gnarly make-up effects from Robert Kurtzman, Tusk is dreadful for all the wrong reasons, not the least of which is an atrocious performance from Johnny Depp as a bumbling Canadian police inspector. During Tusk's end credits, Smith and his SModcast co-host Scott Mosier can be heard giggling as they come up with the idea for Tusk. For them, it's clearly the funniest idea they've ever conceived. For the rest of us, it's painful.  
46. The Sea of Trees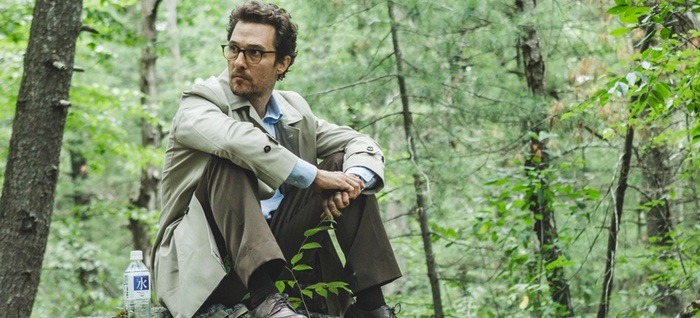 Gus Van Sant's The Sea of Trees was booed ferociously at Cannes, but it's not that bad. At least, it's not as bad as Tusk and A Glimpse Inside the Mind of Charles Swan III, so we're making progress here. Roadside Attractions originally acquired U.S distribution rights to The Sea of Trees, but A24 snapped them up after Roadside dropped them in the aftermath of the Cannes premiere. The Sea of Trees stars an uncharacteristically morose Matthew McConaughey as an American man who plans to commit suicide in Japan's Aokigahara forest, also known as the "Suicide Forest". Before he can kill himself, he meets a Japanese man (Ken Watanabe) in the forest with the same suicidal inclination. The two men then begin a prototypical Van Sant journey of self-reflection. The worst crime The Sea of Trees commits is that it's fatally empty. There's very little life to be found in a film about two characters trying to find their way back to lives of their own.
45. Dark Places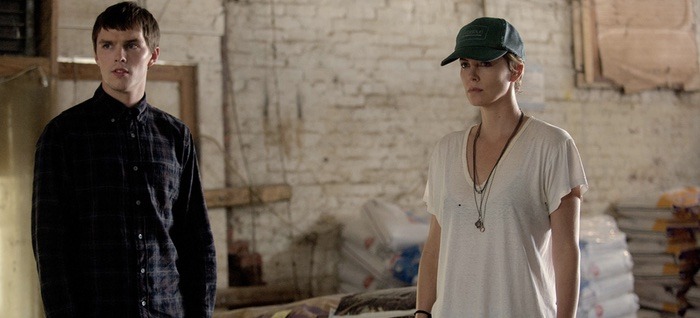 David Fincher may have struck gold turning a Gillian Flynn novel into a film with Gone Girl, but filmmaker Gilles Paquet-Brenner is no David Fincher. That's all the more evident with Paquet-Brenner's immensely disappointing Dark Places. Paquet-Brenner's Flynn adaptation has a stellar cast – Charlize Theron, Nicholas Hoult, Chloë Grace Moretz, Corey Stoll, Christina Hendricks – but this thriller about a woman (Theron) looking into the 25-year-old murders of her own family has none of the nuance or insight of Flynn's book. A24 likely knew the film wouldn't hold water and gave it a very limited/VOD release in 2015, where it quickly faded from view.
44. Revenge of the Green Dragons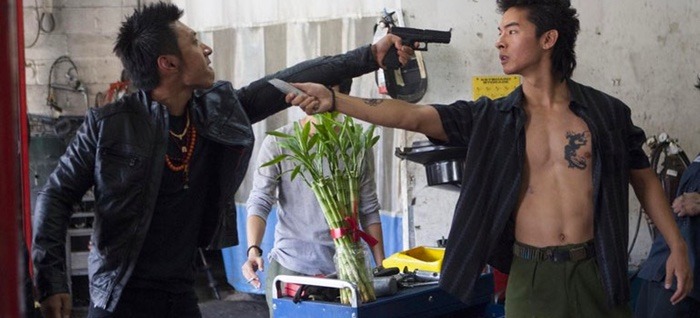 A24 seems to be drawn to crime dramas (as you'll see), but Revenge of the Green Dragons is not one of their better entries into the genre. Two immigrant brothers (Justin Chon and Kevin Wu) join the gang The Green Dragons in 1980s New York, and all the trappings you'd imagine involving that follow. Directors Andrew Loo and Wai-keung Lau are going for a Chinatown take on Mean Streets, and while there's style to spare there's not much else to embrace.
43. The Adderall Diaries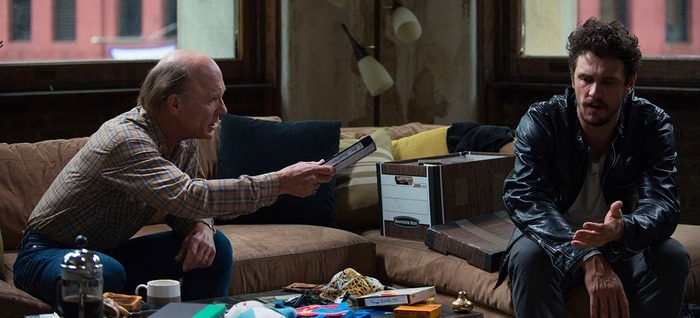 James Franco appears in approximately 400 movies a year, and one of his 2015 titles was The Adderall Diaries, adapted from the nonfiction book by Stephen Elliott. Franco plays Elliott, a writer who starts investigating a software engineer (played by Christian Slater) on trial for murder. The real Elliott was not very happy with the way the film played fast and loose with the true story, as detailed in a piece he wrote for Vulture. "Good art always strives toward honesty, illuminating the dark corners of our psyche," he wrote. "Bad art tries to hit the nail on the head, and in missing, it smashes the audience's collective thumb." Still, The Adderall Diaries, another limited/VOD release from A24, isn't without its merit. Writer-director Pamela Romanowsky navigates a rather convoluted narrative quite well, Franco is rather strong, and, best of all, Ed Harris turns in a great performance as Franco's estranged father.
42. Oasis: Supersonic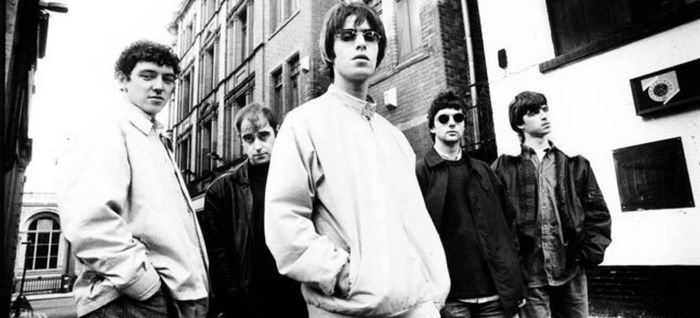 How much you enjoy Mat Whitecross's Oasis: Supersonic documentary will mostly depend on how much of a fan you are of the band Oasis. But stalwarts of the Gallagher brothers and co. will find much to appreciate here. At a lengthy 122 minutes, the doc is nothing if not comprehensive.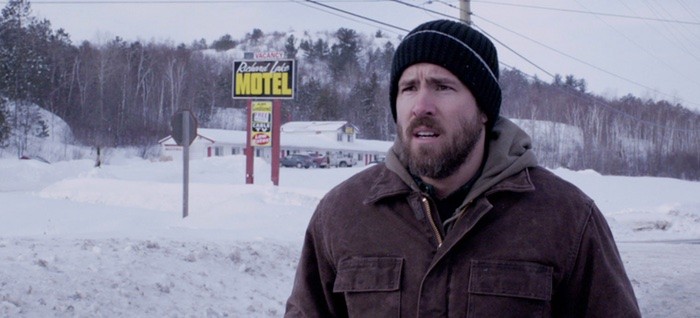 41. The Captive
Atom Egoyan, the filmmaker behind excellent films like Exotica and The Sweet Hereafter, received some of the worst reviews of his career with this 2014 limited A24 release. Following the disintegrating relationship between a couple (Ryan Reynolds & Mirellie Enos) after their young daughter is kidnapped, Egoyan's film jumps around in time and perspective, shifting from the devastated parents, to the detectives investigating the case, to the kidnapped daughter's life in captivity. But choppy editing (by Egoyan and Susan Shipton) all but capsizes the film. Pity, since Paul Sarossy's wintry cinematography is quite lovely.
40. Life After Beth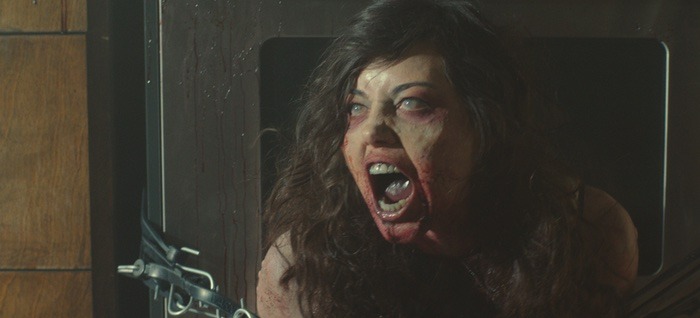 "Aubrey Plaza as a zombie" really should be enough to sell you on a film. But Jeff Baena's zom-rom-com is a bit of a disappointment, mostly due to some tonal issues and a rather thin screenplay. The set-up is simple: a heartbroken young man (Dane DeHaan), grieving his recently deceased girlfriend (Plaza), is thrown into a tailspin when the dearly departed returns from the grave with a taste for human flesh. The film never really expands beyond this premise, though, resulting in a mixed-bag. That said, Plaza is all-in when it comes to playing her undead character, which means the film is at the very least watchable.
39. Mojave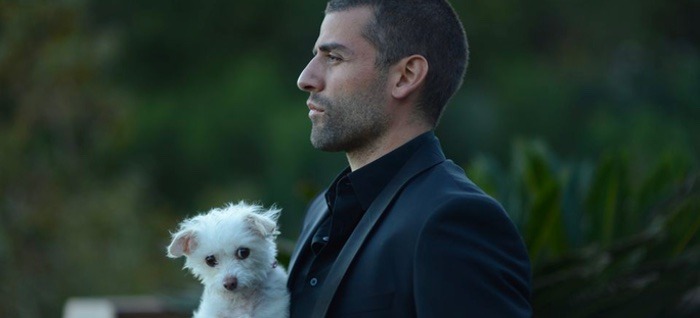 Made in 2013 but not released until 2015, Mojave is a mess, but it's a fascinating mess. Written and directed by The Departed screenwriter William Monahan, Mojave follows a super-cool, mumbly screenwriter (Garrett Hedlund) who wanders into the desert and meets a serial killer, played with raspy charisma by Oscar Isaac. Isaac stalks Hedlund back in the real world, turning his life into a living hell in the process. Overall, Mojave is weird enough that it might intrigue some viewers, but as we'll see, there are other Oscar Isaac A24 films that deserve much more attention.
38. Barely Lethal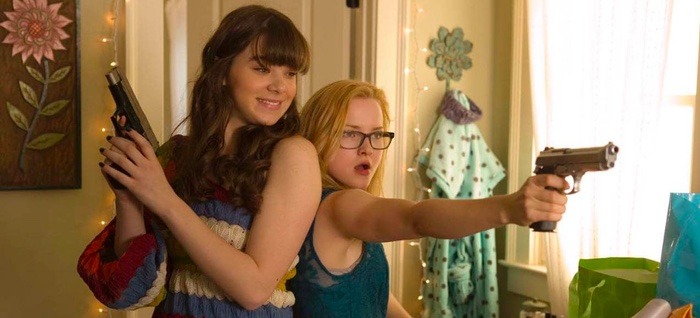 Like Life After Beth, Barely Lethal has a novel premise and a great lead: Hailee Steinfeld plays a teenage assassin who longs for a normal life. So she fakes her death and enrolls in high school, only to discover high school can be just as unpleasant as being a special ops assassin. But also like Life After Beth, Barely Lethal doesn't really do much with its set-up. As talented as Steinfeld is, she can't quite rescue the film.
37. Laggies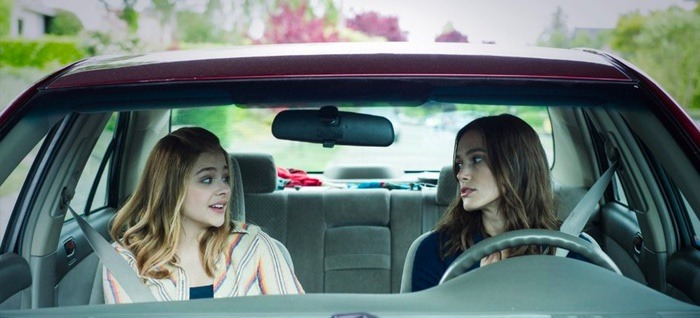 A quarter-life crisis comedy that may not have much to offer in terms of originality, Lynn Shelton's Laggies is saved by an infectious energy and an amusing lead performance from Keira Knightley. Knightley plays a directionless young woman who goes into crisis mode when her boyfriend proposes marriage. Knightley goes into hiding with a teenager (Chloë Grace Moretz) while trying to sort her life out. Shetlon and writer Andrea Seigel bring an intelligence and insight to the film that most indie comedies of this ilk have a hard time matching.
36. Remember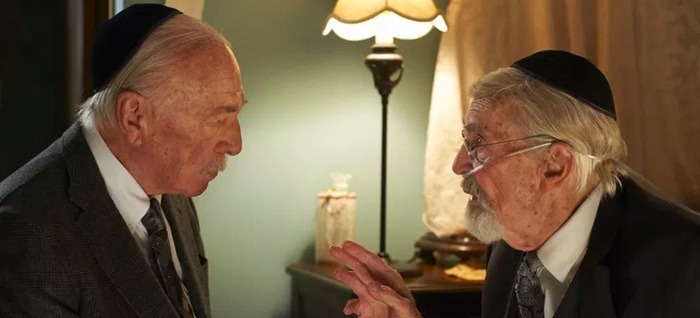 Another A24 film from Atom Egoyan, Remember is a step-up from The Captive, due in no small part to a typically great turn from Christopher Plummer. Plummer plays a man suffering from dementia, living out the last of his days in a nursing home. There, he befriends a concentration camp survivor (Martin Landau), who reminds Plummer that he, too, was in the camps, although Plummer's dementia keeps him from fully remembering this. Landau sets Plummer on a quest to hunt down and kill the concentration camp guard who killed their families. Remember is a tense, disturbing film that has Egoyan regaining much of his directorial strength.
35. Son of a Gun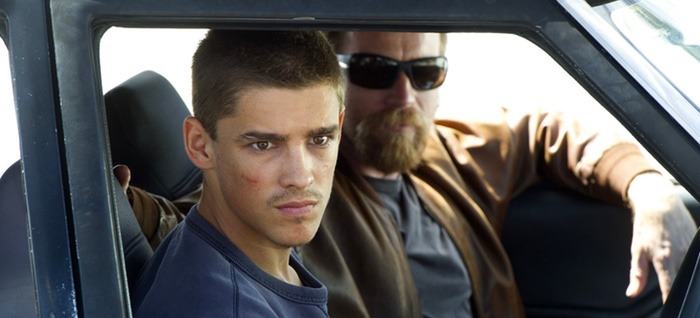 Julius Avery's gritty Australian crime drama benefits from a dark turn from Ewan McGregor. Brenton Thwaites is a 19-year-old sent to prison for a rather minor crime. There, he falls under the protection of Australia's public enemy #1 (McGregor). The two eventually escape prison together, developing a father-son relationship that turns dangerous. There's nothing in this story that hasn't been done a million times before, but writer-director Avery is so confident in what he's doing here, and McGregor is clearly relishing playing a more villainous character than usual, that Son of Gun is far more entertaining than you'd expect.
34. Cut Bank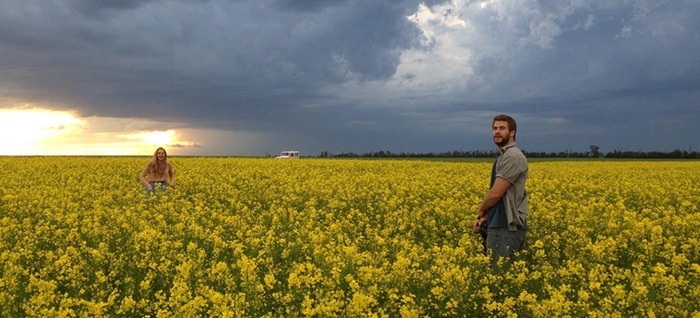 Another crime thriller from A24, Cut Bank gives off the impression of a Coen Brothers Lite film, to the point that it features several Coen players – The Man Who Wasn't There's Billy Bob Thornton; Burn After Reading's John Malkovich; A Serious Man's Michael Stuhlbarg. Unfortunately, they're all relegated to supporting players while the film focuses on Liam Hemsworth, the lesser Hemsworth brother. Hemsworth hatches a get-rich-quick scheme to get himself and his girlfriend out of their dull little town. But the plan backfires, and Hemsworth finds the town is actually more dangerous than he had originally perceived. Cut Bank is quirky and packs on one large plot twist, but you can never shake off that Coen knock-off feeling long enough.
33. Into the Forest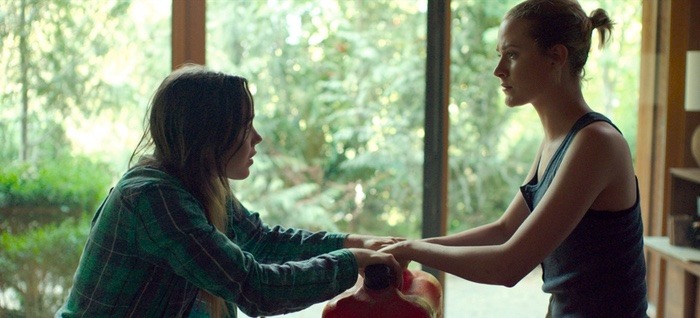 Patricia Rozema's haunting semi-post-apocalyptic drama follows two sisters (Ellen Page and Evan Rachel Wood) coming to terms with a world plunged into darkness after a technological collapse sweeps the country. Page and Wood are excellent together, and Rozema and cinematographer Daniel Grant create some truly stunning moments. Into the Forest eventually runs out of energy by the time the third act rolls around, but until then it's striking.
32. Trespass Against Us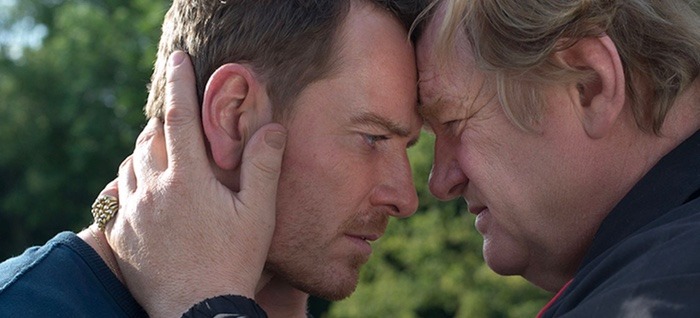 Yet another A24 crime drama, Trespass Against Us is, like Son of A Gun, a film about the tensions between a father-son dynamic. It helps greatly that the father and son are played by Brendan Gleeson and Michael Fassbender, two supremely gifted actors. Gleeson and Fassbender are outlaws who come to blows when Fassbender dreams of a better, crime-free life for his own son (Georgie Smith). This doesn't sit very well with the volatile Gleeson. A24 snatched up the US rights to Trespass Against Us back in 2014, but didn't release it till 2016, which might hint at a film of inferior quality. But Trespass Against Us is worth watching, if only for the performances from Gleeson and Fassbender.
31. Ginger & Rosa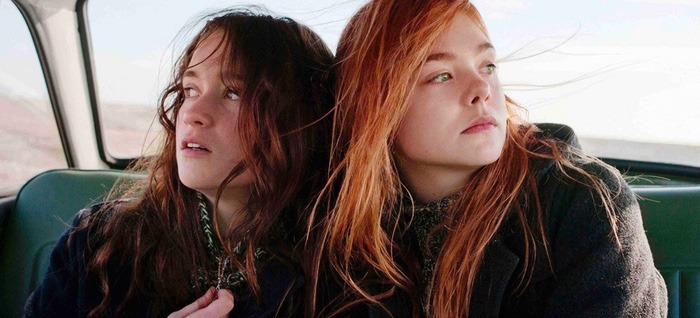 The second film distributed by A24, Sally Potter's Ginger & Rosa follows two teen friends (Elle Fanning and Alice Englert) who start to drift apart. The film is set in 1962, and the threat of nuclear war looms in the background, which will unfortunately make the film feel even more relevant today than it did when it was released in 2013. What truly makes Ginger & Rosa remarkable is Fanning's performance, signaling that the young actress was truly someone to pay attention to.
30. The Monster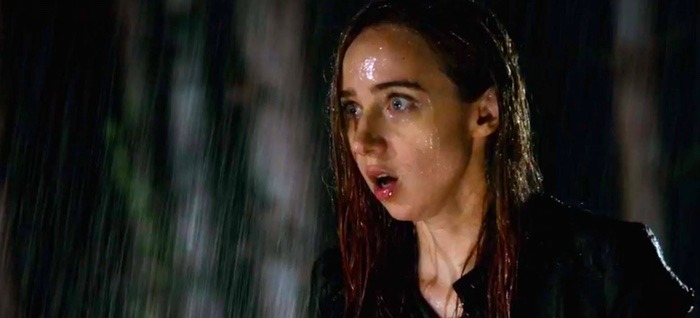 The Monster doesn't get points for subtlety, but it does have some great creature effects and one hell of a performance from Zoe Kazan. Written and directed by Bryan Bertino, The Monster Ella Ballentine as a young girl being driven to live with her father by her perennial screw-up of a mother (Kazan). The mother and daughter have had a strained relationship, but they have to band together when their car is attacked by some drooling, fang-filled monster lurking in the woods. The film hammers you over the head with its message (the monster is a metaphor for bad parenting!), but Kazan is so good here that you're willing to overlook that.
29. Equals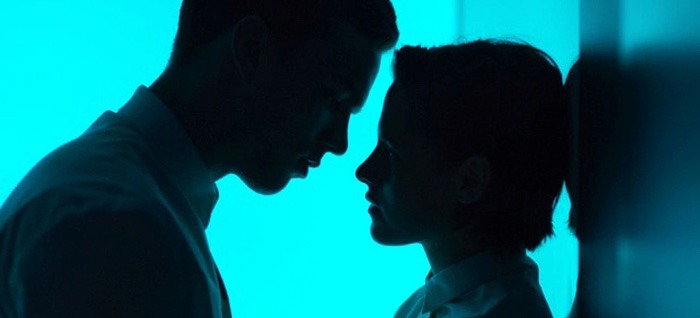 Kristen Stewart, the best actress of her generation (don't @ me), brings her low-key yet highly-engaging charms to this dystopian romance from director Drake Doremus. Nicholas Hoult is just one member of a cold, sterile society that no longer feels emotions. That all changes when Hoult finds himself drawn to Stewart, who in turn is drawn to him. The two must hide their feelings or risk exile and maybe even death. Equals doesn't have an original bone in its body – it's borrowed liberally from Brave New World, Fahrenheit 451, 1984 and even the gun-fu goof-fest Equilibrium. What it does have is some slick production design and another great performance from Stewart.
28. Free Fire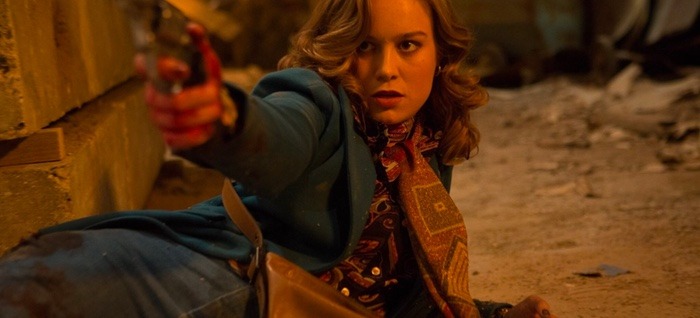 A24's most recent film is a shoot-em-up in the vein of Reservoir Dogs from High-Rise helmer Ben Wheatley. Wheatley assembled a cool cast, including Brie Larson, Sharlto Copley, Armie Hammer, Cillian Murphy and Jack Reynor, dressed them up in the silliest clothes possible, and let them shoot at each other for 90 minutes. It's a lot more entertaining than it should be, mostly due to the performances, particularly Copley, who seems to have finally found a character to channel his usually terribly annoying schtick into.
27. Morris From America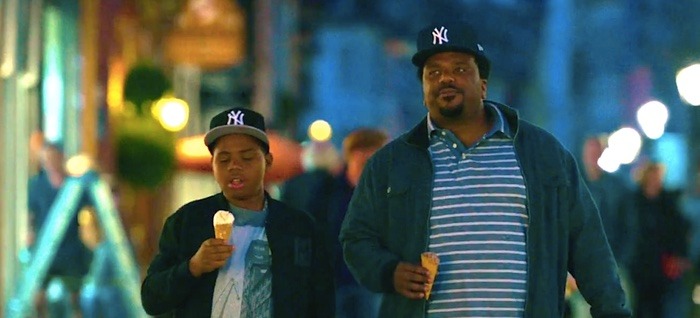 A sweet, funny coming-of-age film from Chad Hartigan, Morris From America stars Markees Christmas as a young African American boy feeling completely adrift living in Germany. Christmas is a star in the making as Morris, but the real standout here is Craig Robinson, who shows remarkable dramatic chops as Morris' struggling father. A heart-to-heart scene near the end of the film where Robinson's character tells Morris about coming to Germany to meet Morris' mother is handled masterfully.
26. The Blackcoat's Daughter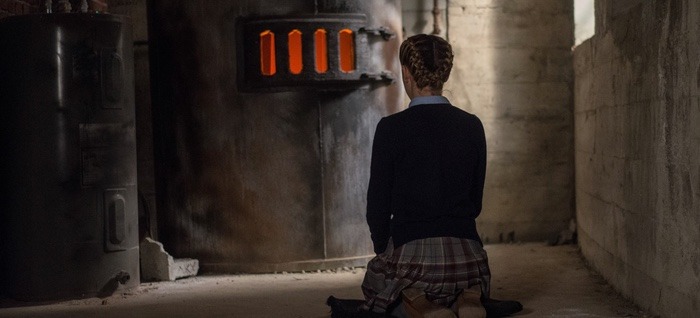 If there's one genre that A24 should focus on more, it's horror. Simply because the horror films they release are so different, and so unique, that they leave you hungry for more. Made in 2015 but not released until 2017, Oz Perkins's The Blackcoat's Daughter (originally titled February) is a chilly, chilling psychological horror film about two young women (Kiernan Shipka and Emma Roberts) and their relationship with an imposing boarding school. Perkins makes films that are deliberately paced to the point that they might annoy some impatient viewers, but everyone else will relish the subtle, unnerving way he builds tension and mood. It takes a while for the audience to figure out just what's going on in The Blackcoat's Daughter, and just how Shipka and Roberts' characters are connected. But the reveal is both satisfying and disturbing.
25. The Bling Ring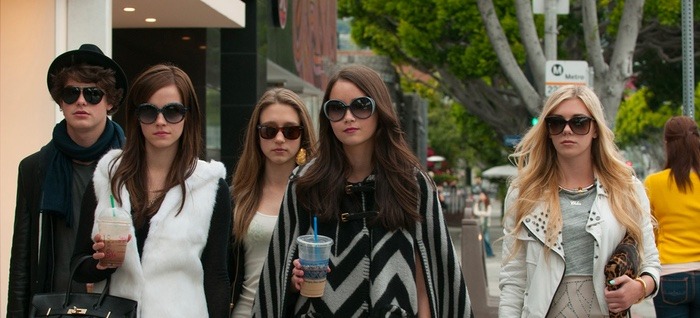 Sofia Coppola took audiences inside the mysterious world of modern teenagers with her funny exploration of a gang of privileged youths who spend their free time robbing celebrities. The Bling Ring was inspired by a true story of a group of teens who really did steal from celebrities, including Paris Hilton (who appears in the film as herself). It almost sounds unwatchable – who wants to watch a bunch of wealthy brats rip off other wealthy brats? But Coppola is too smart and talented a filmmaker to ignore, and she's able to wring some strong satire from the situation.
24. While We're Young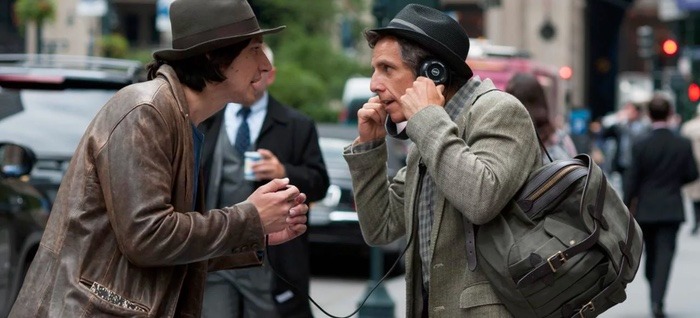 While We're Young is one of Noah Baumbach's funniest movies, about a middle-aged couple (Ben Stiller and Naomi Watts) who befriend a younger, hipper couple (Adam Driver and Amanda Seyfried). You might think this is a set-up for a story about older yuppies complaining about those darn kids today and their lousy cell phones, but Baumbach's film is craftier than that, filled with likable, relatable characters and some truly hilarious moments.  
23. The Spectacular Now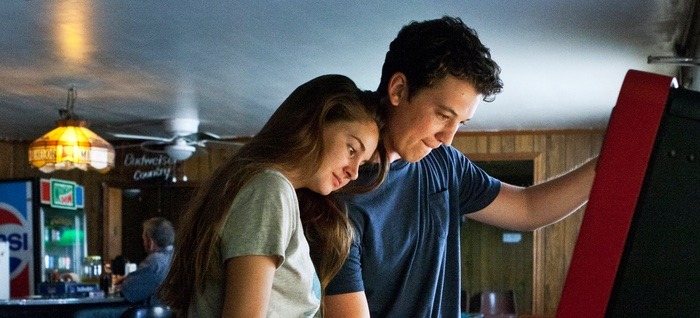 James Ponsoldt's The Spectacular Now is an altogether lovely, and best of all, believable story about young love. In less-skilled hands this could've been turned into some crass, punch-line riddled teen rom-com. Instead, this is an emotional, heartfelt exploration of two very different characters – a hard-drinking charmer (Miles Teller) and an intelligent, shy girl (Shailene Woodley). Teller and Woodley have palpable chemistry together, and their aided by a phenomenal supporting cast that includes Brie Larson, Jennifer Jason Leigh, Mary Elizabeth Winstead and Kyler Chandler.
22. The Rover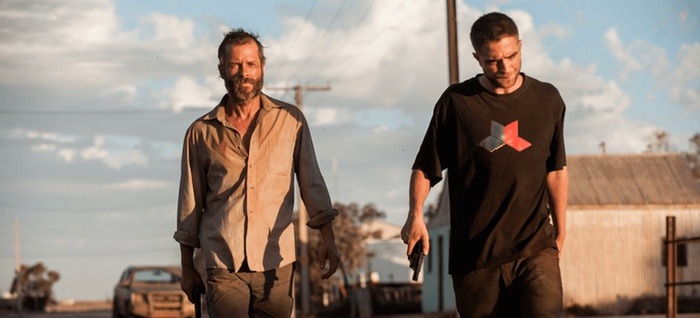 The desolated landscape looms ominously in David Michôd's dirty, depressing, dystopian drama The Rover. Guy Pearce wanders the wasteland of his post-apocalyptic world, only to be pushed into a quest when thieves make off with his car. It's sort of like Mad Max, without all the stunts. Robert Pattinson broke out of the shadow of the Twilight films here playing Pearce's reluctant companion on his quest. This is a bleak, unrelenting film, but if you can tolerate the misery you'll witness something memorable.
21. Slow West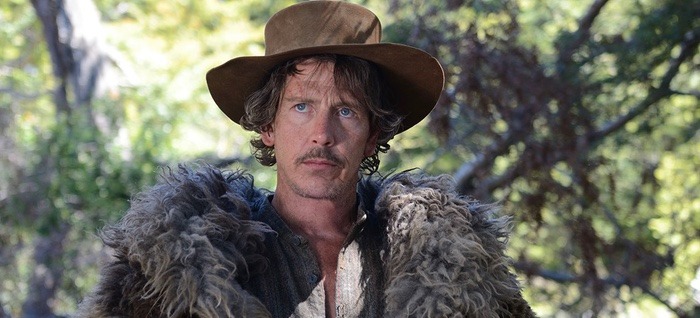 A lazy, gorgeous anti-Western from director John Maclean (no relation to the character from Die Hard, since he's fictional), Slow West has Michael Fassbender as an outlaw teaming up with a hapless young man (Kodi Smit-McPhee) trying to find his lost love (Caren Pistorius, who is fantastic here and oddly hasn't made many films since). Along the way, the two encounter Fassbender's old gang leader, played by the incredible Ben Mendelsohn wearing a luxurious fur coat. Slow West is unlike most Western's you're familiar with, content to take its time and play its cards close to the vest. It's all under-layered with a lovely score from Jed Kurzel.
20. Room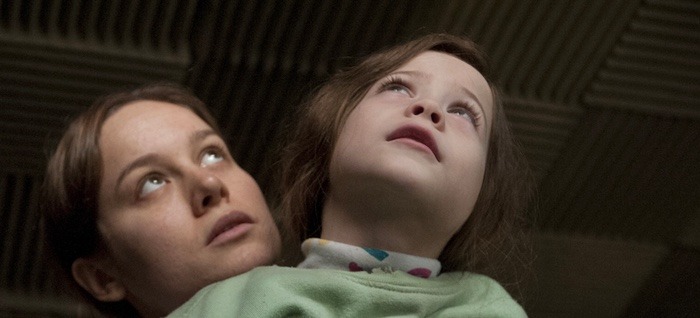 Room was the film that caused more mainstream audiences to take notice of A24, thanks to an Oscar campaign that ended with Brie Larson winning a much-deserved Best Actress award. Larson plays a young woman held captive in a shed with her 5-year-old son (Jacob Tremblay, who is just as good as Larson here). The pair eventually make an escape from their prison, but find that life on the outside has its own complications. The performances are what truly make Room stand out, particularly that of Larson, who brings an almost unfathomable number of dimensions to her character.
19. Mississippi Grind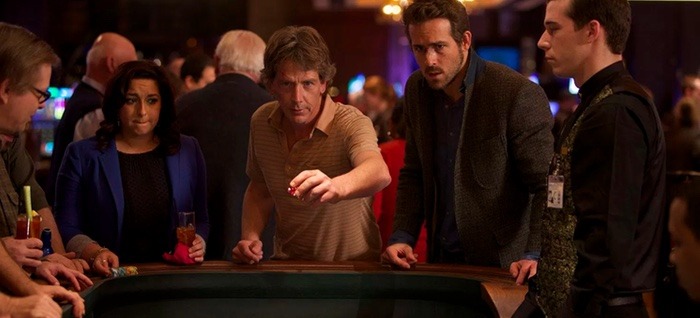 Anna Boden and Ryan Fleck were recently announced as the directors of Marvel's Captain Marvel (starring the aforementioned Brie Larson), and if you've never heard of the directing duo and are looking to see what makes them special, look no further than their 2015 A24 entry Mississippi Grind. Slow West's Ben Mendelsohn stars as a down-on-his-luck gambling addict who teams up with a much more successful high roller (played by Ryan Reynolds) on a high -stakes road trip. Boden and Fleck know just when to set-up a scene and then step back and let their actors do the heavy lifting, as in a moment where Mendelsohn lets his guard down to a prostitute (Analeigh Tipton). "I have problems with money," he tells her during an awkward, semi-flirty conversation, and Mendelsohn finds a way to make such a brief sentence feel weighty and revealing.   
18. Amy
Amy Winehouse's staggering talent was often overshadowed by her battles with addiction and the cruel tabloid headlines that followed. Asif Kapadia's revealing, devastating 2015 documentary Amy shows the story from Winehouse's point-of-view with heart-breaking intimacy. This is no standard talking-head documentary; instead, it's compiled from hours and hours of previously unseen home video footage recorded by Winehouse herself, or those around her. Winehouse herself gives the film its voice, via archival interviews and other recordings, in essence narrating the film from beyond the grave. The result is a powerful film that should inspire shame into anyone who made cruel, thoughtless jokes about Winehouse and her troubles during her all-too-brief life.
17. American Honey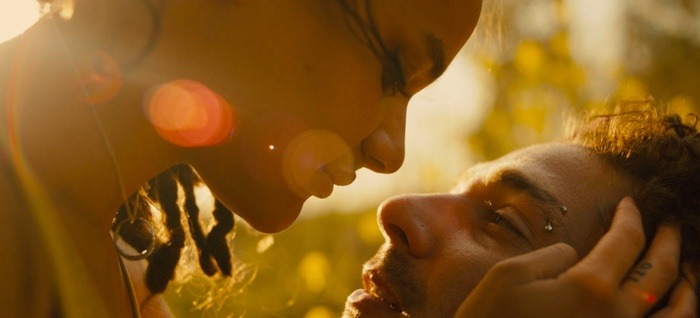 Andrea Arnold's American Honey may be just a tad too long (163 minutes, yowza), but it also lives and breathes with the sort of life and youthful energy other films can only dream of. Much of this is due to the breakout performance of newcomer Sasha Lane, playing a girl who hooks up with a gang of door-to-door salespeople. Arnold actually discovered Lane on a beach during spring break and cast the previously untested actress in the film. It paid off, as Lane has a charisma that's hard to fully pin-down. Some will probably balk at that numbing runtime; others will embrace a unique, unconventional film.
16. The End of the Tour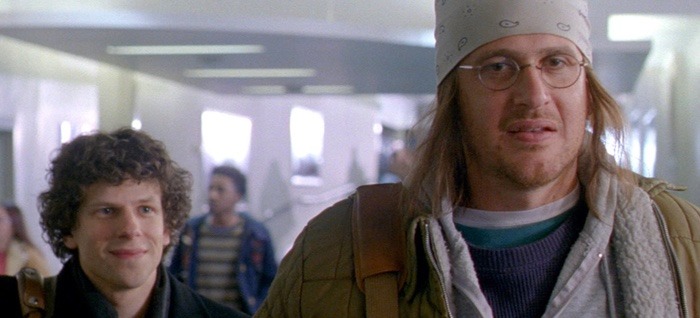 James Ponsoldt became the first filmmaker to work with A24 more than once with 2015's The End of the Tour. The true story of an interview between writer David Lipsky (Jesse Eisenberg) and literary superstar David Foster Wallace (Jason Segel), The End of the Tour should, in theory, be uncinematic and flat. It is, after all, a film comprised mostly of two guys having a series of conversations. Yet Ponsoldt and screenwriter Donald Margulies make it all pop and flow effortlessly, drawing us in as we find ourselves engrossed in what these two characters are saying to each other. At the center of it all is Segel, who broke out of his usual comedic wheelhouse to channel Wallace. The film, and Segel, were heralded after The End of the Tour premiered at 2015 Sundance Film Festival, whereupon A24 acquired the distribution rights. Yet come award season, it was strangely overlooked. A pity, as it's a small but special film that deserved more recognition.
15. De Palma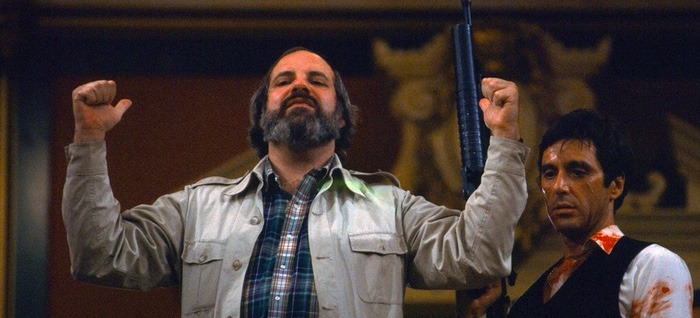 Holy mackerel, what a delight this movie is! Even if you're not a fan of Brian De Palma's work (note: if you're not, what's your deal?), Noah Baumbach and Jake Paltrow's documentary De Palma will still entertain and enlighten you as De Palma runs through his entire career, dropping stories about the making of Carrie, Blow Out, The Untouchables and more. De Palma is such a captivating storyteller that you'll find yourself coming to appreciate and maybe even re-evaluate his lesser films. De Palma may not have changed the face of documentary filmmaking – it's rather point-and-shoot, after all. But it's so fun to watch that you'll find yourself wishing the filmmaker had talked twice as long.
14. Krisha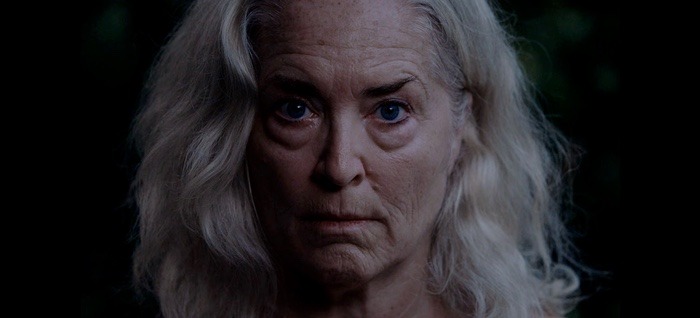 "You're heartbreak incarnate," a character says at one point in Krisha, and he's not kidding. Trey Edward Shults' directorial debut is a tense, uncomfortable examination of a troubled woman, played magnificently by Krisha Fairchild, returning home to visit her family during Thanksgiving. The result is akin to a secret horror film, where we're just waiting on the edge of our seats for something terrible to happen. Krisha is like a ticking timebomb, and any moment we know she's going to go off, forcing us to shield ourselves from the wreckage. Schults used his own friends and family to fill-out the cast, and the result is an incredibly naturalistic experience – no one here feels like they're performing. We know these people; they're like members of our own family. The tension and realism on display here makes Shults' next A24 project, the horror film It Comes At Night, all the more exciting.
13. Obvious Child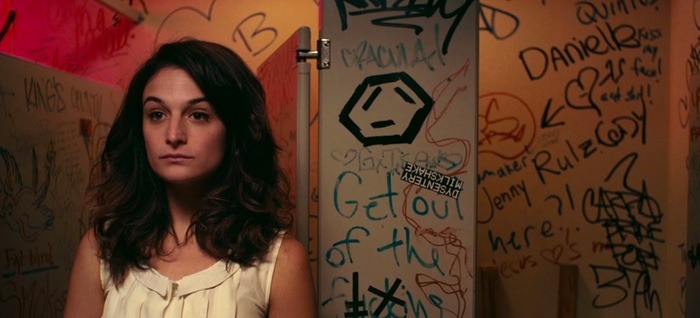 Most distribution companies might shy away from an abortion comedy, but A24 isn't most distribution companies – they purchased the rights to Gillian Robespierre's Obvious Child after the film premiered at the 2014 Sundance Film Festival. Jenny Slate is sensational playing a stand-up comic who gets pregnant after a one-night stand and decides to have an abortion. What makes Obvious Child so remarkable, and even radical, is the mostly neutral way it approaches this subject. Other films might have felt the need to tackle this material in a more serious, political manner, but Obvious Child keeps things light and honest, and is all the more funny and memorable as a result.
12. Locke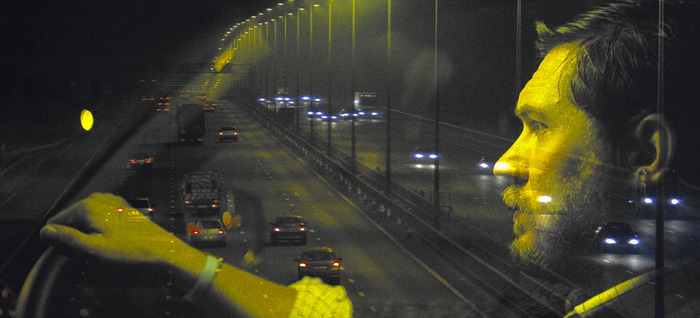 "How did you do that?" Steven Spielberg asked Tom Hardy after seeing Locke. Spielberg was wondering just how Hardy managed to make a film that's almost entirely focused on one guy driving around in his car so damn compelling. Steven Knight's experimental drama follows construction foreman Ivan Locke (Hardy) as he hops in his car and embarks on a two-hour drive. Locke is determined to be there when his new baby is born, only there's a catch: he's already married with children, and the woman giving birth right now is a one-night stand from several months ago. Just like The End of the Tour, a film like this shouldn't work as well as it does. Yet Knight and Hardy pull it off, thanks to Hardy's commanding performance as he takes a total of 36 phone calls from his friends, coworkers and family, all wondering what the hell he's doing. The end result is one of the more distinct films you'll ever watch.
11. A Most Violent Year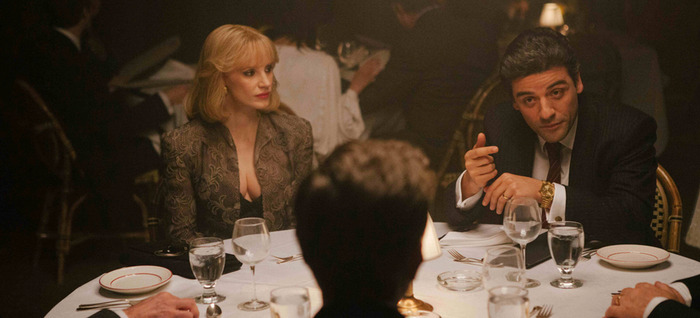 Another crime drama from A24! But hey, this is one of the best: a simmering, slow-burn look at the dark side of the American dream. Set in New York in 1981, one of the most violent in the city's history, Oscar Isaac plays an immigrant striving to make a name for himself in the fuel industry. Isaac's character strives to stay moral, refusing to bend the law to succeed. But that proves more difficult than planned, and his Lady Macbeth-esque wife (played to perfection by Jessica Chastain) isn't above a little gunplay. Writer-director J. C. Chandor approaches this material with a steely resolve, working with cinematographer Bradford Young to create a dark, tense drama that takes its time and doesn't shy away from its overly complex plotting. A Most Violent Year often seems like one of A24's forgotten triumphs; it's a film worth rediscovering.
10. Spring Breakers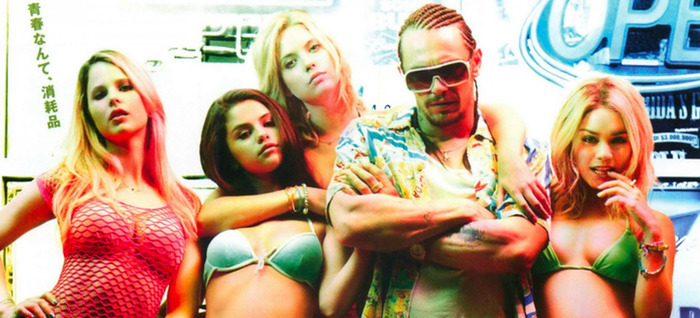 It's safe to say that the first time anyone truly became aware of A24 it was with 2013's mind-blowing Spring Breakers. The film is a neon-lit, frenetic comedy-drama about a group of college students who rob a diner to pay for their spring break trip. The girls get caught rather quickly, only to find themselves bailed-out by an out-of-this-world drug dealer named Alien (played with bizarre aplomb by James Franco). Then the fun really starts. Writer-director Harmony Korine filled the film with Disney stars (Selena Gomez, Vanessa Hudgens, Ashley Benson), which tricked some audiences into thinking they were coming to see a completely different movie. What they got was something unhinged and potentially dangerous. Spring Breakers put A24 on the map, and on a normal "Best Of" list it might appear at the very top. But the A24 line-up only gets stronger from here.
9. 20th Century Women
Mike Mills' touching coming-of-age drama 20th Century Women centers on 15-year-old Jamie (Lucas Jade Zumann) and the people around him in 1979 Santa Barbara. There's his single mother, played by Annette Bening giving one of the best performances of his already acclaimed career, there's the girl he has a crush on (Elle Fanning), and then there are the tenants who rent out rooms in the family home: handyman William (Billy Crudup) and punk photographer Abbie, played by Greta Gerwig, giving a performance nothing short of iconic. Mills uses montages, flashback, flashforward, and insightful narration to let his story unfold. The film is semi-autobiographical for Mills. "It felt like I was raised by my mom and sisters," he told Variety. "So I was always appealing to women in the punk scene or women in my world. I always leaned to them to figure out my life as a straight white guy. So I wanted to make a movie about that." The result is something altogether lovely.
8. Swiss Army Man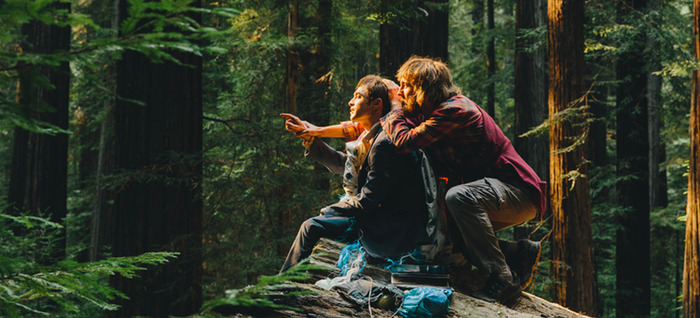 Swiss Army Man made headlines when it debuted at Sundance, mostly because audience members fled the screening. It quickly became known as the "Daniel Radcliffe farting corpse movie." Who on earth would purchase such a film? Why, A24 of course. Swiss Army Man is a strange, funny, surprisingly emotional meditation on life, death, and yes, flatulence. Paul Dano is stranded on a desert island, close to offing himself, when a corpse (Radcliffe) washes-up on shore. The dead body ends up being extremely useful – an all-purpose tool to help Dano's character survive. And then things get even weirder when the corpse starts to talk. It all almost seems too quirky to tolerate, but Swiss Army Man shocks you with how wonderful it is. And Radcliffe gives the best performance of his career – who knew Harry Potter's best work would come via a gassy cadaver?
7. Enemy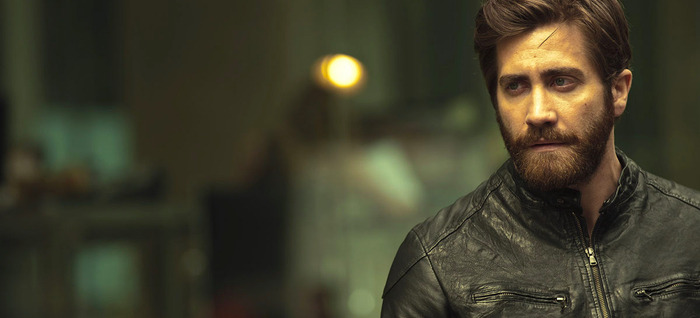 A nightmare that takes hold of you and doesn't let up, Arrival director Denis Villeneuve's Enemy is a slice of Cronenberg-like horror with an ending that'll leave you shaken. Jake Gyllenhaal plays a college history professor who, at the suggestion of a coworker, rents a movie and makes a shocking discovery: a background extra in the film looks exactly like him. Gyllenhaal tracks down the actor (also played by Gyllenhaal), and the two try to make sense of this strange occurrence while also entertaining the idea of switching lives. What makes Enemy so terrifying is the way Villeneuve never lets you become comfortable with what's happening. The sickly cinematography by Nicolas Bolduc makes one think of disease and putrescence, and you're never quite sure if what you're seeing is real or some sort of fever dream. Gyllenhaal is so good in the dual roles that it's scary. Speaking of scary, don't be surprised if you'll want to sleep with the lights on after witnessing the film's final scene.  
6. The Lobster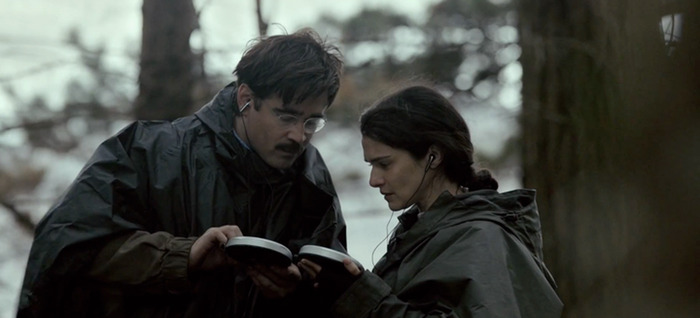 Alchemy originally bought distribution rights to Yorgos Lanthimos' The Lobster, but after the company ran into financial difficulties they were forced to cut it loose. Enter A24, the perfect home for this dark, oddball comedy. The Lobster is set in a dystopian society where being single is a punishable offense. Single people are sent to a mysterious hotel, where they have to find a romantic partner or else they'll be turned into an animal of their choosing. Sound weird? It is. But it's also brilliant – an acerbic satire of social constructs and romantic entanglements, featuring a hilarious, deadpan performance from Colin Farrell. You may not leave the film feeling particularly happy, but you will go away thinking you've seen something special.
5. Green Room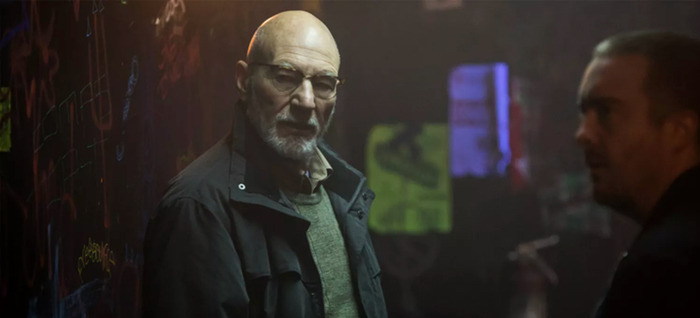 When Jeremy Saulnier started making Green Room in 2014, he couldn't have realized he was inadvertently making the perfect film for the dark early days of 2017, where hate has been emboldened by the current political climate. Saulnier's has created a punk rock horror film, about a band that gets trapped at a gig by a gang of murderous skinheads. What follows is a John Carpenter-esque stand-off flick where punks vs skins for survival, with bloody, painful consequences. Green Room is almost too intense at times, and the squeamish need not apply. The late Anton Yelchin is great as one of the band members fighting for his life, and Patrick Stewart is chilling as an altogether calm but still deadly skinhead, but the breakout performance comes from Imogen Poots as a local who gets drawn into the action.
4. The Witch
Robert Eggers' The Witch (or The VVitch, if you want to be a jerk about it) isn't just one of A24's best films, it's one of the best horror movies ever made. A masterwork brimming with evil and malevolence, here Eggers film conjures up 17th century New England and all the dangers that come with it. An isolated family finds themselves besieged with misfortune as the deep, dark woods around their home loom and offer up nothing but darkness. Anya Taylor-Joy delivers a star-making performance as the young girl at the center of it all, but the film truly belongs to the family's scary goat, Black Phillip. The Witch premiered at the 2015 Sundance Film Festival, where it created quite a buzz and was promptly acquired by A24. General audiences had to wait until 2016 to finally clap eyes on it, but it was worth the wait to witness a film that dares to live deliciously.
3. Ex Machina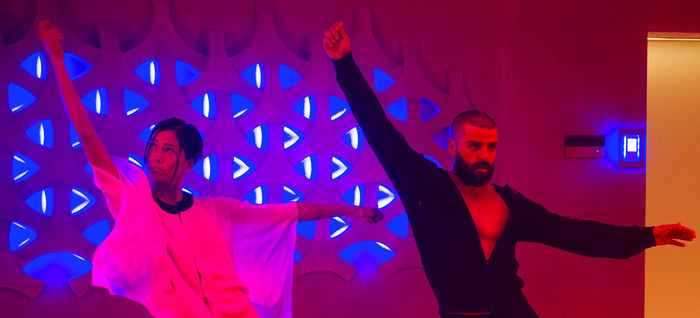 Alex Garland's sleek, chilling sci-fi drama Ex Machina follows a computer programmer (Domhnall Gleeson) who is summoned to the secluded home/research facility of his boss (Oscar Isaac) only to learn that Isaac has done the seemingly impossible: created artificial life, in the form of Ava (Alicia Vikander), a humanoid robot who may or may not be capable of individual thought. Gleeson's character proceeds to study Ava and in turn become seduced by her, as the robot is desperate to escape the lab that has become her prison. Ex Machina expertly doles out information in nearly every scene, to the point that it's almost exhausting. It's the type of film you have to study. Also, I'm pretty sure no one can resist the scene where Isaac and his assistant (Sonoya Mizuno) suddenly bust some sick moves on the dance floor. Ex Machina is exciting, intelligent sci-fi at its best.
2. Under the Skin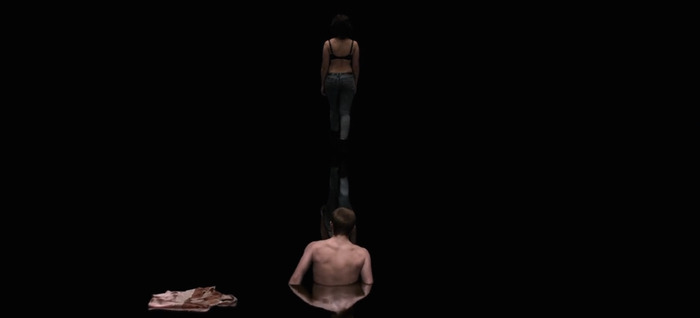 A haunting, haunted film, Jonathan Glazer's Under the Skin is an eerie meditation on what it means to be human. At times, Glazer's film is almost impenetrable as we watch an otherworldly Scarlett Johansson lure unsuspecting men to their deaths in one of the scariest houses ever captured on film. While making the film, Glazer actually sent Johannson out into public places to interact with non-actors; this only heighten a sense of realism while also lending a surreal quality to the proceedings. Johansson has never been better than she is here, playing an alien trying to pass for human and the subsequently trying to discover what, exactly, that even means. Mica Levi's intense, chilling score is pitch-perfect; tailor-made to lead to an anxiety attack. This is a terrifying yet entrancing film, truly unlike anything else. It's almost the best film A24 has released to date. Almost.
1. Moonlight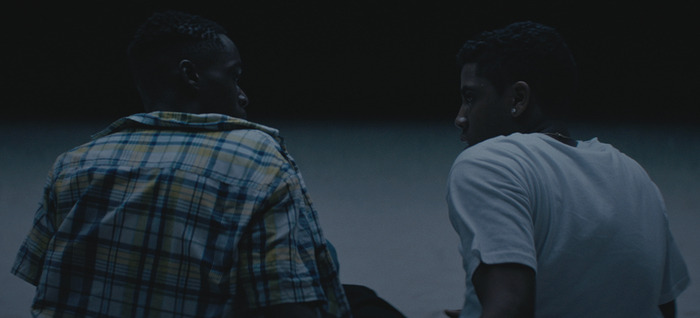 Moonlight stunned at the 89th Academy Awards when, after a confusing incident involving mixed-up envelopes, it was announced as the real Best Picture winner after La La Land had been erroneously given the honor. But the shock of the mishap aside, no one should've been surprised that Moonlight took home one of the most coveted awards in film. It is, after all, a masterpiece – a film of such profound beauty, such painful honesty, such remarkable pathos. I firmly believe, without any hyperbole, that watching Moonlight can make you a better person. Writer-director Barry Jenkins' film looks at the life of a young black man named Chiron at different points in time, from his childhood (where he's played by Alex Hibbert), his teen years (played by Ashton Sanders) and his adulthood (as played by Trevante Rhodes). "Who is you?" is a question that hovers over Moonlight as Chiron comes to term with his sexuality and identity. With praise-worthy supporting performances from André Holland, Janelle Monáe, Naomie Harris, and Mahershala Ali, Moonlight is a film for the ages, a beautiful, remarkable achievement, the type of film other films can only dream of being. It only makes sense that it was distributed by A24.