Daniel Radcliffe Had Just One Question Before Signing Onto Swiss Army Man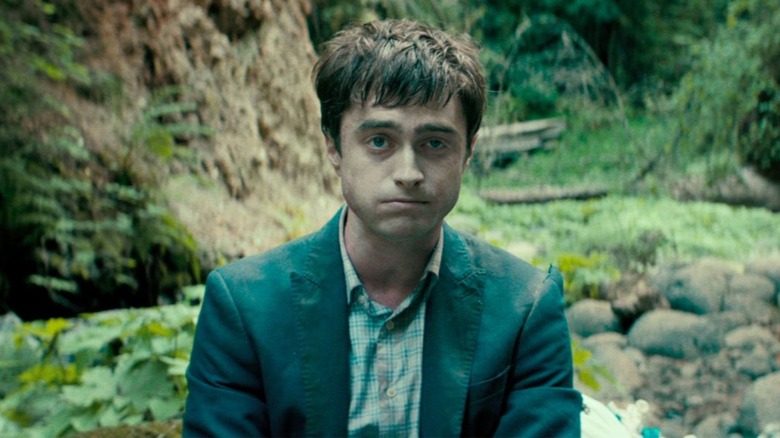 A24
Daniel Radcliffe rose to fame by playing Harry Potter, a young boy of 11 drawn into a world of magic that he never thought existed, and he rode that wave for eight blockbuster films. The Wizarding World has since been mired with controversy thanks to author J.K. Rowling's transphobic theatrics, which have upset the franchise's legion of fans. Daniel Radcliffe, however, has never looked back. Okay, maybe once, during the "Harry Potter" reunion. With the exclusion of the one-time special, Radcliffe has long escaped the shadows of The Boy Who Lived, bagging one unconventional role after the other, selecting scripts he feels especially drawn towards. 
Thanks to being the lead of a billion-dollar franchise, Radcliffe reaped the benefits of the franchise money, and now he's choosing to do whatever the hell he chooses. All he wants is a good, original script. And the truly unique "Swiss Army Man" from Daniel Scheinert and Daniel Kwan (aka Daniels) was precisely that. However, before signing on for the A24 film where he played a talking, singing, and farting corpse, Radcliffe had one simple question. But it had nothing to do with being a talking, singing and farting corpse.
Daniel Radcliffe is pretty, pretty rad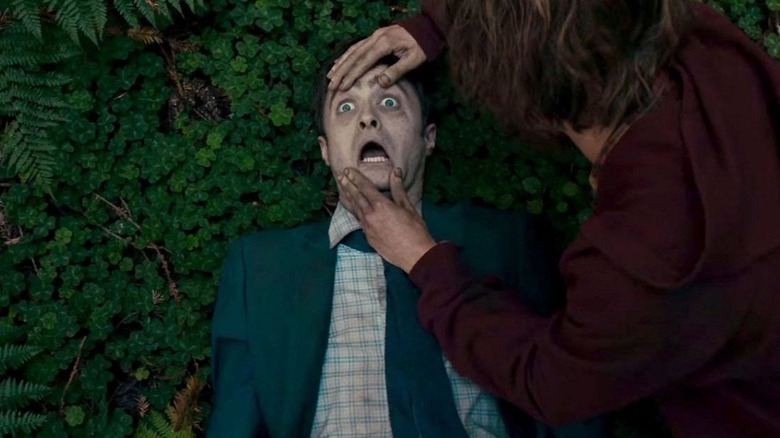 A24
The filmmakers didn't expect Radcliffe to agree to star in "Swiss Army Man," but they had some hope after considering his filmography. He was perfect for the role — Radcliffe was an incredible talent, he could sing, and he was down to get really crazy.
The Daniels mainly wanted their lead actors to share good chemistry consistently, on and off-screen, so when Paul Dano said he wanted to work with Daniel Radcliffe, the filmmakers reached out to the star. They respected the risks he was taking, and he checked all the boxes. It was worth a shot. Surprisingly, the "Harry Potter" lead merely had one query before agreeing to join the film.
"We respected the risks he'd already been taking as an actor, so we thought he might be down," said Scheinert during an interview with Indiewire. 
"And he can sing – he was in 'How to Succeed in Business' on Broadway, so he checked that box. And we don't like having a**holes on set – we want our two lead actors to be fun to hang out with and be cool, and we'd heard nothing but sweet things. Paul was like, 'I'd love to work with Daniel Radcliffe.' So we reached out."
'That's the best question!'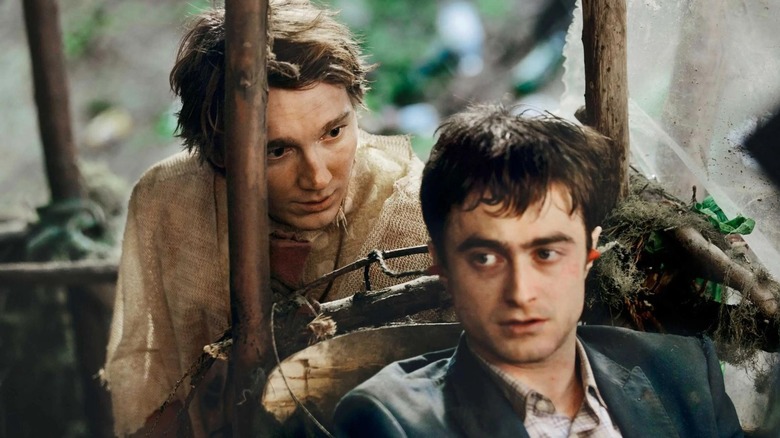 A24
When Kwan and Scheinert, reached out to Radcliffe for a role, he only had one thing to ask. The directing duo recalled:
"We Skyped with him, and he asked if he could do his own stunts. And we were like, 'That's the best question! You're hired. And yes!'"
Radcliffe performed most of his stunts on his own, and despite the crew having a dummy ready for the more impractical scenes, the actor persuaded the crew to let him take a crack at it. If Paul Dano was doing it alone, he wanted to join. Scheinert and Kwan were impressed with Radcliffe's down-to-earth demeanor, and his professionalism set the tone for the rest of the crew. 
"It kind of set the tone for everyone," said Kwan. "If Harry Potter is going to lie in the dirt for hours, I can't say s**t. Nothing I'm doing is worth complaining about. It was so much fun having there in almost every scene. We only used the dummy when it looked like someone would die."
"Swiss Army Man" was a wonderful marriage of absurdity and life lessons, and it might just be Daniel Radcliffe's most eccentric role yet. Then again, "Weird: The Al Yankovic Story" releases on September 8, 2022, so we'll see what happens.