Weird: The Al Yankovic Story Trailer: The True Story Of The Icon Who (Literally) Changed Music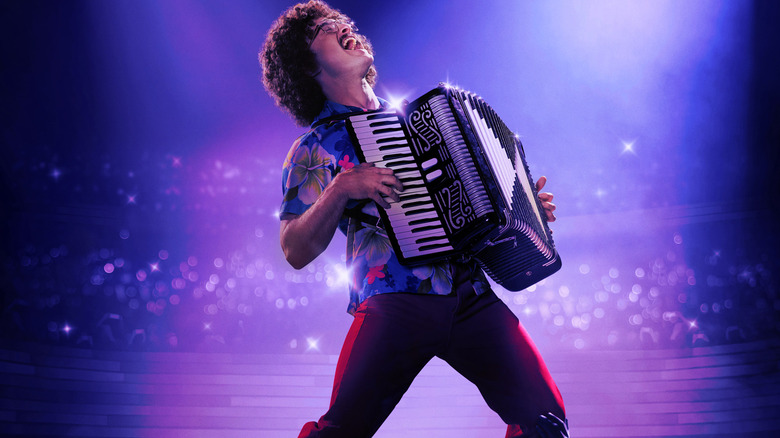 Roku
In the years since Daniel Radcliffe first threw on those famous glasses and saved the world as the boy wizard in the "Harry Potter" franchise, the talented actor has since completely reimagined his image multiple times over. He's been the hunchback Igor in "Victor Frankenstein," a farting corpse relearning the ways of the world in the Daniels' brilliant feature debut "Swiss Army Man," a totally unassuming guy who gets guns nailed to his hands in "Guns Akimbo," and most recently a delightfully mustache-twirling villain in "The Lost City." Now, however, Radcliffe is in for his weirdest role yet — by far.
The legend known as Weird Al who became a childhood staple of multiple generations — particularly this '90s kid who got to enjoy his mid-career resurgence during those years — is receiving the biopic and the lead actor that someone of his stature absolutely deserves. Thankfully, the creative team behind this production remain well aware of the fact that any tell-all story about the world-famous, musical parody talent ought to be, well, a parody in its own right. Look out, "Walk Hard: The Dewey Cox Story," because a new contender is clearly coming for that crown.
Check out the newly-released trailer for "Weird: The Al Yankovic Story" below!
Watch the Weird: The Al Yankovic Story trailer
"My whole life, all I wanted was to make up new words to a song that already exists."
Elvis had that magical voice and swoon-worthy hair, Johnny Cash his boyish charm and ability to break hearts with just his guitar, but all pale in comparison to the talents of Weird Al Yankovic and his relentless quest to parody every famous song in existence. Thus was his 1979 masterpiece "My Bologna" born and the rest, as they say, is history. Or is it?
Ever since The Roku Channel announced that the singer/songwriter's delightfully bizarre career would be brought to life in "Weird: The Al Yankovic Story," fans have looked forward to the film with equal parts excitement and reservation. After all, how could a mere biopic possibly live up to the zaniness of Weird Al himself? Well, between Daniel Radcliffe's pitch-perfect embodiment and a firm grasp on tone from comedy writer/director Eric Appel ("Blue Mountain State," "New Girl," "Brooklyn Nine-Nine") and co-writer Weird Al Yankovic himself, it would certainly seem from this footage that all involved have pulled off a minor miracle.
Starring Radcliffe as the curly-headed and accordion-playing Weird Al and David Bloom as teenage Al, the film also stars Evan Rachel Wood as Madonna, Rainn Wilson as his mentor Dr. Demento, Julianne Nicholson as his mother Mary, Toby Huss as his father Nick, Spencer Treat Clark as his bassist Steve Jay, Quinta Brunson as Oprah Winfrey, and more.
"Weird: The Al Yankovic Story" will stream for free on Roku November 4, 2022.