Weird: The Al Yankovic Story: Everything We Know So Far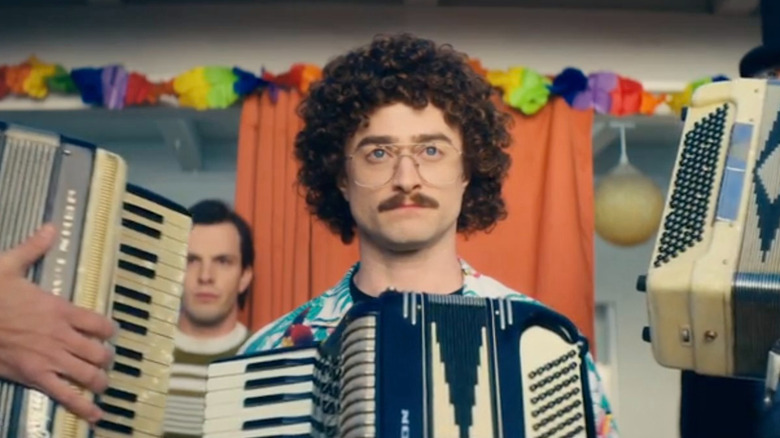 Roku
Weird Al, a five-time Grammy Award winning musician, burst onto the music scene back in '79 with "My Bologna," a parody of The Knack's hit "My Sharona." Over the past 40 years, he's put his own comedic spin on hits by Madonna, Michael Jackson, Coolio, Miley Cyrus, and countless other billboard topping hits. Now, he's decided to give his own origin story a parodic tilt.
In 2010, Funny or Die released a sketch that was a fake trailer for a delightfully odd biopic called "Weird: The Al Yankovic Story." Thirteen years later, the hilarious sketch is getting the cinematic treatment it deserves. Director Eric Appel, who wrote the original sketch, collaborated with Weird Al on the script.
Here's everything we know so far about "Weird: The Al Yankovic Story."
When and where to watch Weird: The Al Yankovic Story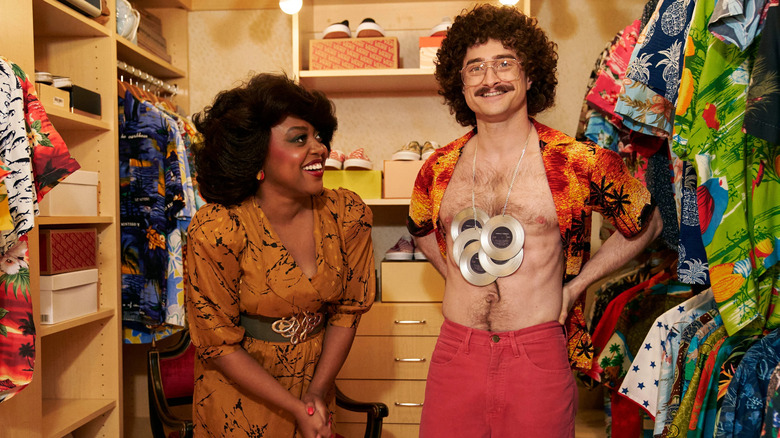 Roku
As reported by Variety, the film is scheduled for release on The Roku Channel this fall.
What Weird: The Al Yankovic Story is about
If you're looking for an accurate retelling of Alfred Matthew Yankovic's life, the film isn't for you — but if you're looking for a comedy with tongue firmly planted in cheek, this is your movie.
In "Weird," Yankovic grows up in a strict household where playing the accordion is sinful. The young musician's love of the instrument leads him to rebel against his suffocating parents and become a world-famous accordion shredding musician. Once he's famous, Weird Al has a torrid love affair with Madonna and experiences the destructive rock star lifestyle.
From the teaser, it appears Yankovic and Appel have blended the strangeness of Weird Al with the bad boy image and self-destruction of famous rockers like Tommy Lee or Sid Vicious. For good measure, the duo tossed in a passionate romance with an iconic pop star. It's an odd recipe that only Yankovic would mix, but it looks hilarious.
Who's getting weird?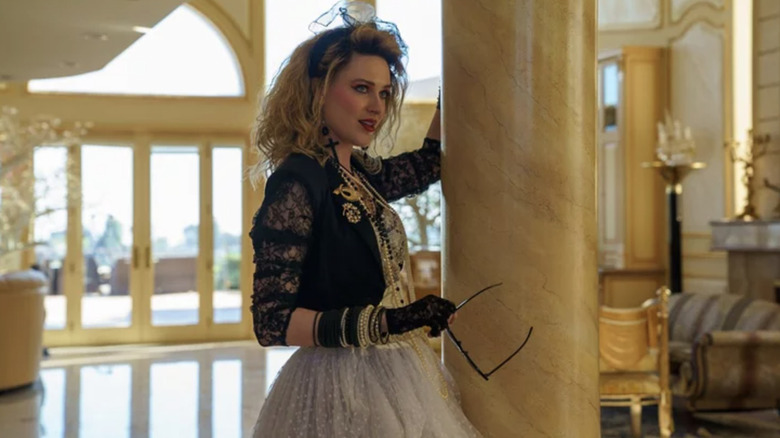 Roku
Who could possibly pull off this iconic role of Weird Al, you might ask? Well, none other than The Boy Who Lived, Daniel Radcliffe. As showcased by the film's teaser, the actor certainly pulls off the Yankovic look with tacky Hawaiian shirts, poofy hair, round glasses, and a parted mustache. Although he'll always be associated with the fantastical world of Harry Potter, Radcliffe recently proved his comedic chops in TBS's "Miracle Workers," and seems more than capable of pulling off the role's much needed weirdness.
The film also features Evan Rachel Wood as Madonna, and Rainn Wilson as radio broadcaster Dr. Demento. Most recently, via Variety, three time Emmy nominee Quinta Brunson signed on to portray Oprah Winfrey. Also starring in the film are Rainn Wilson as Barrett "Dr. Demento" Hansen, and Toby Huss and Julianne Nicholson as Nick and Mary, Al's parents.
Will Weird Al walk away from the rock star lifestyle after struggling with addiction, ride off into the sunset with Madonna, or embrace a new love with Oprah Winfrey? Nobody knows what wacky plot points Yankovic and Appel have dreamed up, but we'll keep you informed as more information is revealed.