Swiss Army Man's Script Was Enough To Make Daniel Radcliffe Take A Leap Of Faith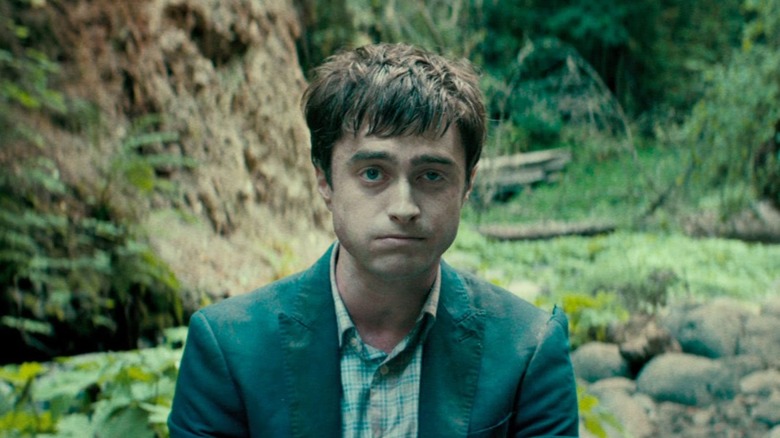 A24
If there's an upside to actors making their name under the banner of a successful franchise, it's that once they're done, they've usually secured enough of a payday that they can be more selective about the projects they choose. Robert Pattinson ("Good Time") and Kristen Stewart ("Crimes of the Future") have long escaped the shadow of "Twilight," and are now starring in some of the best films of any given year. The same can be said for "Harry Potter" star, Daniel Radcliffe, who no longer needs to associate himself with the sinking ship of the "Wizarding World," and can just roll with fun projects like "The Lost City," "the upcoming "Weird: The Weird Al Yankovic Story," and most importantly, "Swiss Army Man."
In the event you've somehow forgotten the bonkers premise of this movie, "Swiss Army Man" stars Paul Dano ("The Batman") as Hank, a marooned survivor who's about to unalive himself. But alas, his salvation appears in the form of Radcliffe's Manny, an inquisitive corpse with little filter whose body can be used for all sorts of unique purposes, such as harnessing the turbine of his farts in order to be ridden like a jet ski. And that's the first scene of the movie!
"Swiss Army Man" is ultimately a love story about a sad man and his new friend learning to love and celebrate their bodies, and the many ways in which they can be useful amid the domineering constraints of societal norms. In the wrong hands, this could have come across as purely juvenile, but Radcliffe knew he was about to embark on a special experience with the Daniels.
Radcliffe was right for the fart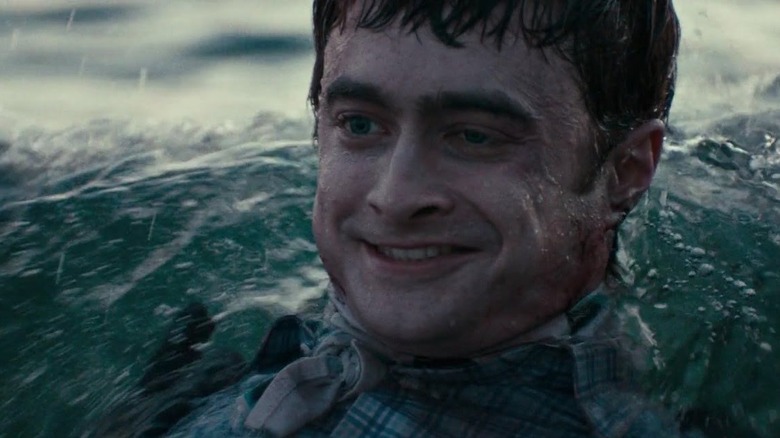 A24
The one-two punch of "Swiss Army Man" and "Everything Everywhere All at Once" just go to show that the Daniels are such a breath of fresh air. While Dano wanted to reassure Radcliffe about the unique opportunity this project was, it appears his farting co-star was already more than game. Radcliffe said in an interview with Business Insider:
"Paul sent me a note just saying, 'Hey, I think this movie is going to be amazing, I think these directors are amazing.' But even if Paul hadn't written that I would still have been very, very onboard. Because when you read a script that is this f—ing original and out there and special, it stands out a mile, to be honest."
I'd imagine when a script like that lands at your feet, so many reactions must come to mind, but much like the film itself, once you get past the idea that you're watching a movie with a farting corpse who uses his erection as a compass, you can find yourself hooked into the emotional core of this wonderfully strange project. It sure sounds like that's how Radcliffe took to the material. Business Insider had asked him if he thought people would struggle to "get" what they're trying to do, to which Radcliffe had the best answer:
"First, there's no point in thinking like that when you're on set. But also it never occurred to me. It felt like, 'Cool, that's what we're doing today.' Every day I arrived with a sense of 'How are we going to do that?' And every day the Daniels would answer that question with an amazing solution."
Embracing the wonderfully weird world of the Daniels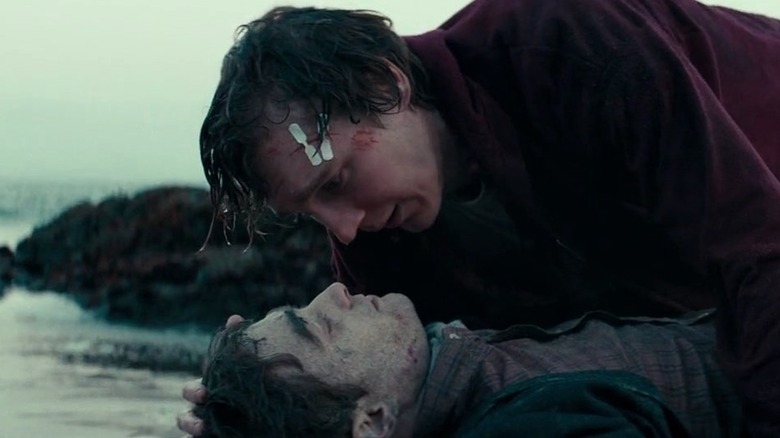 A24
Radcliffe and Manny share that naturally inquisitive manner in "Swiss Army Man," which results in a memorable performance that transcends the notoriety of its festival word-of-mouth. The physicality in Radcliffe's performance shows the might of an actor truly dedicated to the material. Even though they had a dummy on set to do some of the more impractical things, Radcliffe pretty much did all of his own stunts, which is wild once you see the insane trials Manny is put through on this strange odyssey.
The Daniels have been on a real hot streak right now with the well-deserved phenomenon of "Everything Everywhere All at Once," effectively proving that movies that are deeply weird, at their core, can also give you the feels. I remember a quote from Paul Dano while promoting "Swiss Army Man" on "The Late Show with Stephen Colbert," where he said the Daniels pitched it as "we want to make a film where the first fart makes you laugh, and the last fart makes you cry." And if that isn't the best endorsement to join a magnificent project like this, I don't know what is.
"Swiss Army Man" is available to stream on Showtime and Kanopy.