Is Hollywood Going Alien Crazy? Will Aliens Become The New Vampires?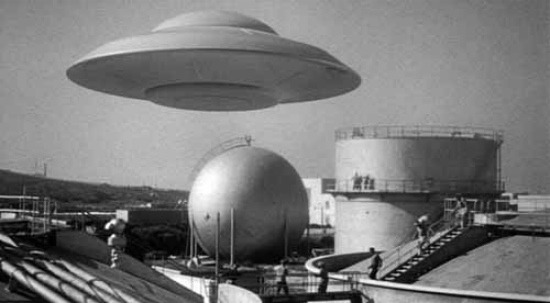 Ben Magid's spec screenplay Invasion has sold to Summit Entertainment/Participant for low to mid six figures. The story, which is an alien invasion thriller in the same vein as Cloverfield, is being produced by Eli Roth and Eric Newman (Children of Men, Slither). According to Shock, "the film opens with a wicked subway accident in Los Angeles in which the survivors (the film's protagonists) climb from the wreckage to find the, now "snowy," city in ruins." No further details are available at this time. Magid made a name for himself in 2006, selling a pitch to New Line for his script Pan, a spin on J.M. Barrie's tale of Peter Pan, where Pan is a villain being hunted by a police captain named Hook. He has since taken a stab at an early draft for the live-action adaptation of Hack/Slash.
With the success of recent films like the Transformers movies and District 9 (and to a lesser extent, Indiana Jones and the Kingdom of the Crystal Skull, which is the 26th highest grossing film worldwide), it seems like Hollywood is going alien crazy, giving the green light and putting a lot of alien-based stories in development — more than ever before. In a couple years, will aliens be the new vampires? Here is a round up of the alien-related projects in development right now.
Sam Raimi made news earlier in the week by snapping up Uruguayan filmmaker Federico Alvarez after his alien invasion sci-fi short film Panic Attack went viral on the web. The plan is to develop a feature film.
James Cameron's Avatar is set on the alien world of Pandora, with tall blue tiger-striped aliens named the Na'vi. Cameron hopes to shoot two sequels,
Jonathan Liebsman's Black Hawk Down-style alien invasion film Battle: Los Angeles

, which i

s currently shooting for a 2011 release.
The alien invasion television series V is currently in primetime.
23 more film projects listed after jump.
Paramount just acquired Area 51, a found footage film about a group of teenagers stumble upon an area in the Nevada desert known for hosting an alien encounter, directed by Oren Peli, the filmmaker behind Paranormal Activity.
Cloverfield 2 is always lurking around the rumor mill.
The Jon Favreau-directed comic book adaptation Cowboys and Aliens , about  Apache Indians and Western settlers who must lay their differences aside when an alien spaceship crash lands in their city. Robert Downey Jr is in talks to star.
Trick r Treat director Michael Dougherty is teaming with Disney Robert Zemeckis' ImageMovers on Calling All Robots, an animated sci-fi adventure the screenwriter plans to direct using the same type of performance capture technology used in A Christmas Carol. The project is said to be a throwback to Godzilla films.
Wolfgang Petersen is developing an alien invasion film called Uprising about a group of people organize a resistance movement after Earth is taken over by aliens.
Also written by Fringe co-producer/writer Brad Caleb Kane is a Dreamworks movie produced by Orci/Kurtzman based on the stereoscopic Viewmaster toy, rumored to involve aliens.
Andrew Stanton's adaptation of John Carter of Mars follows a Civil War vet  who is transplanted to Mars and encounters the inhabitants of the planet.
Bryan Singer's big screen version of Battlestar Galactica.
Peter Berg's Battleship, which involves aliens attacking Earth. Production begins Spring 2010.
Gattaca and Lord of War director Andrew Niccol is adapting Stephanie Meyer's novel The Host, a love story set in the near future on Earth, which has been assimilated by an alien species of benevolent parasites that call themselves "Souls.
Disturbia and Eagle Eye director D.J. Caruso is attached to direct a big screen adaptation of EA's popular video game Dead Space, about an 26th century engineer who responds to a distress signal from a mining ship finds the vessel infested with monstrous alien creatures called Necromorphs.
Michael Bay's producing I Am Number Four, an adaptation of a planned six-volume series purportedly co-written by "A Million Little Pieces" author James Frey, about nine alien teens assimilating to high school on Earth after their planet is destroyed by an enemy species.
Dark Castle Entertainment is developing an adaptation of Devil's Due graphic novel The Nye Incidents, about a medical examiner on the hunt of a killer of alien abductees.
Final Destination 2 and Snakes on a Plane director David R. Ellis is directing a high concept 3-D horror film called Humpy Dumpty,

about a

an alien mother is "abused" by two rednecks in the deep south, she gives birth to a a half-human, half-alien creature that eventually goes on a murderous rampage.
Superbad/Adventureland director Greg Mottola's sci-fi comedy Paul starring Simon Pegg and Nick Frost as two British comic-book geeks traveling across the U.S. encounter an alien outside Area 51.
The rumored Independence Day sequels.
Ice Age's Chris Wedge is developing a big screen adaptation of Will Wright's video game Spore

.
Sony is still developing a Spider-Man spin-off film for Venom.
Guy Ritchie is signed on to direct a big screen adaptation of DC Comics series Lobo, about an alien who works as an interstellar mercenary and bounty hunter.
Neil Blomkamp is still planning a District 9 sequel.
So what do you think: Will Aliens be the New Vampires?
Invasion news via: trackingb