Dune Part 2 Is 'More Cutthroat' Than Part 1, But There's Some 'Absurd Humor' Too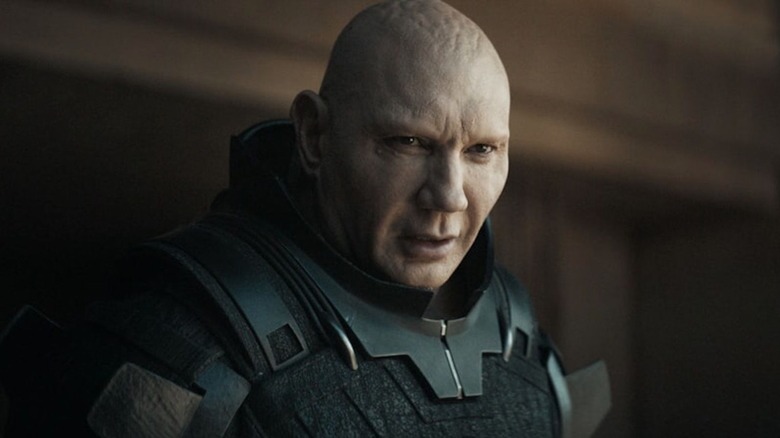 Warner Bros. Pictures
"Dune: Part Two" is coming — and things are about to get more intense. The first part of Frank Herbert's sci-fi epic was faithfully brought to life on the silver screen in Denis Villeneuve's breathtaking adaptation in late 2021. The sequel — slated to release on November 3 in cinemas worldwide — is currently in the works. In addition to returning stars Timothée Chalamet, Rebecca Ferguson, Zendaya, Josh Brolin, Stellan Skarsgård, Dave Bautista, and Javier Bardem, Florence Pugh, Austin Butler, Christopher Walken, and Léa Seydoux are also along for the ride this time around.
Set in the distant future amid a feudal intergalactic society, "Dune" tells the story of young Paul Atreides (Chalamet), whose family accepts the stewardship of the planetary fief Arrakis. A desert planet with extremely harsh weather conditions and colossal monsters in sandworms, Arrakis is the only planet in the galaxy that possesses "spice," a psychotropic drug that allows for interstellar travel.
The 2021 film explored how Paul is born into a destiny beyond his understanding and must come to terms with it. The story is profoundly political and violent, and as the sequel adapts the remainder of the first book, fans can expect it to be more cutthroat and intense, according to Bautista, who plays the antagonist Beast Rabban Harkonnen.
A sequel with twice the intensity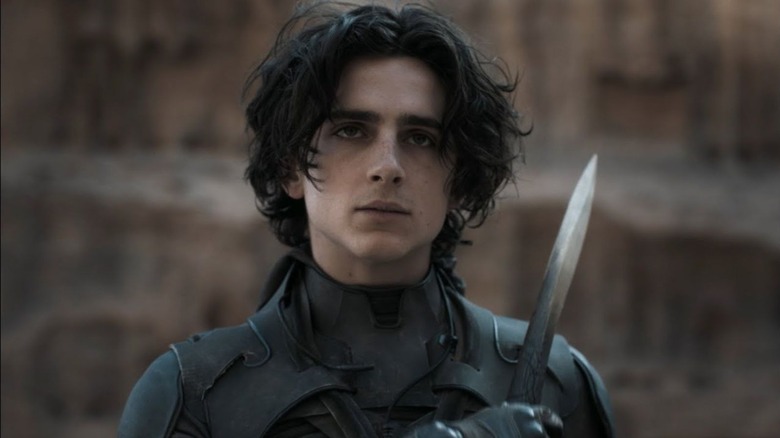 Warner Bros. Pictures
It is the destiny of Paul Atreides to become the Messiah — or the Kwisatz Haderach, ​​a super-being with a mind powerful enough to breach space and time. In the "Dune" books, after Paul commences his hero's journey, he is gradually entangled in the dangerous intergalactic conflicts that have engulfed his family whole, all while navigating his enemies and forging a relationship with the indigenous Fremen on the planet of Arrakis. And then there's House Harkonnen and its nefarious members. That includes Beast Rabban (Dave Bautista), who uses brute force and fear to control the planet's indigenous population and accomplish his goals.
We've only seen a glimpse of the galaxy's politics in "Dune" — and the sequel, "Dune: Part Two," will explore the cutthroat House Harkonnen and its tactics that are yet to come. Per Bautista, things are "so much more amped up" on "Dune: Part Two" in contrast to the previous chapter, which served more as a tour of the world of Arrakis. Here's what the "Army of the Dead" actor said during an interview with Collider:
"This is so amped up from the first film. The first film was just an introduction to what this film is. There's just so much going on, it's so much more cutthroat and political and intense."
Dune 2 has moments of levity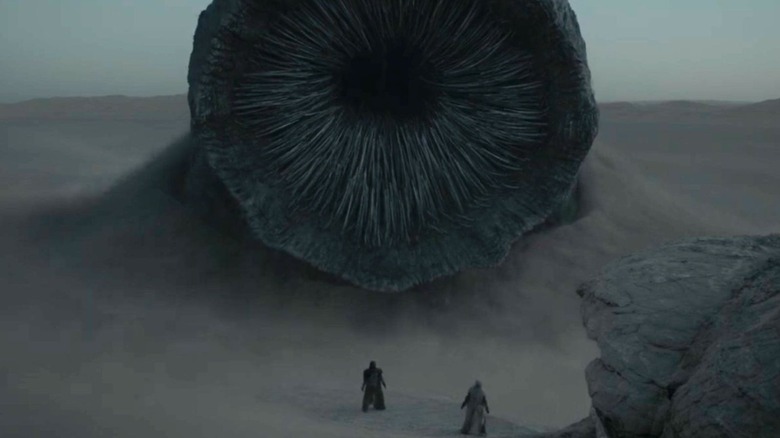 Warner Bros. Pictures
But that's not all. Dave Bautista shared that "Dune: Part Two" will have some "absurd humor" as well, as it should. "Dune" has the potential to be funny — Paul Atreides is sci-fi's resident sad boy (or chosen one, depending on what you like to call him); this is a story featuring giant worms; and a really cool substance that gets you high if ingested, turns your eyes blue, and also helps you travel to outer space and stuff.
"[There] are moments of levity where [there are] some funny moments, and they're kind of absurd humor, but there are those moments. So it's just so much more amped up than the first film," the "Guardians of the Galaxy" star added. Bautista's statement about the "funny moments" in the "Dune" sequel makes me wonder if we'll see Paul riding a sandworm while the Fremen cheer and break into applause or something. (It could very well happen, given Javier Bardem's request and what happens in the book.)
Picking up where the first one left off — "Dune" doesn't really have an ending; it basically cuts to black in what feels like the middle of a tale — "Dune: Part Two" will follow Paul Atreides as he joins the Fremen to unite Arrakis and stop the Harkonnen reign of terror. And that may not be the end, as Denis Villeneuve has plans to wrap things up with a trilogy.