The 12 Best Timothée Chalamet Movies, Ranked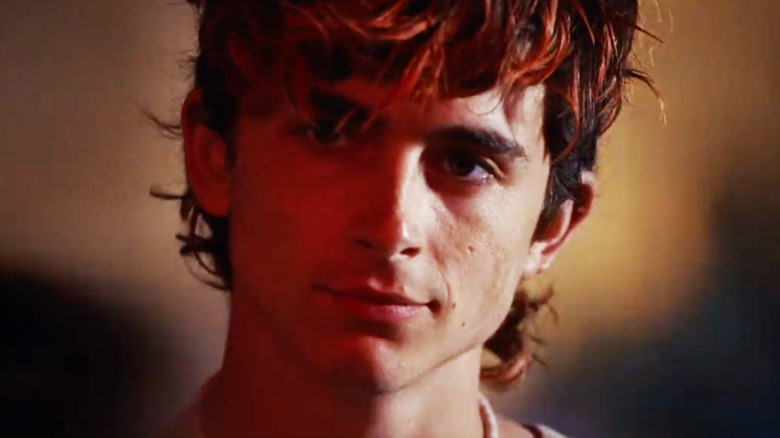 United Artists Releasing
It's been a while since Hollywood's star factory cranked out a genuine, organic sensation quite like Timothée Chalamet. He's the rare marquee name who can command attention off the screen with his vivacious personality as well as hold it on-screen with his acting talents. It's possible to point to previous celebrities and thespians he recalls, but what's most remarkable about the rise of Timothée Chalamet is that he feels like something entirely new and unexpected to behold. He's at the forefront of a new generation of leading men who are out to deconstruct and demolish traditional ideas of what on-screen masculinity can and should be.
In under a decade since his big-screen debut, he's already forged a formidable path through the industry that is breaking new ground for those to follow behind him. Though he charged onto the scene for most with 2017's "Call Me by Your Name," the role for which he received an Oscar nomination, Chalamet had already worked with established names like Jason Reitman and Christopher Nolan — not to mention turned in an attention-grabbing performance in "Miss Stevens." 
Since rising to the vanguard of young Hollywood, he's opened a huge tentpole in "Dune," joined an inestimable Wes Anderson ensemble, collaborated closely with Greta Gerwig on her first two features, and become something of a muse for Luca Guadagnino. One senses, too, that the best is still yet to come. On the occasion of Chalamet's latest big-screen turn in "Bones and All," we take a look at a dozen of his most memorable movie roles.
12. Interstellar (2014)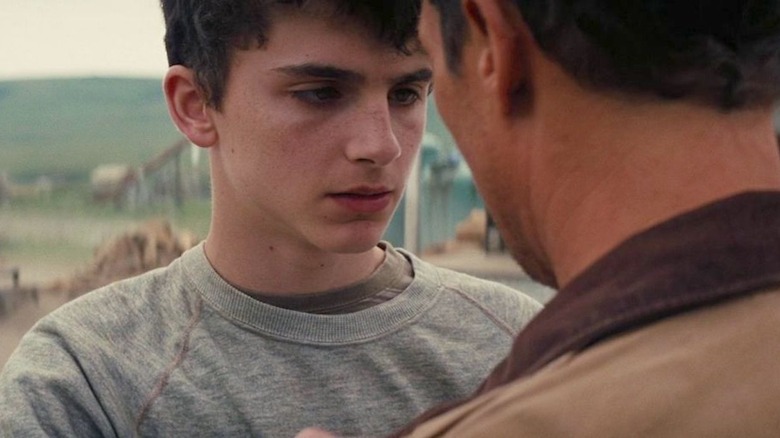 Paramount Pictures
Perhaps you didn't clock it at the time, but yes, that's a pre-fame Timothée Chalamet in Christopher Nolan's "Interstellar." While he's not the main child that Matthew McConaughey's Cooper pines for across dimensions and the universe, his 15-year-old Tom is still a crucial part of the fabric of the film. There's more to the performance than just seeing the actor before he became self-conscious of his own star image. As the younger version of a character who will later come to be played in the film by Casey Affleck, he has a somewhat tricky task of feeling at home in his own skin while also laying the groundwork for the acclaimed actor to come in and inherit the character. It never feels in doubt that there's a straight line between Chalamet and Affleck, with the teen actor's mercurial moodiness calcifying into the adult's embittered pessimism.
Nolan often gets a bad and inaccurate reputation for making films that are cold and unemotional. "Interstellar" feels like the most direct rebuttal of this common line of criticism, and not only because the video of McConaughey's prolonged crying has become something of a meme. A journey to the end of the world to save the world has the paradoxical effect of driving Cooper deeper into himself to discover the forces that transcend meaning and understanding. "Love powers the universe" sounds like the kind of corny conclusion that could double as parody, but Nolan's epic space odyssey earns it and more. 
Casting performers like Chalamet who play into this naked, vulnerable emotionality help lay the groundwork for this heartfelt conclusion. Even though it gets a bad reputation as one of the lesser Nolan works, it's still a riveting watch. It also deserves inclusion in any survey of Chalamet's career, albeit as somewhat of a footnote given his limited participation. 
11. Hostiles (2017)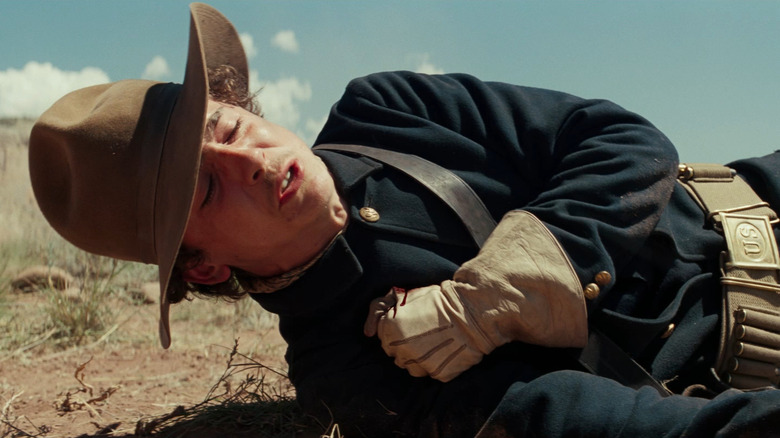 Entertainment Studios Motion Pictures
Timothée Chalamet has but a brief role in Scott Cooper's "Hostiles," a 2017 Western film that far too few saw thanks to its odd distribution by Byron Allen's fledgling unit Entertainment Studios. Chalamet plays a supporting role as Pvt. Philippe DeJardin, trading nicely on his French descent. In 1892, he's part of a group of soldiers tasked with transit for Cheyenne war chief Yellow Hawk (Wes Studi) from New Mexico back to his tribal lands in Montana. DeJardin's youth plays a large role in what little we see of his character, but Chalamet makes the most of his scenes. He plays up the put-on toughness of DeJardin, so it's clear how he comes across to the rest of the army detail: a boy amongst men.
The film cannot rank particularly high in Chalamet's filmography because he's simply in it so seldom. But if tempted to turn off the film after Chalamet's early exit, stick around because "Hostiles" has a lot to offer even without his presence. Every Christian Bale performance is at least somewhat interesting, and he's doing some sturdy work here as Capt. Joseph Blocker, a weary soldier who resists his final assignment until threatened with a court martial. Cooper avoids the lazy tropes of transforming a grizzled bigot by virtue of compassionate exposure to a group he dislikes, weaving a more complicated moral and physical journey for Blocker and the characters. The film also features a standout performance by Rosamund Pike, who loses her family in an attack by Comanches and must navigate her way through the trauma alongside the detail once they find her on their quest.
10. Hot Summer Nights (2018)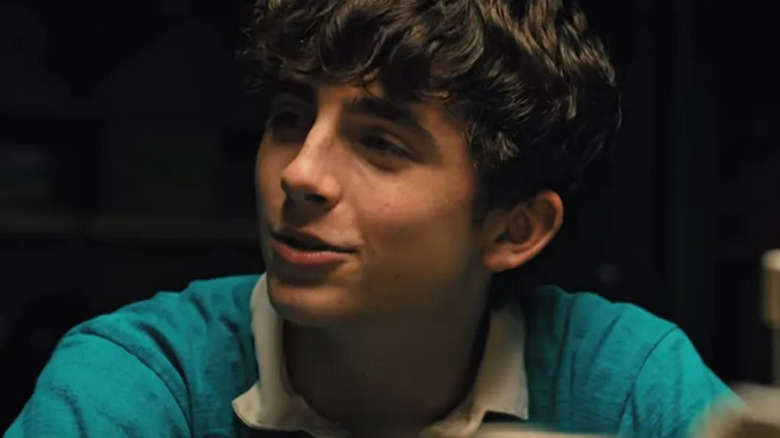 A24
Even Timothée Chalamet's most classic matinee idol movie is not so straightforward. Shot before the sudden "Call Me by Your Name"-mania but released into it, "Hot Summer Nights" features the actor in a last bit of self-containment as Daniel, a bookish teenager who finds his coming-of-age story through dealing drugs. It starts off simply, as these things often do, by simply hiding a friend's weed to avoid detection by the cops. But once he gets a peek into the underground world, Daniel sees something somewhat unexpected: an opportunity for windfalls of profit. He spots the opportunities for distribution innovation and process improvement, juicing his customers for every penny their worth alongside rebellious bud Hunter (Alex Roe). His clientele has plenty to spare, too, given the film's setting amongst the rich kids in 1991 Cape Cod.
Elijah Bynum's directorial debut has slickness and style to spare as it pulls the audience into Daniel's world while it grows in promise and peril alike. He gains the level of notoriety in a new place that he so desperately craves as a slightly shy guy, and catches the eye of Maika Monroe's beguiling McKayla. But the more he gains in stature, the more his exploits catch the attention of his suppliers, who want in on the cut as Daniel looks to expand his preppy pot empire into cocaine. Through it all, Chalamet projects a cool that is knowingly effortful, which allows anyone to project their own adolescent insecurities onto the character. It's all the more impactful because he lets us see the performance within the performance. "Hot Summer Nights" is nothing groundbreaking (it certainly feels like a first feature) but makes for a fun hour and change to spend with an electric Chalamet.
If you or anyone you know needs help with addiction issues, help is available. Visit the Substance Abuse and Mental Health Services Administration website or contact SAMHSA's National Helpline at 1-800-662-HELP (4357).
9. The King (2019)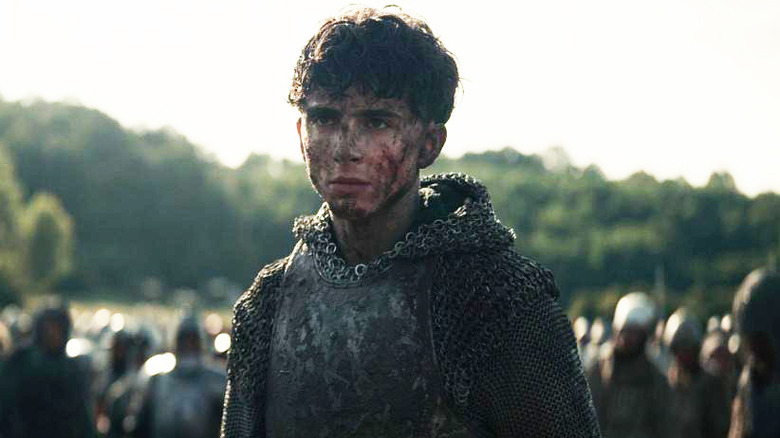 Netflix
2019's "The King" was Timothée Chalamet's first film that belonged to him and him alone. Save for Robert Pattinson's brief but uproarious turn as the Dauphin of France, campy accent work and all, he commands the frame from start to finish. It's not hard to see what attracted Chalamet to take the role as his star blew up in the industry — the story of his character Hal echoes his own evolution from a teen to a man.
Don't let the modest name fool you. Hal is the pet name for the boy who would soon become England's King Henry V during the Middle Ages. He begins "The King" as a lad of modest aims and intentions entirely uninterested in assuming the throne. But after the death of his father and brother, he's forced with no choice but to take the crown. 
What follows is nothing of the grandiloquent sort of drama you might expect of the Shakespearean plays from which David Michôd and Joel Edgerton adapt the film. This is a gritty, grounded tale that's more interested in Hal's mumblings as he struggles to articulate his authority both to others and himself, perhaps to the film's ultimate detriment. This gray, grimy war flick is as murky as the mud on which Hal must fight for his country. Chalamet disappears inside the twisted, tortured psychology of his character in "The King." It's an unusually muted performance from the normally extroverted and physical performer, but the turn works because he commits to the brooding.
8. Beautiful Boy (2018)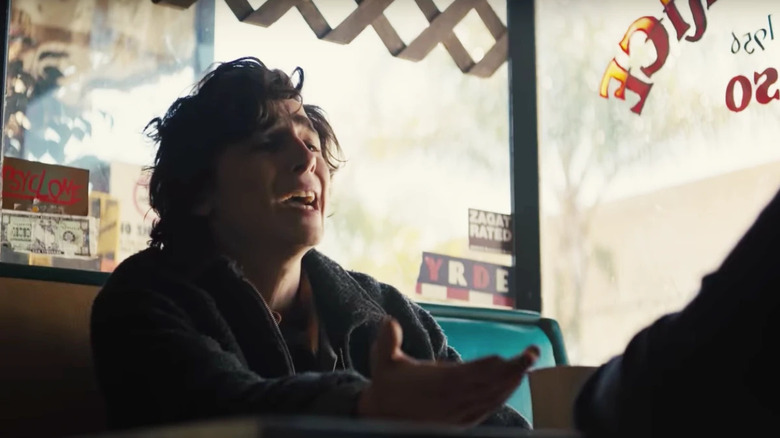 Amazon Studios
There's a particular trap for young actors to do movies about addiction. As a literal challenge, it allows them to demonstrate the extent of their limber and adaptable physicality as they portray someone in the thrall of a controlling substance. As a metaphorical challenge, it's a convenient plot device through which to play out larger meta-narratives about indulging in the temptations of youthful indiscretion. So perhaps it's no surprise that Timothée Chalamet gravitated toward "Beautiful Boy," playing the real-life recovering meth addict Nic Sheff.
Chalamet is a raw nerve and live wire in the film, a bundle of tics and anxieties splayed out on the screen as he torturously plunges into the depths of addiction. If he's a tad overwrought, it's only because the movie itself is. Chalamet feels entirely combustible, like at any given moment in "Beautiful Boy" Nic might simply explode before our eyes. Through his lithe, lanky physicality and his weepy, woebegone emotionality, Chalamet helps us understand what it really means to be an addict. This is a necessary component for the larger aim of Felix van Groeningen's film, which is to explore the very nature of addiction itself.
Nic is but a supporting character in "Beautiful Boy" with an outsized impact on the story compared to his screen time. The film documents the wider ripple effects within the Sheff family, particularly on the wounded soul of his heartbroken father David (Steve Carell). Though Nic's behavior tests the limits of their compassion, David's quest for solutions and salvation for his son is the ultimate testament to the power of a father's love. Their bond is all the more moving because Chalamet never leaves a bit of doubt as to just how much Nic needs that compassionate care.
If you or anyone you know needs help with addiction issues, help is available. Visit the Substance Abuse and Mental Health Services Administration website or contact SAMHSA's National Helpline at 1-800-662-HELP (4357).
7. The French Dispatch (2021)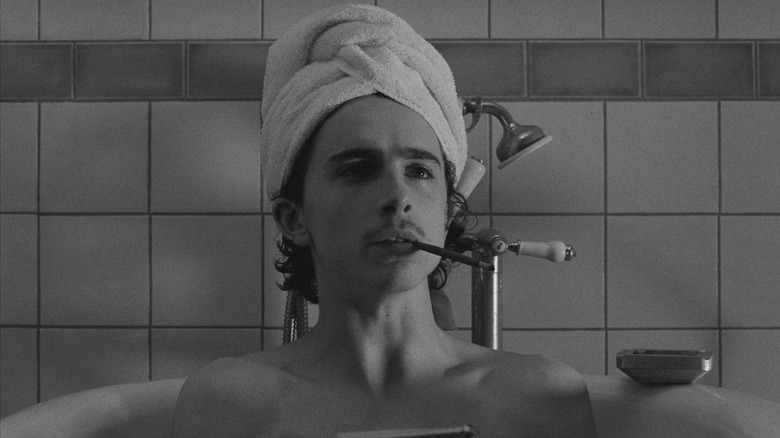 Searchlight Pictures
Timothée Chalamet has primarily followed the Leonardo DiCaprio trajectory to avoid being pigeonholed as a teen idol. That is to say, he's tread an almost exclusively solemn and serious path in the five years after breaking out. But no one can resist taking a role in a Wes Anderson movie, now can they? Chalamet showed some serious comedic chops leading one of the vignettes within "The French Dispatch" (and held his own as scene and romantic partner Frances McDormand, to boot). Should he ever want to go all-in on doing lighter fare, he could easily shift genres.
Anderson wisely leans on someone with Chalamet's pre-existing iconography to play Zeffirelli, the student leader of a French student revolution in the model of the May '68 protests. He's possessed with the kind of contagious zeal that defies logic or explanation; it simply must be felt. Chalamet instantly lights up the screen with his charismatic energy, a remarkable feat given the gnarly pencil-thin trash 'stache adorning his upper lip. He's deft with the delivery of Anderson's droll dialogue and committed to the off-beat sexual energy he shares with McDormand's Lucinda Krementz, a reporter from the titular newspaper assigned to report on his would-be revolution.
Chalamet avoids the worst tendencies of actors in a Wes Anderson film, who often resort to a rote recitation of the lines with a pronounced affection that renders them into cinematic paper dolls. His Zeffirelli is flesh and blood, at turns smug and sincere. It's too bad there's not a whole movie about this character rather than just one chapter of him.
6. Lady Bird (2017)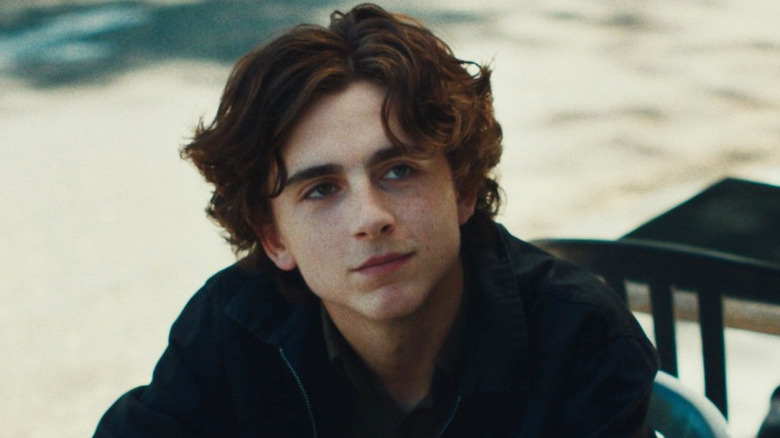 A24
In most people's adolescence, there's a character like Timothée Chalamet's Kyle Scheible from "Lady Bird." He's a rebel who thinks he has a cause after reading a few pages of Howard Zinn, strutting about projecting an invulnerable sense of removal from the world. That unbothered cool can prove alluring, as it does to Saoirse Ronan's Christine "Lady Bird" MacPherson, but such an affect masks the pretentiousness and callousness to his self-involvement.
Kyle doesn't really enter the picture in "Lady Bird" until the protagonist has already tried on a new identity or two as she seeks to escape from what she views as her humdrum Sacramento existence. He serves an important purpose in the narrative, illustrating the draw of winning an elusive love interest and the disillusionment of actually pinning one down and dealing with all of them as a person rather than a concept. Chalamet oozes the smarm and charm of the "bad boy" archetype, nailing Kyle in everything from the chilly demeanor to his soft-spoken faux-philosophical dialogue.
"Lady Bird" draws heavily from Greta Gerwig's own adolescent experiences, and it speaks to her tremendous grace and wisdom that she does not turn the character of Kyle into a mere caricature. He's more than just an instructional lesson for Lady Bird to have a sense of self-worth, and Chalamet helps anchor Kyle in the hidden pain of watching a family member slip away to cancer. Just like everyone in the film, he's struggling to expand his point of view beyond one where he's the main character. This may be the best overall movie Chalamet has ever done, although he's far from the main reason it's a coming-of-age classic.
5. Miss Stevens (2016)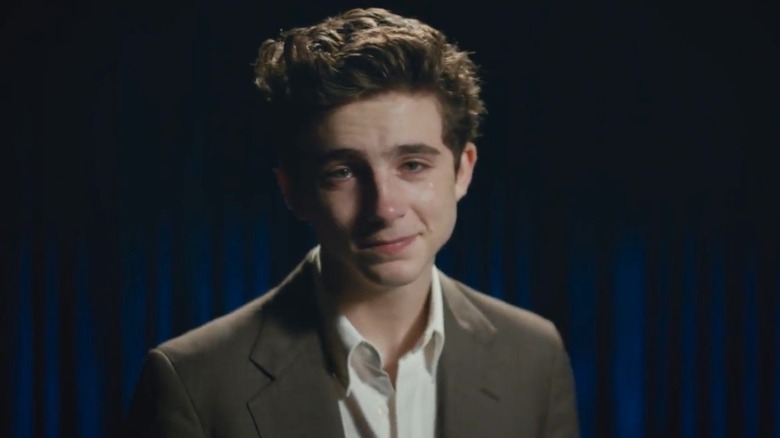 The Orchard
If actors were commodities purchasable on a stock market, anyone who bought into Timothée Chalamet after seeing "Miss Stevens" would be filthy rich now. This is the real breakthrough performance for the actor. It's the first real showcase of his full talents from impulsive physicality to tender vulnerability. Like many a Chalamet performance, there's an exquisite tension between the character's lack of certainty and the performer's undeniable confidence in portraying such confusion.
Chalamet gives a preternaturally assured turn in Julia Hart's film as misunderstood teen Billy Mitman. He's a troubled but talented student who finds expression for his angst through art; specifically, drama. At his school, however, that program's funding is so on ice that Lily Rabe's titular English teacher must accompany a group of three students to their monologue competition. Billy and Miss Stevens, still coming of age herself at 29, strike up an odd companionship as each navigates their own hang-ups and doubts in the open. She sees past the fears of his peers, who view his temperamental relationship with newly prescribed behavioral medications as reason to regard him as some kind of ticking time bomb.
It's to the great credit of director Julia Hart, who co-wrote the script with husband and producer Jordan Horowitz, that they simply lean back to let Chalamet and Rabe make magic. She's fond of the loose, Richard Linklater-style "walk-and-talk" where the camera hangs back to observe a casual conversation between characters. The film does not force Chalamet to shove Billy into some kind of easily recognizable box nor map his relationship with Miss Stevens into a familiar formulation. It's just humanity in all its messy majesty, laid out before us with authenticity and accuracy.
4. Dune (2021)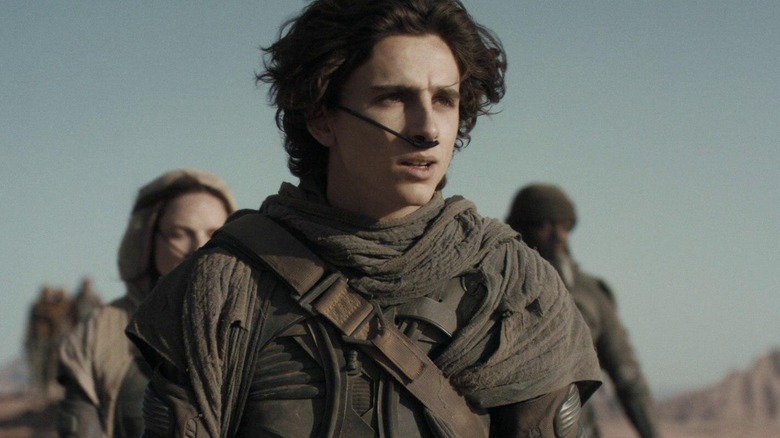 Warner Bros.
It's easy to get swept up in the sight, sound, and spectacle of Denis Villeneuve's epic space opera "Dune." But the film would be absolutely nothing without the quiet strength it draws from Timothée Chalamet's performance as protagonist Paul Atreides. This is very much an archetypal monomyth, a hero's journey that would do writer Joseph Campbell proud, yet Chalamet roots the character in deep, complex characterization. Anchoring a movie like this is a major accomplishment in its own right, but there's real emotional stakes to this character's success and failure that the actor layers in flawlessly among the film's other technical elements.
Chalamet intrinsically understands that it's difficult for the average viewer to connect with Paul as a messianic figure, so he plays up the humanity first and foremost. Within the film's science-fiction future, this son of a duke comes to learn he might have the breeding and the power to become the fabled Kwisatz Haderach. The ground around him shifts as people come to realize he might be their hope for deliverance through dire geopolitical straits. Chalamet shows the weight of this responsibility as reality sets in for Paul, choosing to pierce his armor of stoicism with brief bouts of self-doubt that prove revealing and relatable for the character.
There's a tendency for leading men to just smolder their way through a tough guy role like this, but Chalamet elevates "Dune" by bringing his trademark emotional directness to the character. He's a performer changing the way a generation approaches their construction of masculinity because he does not downplay feelings of weakness — he deals with them openly.
3. Bones and All (2022)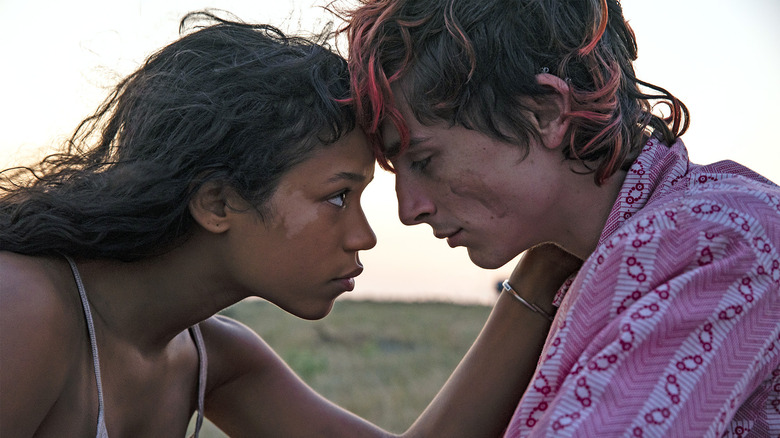 United Artists Releasing
In Luca Guadagnino's "Bones and All," Timothée Chalamet delivers the type of performance that's clearly the result of a collaboration between an actor and a director who knows them well enough to push them out of their comfort zone. In many ways, the itinerant cannibal Lee shares much in common with his sentimental and sensuous turn as Elio from "Call Me by Your Name." Both young men seek love and connection in a world where they do not feel they can be accepted as themselves.
But Guadagnino goes a step further here, asking Chalamet to start by playing the character as confident only to have those defenses slowly chipped away as he falls for fellow flesh-eater Maren (Taylor Russell). When Lee first struts across the screen in "Bones and All," he exudes an unflappable cool that cannot help but lure people into his orbit. He knows the pull he has on other people, too, and justifies weaponizing it to draw in the people he desires to devour. His roguish charms are his strength, a potent defense mechanism against a world that has no place for his kind. They're also his weakness, as they preclude him from experiencing intimacy even with someone who might understand his struggles.
Ultimately, Guadagnino is far less interested in the blood going down Lee and Maren's gullets and far more captivated by the blood rushing into their hearts. Their love on the run is fast, frenzied, and utterly infatuating because Chalamet — alongside Russell — methodically strips back all his character's posturing and performativity until we see the scars on his very spirit.
2. Little Women (2019)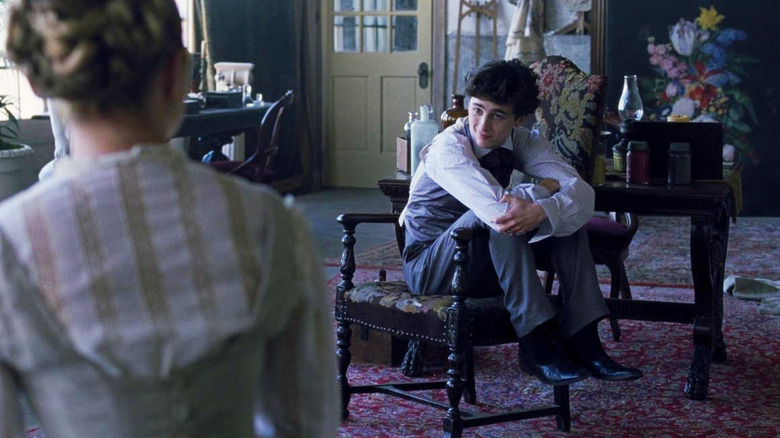 Columbia Pictures
After working with Timothée Chalamet in 2017, Greta Gerwig observed that the actor was "a young Christian Bale crossed with a young Daniel Day-Lewis with a sprinkle of young Leonardo DiCaprio." She perfected this hybridization in their next collaboration on 2019's "Little Women," and not only because his role as Laurie was once played by Christian Bale himself. Gerwig sees the danger and the daring in his persona that captivates audiences, but she also knows there's a sweetness underlining it all that makes them swoon.
In the world of "Little Women," the character of Theodore "Laurie" Laurence can often represent something as a prize put on a pedestal for the March sisters to fight for, specifically the headstrong Jo (Saoirse Ronan) and her impetuous younger sister Amy (Florence Pugh). But Gerwig's adaptation, which oftentimes feels like a graduate-level seminar deconstructing Louisa May Alcott's novel, finally unlocks Laurie as a character in his own right. He's not some gullible gent willing to entertain any sister like a lousy lothario. He's a boy craving the love of a big family, which he sees abounding within the March house but lacking in his own. Chalamet's Laurie desperately craves acceptance into their home, and the actor isn't afraid to show the depths of his desperation to gain the March's approval.
Gerwig understands Chalamet's unique appeal across gender lines at the very moment that those distinctions are blurring in the real world. He doesn't want to court a March sister so much as he wants to become one of them. Underneath the swagger is the sincerity of a puppy dog who just wants to give and receive love. Chalamet does not shy away from the more feminine coded aspects of the character, such as Laurie's maudlin emotionality, as he creates the definitive cinematic Laurie.
1. Call Me by Your Name (2017)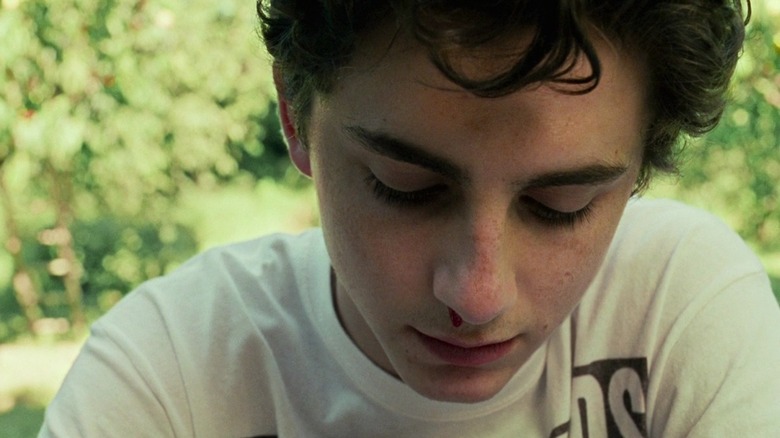 Sony Pictures Classics
The performance that made Timothée Chalamet the youngest Best Actor nominee in 80 years still retains all its power. As Elio in "Call Me by Your Name," Chalamet delivers a masterclass in coming-of-age before the camera. His jaded teenager gets jolted out of his aloof apathy by the arrival of the American student Oliver (Armie Hammer) to study with his father (Michael Stuhlbarg) at their villa in Italy. The two feel a quick kindling of attraction that neither is quite ready to act upon, especially because both are performing the heteronormative masculinity of their '80s-era setting. And Elio, for all his wiles and wits, maintains all the insecurities and immaturities of an inexperienced teenage boy.
Chalamet stays attuned to the physical impulses of Elio to a frightening degree, abandoning studied mannerisms in his approach to the character and letting all his contradictory impulses run free. It's a case study of the confusions of adolescence, where one's body acts in ways the mind cannot understand and must catch up with. 
With great sincerity and sensuality alike, director Luca Guadagnino surveys this burgeoning summer romance in "Call Me by Your Name." He captures the beauty and the tragedy of two people who fumble their way towards an expression of the desire and affection they feel for one another yet cannot figure out how to sustain it outside the throes of one passionate season. Chalamet's soul and self are entirely out in the open in the film, with his heart beating out of his chest as it's made and broken before our eyes. As Elio experiences all the emotions of first love as a character, so does the audience experience that first bit of identification and affection for Chalamet as a performer.