Mia Goth Says MaXXXine Will Be 'The Best Movie' Of Ti West's New Trilogy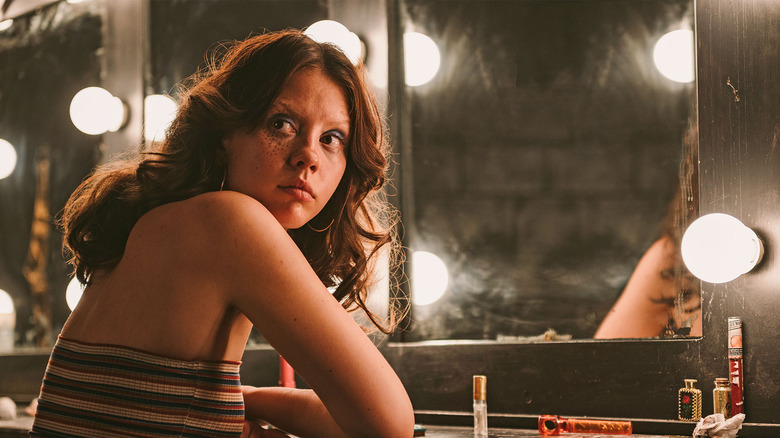 A24
Ti West's "X" seemed to have come out of nowhere upon its release in March of 2022. While its existence was advertised along with a premiere at the SXSW Film and TV Festival, nobody could have predicted the fact that it was the first film in a franchise. We certainly didn't expect its follow-up prequel, "Pearl," to be released months later after a back-to-back shoot. Regardless, "X" and "Pearl" quickly became the must-watch horror movies of the year, and luckily for fans, their story isn't done yet.
"MaXXXine," a trilogy-concluder that follows the titular starlet (Mia Goth) after the events of "X," wasn't secretly shot like "Pearl" was. However, according to a new interview with Variety, Goth did reveal that cameras will roll sometime soon, promising that it's the highlight of this unlikely franchise. "It's the best script of the three by far," the actress said. "It's going [to] be the best movie of the three."
"MaXXXine" will be set in 1980s Los Angeles, following Maxine as she struggles with the demons of her past and pursues her acting dreams. Although that sounds relatively lowkey, don't expect the film to avoid the terror and violence of its predecessors. "It's the biggest story of the three with the highest stakes and Maxine has gone through so much at this point," said Goth. "So when we find her in this new world, she's just a force to be reckoned with and she goes through some pretty wild adventures."
She's a star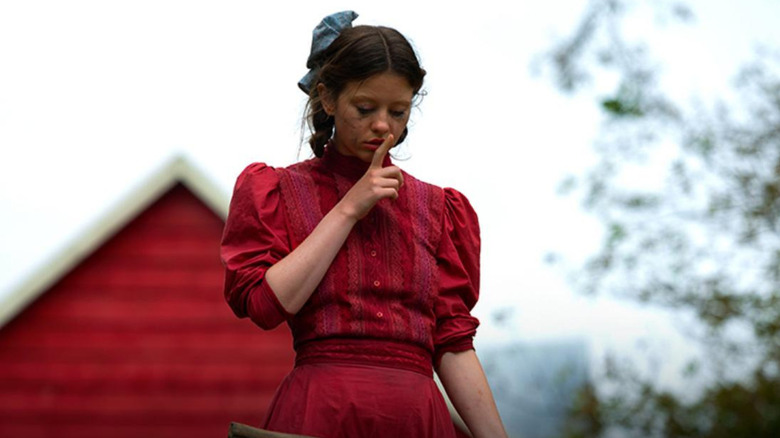 A24
One thing that Mia Goth said about the film, however, might be rife for overanalysis and speculation. When expressing her excitement for the shoot, she may or may not have slipped hints about who will be joining her. "We're all so tight now," she exclaimed. "This is going to be our third movie we're working on together and everyone's coming back together, so it's bringing the band all back together again."
Of course, there is a chance that Goth is referring to the crew members. The almost-immediate production of "Pearl" after "X" resulted in most of the crew being reused. If this is the case, then hearing Goth talk about them with such enthusiasm is extremely sweet. That being said, there is also the chance that she is referring to the casts of "X" and "Pearl" — after all, neither film had lengthy cast lists, and having the actors play new characters that feel a bit too familiar could be interesting. Plus, it's not like there isn't some overlap between the casts and the crew — Scott Mescudi, who played veteran porn star Jackson Hole in "X," serves as producer on both movies.
No matter who Goth was referring to, "MaXXXine" is a project that we are extremely excited by. "X" and "Pearl" were both refreshingly dramatic takes on old-school slashers, as well as compelling character pieces. "MaXXXine" currently does not have a release date.