Pearl Trailer: Mia Goth Is The Star She Deserves To Be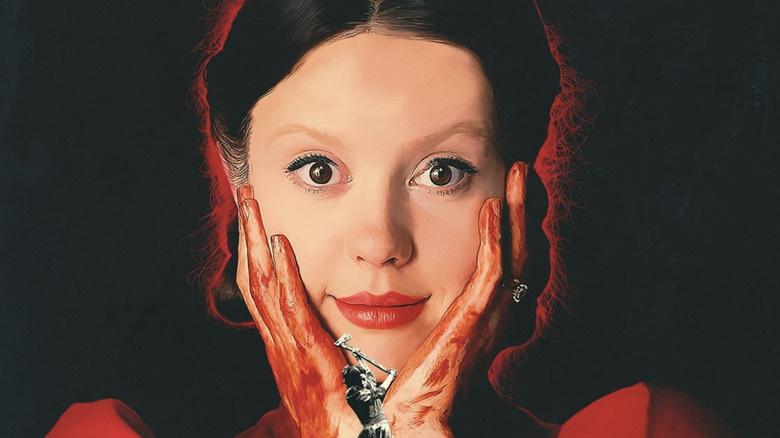 A24
After nearly a decade away from the world of horror, Ti West slashed his way back onto the scene this year with the 1970s-inspired "X," about a group of would-be pornographers who find themselves in a fight for survival after the reclusive elderly couple from whom they rent a farmhouse for production discover exactly what kind of movie these kids are making. The film's protagonist was a porn performer and daughter of a televangelist named Maxine Minx, played beautifully by Mia Goth, who pulled double duty by also playing the villainous hagsploitation antagonist Pearl, thanks to some well placed prosthetics. "X" was a masterful subversion of the "desperate hag" trope, and a ridiculously smart takedown of the way young people foresee the "horrors" of aging.
Fans of Ti West's X, rejoice: The trailer for prequel Pearl is coming tomorrow. pic.twitter.com/5SE2jSGkIe

— /Film (@slashfilm) July 25, 2022
As we all screamed from the rooftops how wonderful "X" was and how desperate we were to see what West had in store for us next, he had secretly already filmed a prequel film called "Pearl," all about how the killer in "X" came to be. Mia Goth returns to again play Pearl, but this time as a young girl in rural Texas desperate for fame and a means to get out of her oppressive and repressive home life. Much of "X" is about breaking apart the "psycho-biddy" subgenre and the dangers of longing for a time gone by. "Pearl" looks to be the inverse of "X," instead looking at the ways we idealize the future, and will do absolutely anything it takes to become the star we think we deserve to be.
Pearl trailer
As she kneels beside her bed, a young Pearl prays to the sky pleading, "Please Lord, make me the biggest star the world has ever known so I may get far, far away from this place." The character of Pearl read like a tragic figure in "X," but now that we can clearly see that she's always been a monstrous femme, it may completely change the way audiences initially viewed the character as an old woman. Knowing how Pearl ends up toward the end of her life, it's fascinating to see what led her to become the alligator-feeding killer we know her to be. "I wanna be special, dancing up on the screen like the pretty girls in the pictures," she says, like a twisted version of Dorothy Gale singing about going somewhere over the rainbow in "The Wizard of Oz."
It looks as if Pearl is the type of monster who was made, not born, and her murderous rampage is a means to escape her restrictive family life. And yet, we see her believing that there may be something "wrong" with her, so even as she destroys those around her, Pearl appears to still have a moral compass. Ti West really put in a lot of brilliant character work while developing both "X" and now "Pearl," and getting these films back to back allows audiences a fascinating look on the way films can change completely depending on how much backstory is provided by the filmmaker. I'm obsessed. "Pearl" cannot get here fast enough.
Pearl synopsis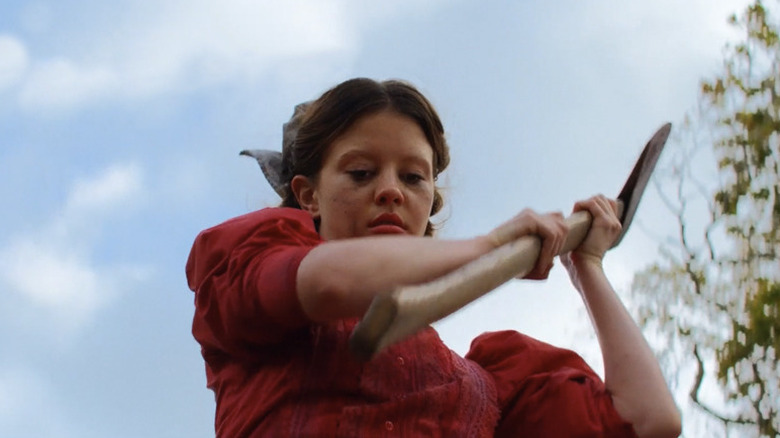 A24
"Pearl" was written by West and Goth, and is produced by West, Jacob Jaffke, Kevin Turen, and Harrison Kreiss. Here's the official synopsis:
Filmmaker Ti West returns with another chapter from the twisted world of X, in this astonishing follow-up to the year's most acclaimed horror film. Trapped on her family's isolated farm, Pearl must tend to her ailing father under the bitter and overbearing watch of her devout mother. Lusting for a glamorous life like she's seen in the movies. Pearl's ambitions, temptations, and repressions all collide, in the stunning, technicolor-inspired origin story of X's iconic villain.
"Pearl" arrives in theaters on September 16, 2022.