Pearl: Everything We Know So Far About Ti West's X Prequel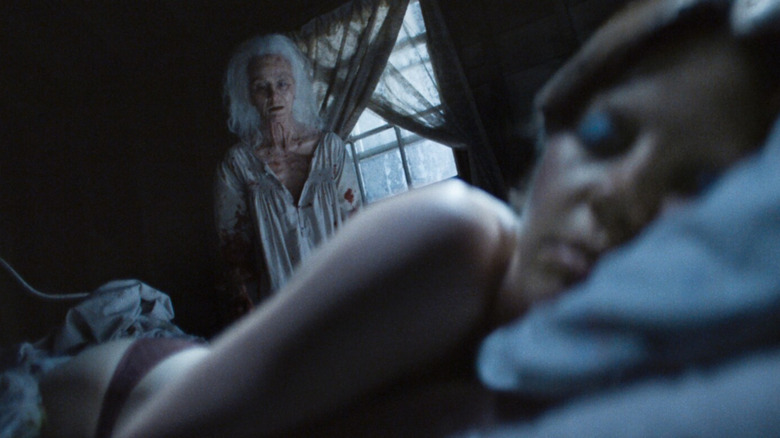 A24
When it was announced this past March that Ti West had already shot a prequel to his throwback horror "X," it's fair to say that nobody had seen it coming. Even more intriguing was the fact that it would center around one of the villains of the film, an elderly and highly sexually repressed woman named Pearl (Mia Goth, who also starred as porn actress Maxine in the film). The reaction to the news was a bit mixed; while many thought that Pearl was an interesting character, people online still questioned what could possibly be revealed about her character and if it really warranted a prequel.
Well, it looks like we're about to find out the answer to that question. A24 announced that a trailer for "Pearl" is expected to be released soon, and we even have an incredible poster to dissect as we wait for more details. That doesn't mean that there aren't already some crucial details we do know about the movie. Here's what is already known about A24's first-ever prequel and the origin story of arguably the best old lady killer in horror.
Before X, there was Pearl
Details on what "Pearl" will be about are still not entirely known, much like how the plot of "X" was still shrouded in secrecy until its release. However, the announcement of the film back in March was accompanied by some footage after "X's" world premiere. Goth will reprise her role as the titular character, this time without any of the aging makeup that hid the actress' real identity. West is also confirmed to have directed "Pearl," having done so immediately after production on "X" ceased.
The footage shown at SXSW has not been released online, nor has any other cast member for the movie been announced. That being said, there are some details of the footage that have surfaced online that could piece together a general outline of the plot. Taking place in 1919, Pearl can be seen wandering around the farm from "X," dancing, staring up at the sky, and dumping an older man into alligator-infested waters. The footage is also said to have been reminiscent of old Technicolor films of the 1930s and 1940s, something that West says continues throughout the finished film when speaking to IndieWire.
A release date for "Pearl" is not currently known, but it is likely that it will release in theaters by the end of 2022.