Here's When You Can Watch Ti West's X At Home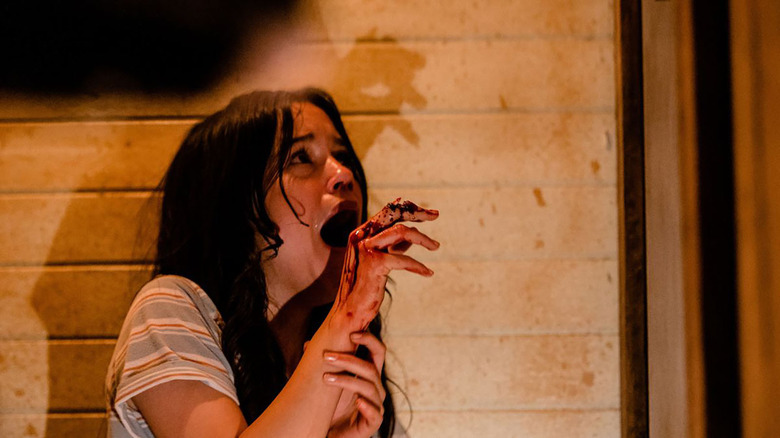 A24
Back in 2005, Ti West first appeared on the scene with an odd little horror film called "The Roost" featuring killer bats, the reanimated dead, and Tom Noonan as a horror host. His follow up, the thrilling "Trigger Man," flew by viewers and went mostly underseen, but when West released "The House of the Devil" in 2009, he established himself as one of horror's most exciting new voices. In the years that followed, West put out a slew of horror films, like "Cabin Fever 2: Spring Fever," "The Innkeepers," "The Sacrament," as well as contributing segments to "V/H/S" and "The ABCs of Death." Ti West's previous feature "In the Valley of Violence" was a black comedy Western, which makes his newest film "X" his return to horror feature territory in 10 years.
​​Starring Jenna Ortega, Mia Goth, Brittany Snow, Kid Cudi, Martin Henderson, Owen Campbell, Stephen Ure, and James Gaylyn, "X" was made with A24, and people are absolutely loving this inventive slasher about a group of actors in 1979 rural Texas looking to shoot an adult film without the knowledge of their reclusive hosts renting out the boarding house on their farm. However, when the couple figures out just what this crew is up to, all hell breaks loose and the porn crew is forced into the fight for their lives. The film was an immediate hit and audiences should be thrilled to know that West already shot a prequel film, "Pearl." If you've been unable to see "X" in theaters, take solace in knowing that "X" will soon be available on Blu-ray Combo Pack (plus DVD and Digital) and DVD from Lionsgate on May 24, 2022.
Thank the movie gods for physical media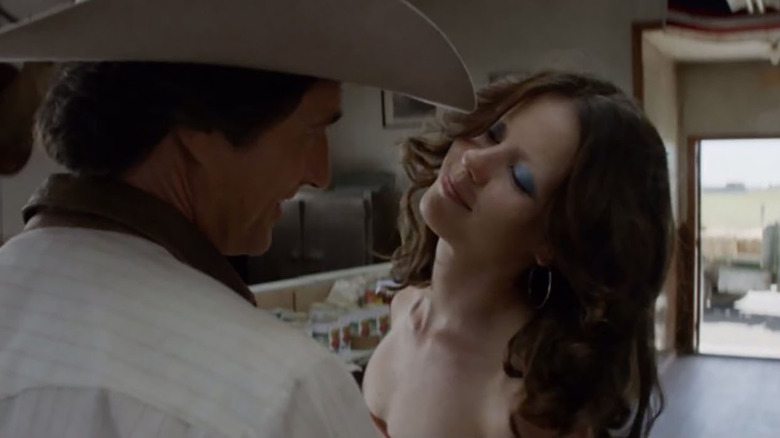 A24
"X" is an exciting return to form for Ti West, lulling audiences into believing this is going to be another one of his trademark films filled with creeping dread, only to pivot into high gear and explode into absolute brutality. Given the trend of horror films exploring emotionally heavy themes of grief and trauma over the last few years, "X" is a refreshing return to fun, terrifying, exciting horror-watching experiences. For anyone who forgoed the theater due to the pandemic, the Blu-ray is absolutely worth getting your hands on.
The Blu-ray Combo Pack will be available for $39.99 and the DVD available for $29.96. The Combo Pack will include special features like "The Farmer's Daughters" extended scene, and a featurette called "That X Factor." A24 has yet to release an announcement date for VOD or SVOD, but films are typically made available for purchase rental on VOD before their physical release date, so it's safe to assume we'll see a digital release date announced soon.