X Review: A Slick And Stunning Original Slasher [SXSW]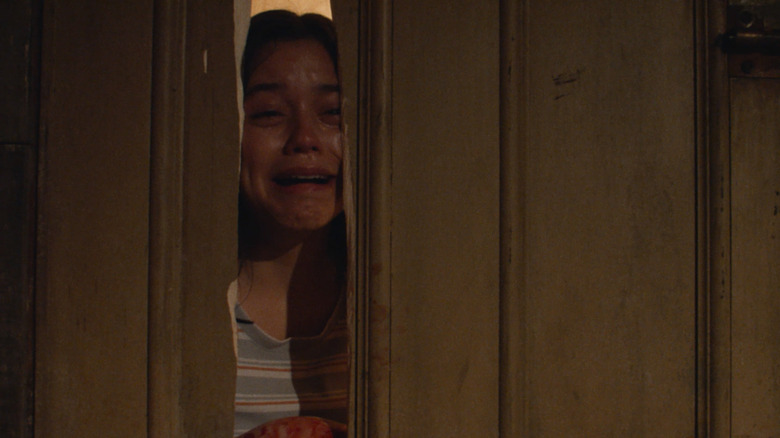 SXSW
"There just aren't any good original slashers anymore." Really? Because Ti West's Texan hack-em-up "X" is the latest in an ever-growing list of titles that prove this still overheard complaint so wrong. After successful years spent as a prolific television director, West's return to horror cinema channels all the sleazy lewdness of '70s exploitation through the director's slower-burning signatures. It's a welcome return and — for my money — is West's best film yet, given how authentic every element feels. "X" screams '70s and '80s slashers from blood-drenched gore to technical flourishes that boil down to choices like using older-school lighting rigs — because West wanted to make a full-immersion throwback like few others are right now.
Mission accomplished.
From the minute Wayne (Martin Henderson) leaves his 1979 Houston strip joint "Bayou Burlesque," it's all table setting for the horrors ahead. Maxine (Mia Goth) snorts bumps of coke and self-fulfills herself by repeating mantras about stardom like a final girl in training. Centerfold and mainstage starlet Bobby-Lynne (Brittany Snow) proves there's more behind her money-making looks. Jackson (Scott Mescudi, aka Kid Cudi) flashes his dog tags as a soldier at the ready — we know these horror character arcs. We're supposed to. West brings Wayne's crew into the middle of nowhere to shoot an adult film called "The Farmer's Daughters" in trigger-happy owner Howard's (Stephen Ure) bunkhouse, behind conservative territory lines where televangelists rage about the scourge of sinful sex and narcotics. Intentions are laid plainly, as bohemians invade private property owned by an elderly couple that didn't survive two world wars so America could be taken over by smut peddlers and free spirits.
The artistry behind "X" and West's vision is meticulously rich. Cinematographer Eliot Rockett is fluent in visual storytelling from the very first shot — a doorway mimics tighter aspect ratios, which widen to reveal cop cars and devastation as the camera pushes outside. Rockett also implements overhead shots from a bird's eye view that interrupts serenity with enclosing dangers or paints a symmetrically dazzling horror tapestry. "X" sears picturesque visuals as West channels sweaty southern environments like "The Texas Chain Saw Massacre" or "The Town That Dreaded Sundown," playing with filmmaking techniques that just aren't part of a lot of horror's vocabulary right now. The ways shadows project, or how composers Tyler Bates and Chelsea Wolfe's disquieting score scampers with chaotic freneticism, all play into the abject fear and scintillating entertainment that trademarks this pornographic slasher with thoughtful connections drawn between horror and adult cinema.
Ti West is back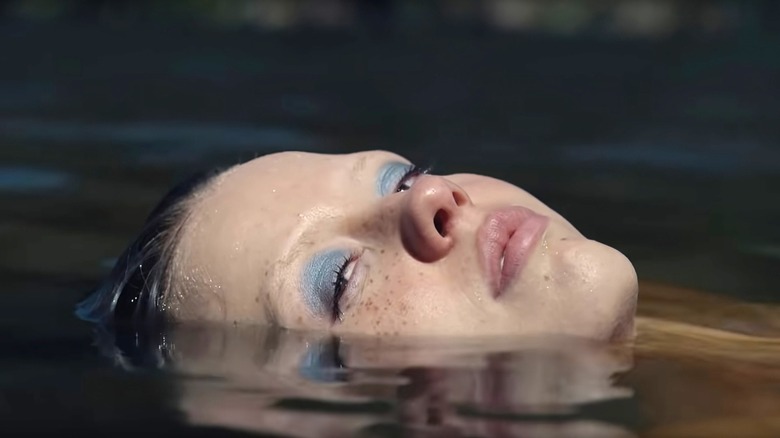 A24
Performers superbly portray their roles as dreamers with progressive ideals — enter overwhelmed sound technician Lorraine (Jenna Ortega), nicknamed "churchmouse," girlfriend of director RJ (Owen Campbell), who sees "The Farmer's Daughters" as an opportunity to elevate pornography with French "avant-garde" skillsets. Lorraine's moral hesitations instigate more perceptive conversations than average T&A slashers and lead to standouts Brittany Snow and Scott Mescudi devouring every ounce of the screen. Snow sells both her "Debbie Does Dallas" persona and the intelligence behind Bobby-Lynne's god-given talents (Snow is so, so funny during the porn shoots) — typical bombshell stereotypes be damned — while Mescudi's vanity is enough to draw laughs just by flexing in front of windows or doorways buck-naked. It's such a strong cast that draws you in during their secret filmmaking around Howard's farmland — necessary star-chasing charms allow the film's second half to terrify exquisitely because we care about who dies.
Once the horrors of "X" ignite, West rewards his patient audience with 100% commitment to an enormously enjoyable slasher boasting all the thrills and chills promised. WETA provides practical effects that sell excessively gnarly deaths inspired by everything from Italian Giallos to M. Night Shyamalan's "The Visit." Easy trailer comparisons to "The Texas Chain Saw Massacre" are less apt since West pursues something genuinely unique as Rockett's crooked camera captures everything from the consequences of repression to surprise aquatic horror. Practical effects stay impressively realistic and gratuitous — a calling card of golden age slashers — that will leave fans abuzz after credits roll. "X" lives its name by pushing grindhouse appeal to the extreme, delivering what horror lovers will undoubtedly describe as "old-fashioned horror fun."
So much of "X" and its despicable spiral into bloodlust at the hand of republican and religious panic toes spoiler territory, so this is where I leave you. Ti West is back with a violent vengeance, slicing and dicing through likable characters that light up the screen throughout their doomed and debaucherous overnight shoot. West is operating on another level — even the slightest editing cut cranks fear factors another notch higher. It's so good you can't help but wonder how many other knockouts we've been robbed of had West not turned to television for a spell, but more inspiringly, what West still has in store for us now that he's back (for now). Slashers are alive and well, and even breathe new life in the case of "X" — if only we supported new original slashers as much as the next "Halloween" or "Scream," studios would take more unbelievable risks like "X." Here's your chance.
/Film Rating: 8.5 out of 10