M3GAN Didn't Just Do Well At The Box Office — She Slayed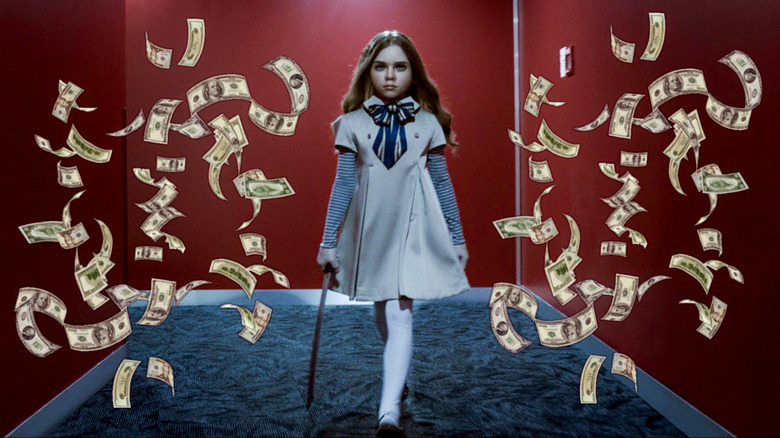 Universal Pictures
January 2023 is proving to be fertile ground for the box office already, which goes against the historical record of the month being a dumping ground for studios. Case in point, Universal and Blumhouse released their sci-fi/thriller "M3GAN" in theaters this past weekend as the year's first new major wide release – and it made an absolute killing. The film, directed by Gerard Johnstone, ended up pulling in a stellar $30.2 million on its opening weekend, well ahead of Friday's projections, which had it taking in $20 million on the high end. So yeah, "M3GAN" made a ridiculous amount of money, and word of mouth seems to be scarily strong.
Did "M3GAN" manage to top "Avatar: The Way of Water?" No, but that hardly matters, as everything in the movie business is relative. This was counter-programming of the most perfect order and, against a budget of just $12 million, the James Wan-produced, PG-13-rated horror flick figures to be the start of a brand new franchise. Not to be overlooked is the fact that this was an original film from "Malignant" screenwriter Akela Cooper, which is not based on any pre-existing IP. It currently sits at $45 million worldwide, or nearly four times its production budget, after just one weekend in theaters.
Critics were a big help, as "M3GAN" currently holds a stellar 94% critic approval rating on Rotten Tomatoes. It also holds a decent 79% audience rating to go with a B CinemaScore. Those numbers are more than good enough to keep the money coming in for several weeks, especially since that PG-13 rating ensures that teens can go see this thing without much restriction.
How does M3GAN measure up?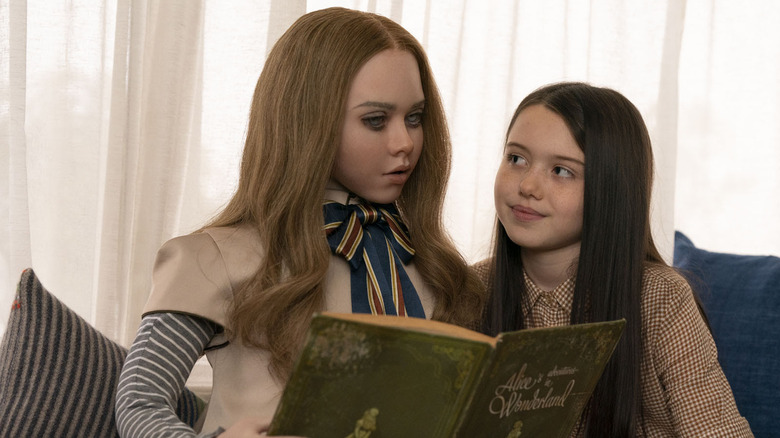 Universal Pictures
Further context only serves to illustrate just how huge the opening weekend for "M3GAN" actually was. For one, it had a bigger opening weekend than several huge horror hits in 2022, including "Scream" ($30 million), "The Black Phone" ($23 million), and "Smile" ($22 million). You have to look at Jordan Peele's "NOPE" ($44 million) to find a bigger opening for an original film last year, and that movie came with a $68 million budget. In the end, it all comes down to profitability. Universal is no doubt very happy to have Peele under its roof and is probably going to be happy with "NOPE" in the long term. That having been said, that budget almost certainly prevented it from being profitable in its theatrical run. "M3GAN," on the other hand, is probably in the green already, or very close to it, even with the cost of marketing.
To make the numbers seem all the more remarkable? As Variety points out, "M3GAN" is the first movie to have an opening weekend north of $30 million in the first week of the new year since 2012, when "The Devil Inside" opened to $33.7 million. The difference, in that case, is the movie in question had abysmal reviews and fell off a cliff in the weeks that followed. It was a one-and-done that almost tricked audiences into buying a ticket. The tale of an artificially intelligent, lifelike, caregiving doll that goes haywire, resulting in a killing spree, on the other hand, is a crowd-pleaser. That's far better for long-term prospects.
A new franchise is (likely) born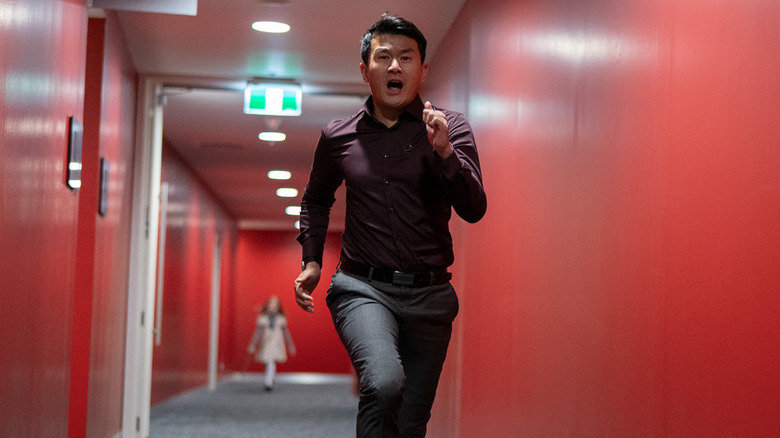 Universal Pictures
Speaking of long term prospects, Universal and Blumhouse are probably at the beginning stages of building a brand new franchise. As is so often the case with horror, success pretty much automatically means that a sequel is going to happen. Fortunately, James Wan and Blumhouse head Jason Blum seemed to have confidence going into this one. As such, they were already thinking about a follow-up before the first movie even hit theaters.
Wan, speaking to /Film before the release, spoke about the potential for a sequel. While the focus was certainly on the story at hand, they were very conscious of building out the world, and knowing where the story could go in the future.
"For me, it's about creating the world, and knowing who the characters are, where the story could potentially go, and then building this bigger world, and then going into that and going, 'Okay, I'm telling this particular story, but I know other stuff that's going on.' So if we're fortunate enough to have sequels, then we have an idea of where we want to go."
Fortunately, it seems like Wan, Cooper, and Johnstone will get the chance to explore the world further. As Deadline reported following the movie's stellar opening weekend, a "M3GAN" sequel is already in the early stages of development. And the door was certainly left wide open for a continuation. It's easy to imagine that Universal will make this a top priority moving forward.
"M3GAN" is in theaters now.