Rian Johnson Would Prefer Glass Onion Not Be Called 'A Knives Out Mystery'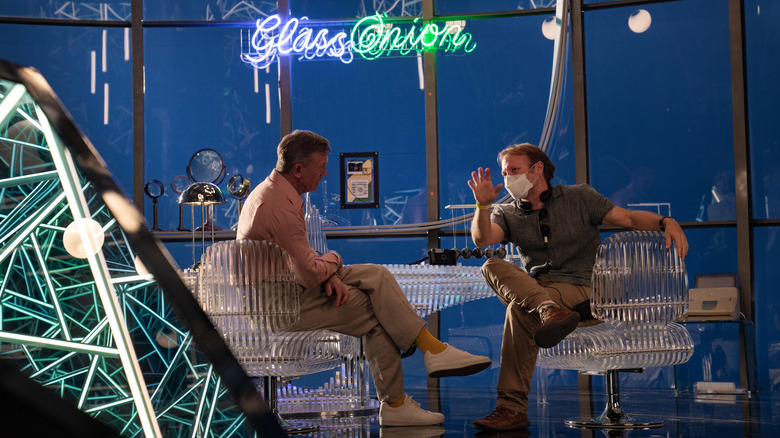 John Wilson/Netflix
Welcome to your new holiday tradition! No, it's not the biannual release of a new "Avatar" movie every December until everyone, fans and cynics of James Cameron alike, have become well and truly Pandora-pilled. Rather, it's a new Benoit Blanc murder-mystery from the internet's new favorite lightning rod: Rian Johnson.
Condemned to a lifetime of online infamy for the unforgivable crime of creating a pretty darn good "Star Wars" movie five years ago, the writer and director has since taken that clout and turned it into his own original and thoroughly successful franchise with "Knives Out." The Daniel Craig-starring ensemble became an instant smash-hit at the box office, earning an Oscar nomination for Best Original Screenplay and leading to one of the most lucrative coups made by any major streaming service for the rights to the inevitable sequels. Now, after a not-so-surprisingly profitable run in theaters for only a week, "Glass Onion" has made waves with its Netflix premiere over the holiday weekend.
But even with all the good news to go around, there's one small, irritating aspect that Johnson himself can't quite shake. If you've been following along, you likely know what it is: that annoying (and wholly marketing-driven) addition to the title, which is officially known as "Glass Onion: A Knives Out Mystery." We've griped at length about this topic, but now we can count the director as among those of us who reacted to that weirdly nonsensical subtitle as if it were nails on a chalkboard. If Johnson had his way, "Glass Onion" would stand on its own.
'I want it to just be called Glass Onion'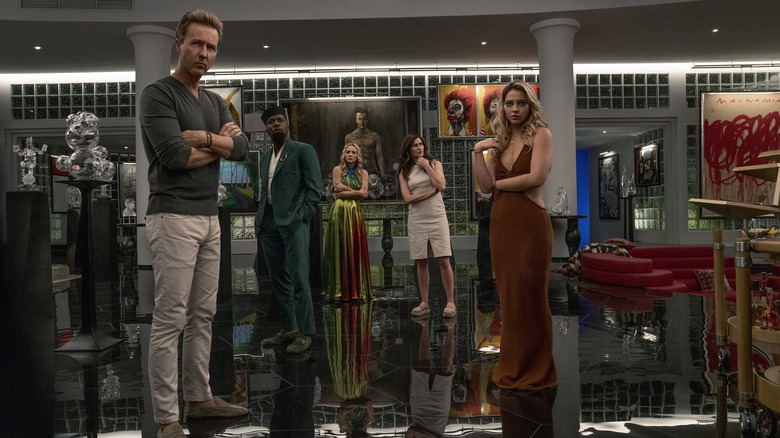 Netflix
Move over, "Fast & Furious Presents": There's a new and equally as cringeworthy subtitle coming for the crown of Blandest And Most Unintentionally Hilarious Studio-Speak Marketing Campaign. As it turns out, Rian Johnson is far from a fan of the "A Knives Out Mystery" moniker that Netflix has attached to his sequel, "Glass Onion." It doesn't make a whole lot of logical sense from a creative point-of-view (wouldn't "A Benoit Blanc Mystery" roll off the tongue much better and be more accurate, given that the sequel has nothing to do with knives?), but clearly it's meant to capitalize on audience familiarity with 2019's "Knives Out."
In any case, there's a deeper reason why Johnson doesn't exactly care for it. In an interview with The Atlantic, the filmmaker addressed his main issue. As you might imagine, it goes back to the idea of turning a refreshingly original property into just another piece of serialized IP.
"I've tried hard to make them self-contained. Honestly, I'm pissed off that we have 'A Knives Out Mystery' in the title. You know? I want it to just be called 'Glass Onion.' I get it, and I want everyone who liked the first movie to know this is next in the series, but also, the whole appeal to me is it's a new novel off the shelf every time. But there's a gravity of a thousand suns toward serialized storytelling."
As someone who only recently made the eighth episode of "Star Wars" (and that's just in the main series), Johnson isn't unaware of the part he's played in the very issue he's speaking out about. That said, he certainly has a point that the clumsy titling can't help but dilute the main point of this new franchise.
Why so serialized?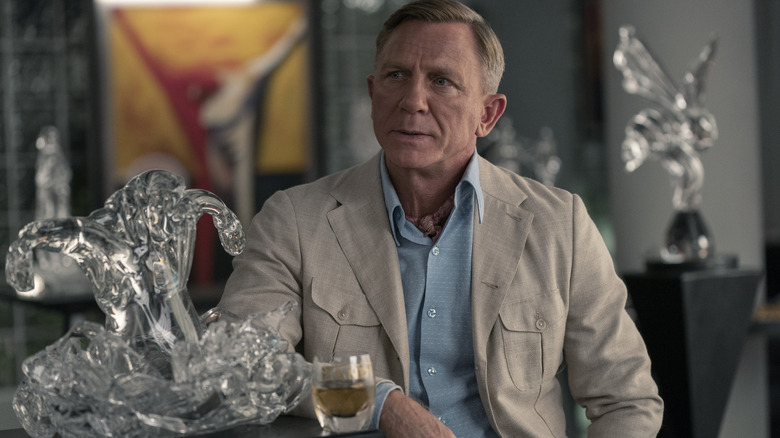 John Wilson/Netflix
Taking its cues from Agatha Christie's Hercules Poirot-starring series of novels and various other classics of the murder-mystery genre, half the fun comes from how episodic and utterly unconnected one adventure is from another. Certain characters may recur over and over again (the quirky and mustached Poirot had his self-absorbed sidekick, Captain Hastings, and the equally quirky Benoit Blanc apparently has master of disguise, actor Noah Segan), but otherwise each and every entry is built for audiences to come to with no baggage whatsoever. In a landscape where one can't really watch a new Marvel movie these days without first having to catch up on various movies and streaming shows, there's something freeing about being able to just walk into a film — and a sequel, at that — without needing to do any homework beforehand.
Here, Johnson is touching on a much larger issue that Hollywood is currently obsessing over: the allure of serialization. By intentionally creating two movies in a new franchise with no other connective tissue other than its main lead, Rian Johnson has made his Benoit Blanc series (sorry, we're not referring to it as the "Knives Out" universe or what have you!) stand out as an oasis in the desert ... until Netflix went ahead and scotch-taped that garish subtitle to it, at least.
The frustration is completely understandable, even while some may also (rightfully) point out that Johnson made his bed by accepting Netflix's deal in the first place. Still, as long as we're getting new, twisty, and thoroughly entertaining genre movies like this every few years, it's hard to argue with anything that the "Looper," "The Brothers Bloom," and "The Last Jedi" director has to say.
"Glass Onion" is currently streaming on Netflix.