Rian Johnson Loves Star Wars Even More After Making The Last Jedi
Lucasfilm
It might sound silly to claim that a filmmaker has moved on to bigger and better things after having played in the "Star Wars" sandbox, but that's exactly what Rian Johnson has done. After guiding "The Last Jedi" to box office success and critical acclaim, the writer/director didn't miss a step as he moved on to his own original story with the 2019 murder mystery "Knives Out." Thanks in no small part to Daniel Craig's hilarious turn as the detective Benoit Blanc, audiences singlehandedly turned this one whodunnit into a $400 million franchise in the making — not bad for someone who angry fanboys predicted would be drummed out of the business altogether for daring to put his own spin on their favorite franchise. Meanwhile, "Star Wars" hasn't released a single feature film since 2019's "The Rise of Skywalker" and may not do so again for quite some time.
But that doesn't mean Johnson looks back at "The Last Jedi" with less-than-fond feelings, mind you. In fact, his appreciation and love for that galaxy far, far away has only grown in the time since. While making the press rounds for the upcoming "Knives Out" sequel "Glass Onion," Johnson was inevitably asked about his experience making the divisive middle chapter of the "Star Wars" sequel trilogy, the extreme reactions it inspired, and whether it changed how he relates to the series overall. Spoiler alert: Johnson continues to be as big a fan of the franchise as anyone else.
'It was a completely joyful experience'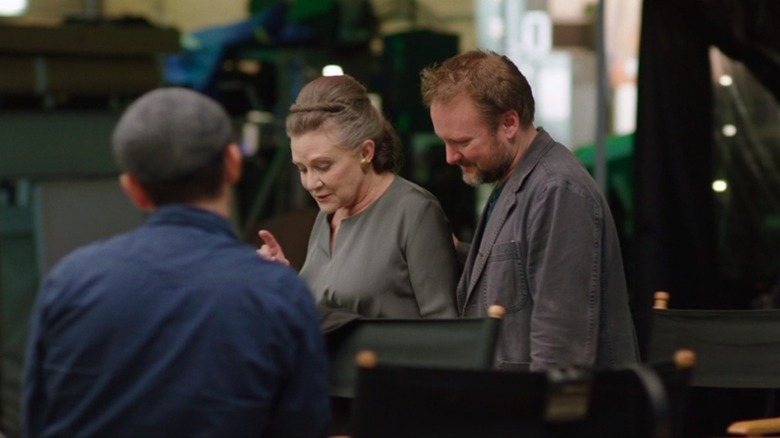 Lucasfilm
Find yourself someone who loves positivity as much as Rian Johnson does, folks. Few directors who maintain a constant presence online could've weathered the brutal social media storm in the aftermath of "The Last Jedi" as well as he did, always keeping an even keel and never lashing out at criticism from fair-minded fans. (Bad-faith trolls, on the other hand, were fair game, and rightfully so.) In that light, Johnson could be forgiven for wiping his hands clean of the franchise altogether and moving on without a second look. Instead, he's taking the exact opposite approach.
In an interview with The New Yorker (an ironic development for those who watched "Knives Out"), the "Brick," "The Brothers Bloom," and "Breaking Bad" director had this to say about whether he still gets excited while watching anything "Star Wars"-related:
"Oh, f*** yeah. Yeah. My God. Yeah. In terms of that, I think I love 'Star Wars' even more now. I think what actually frustrates me is people's perception that I had a negative experience somehow, or people's perception that it was somehow a traumatic experience, or something. The reality is that it was a completely joyful experience even through the back end of it, the past few years, the reception of it."
That doesn't sound like a man who's bitter about the disproportionate level of scrutiny he was subjected to for years after the release of "The Last Jedi" — a level of discourse that probably doesn't need rehashing for anyone who was on the internet. Though it never quite reached the vitriolic hate directed towards actors of color like John Boyega and Kelly Marie Tran, few on the outside looking in could've expected Johnson to describe the ordeal as "completely joyful."
'I didn't feel crushed'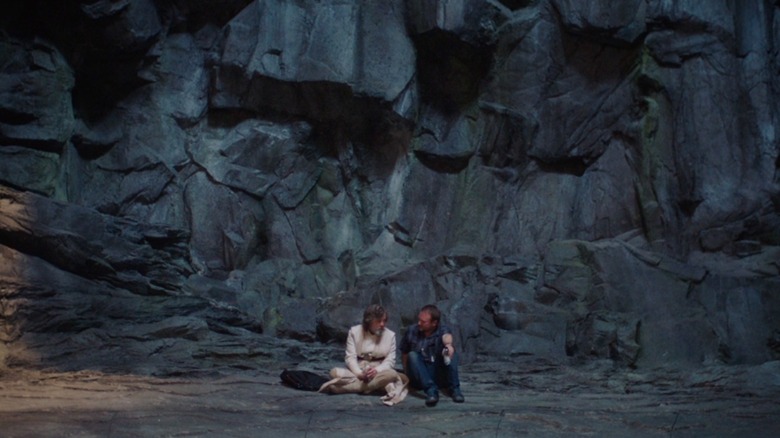 Lucasfilm
Five years after delivering what has to be considered one of the most talked-about "Star Wars" movies ever, Rian Johnson is once again reiterating the fact that he stands by his creative vision for "The Last Jedi." On the face of it — and especially after seeing yet another opinionated filmmaker take a big swing with "Andor" and knocking it out of the park — the secret to its creativity comes from simply treating this beloved franchise IP as a vehicle for potent storytelling as opposed to a fan-service delivery system. That obviously upset quite a bit of vocal detractors who were accustomed to a certain kind of "Star Wars" movie, but that never had the same effect on Johnson himself. When asked in the same interview whether the fan complaints ever got to him, he responded:
"No. And, when I read what those people were actually saying, I was, like, 'Oh, I completely disagree with this.' They're wrong. For me. Everybody can like whatever they want and not like what they want. And 'Star Wars' fans, in particular — growing up as one, arguing about other people's opinions being wrong is sort of the bread and butter of it all. I didn't feel crushed. Like, 'Oh, no, I didn't make a real 'Star Wars' movie.' I felt, like, 'No, I did.'"
"The Last Jedi" is certainly bold, unexpected, and more than a little challenging, but that's exactly what the many fans of the movie (raises hand) appreciate about it most. Though it shouldn't be considered much of a hot take, it's nice to see Johnson continue to stand by his vision five years after the fact.
"Glass Onion" comes to theaters on November 23, 2022, ahead of its Netflix debut on December 23.