Why John Boyega Won't Return To The Star Wars Franchise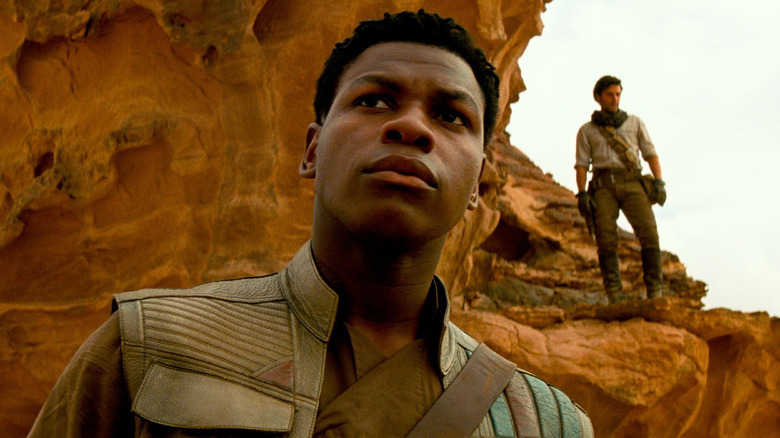 Lucasfilm
John Boyega's debut as Finn in 2015's "Star Wars: The Force Awakens" was a momentous occasion for the franchise. Nearly 40 years into its existence, a galaxy far, far away was finally set to feature a Black man as its lead instead of a supporting player. But, sadly, what seemed like a promising start for both the actor and his character quickly fizzled out. As Finn was increasingly sidelined over the course of the next two movies in the Skywalker Saga, Boyega himself was subjected to an onslaught of racist abuse online, with little to no public support from the executive powers that be at Disney and Lucasfilm.
By the time "The Rise of Skywalker" came out in December 2019 (drawing the Skywalker Saga to a close), Boyega was already showing signs of being done and ready to move on from the property. He would only continue to air his grievances over the year that followed, publicly calling out Disney for pushing not just him but other "Star Wars" actors of color (namely, Kelly Marie Tran) to the side while failing to stand up for them in the face of attacks from toxic fans. This, in turn, led to him having what Boyega described as a "very honest, a very transparent conversation" with a high-ranking Mouse House executive.
Having buried the hatchet with his former bosses, Boyega is still (understandably) disinclined to return to a galaxy far, far away. The actor addressed the matter during an appearance on SiriusXM (via Variety), stating:
"At this point I'm cool off it. I'm good off it. I think Finn is at a good confirmation point where you can just enjoy him in other things, the games, the animation. But I feel like '[Episode] VII' to '[Episode] IX' was good for me."
'Moses Ingram being protected makes me feel protected'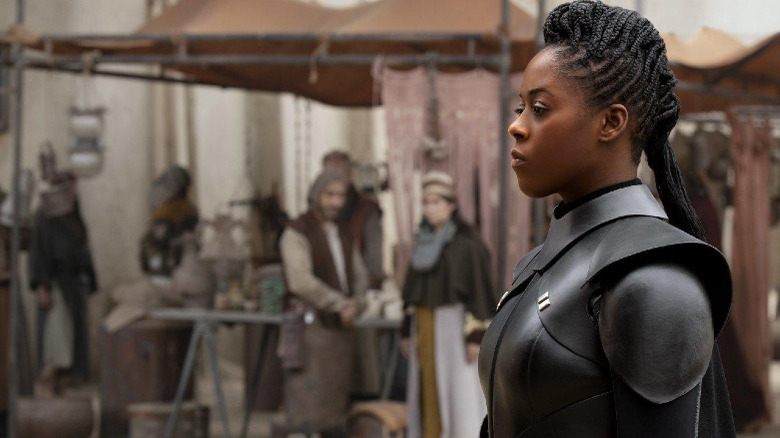 Disney+/Lucasfilm
The "Star Wars" franchise doesn't have a monopoly on toxic fandom, as we've seen from the recent spike in racist rhetoric online raised against the inclusive casting choices made in fantasy shows like "The Sandman," "House of the Dragon," and "The Lord of the Rings: The Rings of Power." This has led to the creatives involved with these projects being more proactive about fending off these attacks in a public forum, as Ewan McGregor did when his "Obi-Wan Kenobi" co-star, Moses Ingram, had to deal with racist abuse earlier this year.
Far from being bitter about Ingram getting the support he never did, Boyega said he found this comforting. "Moses Ingram being protected makes me feel protected. Do you understand what I'm saying? It makes me feel like, 'Okay, cool. I am not the elephant in the room,'" Boyega added, noting this "wasn't really a conversation you could bring up" when he was cast as Finn. He elaborated on this, stating he's glad other Black artists aren't having to repeat his "Star Wars" experience:
"It doesn't make me feel bitter at all. It makes me feel like sometimes you are that guy. And my dad taught me that. Sometimes you're not the guy to get the blessing and sometimes you are Moses, you know, you lead the people to the mountain, but you see the destination. You don't get to go in, you get others to go in. And that's where you get your happiness from. And for me to see other people accepted, and then at the same time to see that the studios now are like, 'Okay, cool. This is not an elephant in the room conversation. We need to support our Black client.' It's fantastic."
What's next for Boyega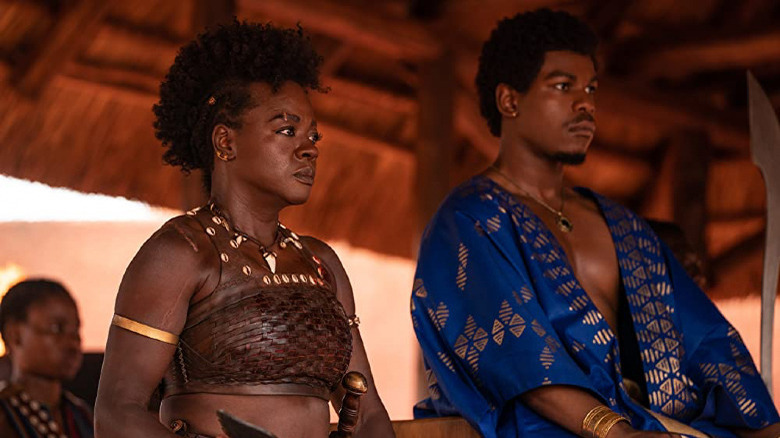 Sony Pictures Releasing
As for the future? Like so many other people, Boyega spent a good chunk of 2020 re-examining his life and priorities. This has also informed his career choices since then, leading him to star in films as varied as Gina Prince-Bythewood's historical epic "The Woman King" to Abi Damaris Corbin's crime-thriller "Breaking" (formerly known as "892") and "They Cloned Tyrone," a sci-fi movie directed by "Creed II" and "Space Jam: A New Legacy" writer Juel Taylor.
Indeed, more than anything else, Boyega feels it's important for him to keep branching out creatively:
"To be fair, [with] the allies that I've found within Juel Taylor and Jamie Foxx, Teyonah Parris, Viola Davis, all these people I've been working with... versatility is my path."
With collaborators as talented as that, it's no wonder Boyega is ready to leave his "Star Wars" days behind him. You can catch him in "Breaking" when the film opens in theaters on August 26, 2022. "The Woman King" will follow shortly after on September 16, 2022, with "They Cloned Tyrone" due to begin streaming on Netflix sometime between now and the end of 2022.