How Nope Star Daniel Kaluuya Changed John Boyega's Approach To Acting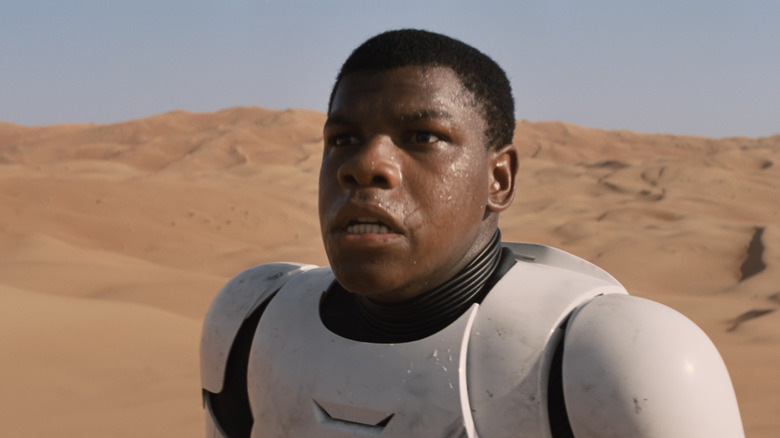 Lucasfilm
John Boyega's feature film debut came in 2011 with the release of Joe Cornish's excellent alien invasion film "Attack the Block." Boyega, striking and intense, immediately caught the attention of those who saw Cornish's film, and he would almost immediately go on to appear in numerous British TV and film projects like "Becoming Human" and "Law & Order: UK." In 2015, he appeared before a global audience with the release of "Star Wars: The Force Awakens," one of the biggest box office hits of all time. Despite his immediate high profile, Boyega remained pragmatic, even cynical about his new place in the pop culture firmament. In a 2019 interview with Variety, Boyega was asked about the potential of expanding his "Star Wars" role beyond feature films, to which he responded, "You ain't gonna Disney+ me."
Indeed, Boyega often seems to have an eye on his career trajectory. In a recent interview with The Daily Beast, Boyega talked about the extensive and constant work/life balance required of him. He talked about including people in his work process, and about some vital advice given to him by none other than Daniel Kaluuya. 
Kaluuya is only a few years older than Boyega, and they seem to have started on similar career trajectories. Kaluuya's big break was probably starring in the notable British TV series "Skins," and he spent the mid-'00s incredibly busy with numerous TV and film projects. Kaluuya appeared in a few notable American films ("Kick-Ass 2," "Sicario") before grabbing the world's attention with Jordan Peele's excellent 2017 horror film "Get Out." The next year, Kaluuya would, like Boyega, star in a high-profile, Disney-owned franchise blockbuster: "Black Panther." 
It was Kaluuya that encouraged Boyega to keep working but to keep doing so on his own terms. 
Working alone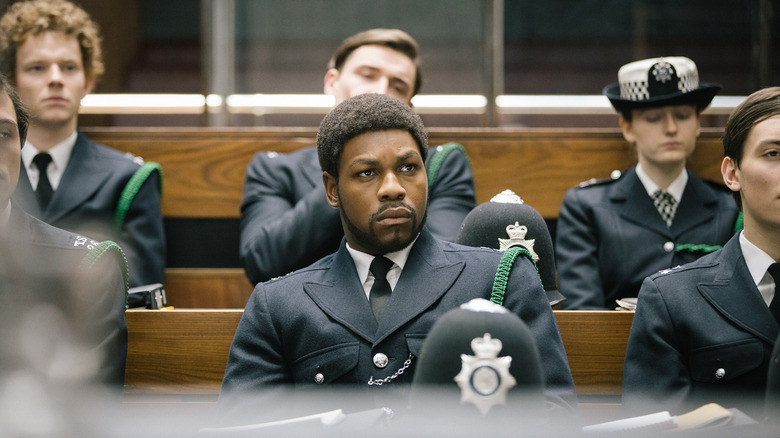 Prime Video / BBC
In his interview with the Daily Beast, Boyega expressed a certain amount of loneliness, realizing that the people closest to him were being left out. Because of the size of some of his acting projects, Boyega was alone often. When asked if lockdowns and isolation allowed him to reassess his life and career, Boyega was frank and open. He had to choose if he wanted to work by himself or work with people around him. He chose the latter, saying: 
"I've been reassessing all aspects. Time with family and friends, and putting much more quality and thought and intention into the time I spend with them, and including them into aspects of my life that normally I wouldn't include them in because I'm so busy. Before I'd be like, 'Nah, you just chill.' And you don't realize, 'Yo, they can help you as well.'"
Boyega seems to have experienced lockdowns in a similar fashion to many: he was lonely, longed to be with others, and became obsessed with working out and getting in shape. Not only was this habit seen in certain celebrities (Kumail Nanjiani famously became quite muscular, only partly to prepare for his role in "Eternals"), but home workout equipment like kettlebells briefly suffered a shortage due to increased demand. Boyega admits to climbing aboard the fitness train: 
"Being alone and wanting more connection, because we were all so separated, and being vulnerable, I realized that this was a balance that I needed to upkeep in order to stay good. And then physically, it was about getting in the gym and proving that I could do it for myself. No 'roids. No nothing. Creatively, it spiraled off into different projects."
With his body taken care of, Boyega invited Kaluuya over to talk about his feelings.
Kaluuya's advice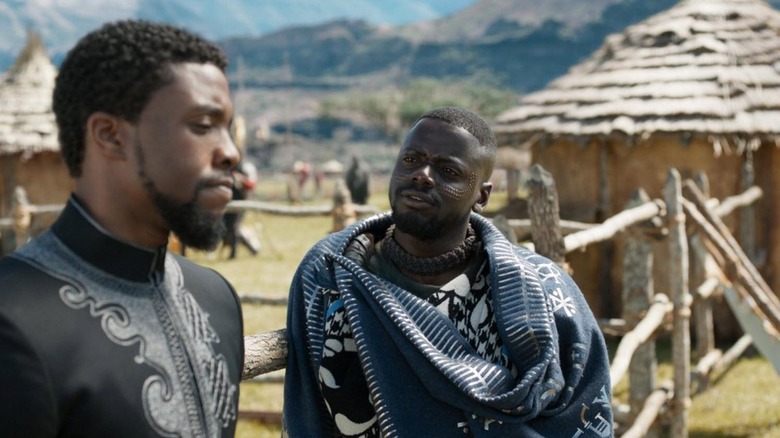 Marvel / Disney
The Daily Beast interviewer brought up that Boyega has actively been seeking out projects made by Black filmmakers, which Boyega was quick to agree with. In "Red, White, and Blue," Boyega worked with Steve McQueen. The upcoming "The Woman King" was directed by Gina Prince-Bythewood, and his next sci-fi film, "They Cloned Tyrone," is being made by Juel Taylor, screenwriter of "Creed II" and "Space Jam: A New Legacy." Boyega credits his decisions directly to advice from Kaluuya — advice he asked for. 
Boyega said: 
"I invited Daniel Kaluuya to my house because I was thinking about a lot of stuff. We had a sit-down and I told him everything about how I felt. And it was so simple, the way he reacted. He was like, 'Yeah. You need to prioritize the work, and work with people that actually f*** with you.' With creative collaborations, we have to find people who are on our wavelength and then we create something good for our audience. That was one of the voices where I was like, okay, this is what I'm going to do."
While Boyega may have had a multi-year run with American blockbuster films — and will likely always be remembered for his performance in them — Boyega seems far more interested in expanding his career into making the kinds of films he wants. Boyega famously spoke at Black Lives Matter protests, and in subsequent interviews, spoke out about how celebrities frequently feel barred from participating in social justice reform. 
Boyega clearly wants to say more with his work than what he can with larger franchises. Thanks to Kaluuya's advice, he now has the wherewithal to seek out what he desires.