Rian Johnson Explains His Giant Paycheck From Netflix For The Knives Out Sequels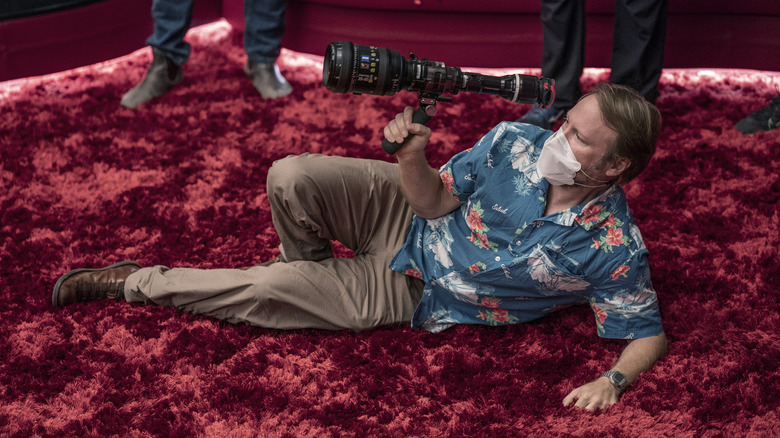 John Wilson/Netflix
It's never too surprising when filmmakers get big payouts for sequels, but when writer and director Rian Johnson purportedly got paid $100 million to direct two "Knives Out" sequels for Netflix, some folks were shocked. That's a pretty hefty payday, even if "Knives Out" was a surprise box office hit that cost around $40 million to make but grossed more than $300 million worldwide. In a new interview with The New Yorker, Johnson explained some of the reasoning behind that massive payout and why he decided to go with Netflix instead of one of the big traditional movie studios. 
"Glass Onion: A Knives Out Mystery" hits theaters nationwide on November 23, 2022, and will be headed to Netflix worldwide in December. Johnson's follow-up to the Agatha Christie-inspired "Knives Out" is a hilarious whodunnit that skewers pop culture while also serving as a great mystery (read our review!), so it wouldn't be too much of a twist if it does well enough to get more films greenlit after the third, which Johnson is already hard at work on. 
Going with Netflix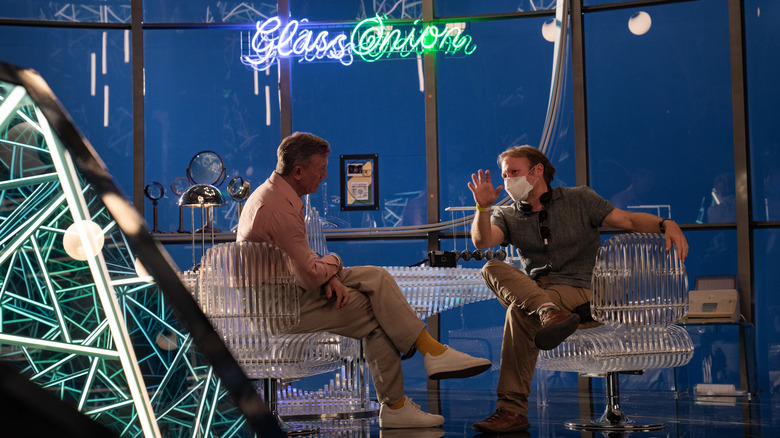 John Wilson/Netflix
"Knives Out" was released by Lionsgate, but apparently they only made a deal for one movie, so Johnson was free to pitch a sequel elsewhere. He had already finished a script for "Glass Onion" when Netflix came to the table, and they managed to work out a pretty sweet deal for everyone involved:
"Well, they came in after I had written the script. So, creatively, it didn't end up changing anything in terms of what the movie was. We had had a great experience with Lionsgate, but our deal with them was just for one movie. And so we were just, like, 'Let's kind of test and see what's going on out there.' And so we put it out there and they made us the offer, and it was very evidently the right thing to do."
While he said he doesn't entirely understand the economics of it all, and isn't sure if anybody does, the deal apparently worked for Johnson and Netflix, as they agreed to two sequels to "Knives Out" that are sure to put butts in theater seats and earn the streamer some subscribers. However, even if you absolutely love Johnson's filmography and are a giant "Knives Out" fan, $100 million is a ridiculous amount of money. So how did Johnson manage that? It turns out that it's honestly a little bit of a gamble, which sort of fits the theme of "Glass Onion" anyway.
Making that bank at the beginning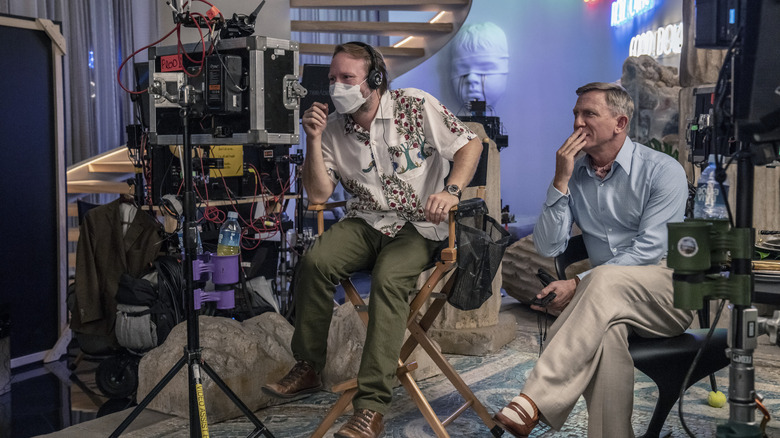 John Wilson/Netflix
When asked about how he managed to make that much money on the deal, Johnson was candid about how it all worked out. Essentially, he took a big payday upfront but didn't sign on for any other payment deals. If "Glass Onion" makes hundreds of millions in marketing or showing in serialization, Johnson won't get a pay cut. The sum was hefty, but it could end up actually being a pay cut compared to what he could get if he signed on for residuals. Put simply, in Johnson's own words, "This is it, man. [...] The check is cut." 
There's no shortage of paychecks for Johnson elsewhere, either, as the writer/director is busy with a Peacock streaming series starring Natasha Lyonne, "Poker Face" and is still allegedly supposed to be making a "Star Wars" trilogy for Disney. Taking the paycheck up front means that Netflix can milk the merchandising and more than make their money back if the box office doesn't pan out (though it probably will, based on its predecessor's performance), ensuring that Johnson at least got to make more films in his fun mystery franchise. 
"Glass Onion: A Knives Out Mystery" hits theaters Thursday, November 23, 2022, and will be streaming on Netflix December 23, just in time for the holidays.