James Gunn Explains How The Guardians Of The Galaxy Holiday Special Connects To Vol. 3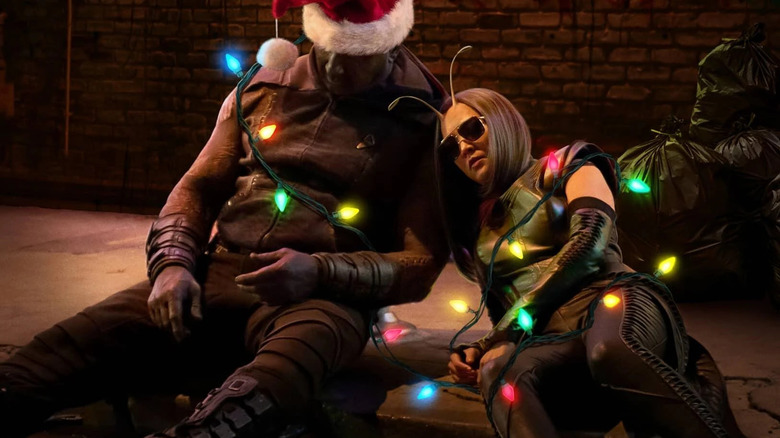 Marvel Studios
Remember when there used to be an actual transition period between Halloween and the holiday season, allowing all of us to take a deep breath, reset ourselves, and enjoy some turkey and stuffing (here in the States, at least) before pivoting towards the mad dash for gifts and eggnog and nonstop anxiety and stress? Me neither. That's exactly why we're only a week away(!) from the release of Marvel's "Guardians of the Galaxy Holiday Special," the studio's latest live-action short set in the Marvel Cinematic Universe (after the incredibly fun, Halloween-themed "Werewolf by Night") that will feature the franchise's most endearing found family on the hunt for some festive cheer. It's a match made in heaven, really.
Longtime fans, especially those who've become accustomed to being spoon-fed on how each installment of the MCU is connected to the next, might feel tempted to view these shorts as inessential or, worse, "filler." After all, these shorts aren't big enough to play in theaters like traditional Marvel movies nor significant enough to dominate the streaming schedule for months at a time with weekly episodes — they're just one-off specials, right?
Well, James Gunn would disagree. What, you didn't think the newly-installed co-head of the DC Universe had forgotten about his Marvel responsibilities, did you? The "Guardians of the Galaxy" writer/director isn't quite done with these lovable losers just yet. Gunn's now playing up the connections between the "Holiday Special" and "Vol. 3," which promises to bring an end to the stories of these refreshingly flawed heroes. If you were thinking of skipping straight to the trilogy-capper without first checking in with Quill, Drax, Mantis, and the rest of the gang for the holidays ... think again!
'The Holiday Special was a Trojan Horse for me to sneak in stuff'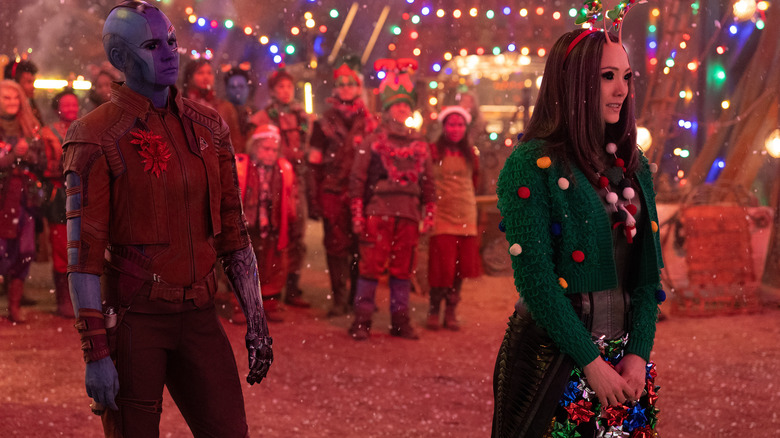 Marvel Studios
After well over a decade of tightly interconnected storytelling, which now spans multiple mediums between feature films and Disney+ streaming, can anyone be blamed for feeling a little bit burned out? Most of us aren't immune to the social pressure to catch up with every single property in order to understand the overarching story of Phase Four, but the question of who actually has the time to invest in several different projects multiple times a year is well worth asking.
That's why these specials feel increasingly vital for the MCU, giving us a breather between the big event movies (and shows) to sit back and simply enjoy watching characters we love do their thing. To this point, I would've considered the "Guardians of the Galaxy Holiday Special" as one of those standalone stories, but James Gunn might have something different up his sleeve. In a ComicBook.com interview, the filmmaker teased that parts of this special may be needed to fully understand "Vol. 3."
"You're obviously gonna learn a lot about where the Guardians have been in the past few years. You know, you're gonna see how they now inhabit Knowhere. They've got a new ship called the Bowie. They've got a dog [who] is part of their crew now who has telekinesis named Cosmo ... and then there's a couple of bigger pieces of spoiler-y lore. You're gonna learn all of those things. In a way, the 'Holiday Special' was a Trojan Horse for me to sneak in stuff that becomes important in 'Vol. 3,' so I don't have to spend a lot of time at the beginning of that movie explaining it."
Going Knowhere, fast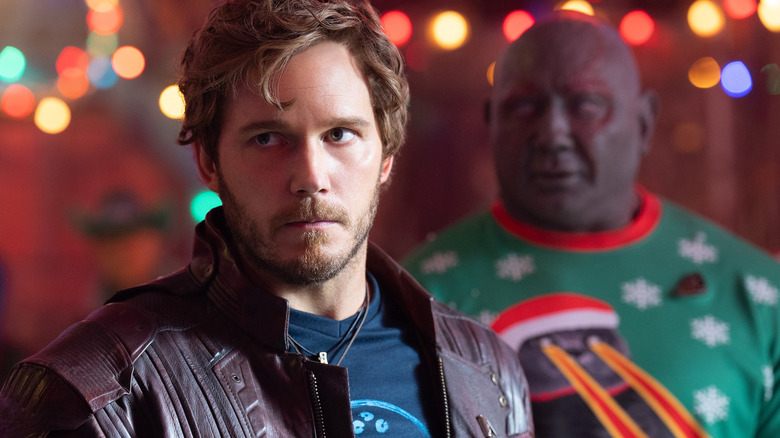 Marvel Studios
The last time we saw the Guardians, they were helping out their space-buddy Thor out of a jam (okay, maybe it was the other way around) in the early scenes of "Thor: Love and Thunder." That was our first real look at the team since the ending of "Avengers: Endgame," meaning that there are plenty of blanks to fill in the timeline before "Guardians of the Galaxy: Vol. 3" finally arrives.
According to James Gunn, who's admittedly toeing the company line here very loyally, the "Holiday Special" will make it a bit easier to slide right into the new status quo explored by "Vol. 3." Still, it does make a certain amount of creative sense to help set up future elements so he can hit the ground running. As proven by "The Suicide Squad" and the HBO Max "Peacemaker" series over on the DC side of the aisle, Gunn's no stranger to working between mediums with the same characters.
Here, he reveals that the special will partly explore how the Guardians have moved into Knowhere, the severed Celestial head/mining colony we first saw back in 2014's "Guardians of the Galaxy." In a fitting development for the perpetually '80s-obsessed Peter Quill (Chris Pratt), their new ship is named after the late great David Bowie. And, of course, they'll be joined by Cosmo the Spacedog (revealed during Comic-Con to be voiced by Maria Bakalova). Viewers will conceivably be able to follow along in "Vol. 3" even without the benefit of this short, but there's certain to be connective tissue between the two for lore-obsessives out there.
If that pitch by Gunn wasn't convincing enough, Marvel went ahead and released a new featurette for the special, too. The "Guardians of the Galaxy Holiday Special" will debut on Disney+ on November 25, 2022.