Every Main Character In Thor: Love And Thunder Ranked Worst To Best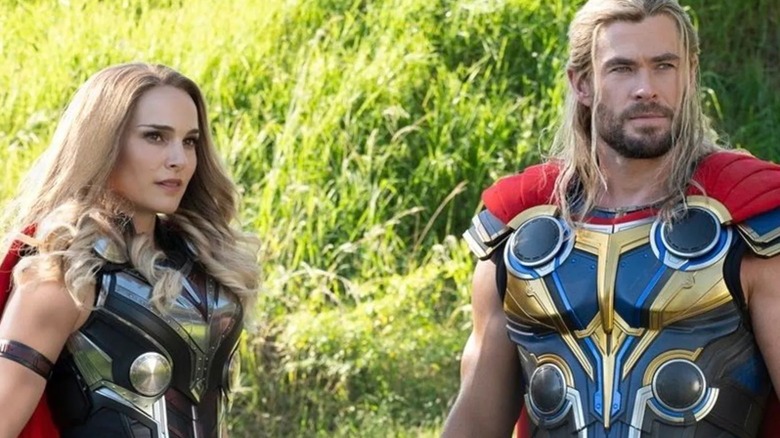 Walt Disney Studios Motion Pictures
This article contains spoilers for "Thor: Love and Thunder." 
In Taika Waititi's "Thor: Love and Thunder," audiences follow Thor Odinson's (Chris Hemsworth) latest adventure through the ever-evolving MCU landscape. We witness Thor's radical "Dad bod to god bod" transformation to him realizing his ex-girlfriend, Jane Foster, has now become The Mighty Thor (Natalie Portman). Plus, there are screaming goats, tons of romance, a new bad guy, aka Gorr the God Butcher (Christian Bale), and many other entertaining hijinks that fit well within the parameters of, as the movie likes to say, "a classic Thor adventure."
Of course, the 2022 Marvel film includes a collection of fascinating characters that are deserving of a proper ranking. From those that make too brief of an appearance to the ones who dominate the screen (in the best of ways), this list is here to break down who is worthy of being called a top-tier character in the movie and who wouldn't be able to pick up Mjolnir if they tried. So grab your battle armor and load up your favorite nostalgic tunes Valkyrie style, and let's discover who made the most significant impact in "Thor: Love and Thunder."
11. Toothgnasher and Toothgrinder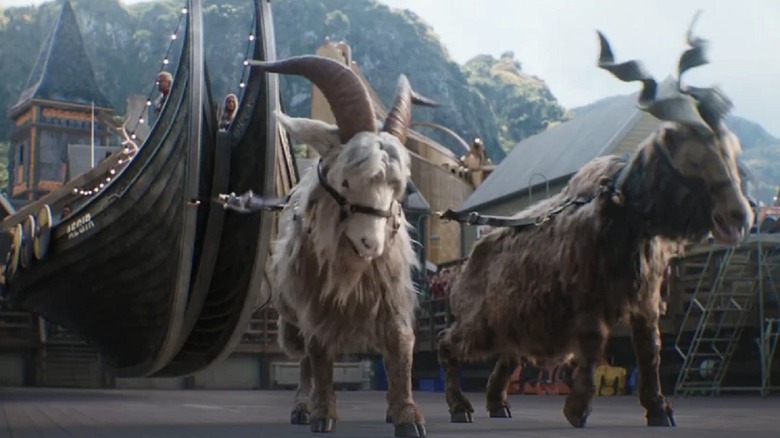 Walt Disney Studios Motion Pictures
Easily one of the funniest aspects of "Thor: Love and Thunder" is the inclusion of Thor's magical flying goats, known as Toothgnasher and Toothgrinder. Originating in both mythology and in the comics, this quirky pair — originally Tanngnjóstr and Tanngrisnir within Norse lore — are given to Thor by the Indigarrians after he saves their people from owl-like invaders. However, despite the initial kindness of the Indigarrians, the goats, while majestic in their own odd way, seem to be more of a punishment for Thor wrecking their sacred temple than a genuine act of kindness. Why? Because the goats are far from easy to handle, and, most importantly, they scream bloody murder while doing any action; a sound that leads to some of the movie's greatest consistent laughs. 
To put it simply, Toothgnasher and Toothgrinder are adorable additions to the "Thor" franchise, but they don't serve much of a purpose other than being a delightful joke – one that's heavily inspired by a certain Taylor Swift-related meme. They're perfect for fandom appreciation, merchandise, and everything in-between. But aside from helping the team try to escape Omnipotence City and being a source of transportation, let's just say they aren't the most narratively enriching characters in the cast. This isn't a problem, but in the grand scheme of character ranking, needs to be documented properly. Sorry, Toothgnasher and Toothgrinder!
10. The Guardians of the Galaxy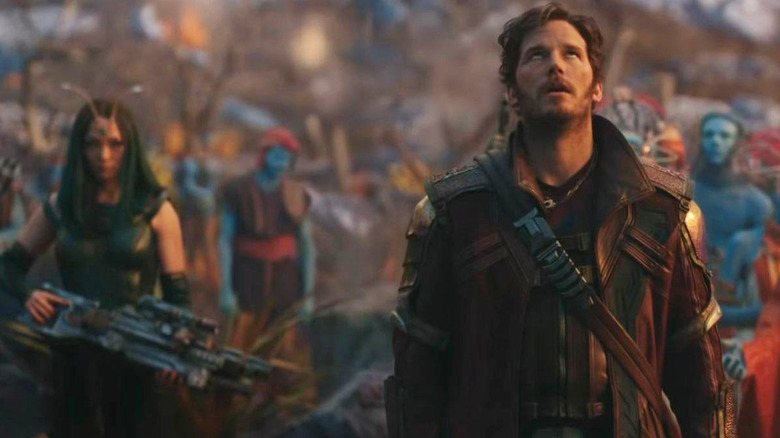 Walt Disney Studios Motion Pictures
Considered to be fan-favorite MCU characters, sadly the Guardians of the Galaxy don't have much to do in "Thor: Love and Thunder." The team is currently made up of Peter Quill (Chris Pratt), Drax (Dave Bautista), Rocket (voiced by Bradley Cooper), Groot (voiced by Vin Diesel), Nebula (Karen Gillan), Mantis (Pom Klementieff), and Kraglin (Sean Gunn). It's clear that Taika Waititi, along with co-screenwriter Jennifer Kaytin Robinson, had a lot to juggle in terms of giving each member a proper slice of the first act pie. Unfortunately, the scenes that we do get make the Guardians seem more like glorified extras than essential players in Thor's adventure. Which, in the grand scheme of the movie isn't terrible, but certainly seems disappointing considering the potential hijinks "Infinity War" and "Endgame" set up for this offbeat crew to have. 
Still, what we do get in terms of Guardians content is definitely memorable. Peter's advice to Thor is a signature Star-Lord moment, Mantis' goat noise is a treat, and Nebula's angsty presence is the icing on the comedy cake. Yet, despite these meme-worthy exchanges, it's quite clear that the pairing of the Guardians with the God of Thunder deserved more time than what Waititi's movie serves. Overall, here's hoping that this isn't the last time we see this quirky bunch fighting alongside each other. Because like Thor says in his first movie, audiences definitely need "another" installment of this wacky group together again. 
9. Sif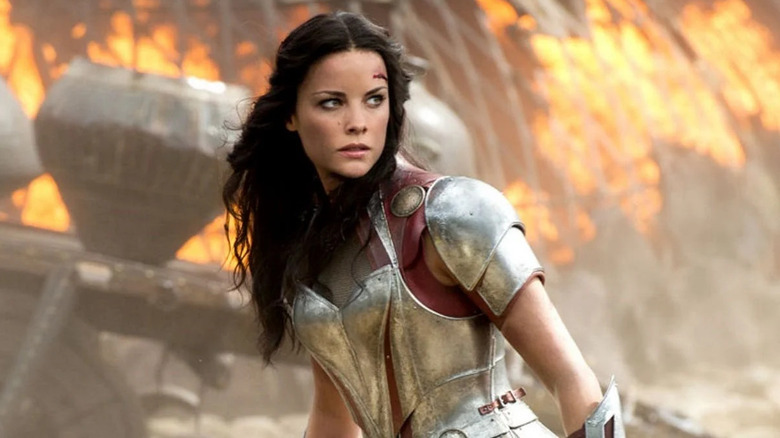 Walt Disney Studios Motion Pictures
Touted as "one of the fiercest warriors the nine realms has ever known," Jaimie Alexander's Sif has always been the bridesmaid and never the bride regarding her existence in the "Thor" movies. Scene after scene, appearance after appearance, the character is constantly shown to be a reliable fighter on the battlefield. Regardless of how many of her friends speak of her power and abilities, though, she's a character that never gets the proper amount of screen time or affection she deserves. Unfortunately, Sif's appearance in "Thor: Love and Thunder" doesn't fix this problem, but certainly inches the heroine closer to something more interesting.
In the movie, Thor finds Sif lying on the ground, defeated after an intense battle with Gorr. Upon coming to her side, the God of Thunder realizes that Sif is missing an arm, a point made into a clever joke regarding Valhalla. But despite Sif looking incredible in her newly designed armor and her sense of humor still being intact, Sif (much like the Guardians) feels like she's here just to be a joke and nothing more. Why couldn't she have been reworked as a possible love interest for Valkyrie? Or what if she had been able to be part of the final battle? In truth, Sif's involvement is mostly wasted potential. With her now living in New Asgard, perhaps she'll finally get to do something interesting in the next adventure.
8. Zeus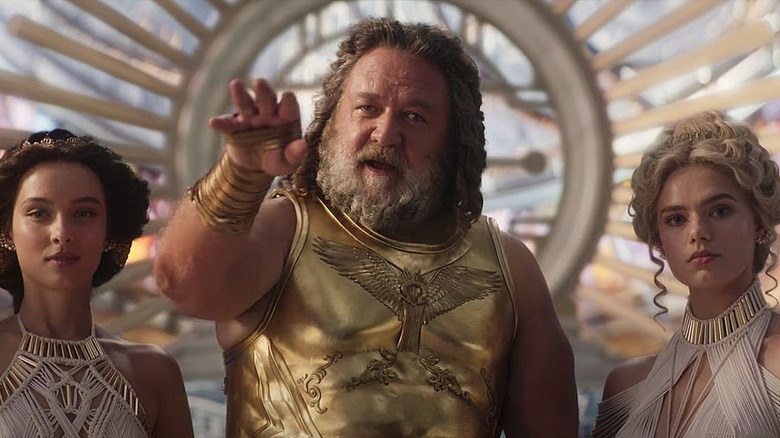 Walt Disney Studios Motion Pictures
One of the characters "Thor: Love and Thunder" introduces into the MCU is Zeus (Russell Crowe), the King of the Olympians and the God of Lightning. In the movie, we first see the gold-plated Zeus in Omnipotence City as Thor tries to get his attention during a massive godly meeting. However, as Thor quickly realizes, sometimes meeting your heroes is not all it's cracked up to be — especially when they go out of their way to discuss parties and wine rather than figuring out how to save a group of kids. 
First and foremost, there's no denying that Crowe's take on Zeus is highly entertaining. From the way he throws his signature weapon to his hilarious method of walking onto a stage, this god is one heck of a comedic force. But considering the history of Zeus' mighty abilities in Marvel comics, it's a tad disappointing that Taika Waititi and Crowe went with a sillier approach to the character rather than balancing his power with his camp factor. Thankfully, the end credit scenes give us a hint towards Zeus' future within the MCU, one that seems to be more in line with his intimidating presence in the comics, as opposed to him being merely used as a comedic plot device. 
7. Asgardian stage players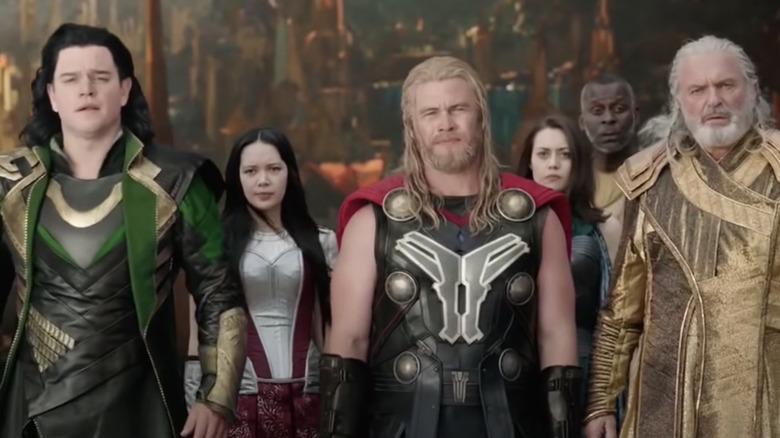 Walt Disney Studios Motion Pictures
One of the most excellent jokes in "Thor: Ragnarok" involves an Asgardian theatrical group (made up of Matt Damon, Luke Hemsworth, and Sam Neill) taking on the task of retelling Thor's prior adventures. Including everything from ridiculous props to over-the-top melodrama, it's obvious why this scene remains a fan favorite and why Taika Waititi would bring back the team yet again for "Thor: Love and Thunder." But how can such a hilarious group — which now includes Melissa McCarthy taking on Hela in their latest performance — be part of this main character list? To put it simply, it's because they're essential to the Asgardian community.
After Gorr attacks New Asgard, the actors who portray Loki (Damon) and Thor (Hemsworth) rush to the King of Asgard, Valkyrie (Tessa Thompson), to ask how they can adequately represent the terrifying events on stage, a moment that Tessa Thompson also felt was quite an important scene. Sure, some might think of both moments as silly throw-away bits, but there's something so delightful about seeing the commitment the actors of New Asgard have to honoring the stories of their culture, regardless of how ridiculous they look doing it. That earnest nature, mixed with Damon and the rest of the group's delivery, is what makes these characters a silly cinematic treat to behold.
6. Axl/Astrid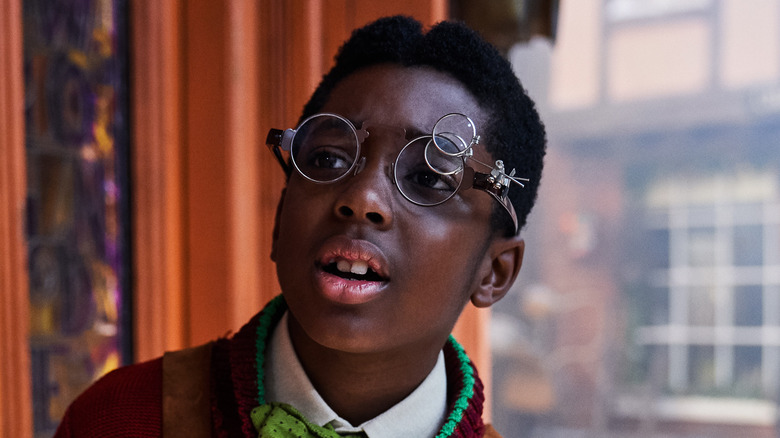 Netflix
Another new addition to the MCU is Astrid, aka Axl (played by newcomer Kieron L. Dyer), an Asgardian kid who just happens to be Heimdall's (Idris Elba) son. Blessed with his father's infinite sight and hearing abilities, Axl becomes a key figure in helping Thor save the other Asgardian children from Gorr. He also has excellent taste in music, taking a tremendous amount of inspiration from his new rock hero, Axl Rose of Guns N' Roses. But what truly makes Axl a significant part of "Thor: Love and Thunder" is how his relationship with Thor plays into a key theme of the movie: how our idols can influence our lives in good and bad ways.
After his disappointing encounter with Zeus, Thor tells Axl and the other Asgardian kiddos to never meet their heroes because it'll never work out quite as they planned. To Thor's surprise, Axl turns his mindset around, reminding him that Thor is someone he looks up to and that Axl has no regrets about meeting the God of Thunder. When compared to how the film starts, with Gorr being rejected by his idol, it's fantastic to see the duality of characters meeting their heroes. Plus, when all of these elements are portrayed by an actor as talented as Dyer, it's clear that Axl has a bright MCU future ahead of him.
5. King Valkyrie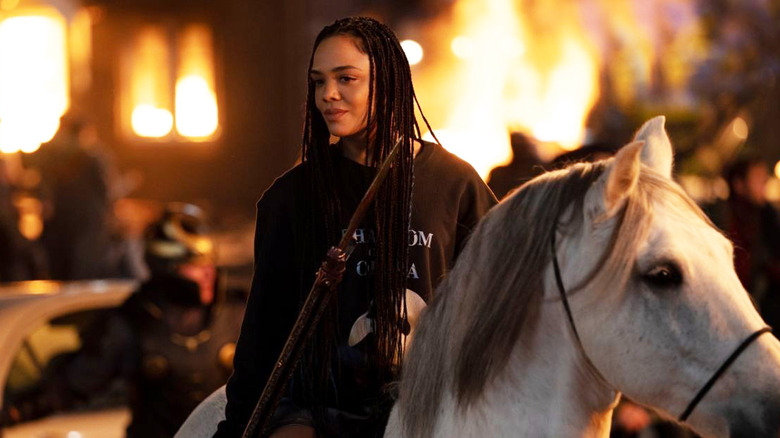 Walt Disney Studios Motion Pictures
From her rocking a "The Phantom of the Opera" Broadway sweatshirt to her endless collection of incredible one-liners, Tessa Thompson's Valkyrie proves yet again why she's one of the most underappreciated characters in the MCU. She has the smarts, the power, the sass, and the charisma to have even more cinematic adventures. Yet despite all of the fantastic elements of her character, it seems that much of King Valkyrie's story in "Thor: Love and Thunder" was left on the cutting room floor, especially when looking back at the plot elements that were hinted at San Diego Comic-Con in 2019. A fact that becomes hard to ignore, particularly when the movie goes out of its way to reference Valkyrie's tragic, romantic past. 
Regardless, what "Love and Thunder" provides in terms of Valkyrie content is one of the highlights of the movie. Her interactions with Korg, Jane, and, of course, Thor, all balance the dynamic of the team perfectly. When looking at the rest of the bunch, it becomes clear that Valkyrie is the brains of the operation. She's the one that gets everyone into the meeting room with Zeus, rescues Korg from being further smashed to bits, and wields Zeus' weapon like a pro. But by the end of the movie, it feels like Valkyrie's full arc is missing somewhere out in the cinematic galaxy, leaving fans to wonder when we'll get to see the King of Asgard truly get the cinematic quest (and happy ending) she deserves.
4. Korg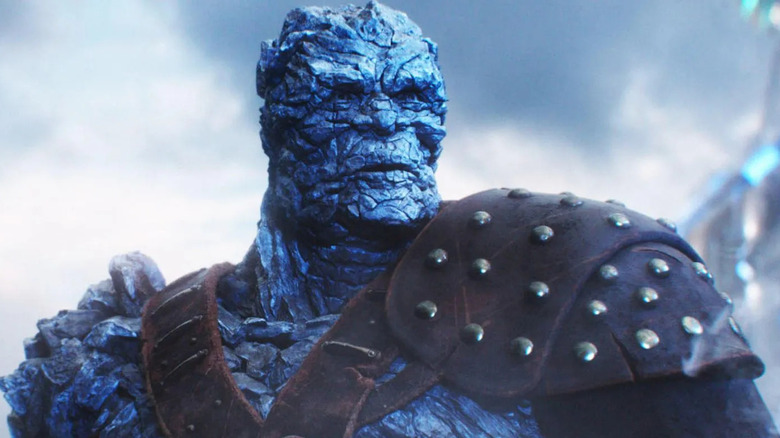 Walt Disney Studios Motion Pictures
Let's get this out of the way: Korg is the most precious cinnamon roll ever to grace the MCU. He's a loyal friend that is an endless source of optimism for any character feeling at their lowest. Plus, Taika Waititi plays the character to perfection, making Korg feel like the best combination of silly and sensitive. However, what makes Korg an essential part of "Thor: Love and Thunder" is how he's not only used as a therapist in the movie, but how he serves as the film's narrator (even though he wasn't around for a considerable chunk of the events he seems to describe so well).
From his very matter-of-fact summary of Thor and Jane's relationship to his equally adorable explanation of how his species creates babies, it's clear that Waititi as a filmmaker knows the right moments to use Korg to his narrative advantage. This includes when the movie needs a pick-me-up, like when Korg serenades Jane and Thor after their serious conversation. Of course, a little of Korg might go a long way to some filmgoers. But in the case of many MCU followers (including yours truly), it's near impossible not to stan Korg in one way or another. At the end of the day, he represents the magic and the joy the MCU provides, making him a character that hopefully will have more adventures in the near future.  
3. Jane Foster/The Mighty Thor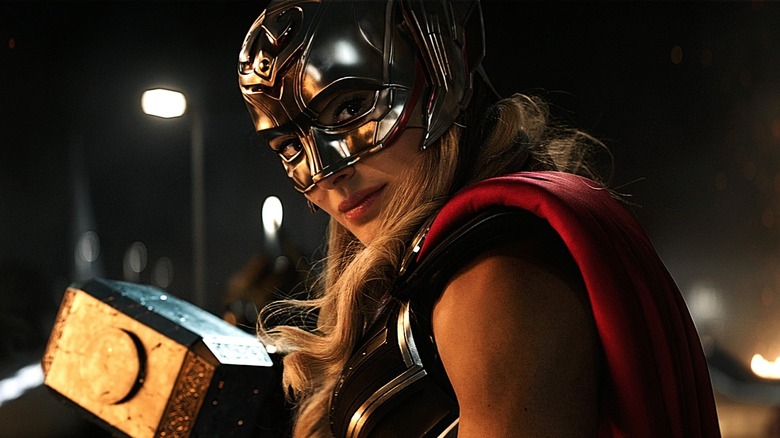 Walt Disney Studios Motion Pictures
Like Sif, Natalie Portman's Jane Foster has always gotten the short end of the MCU stick. Starting with her first appearance in the original "Thor," she's a character that suffered from being the stereotypical love interest rather than an utterly fleshed-out character. Thanks to writer Jason Aaron, comic readers were able to see Jane in a whole new light, something that clearly inspired Taika Waititi and Jennifer Kaytin Robinson when reworking Foster into the current MCU. Did Jane's emotional comic book arc translate well to the big screen, though? Many believe that to be a question that's a bit too complicated to answer in one sentence. 
From her first frame on-screen to her last, Portman has much better control over Jane in the hands of Watiti than she ever did with her previous directors. She gets to be vulnerable and strong without looking weak in the process, an aspect not all MCU heroines were allowed to showcase as easily. What makes Jane's arc noteworthy is that her final moments weren't purely fueled by her love for Thor, but rather to end her life on her own terms. Those terms, of course, being that she gets to be the hero of her own story. While Jane's existence in the MCU is still quite the mixed bag, it's lovely to see her get a story that respects her significance within the "Thor" franchise rather than continue to downplay her, yet again. 
2. Gorr the God Butcher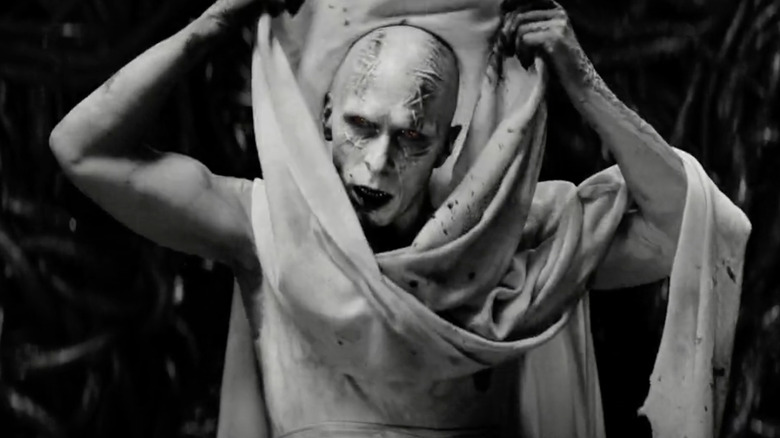 Walt Disney Studios Motion Pictures
Some MCU villains are a dime a dozen. Then there are ones like Gorr the God Butcher (Christian Bale), who leave a significant cinematic impact. Maybe it's his incredibly cool anime vibes or the fierce presentation he brings to battle, but Gorr sticks out from the typical Marvel antagonist pack for more reasons than a simple sentence can explain. First and foremost, he has quite a dramatic introduction, one that sets up not only his villain origin story but also establishes his ultimate vulnerability: the immense grief he feels towards the loss of his daughter. This looms over Gorr's entire arc in the movie, particularly near the final moments of his story.
Yet the most extraordinary aspect of Gorr relies on the brilliance that is Christian Bale in this role. Not only does Bale look like he's having the time of his life as Gorr, but he also adds a delicious mixture of camp and melodrama to the part. Likewise, Bale's take on the character seems just as exciting as his voice acting roles, particularly like Howl in "Howl's Moving Castle," where he really got to flex his fun yet theatrical abilities. Overall, Gorr might not be exactly like his comic book counterpart, but the version of him in "Thor: Love and Thunder" is just as iconic in his own way.
1. Thor
Ever since his introduction into the MCU, it has been an absolute pleasure watching Chris Hemsworth's Thor change throughout his various stories. Starting as an arrogant Disney prince and evolving into the himbo surfer dude he is today, Thor is a character who often changes his narrative stripes but never seems to lose his authenticity. Of course, some wish he had remained in his metal album cover warrior era rather than stay as Taika Waititi's take on the hero. Still, for fans who love to see a character evolve over time, the Thor in "Thor: Love and Thunder" is a cinematic treat to behold.
From the moment he emerges onto the screen to his final leap in the air with his newly adopted daughter, both Waititi and Hemsworth make Thor the perfect blend of earnest yet tragic. Sure, the character goes through even more painful experiences in his latest adventure. But despite being disappointed by Zeus, having his weapon taken away from him, and losing his girlfriend to cancer, Thor never loses hope nor optimism. That kind of emotional growth since "Avengers: Endgame" makes the character a stand-out in "Love and Thunder," along with the comic book movie landscape as a whole.