Death Whistles And Seashells: How Black Panther: Wakanda Forever Composer Found The Sounds Of Namor [Exclusive]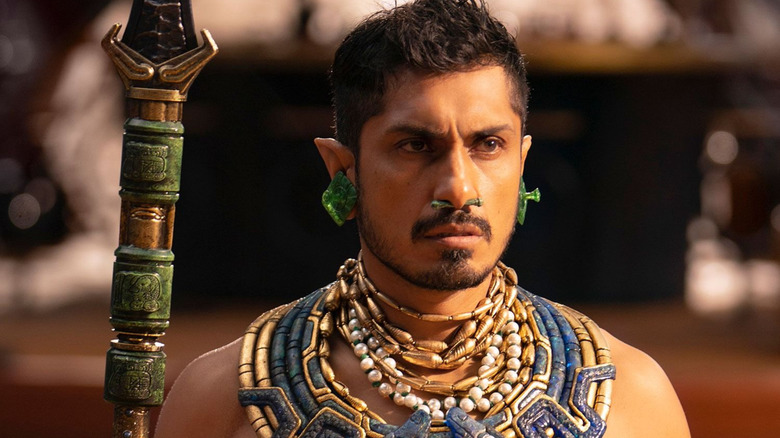 Marvel Studios
There's a pretty good reason (or several) why 2018's "Black Panther" separated itself from the rest of the pack in the Marvel Cinematic Universe and went on to achieve box office success, acclaim, and even awards attention that few other comic book movies have ever even dreamed of attaining. At the top of the list has to be Ryan Coogler's supremely focused direction, Chadwick Boseman's quietly nuanced performance, and an entire team of incredibly talented artists all working together to create something far more meaningful than just another run-of-the-mill superhero film.
Well over four years since the original film became an overnight pop culture sensation, "Black Panther: Wakanda Forever" is gearing up to capture hearts and minds all over again. WIth the sequel, Coogler seems to have picked up right where he left off by maintaining the same level of attention to detail and that impressively strong focus on getting the little things right. Though burdened by the responsibility of paying homage to the late Boseman's rich legacy, the introduction of Tenoch Huerta's Namor and the entire undersea kingdom of Talocan is certain to add a whole new layer of cultural heritage and representation to the proceedings.
In a recent interview with /Film, returning composer Ludwig Göransson revealed how he brought the same high standard set by the original to the sequel — specifically through finding the precise sound that would help bring Namor to life in ways that would respect the character's background. That meant employing curiosities like death whistles, seashells, and "otherworldly" vocalizations to build an entire soundscape for the MCU's newest character.
'We had to experiment a little bit'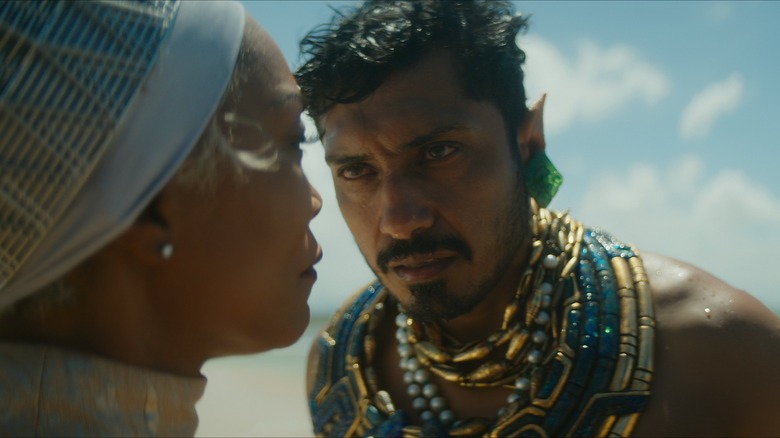 Marvel Studios
It took almost no time at all for the original "Black Panther" to become a mainstream hit across all demographics, adding unique aspects like the Wakandan salute and Wakandan dialogue ("Yibambe!") into our pop culture lexicon. "Wakanda Forever" will seek to do much the same with Namor, the complicated antagonist of the film. Given how much director Ryan Coogler championed this character from the get-go, composer Ludwig Göransson ("Creed," "Black Panther," "The Mandalorian") faced an immense challenge in figuring out the precise combination of sounds to attribute to Namor and his people.
In an interview with /Film's Vanessa Armstrong, Göransson explained how he used seashells and whistles to help establish Namor's musical theme:
"Namor's sound was a seashell. His theme is played on a seashell, which also tied into the script, because there's a couple scenes in the movie where he is actually playing the seashell. So that was tied into the movie in early ways.

Another instrument that was very much portraying him was also a whistle called a death whistle. It's a clay flute that you play and you're basically opening it up with your hand and it sounds like a crazy, otherworldly scream — almost like an animal scream or something."
As simple as that sounds, however, figuring out how to translate that into practical instruments was anything but.
"We spent a couple of days on seashells, because there's so many different sizes. There's a large, medium, small, and tiny, and it' a very difficult instrument to play ... So it was kind of a combination between two different seashells, because we had to experiment a little bit to get the exact melody that I wanted."
"Black Panther: Wakanda Forever" will arrive in theaters on November 11, 2022.