Black Panther: Wakanda Forever's Tenoch Huerta On The 'Tricky' Challenge Of Playing A Villain In A Beloved World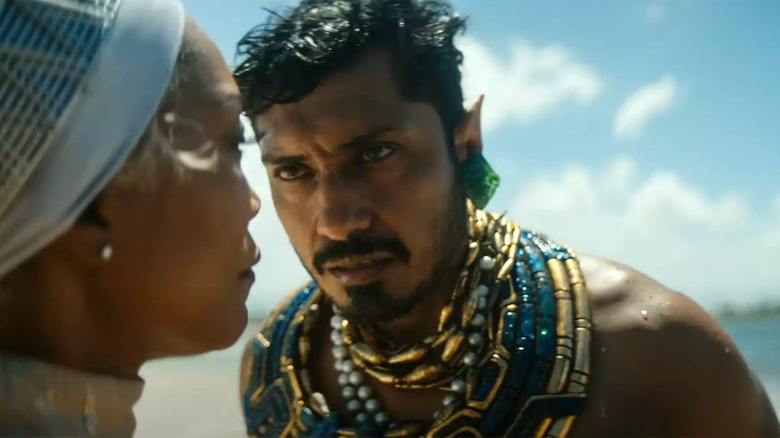 Disney
In Ryan Coogler's upcoming superhero movie "Black Panther: Wakanda Forever," the title country will see itself invaded by a species of undersea humanoids led by their king, Namor. Also known as the Sub-Mariner in Marvel comics, Namor may be the highest-profile superhero character to have yet to appear in a live-action feature film. Throughout the character's history, Namor has functioned as both hero and villain, sometimes using his powers of flight and super strength to help the Fantastic Four, but just as often harming humanity for their role in polluting the seas. In the comics, the character is sternly principled and doesn't suffer fools gladly. 
Namor will be played by Tenoch Huerta, the Mexican actor who previously appeared in dozens of Mexican features including "Sin Nombre," and "Tigers Are Not Afraid," as well as a few American films like "The Forever Purge." He also played the famed real-life luchador Blue Demon, a.k.a. Alejandro Muñoz, in the 2016 biographical TV series of the same name. In a way, then, playing mythic superbeings is no stranger to him. 
At the recent press conference for "Wakanda Forever" attended by /Film's Bill Bria, Huerta expressed a little bit of trepidation playing the villain of the piece. He understood that by attacking Wakanda, and the people close to the Black Panther, he would risk rousing the ire of fans. That was his last intention. 
Destroying something beloved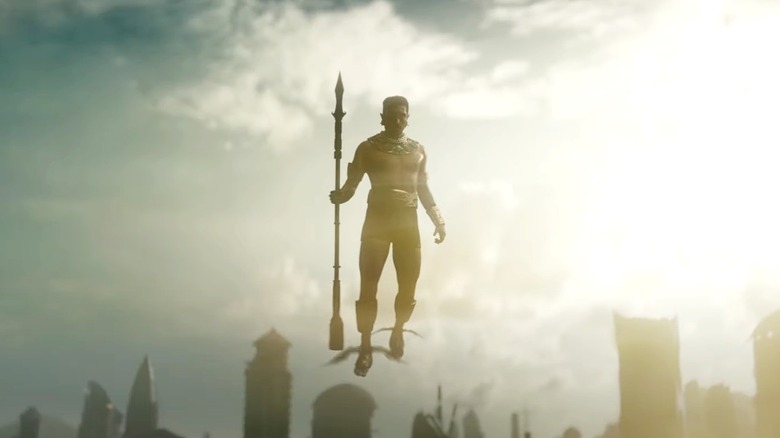 Disney
Huerta understood how popular Coogler's 2018 "Black Panther" was to audiences, especially in light of the passing of Chadwick Boseman, that film's star. Wakanda and the characters who populate it have become very important to people, and Huerta acknowledges how much the film means in terms of mainstream representation. As a villain, he will appear on the screen attacking all that. Luckily, he feels, the script was good enough to cover any ill will. Huerta said: 
"It is tricky when you have a character like this, because you're the antagonist. You're going to destroy something that is valuable. Not just in the story, but to the people outside. A lot of people feel identification with Wakanda — I include myself — [with] the narrative and the representation and everything, so now I have to play the bad guy who tries to destroy that legacy? At the same time, I think Ryan, in the script, he found a way to make it human. To justify why the people do that kind of thing. It doesn't mean that it's okay or not, that it's right or not. But it's explained."
Huerta doesn't talk about a common criticism of films in the Marvel Cinematic Universe, in that the villains tend to be one-dimensional characters. From the sound of it, Namor will not face that criticism. 
Culture clash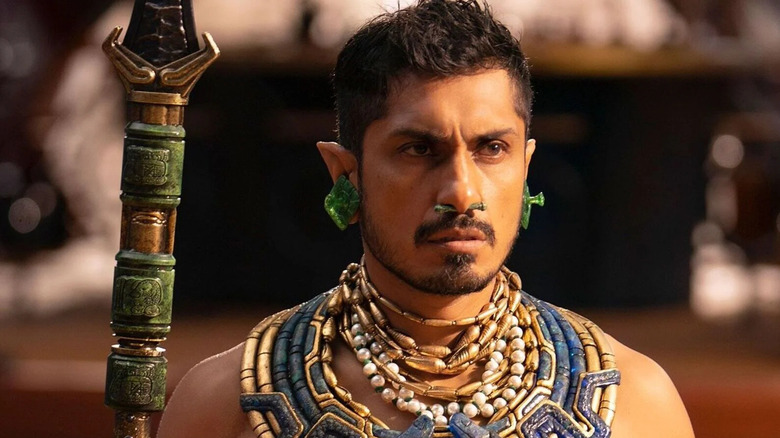 Disney
Indeed, Huerta describes Namor as a king in conflict with a rival nation. It's a story of opposing cultures, really, and not heroes or villains. He understands that a true villain isn't motivated by evil or wickedness, but merely holds values opposite those of the hero. A principled villain is far more interesting than a wicked one, and seemingly more interesting to play. More than anything, he saw that his character and the Wakandan characters shared a common grievance. Huerta said:
"People choose different reactions in front of grief or menace or whatever, the threats to life. That's beautiful because it's human. So we have these two characters taking different decisions to the grief and the threat, and at the same time, they share the same wound. Historically, representation of their cultures. But at the same time, as individuals, they share that wound. And how they solve that problem is about their personality and their own history. That balance in a superhero movie, you have this balance and these layers, it's fantastic. It doesn't happen too much. It's enjoyable."
The arc of Namor, and his potential future appearances in further films in the MCU will be discovered when "Black Panther: Wakanda Forever" is released in theaters on November 11.