The White Lotus Season 2 Is Really About How Jennifer Coolidge And Aubrey Plaza Just Need To Kill The Men Already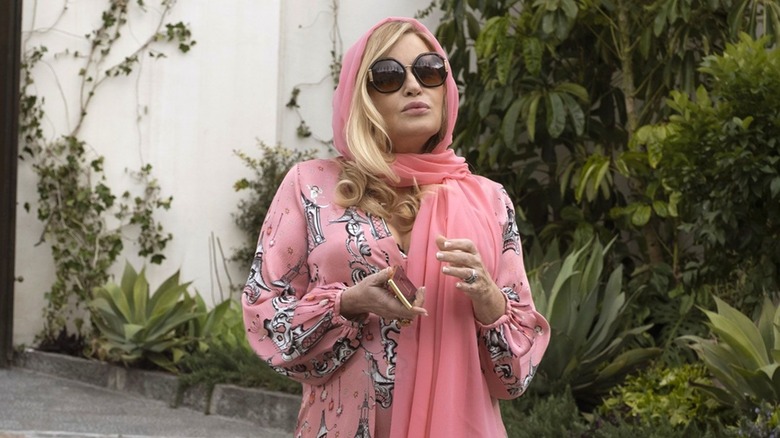 HBO
Mike White's HBO limited series "The White Lotus" was one of the best new shows of 2021, a sharply satirical look at the most privileged elite and the employees that serve them during a week's stay at an all-inclusive luxury resort. What is meant to be a week in paradise quickly reveals itself to be a powder keg of humanity's worst impulses, presented in a manner that is as darkly comedic as it is suspenseful. The end of season 1 featured a shocking, harrowing finale, capping off a debut season that would eventually lead to a whopping 10 Emmy Awards.
Following up on such an impressive launch seemed impossible, but as /Film's Barry Levitt described in his review, "The White Lotus" season 2 is "bigger, bolder, and stranger." The first season was an examination of class and race set in the fictional resort chain's Hawaiian locale, but season 2 looks to explore infidelity, sexual politics, and misogyny. Now in an idyllic Sicilian setting, "The White Lotus" season 2 introduces a new gaggle of vacationers, save for the return of Tanya McQuoid (Jennifer Coolidge) and her new husband Greg (Jon Gries), birthing a new batch of conflicting personalities.
Each room at the resort comes adorned with a ceramic Sicilian Testa di Moro, an art piece inspired by the legend of a young woman who was seduced by a man who turned out to be married, so she decapitated him as punishment for his lies. It's a fitting thematic inclusion for a show that in its first episode already has me rooting for Tanya and Aubrey Plaza's Harper Shilling to kill most of the men for being so damn terrible.
Greg Hunt can choke on a macaron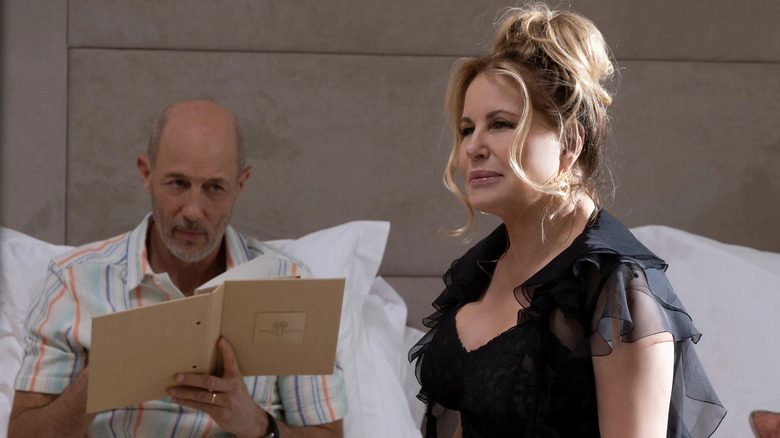 HBO
Coolidge earned a Primetime Emmy Award and a Critics' Choice Television Award for her performance as Tanya McQuoid last season, and fans were ecstatic to see her return. Now upgraded to a Blossom member as part of The White Lotus' rewards program, she and her new husband Greg Hunt are attempting to enjoy a Sicilian getaway. There's only one problem — Greg is the dirt f****** worst. He hasn't been replying to her texts, which he explains away as "work"-related. But upon seeing her doting assistant Portia (Haley Lu Richardson) in tow, Greg immediately demands Tanya order Portia to go home. She complies to appease him, forcing Portia to discreetly hang around the resort out of his view, but won't actually put her on a plane back to San Francisco in case she needs her.
Greg's not just an a-hole to "the help," he's also a piss-poor excuse for a husband. He immediately berates Tanya about her weight when he assumes she's eaten five macarons and picks at her appearance constantly. Their marriage is wicked unhealthy, proven when the duo finally have sex that ends with Tanya throwing him off of her because she disassociated in the middle of the act, envisioning him with the lifeless eyes of a shark. Tanya eventually finds two of the missing macarons, and when she goes to prove to Greg she really only ate three, she overhears him having a whispered phone call to an unknown stranger. TANYA, HE'S USING YOU FOR YOUR WEALTH. The opening moments of the first episode foreshadow multiple deaths by the end of the week, and I can only hope one of them is Greg Hunt with a macaron lodged in his throat like Liz Purr in "Jawbreaker."
'Eat the rich' includes Cameron Sullivan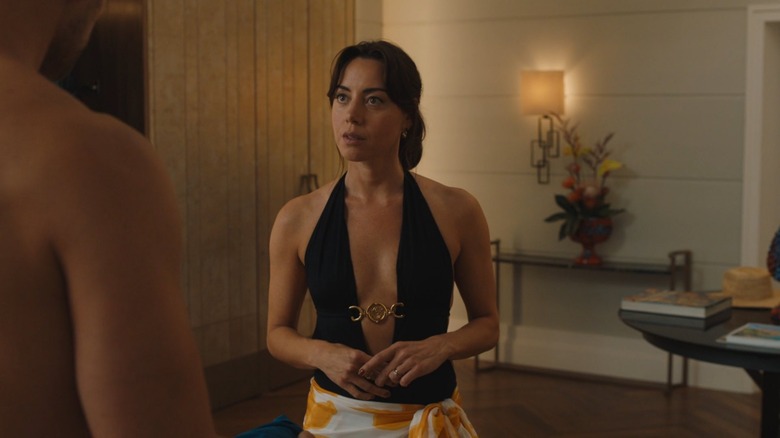 HBO
Harper and her husband Ethan (Will Sharpe) have recently joined the 1%, which has made employment lawyer Harper extremely uncomfortable. The two are sharing their trip with Ethan's old college roommate Cameron Sullivan (Theo James) and his wife Daphne (Meghann Fahy), two painfully privileged and unaware rich kids who have spent their entire lives wanting for nothing. Harper struggles to hide her disdain for the two, openly appalled when she learns the two don't vote, don't keep up with current events, don't read, and spend their days being overly affectionate while binging feel-good shows like "Ted Lasso" and trashy reality TV.
The Sullivans are absolutely obnoxious in their ignorance of the world around them, but tensions explode when Harper explains her job is protecting employees who sue their employers, only for Cameron to imply that most lawsuits made by employees are "baseless." It's so very clear that Cameron is dismissing claims of discrimination or sexual harassment, and confesses his own company has had to deal with "accusations" of this nature.
It feels like Mike White is planting a little seed with Cameron's admission, watering it later in the episode by having Cameron change clothes and go the "Full Monty" in front of Harper without her consent. After she tells her husband about the encounter (while The Sullivans have a loud romp in the room next door), he brushes it off as not a big deal, which tracks for someone who didn't have to see that massive hog staring back at him in a bathroom mirror. Anyway, I hope Harper smashes his head in with a Testa di Moro, or a huge book she knows he's never read.
Dominic Di Grasso can sleep with the fishes too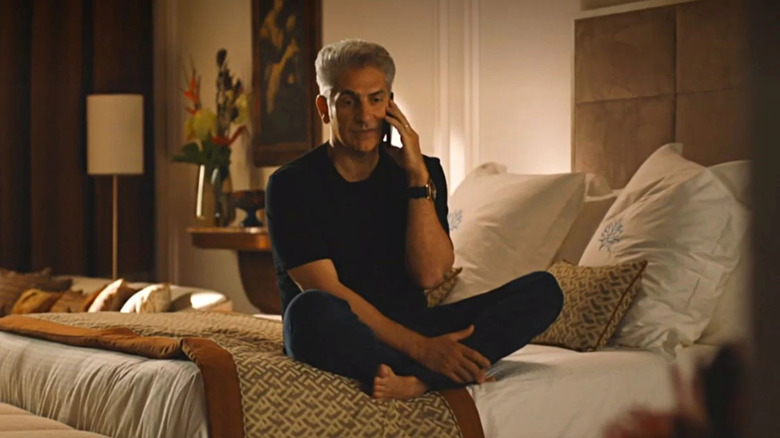 HBO
When it was announced that celebrated Italian-American actor Michael Imperioli was joining the cast, as Dominic Di Grasso, I went into fantasy booking overdrive. Dom is on vacation with his farty, horny dad Bert (F. Murray Abraham) and Stanford-grad son Albie (Adam DiMarco), but noticeably absent is his wife Abby. After arriving at the resort, Dom gives his estranged wife a call and talks about how he was "thinking of her" since it seems like this vacation was supposed to be for the whole family, only for Abby to royally lay into him for contacting her.
Turns out Hollywood producer Dom wasn't the most faithful husband, and his infidelities have torn his family apart. To make matters worse, it was revealed today that the voice on the other end of the line was none other than national treasure Laura Dern, which means Dom just became America's most-hated fictional husband. Abby screams at him "I don't want you calling me anymore!" as Dom just sits on the bed and takes it. Even as her voice cracks with "Oh my god, please. It's f***ing done, okay? Leave me alone!" he looks as if this is all brand new information to him.
He later solicits the company of sex worker Lucia (Simona Tabasco), an arrangement he made long before arrival. There's no shame in paying for the services of a sex worker, but it seems like Dom is well-versed in the practice ...which definitely took place while he was married. We know that Daphne finds a body floating in the water at the end of this, and if there's any Sicilian poetic justice, it may very well be the philandering Dom.
Nobody's perfect at The White Lotus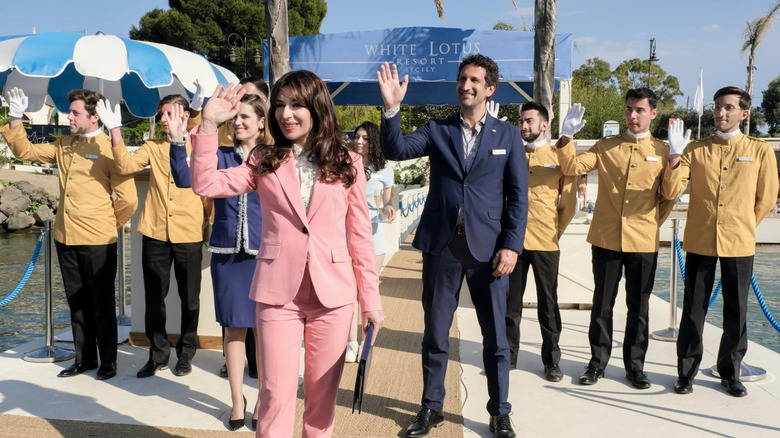 HBO
Everyone on this show is a different flavor of insufferable, rich, terribleness, and it's inevitable that the rest of the season will explore the different avenues of awful. Obviously, the women of "The White Lotus" season 2 are not without their own personality problems and bad behaviors, but Mike White came out the gate swinging with the apparent energy of "Valar Morghulis." For a season that seems to be dead-set on exploring the power imbalances between the socialized binary genders, it won't be surprising if this season joins the canon of "good for her" stories about maligned women finally standing up for themselves. The characters of "The White Lotus" are never wholly good or bad, which is why the show gripped viewers so intensely last season.
As a perfect example, Bert Di Grasso has dedicated every interaction with every woman he's met since arriving at the resort to shamelessly flirting, but also provided one of the season opener's best lines of, "It's not like it was ever so beautiful to look at, anyway. I mean, it's a penis. It's not a sunset," after his grandson laments that no woman should ever have to look at an elderly wiener. After only one episode, there's still plenty left to learn about the cast of characters (and some haven't even arrived!), but if Jennifer Coolidge and Aubrey Plaza go on a killing spree, or even Portia, Lucia, or fellow sex worker Mia (Beatrice Grannò), I won't be mad about it.