Yes, That Voice In White Lotus Season 2 Is Exactly Who You Think It Is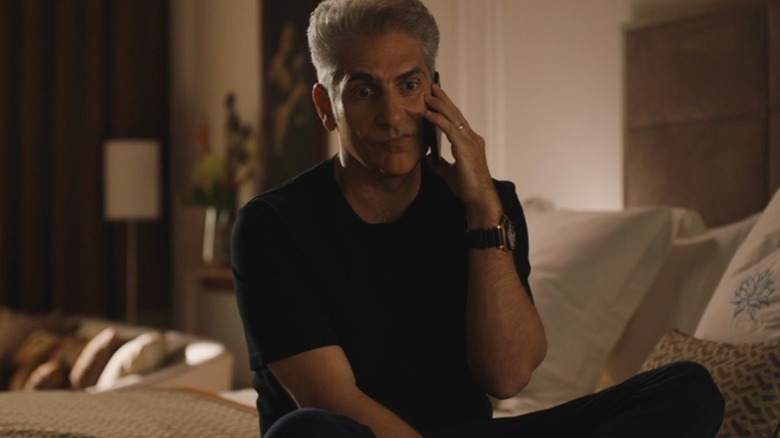 HBO
We may not know exactly who died in the ocean in "The White Lotus" season two yet, but viewers who tuned into the season premiere certainly witnessed a murder last night. Namely, Dominic's (Michael Imperioli) ex-wife (or very estranged wife) absolutely decimated the man via international phone call. In an intimidating and impressive demonstration of fury, the woman on the other end of the phone line screams at length about how she never wants Dominic to call her again – a wild contrast to the seemingly mild-mannered persona we've seen from him so far.
This brief interlude is the kind of performance that makes you stand up straight and pay close attention, especially because the actor on the other end of the phone seems to be ready to shred her vocal chords for the sake of a good performance. Who could be that committed to a brief off-screen cameo? Why, none other than Laura Dern.
Vulture has confirmed that the familiar voice on the other end of the line belonged to the "Big Little Lies" actor, who has a substantial working relationship with series creator Mike White after headlining his last show, "Enlightened." And while the effectively unhinged bit of voice acting may seem out of the ordinary for people who know Dern from lovable roles in movies like "Jurassic Park" and "Little Women," it's right in line with the emotionally volatile character Dern played for White in the past.
Dom's ex-wife is fed up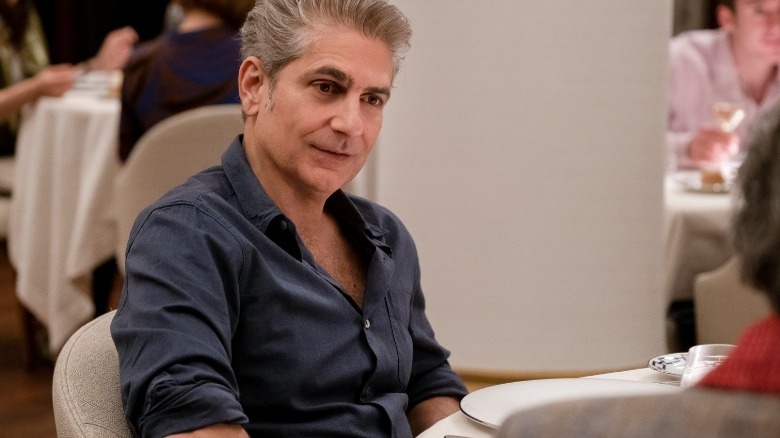 Fabio Lovino/HBO
"Enlightened" ran for two seasons on HBO, and though the show tackled some of the same themes that have now made "The White Lotus" a hit, it remains a largely undiscovered (though critically acclaimed) hidden gem of the 2010s. The show follows Amy Jellicoe (Dern), a businesswoman who has a breakdown on the job and ends up discovering a path toward inner peace during her recovery. The poster for "Enlightened," featuring Dern with a scowl and a mascara-stained face, is a pretty great encapsulation of how deeply the actress was able to tap into the character's intense emotions for the role.
It makes sense, then, that when White needed someone to eviscerate Imperioli's character by voice alone, Dern would be the right actor for the job. We can hear Abby's withering tone from the moment she answers the phone, saying, "What?" instead of hello. It quickly devolves from there: Dominic speaks as if chatting with a loved one, but there's clearly a ton of baggage here, and Abby isn't willing to sit and listen to him muse about the hotel and how he wishes she were there with him. After initially telling him to f*** off, she rips Dom a new one for keeping secrets from the family, asking her to put in a good word with their daughter, and ten years' worth of "bulls***."
Dern returns to the world of Mike White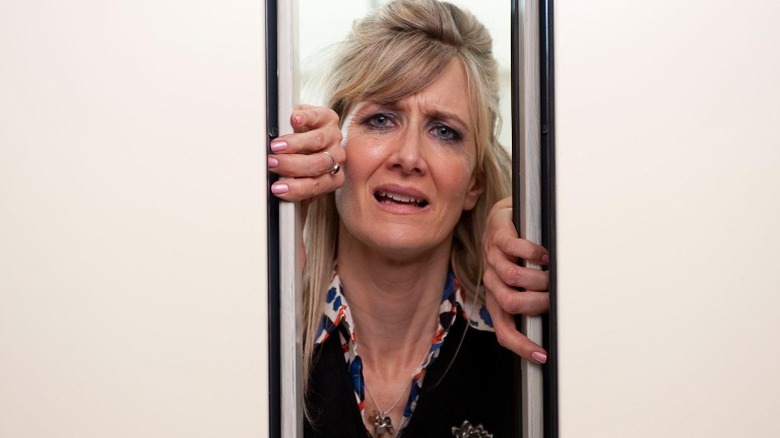 HBO
But it's when Dom, still seemingly blissfully unaware of whatever he's done wrong, shifts into apology mode that Abby unleashes her own emotions full force. "I don't want you calling me anymore!" she says, her voice breaking with a near-sob. "Oh my god, please. It's f***ing done, okay? Leave me alone!" She throws in a few more expletives before hanging up, and Dom sits silent, somehow seeming rattled and not bothered enough all at once.
Judging by Abby's sense of finality, I'd guess we probably won't be hearing from Dern on the show again. Judging by the way the first season of this show practically took over entire Emmys categories last award season, I'm also wondering if it's possible to get a guest actor award just for playing a voice on a phone. Regardless, it's great to witness Dern's return to the wild world of Mike White satires — in one of the most memorable TV cameos of the year.