The White Lotus Season 2 Review: Everyone's Favorite Hotel Chain Gets Bigger, Bolder, And Stranger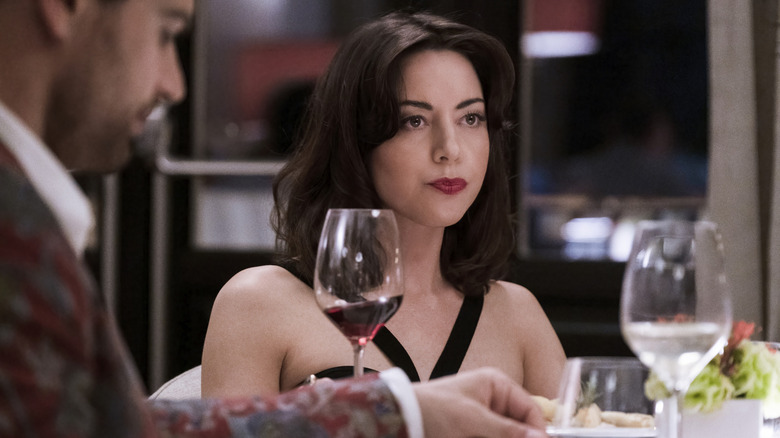 HBO
Going on holiday can be magic. You work tirelessly, scrimping and saving along the way to take your family on the trip of a lifetime. Vacations aren't just an opportunity to see something new — whether it's an extraordinary slice of history, the most wonderful food you've ever tasted, or an escape to warmer weather — it's a vital chance to relax. Spending time with your family, your partner, and your friends, or even on a solo holiday, all have the potential to recharge and relax.
Of course, the very idea of a holiday means something different to everyone — and it varies hugely depending on how much money you've got to spend. We've all seen ads for hotels that offer unparalleled luxury — that come, of course, at an unparalleled price. In a time where inflation rises what feels like every minute, and income inequality is vast, there's more of an air of mystery around places of such outrageous excess than ever. It begs the question: who in the world is going to these places, and what on earth is going on there?
That's a question that was answered in Mike White's "The White Lotus," a limited series that premiered to enormous fanfare on HBO last July. The series offered fascinating insight, unique characters, and an endless array of twists and turns while exploring different groups of people enjoying a week's stay at the incredibly luxurious White Lotus hotel in Hawaii. It won a massive 10 Emmy Awards, sealing its fate as one of the most beloved shows from both critics and audiences alike, and you can count me as a huge fan of the series. And now it's back for a whole new season. 
Awfully big shoes to fill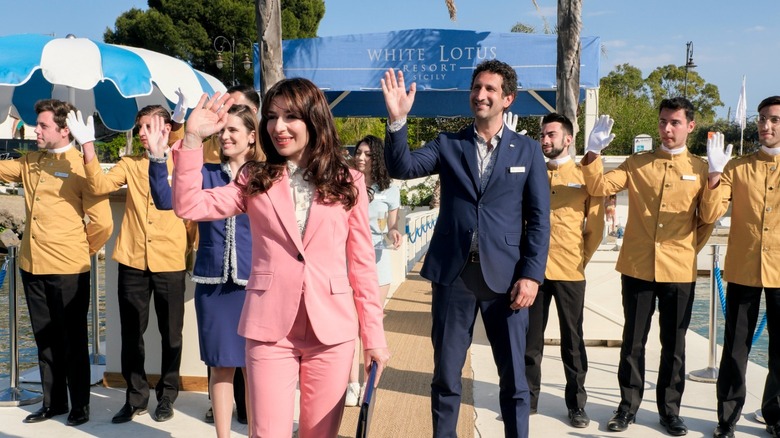 HBO
Season 1 felt like the end of the story, but with the immense success of "The White Lotus," the once-limited series was limited no more. A second season was ordered, this time with an all-new hotel and an entirely new cast — with the wonderful exception of Jennifer Coolidge (who won an Emmy for her performance in season one) as Tanya, an utterly delightful narcissist who came to the Hawaiian hotel to deal with her mother's ashes. Rather ingeniously, the White Lotus hotel is now a chain, offering incredibly luxurious experiences all around the world, and this time we're in Sicily.
There's a legitimate concern when it comes to continuing a limited series past its contained story — just look at "Big Little Lies," which received nothing but praise for its first season, and a far more muted reaction to its surprise second season. The first season of "The White Lotus" was sensational and unique, offering an incredible insight into the kinds of people so powerful they only exist to most of us in headlines. How could that magic possibly be replicated?
The answer for Mike White, who wrote and directed the second season, is to be bigger, bolder, and weirder. White is no stranger to brilliant character-driven pieces. Along with "The White Lotus," White created "Enlightened," one of the most underrated shows of the 2010s, a series that also thrives on uncomfortable situations. The second season of "The White Lotus" has an enormous ensemble cast, but every character feels complete — that's an incredibly difficult thing to do, but White has been writing incredible characters his whole career, so that shouldn't feel like much of a surprise.
Before getting into the characters, the setup immediately ups the ante from the first season. A woman is enjoying her last day on holiday and steps into the crystal clear water for a final swim. Her peaceful farewell to a dream holiday is interrupted by — what else? — a floating body. The first season of "The White Lotus" also began with a dead body, but this time, there isn't just one. Hotel manager Valentina (Sabrina Impacciatore) demands to know just how many people died, but the best she can get is a guess from her subordinate of "A few." That could just mean three, but this is "The White Lotus," where nothing is ever as it seems, and you'll keep guessing until the very end.
White then takes us back to "One Week Earlier," and just like the first season, a boat is delivering the esteemed guests to the White Lotus hotel in Sicily. Traveling with Tanya is her assistant Portia (Hayley Lu Richardson); Tanya's husband Greg (Jon Gries, also returning from the first season) is already at the hotel waiting for her. There are also three generations of the Di Grasso family; grandfather Bert (F. Murray Abraham), father Dominic (Michael Imperioli), and son Albie (Adam Di Marco), on a family trip to discover their Sicilian family roots, though some key family members are conspicuously absent. Not to be left out are two hot, young couples, Harper (Aubrey Plaza) and Ethan (Will Sharpe), and Daphne (Meghann Fahy) and Cameron (Theo James) traveling as a group, but the jury is very much out on whether they actually like each other or not, but the hotel offers a great opportunity to size each other up. In case that wasn't enough, there's also Lucia (Simona Tobasco) a local prostitute, waiting for one of the guests on the boat with her bestie Mia (Beatrice Grannò), who dreams of being a professional singer.
The holiday of a lifetime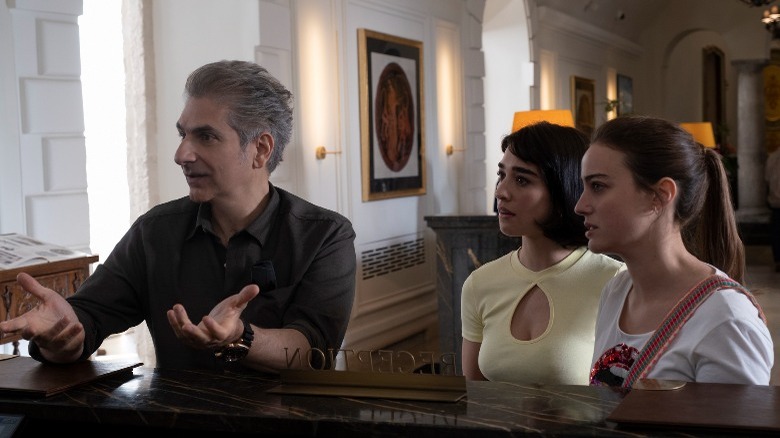 HBO
Is your head spinning yet? That's just our main group of guests, which is to say nothing of the hotel staff or anyone else that comes along over the series (and believe me, there are a lot of people). There are so many moving parts in "The White Lotus," and with a less gifted writer, I can only imagine how discombobulated and incomprehensible this setup would be. With White at the helm, it all feels miraculously well-balanced. There's something to be said about a single writer taking the helm for an entire series, and the second season of "The White Lotus" is paced brilliantly. Every character is interesting, and while everyone is bound to have their own personal favorites — and on a show like this, you'll also have least-favorites — but scenes move along so smoothly that you're never left wanting for any particular character.
Season 2 makes fantastic use of its breathtaking Sicilian location. The hotel itself is of course, immaculate, and filled with gorgeous art that's on the walls of a building that feels timeless, with plenty of modern amenities making a compelling contrast with the classic murals. It's great to see a show look every bit as expensive as the White Lotus claims to be — imagine how unbelievable a show like this would feel with lackluster production values. The natural beauty is astonishing, and every scene looks like the kind of holiday you can only dream of because you sure as hell can't afford to actually go. Even the show's opening credits, which implement the artwork found in the hotel, use the theme music from the first season and remixes it in thrilling fashion, building up slowly but surely until its almost a thumping club anthem, letting you know that this season is going to be even crazier. Costumes are outstanding, and whether people are dressed simply or extravagantly, everything looks completely inaccessible and way too expensive, which is a lovely touch.
One of the most striking design elements this season is the use of bust sculptures found throughout the hotel. A worker explains that they are inspired by an Italian folk tale of a man who cheats on his lover, and she beheads him as punishment. There are a lot of themes running through the endlessly fascinating show; fatherhood, masculinity, power structures, patriarchy, wealth, politics, and how all those things intertwine, but the second season really hones in on infidelity. Issues of trust are central to many of the dynamics in "The White Lotus," and the constantly watching busts (often shot in a menacing extreme close-up) provide an awesome feeling that something terrible is coming — we already know that's true, but to who it's going to befall is a total mystery.
A sensational ensemble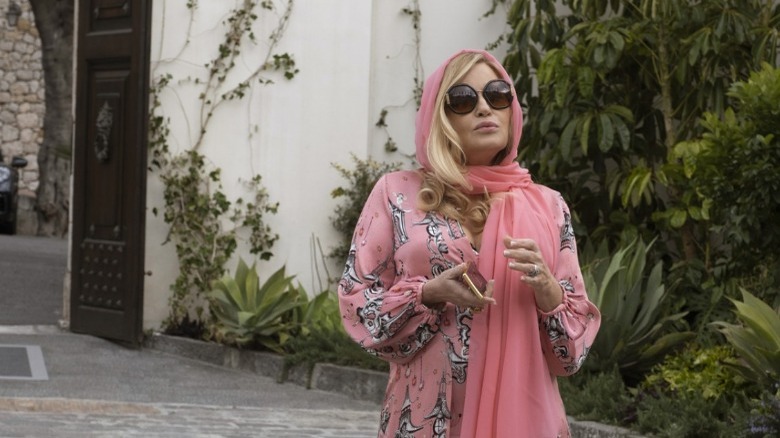 HBO
Of course, "The White Lotus" is nothing without great characters, and season 2 delivers them in spades — dare I say it, but this is an even more exciting ensemble than the first season. Conversations often feel outrageous, yet completely believable — something that's so challenging to pull off, but White makes it look like child's play. Everything feels genuine when you look at it from the perspective of each character. Standouts include Harper, played brilliantly by Plaza, a woman uneasy with her newfound wealth and stressed out by the overwhelming pressures in the world. She's deeply annoyed with and judgemental towards Daphne and Cameron, all while dealing with her own insecurities in her relationship with her husband Ethan. As in the first season, the locals also shine — Valentina is a brilliant, no-nonsense character with a fascinating and potentially concerning dynamic with her co-workers, while Lucia and Mia are a warm presence — in a sea of largely detestable people, there's an almost saintly nobility to the pair, which is some spectacular irony given their looked-down-upon career choices.
Then there's Jennifer Coolidge, whose Tanya is back and somehow even better this season. She was largely loveable, if aloof, in Hawaii, but this season goes deeper into her character, reveling in the seemingly endless depths of her narcissism. Her relationship with her assistant Portia is as amusing as it is depressing — there's a lot of humor to be mined from it, but it speaks great volumes about the way the working class is treated by the upper class. Tanya is definitely seen in a less unpleasant light this time around, but Coolidge's performance is so wonderful that you can't help but be absolutely obsessed with her. She's even got a whole speech about how gay men are fantastic — she certainly knows her target audience.
The second season of "The White Lotus" puts an awful lot on its plate, but it balances it all to perfection. This is an extremely interesting mystery, a powerful drama, and a hysterical comedy all in one, blending these elements with ease. Things build methodically to the point that the tension becomes almost unbearable over the first five episodes, with revelation after revelation causing your head to spin in the best way imaginable. When people speak about "peak tv," shows like "The White Lotus" are exactly what they're talking about. By daring to go bigger, bolder, and stranger in its second season, this anthology series proves that it's far more than a one-hit wonder: this may just be television's finest show.
"The White Lotus" season 2 premieres October 30 on HBO and will be available to stream on HBO Max.