The 15 Best Laura Dern Movies, Ranked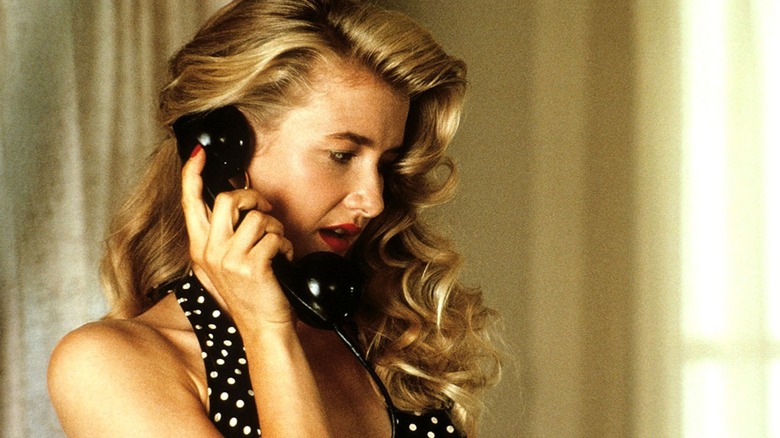 The Samuel Goldwyn Company
Some people are born to act, and the wondrous Laura Dern is one of those people. The daughter of Bruce Dern and Diane Ladd, Laura entered the world of acting at a young age with bit parts in films like "Alice Doesn't Live Here Anymore" and "White Lightning" before beginning her acting career in earnest years later.
Her career has been impressively varied, and she's worked with many great directors, including Clint Eastwood, Steven Spielberg, and Joyce Chopra. She's also enjoyed a particularly successful collaboration with David Lynch. She's been at the forefront of both independent and blockbuster films, with one of her most famous roles being in Spielberg's "Jurassic Park."
Dern has been a force in Hollywood for decades, delivering rich and complicated characters in some truly terrific movies, and her warm, welcoming presence has been key to her success. It's always a pleasure to see Laura Dern in a new film. Dern's return to blockbusters with "Jurassic Park: Dominion," led us to wonder which of her films is the best. Here are the 15 best Laura Dern movies, ranked.
15. JT Leroy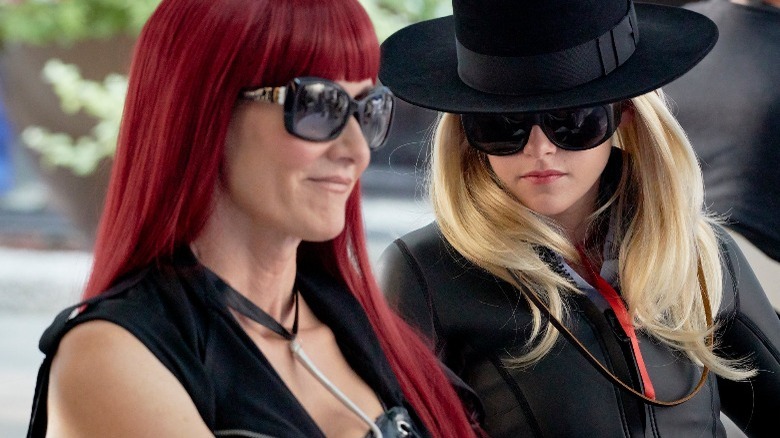 Universal Pictures
The concept behind "JT Leroy" is so wacky that it's almost hard to believe that it's based on a true story. It's about J.T. Leroy, who doesn't exist. The film stars Laura Dern as Laura Albert, a successful writer who uses "Jeremiah Terminator Leroy," a gay man who isn't real, as her self-described "avatar." When the press begins to ramp up and attention is drawn towards J.T., Albert ensnares her sister-in-law, Savannah Knoop (Kristen Stewart), to become J.T. to continue her writing career.
It's exciting to see Dern stretch her limits by impersonating all sorts of different people with wildly different personalities and accents (including a hilarious so-bad-its-good British accent). What's especially interesting about Dern's performance is the way she uses her natural warmth and friendliness to involve people in her character's elaborate schemes, manipulating Knoop, in particular, to pose as J.T. Stewart and Dern have terrific chemistry in their artist-muse relationship. While the film can't quite sustain the madcap energy the literary hoax promises, it's still a wonderful showcase for Laura Dern.
14. Star Wars: The Last Jedi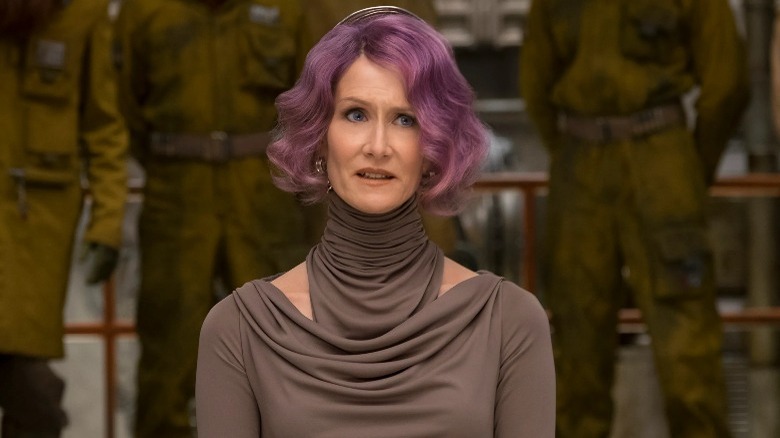 Walt Disney Studios Motion Pictures
The second film in the latest "Star Wars" trilogy, "The Last Jedi" finds Rey (Daisy Ridley) growing into her immense new power and training under the one and only Jedi legend, Luke Skywalker (Mark Hamill). Laura Dern has a small but effective role as Amilyn Holdo, vice admiral of the Resistance fleet. Sporting a surprisingly great purple wig, Dern is a powerful military operative and close friend of Leia Organa (Carrie Fisher), Holdo lays her life on the line to allow the Resistance to escape, keeping the fight against the First Order alive. Dern was so moved by being part of a world she cherished growing up that they had to call cut, as she was crying during her first scene. Being across from C-3PO does have quite the effect.
Fans of the franchise are notoriously hard to please, but what's so impressive about "The Last Jedi" is that it doesn't care. Director Rian Johnson is entirely committed to creating a fantastically entertaining and emotionally stirring spectacle, and he pulls it off beautifully. For my money, "The Last Jedi" is the shining star of the latest trilogy.
13. The Master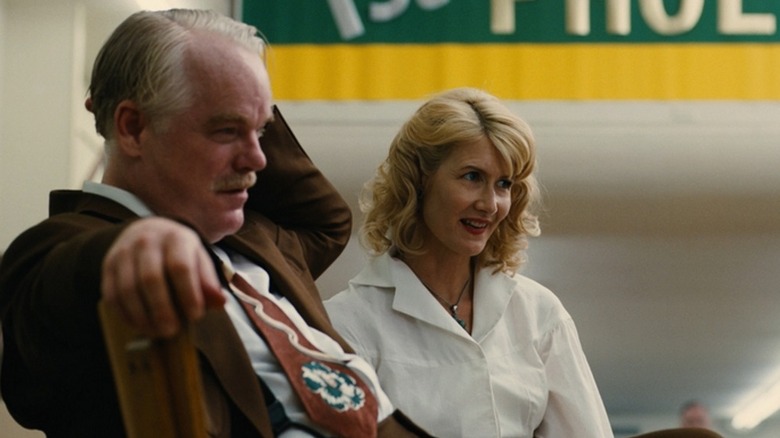 The Weinstein Company
In "The Master," times are tough for Freddie Quell (Joaquin Phoenix), a World War II veteran whose traumatic experience has led him to great difficulty reintegrating into society. He can't hold down a job and eventually finds himself as a stowaway on a boat. It's there he meets Lancaster Dodd (Philip Seymour Hoffman), a staggeringly charismatic presence who leads a movement known as The Cause. The two become intertwined as Quell becomes a part of The Cause.
Paul Thomas Anderson's "The Master" is remarkably complex. It's the kind of film that works best when you know little about it going in, and each viewing reveals something new. Phoenix and Hoffman are nothing short of exceptional, with Hoffman delivering one of his finest performances. It's a film full of brilliant detail and impressive performances, and Amy Adams, who plays Dodd's faithful wife, is terrific. Laura Dern has a small but effective role in this sprawling epic as Helen Sullivan, an impassioned follower of Dodd's who finds herself questioning her allegiances as he gets further into his complicated methodologies.
While "The Master" is a bonafide masterpiece, the reason it's lower on the list (like "Star Wars: The Last Jedi") is that it's hardly a Laura Dern movie. That said, she is terrific in it, and the film reminds us that Dern can be tremendous, even in just a couple of scenes.
12. Marriage Story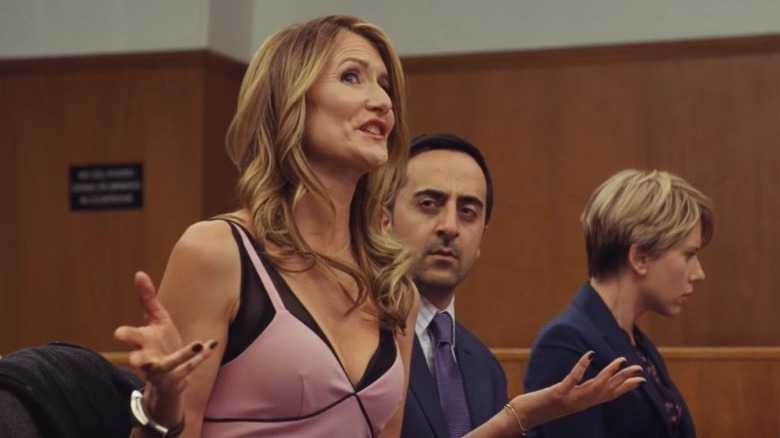 Netflix
Despite its title, Noah Baumbach's highly emotional "Marriage Story" is more of an end-of-marriage story. It follows the painstaking divorce of Charlie (Adam Driver) and Nicole Barber (Scarlett Johansson). The film explores both the intimate details of Charlie and Nicole's relationship and how it affects their son Henry (Azhy Robertson). However, it's equally interested in the cold, often brutal legal complications that come with divorce.
While Driver and Johansson are both excellent as the ailing couple, Laura Dern is outstanding — and downright scene-stealing — as Nora Fanshaw, Nicole's divorce lawyer. Dern delivers a blistering monologue about the unfair pressures society places on mothers with such ease that she completely vanishes into the character. You believe that she's been studying law her entire life. Fanshaw is warm and inviting when speaking to Nicole, but she can also switch into lawyer mode in the blink of an eye, displaying a cold, calculating persona with ease. She's equally impressive when she's comforting Nicole or when she's on the attack in court against Jay Marotta (Ray Liotta). Nora is a rich and complicated supporting character that finally earned Dern a well overdue Oscar win.
11. Certain Women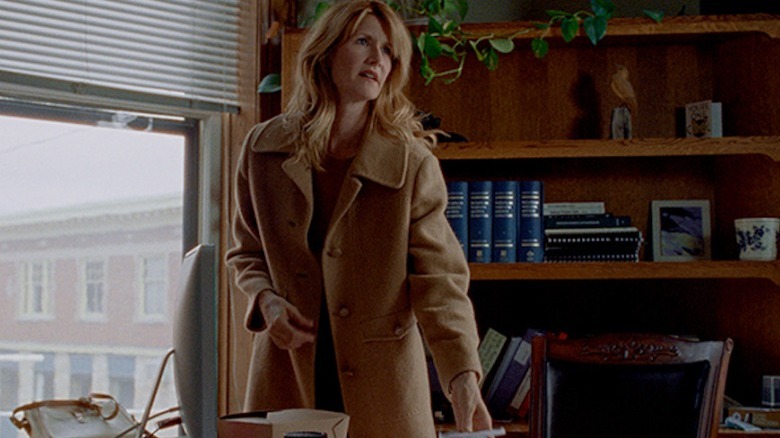 IFC Films
Few directors understand human nuance and intimacy like Kelly Reichardt. Her films are considered slow (and they certainly are when compared to blockbusters), but they're so full of rich detail and intriguing characters that the minutes fly by. "Certain Women" features three stories based in Montana. The first finds Laura Dern playing lawyer Laura Wells, who's been struggling with a client named Fuller (Jared Harris) who refuses to take her advice. Fuller regularly visits Wells' office, demanding his case be re-examined, despite overwhelming evidence that nothing else can be done.
Dern exhibits an impressive naturalism in the role, and she seems to have a certain aptitude for playing lawyers. While her divorce lawyer role in "Marriage Story" is more flamboyant, the subtlety of Dern's performance in "Certain Women" is ultimately more tantalizing. As delightful as her performance in "Marriage Story" is, Laura Wells seems as if she has a lifetime of history behind her. Reichardt has an amazing ability to create authentic characters, and every second that Laura Dern is on screen in "Certain Women" is magical.
10. 99 Homes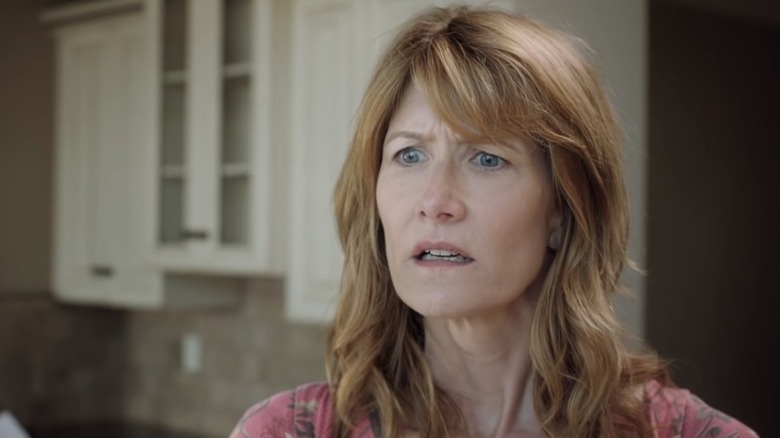 Broad Green Pictures
Ramin Bahrani directed this criminally underseen yet wildly compelling morality play set during the 2008 recession. Dennis Nash (Andrew Garfield) is a construction worker whose work has all but vanished in the wake of the economic downturn. He tries tirelessly to support his son and mother, Lynn (Laura Dern), who works as a hairdresser in their home. Despite the family's best efforts, it's not enough to pay off the mortgage, leading real estate operator Rick Carver (Michael Shannon) and the police to force the Nash family from their home.
Bahrani films "99 Homes" with urgency, often employing tight framing to ensure the focus feels almost confrontational. The film follows Dennis' attempts to do whatever it takes to earn enough money to put their family back in their home, which involves a surprising turn to work for Carver, the very man that evicted them from his home. It's a powerful, slow-burning story of a man forced to grapple with some seriously questionable ethics to provide for his family. It's a damning indictment of the overwhelming greed that led to the recession as well as an intimate character study of a man pushed to the limit. Both Shannon (who gives us a sort of Gordon Gekko for the housing industry) and Garfield are tremendous, as is Dern, who offers her son warmth and an unflinching moral compass.
9. Blue Velvet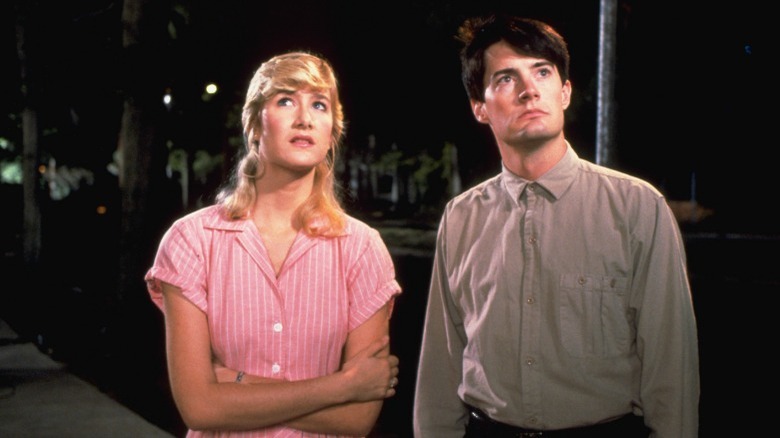 De Laurentiis Entertainment Group
Like so much of David Lynch's work, "Blue Velvet" defies description and is best experienced with as little prior knowledge as possible. What appears to be a charming, idyllic small town slowly reveals itself to be a place of untold horror when Jeffrey Beaumont (Kyle MacLachlan) discovers a severed ear while on his way home one day. With girl-next-door Sandy Williams (Laura Dern), he tries to get to the bottom of this bizarre happening. "Blue Velvet" is freaky, funny, raw, and unrelenting in peeling back the mysterious horrors of small-town life.
It's pretty fair to say that everyone in "Blue Velvet" is absolutely nuts — except for Laura Dern's Sandy. Dern's genuine sweetness and charm make for a bold contrast to all the madness around her, and she manages the tricky feat of standing out while being resolutely down-to-earth. It's certainly not a film for the faint of heart (few David Lynch films are, after all), but for those willing to try, a strong reaction is guaranteed.
8. Wild at Heart
The Samuel Goldwyn Company
All Sailor (Nicolas Cage) and Lula (Laura Dern) want is to be together, so why is it so difficult for these star-crossed lovers? For starters, Lula's mother, Marietta (Dern's real-life mother, Diane Ladd), is hell-bent on preventing the two of them from ending up together. She's willing to go so far as to send a gangster to kill Sailor. Consequently, Lula and Sailor go on a cross-country trip during which they slowly reveal their deepest, darkest secrets to one another. On their journey, they meet some of the strangest, wildest, and most deliciously Lynchian characters ever.
Dern is extraordinary as Lula. Her love and passion are rampant as are her fear and trauma. Lula is an incredibly difficult character to make feel authentic. With someone else in the role, it could have gone awry. However, Dern's sensitivity and commitment to authenticity are sensational.
The film was a hit at Cannes where it won the Palme D'Or, and Ladd was nominated for an Academy Award for her terrifically unhinged performance. The film is utterly manic, and the characters are so bizarre that it seems almost made to be divisive. I very much fall on the side that "Wild at Heart" is a terrific, captivating, and occasionally terrifying joyride. It's a movie ripe for multiple rewatches. Plus, it could have been even weirder!
7. Wild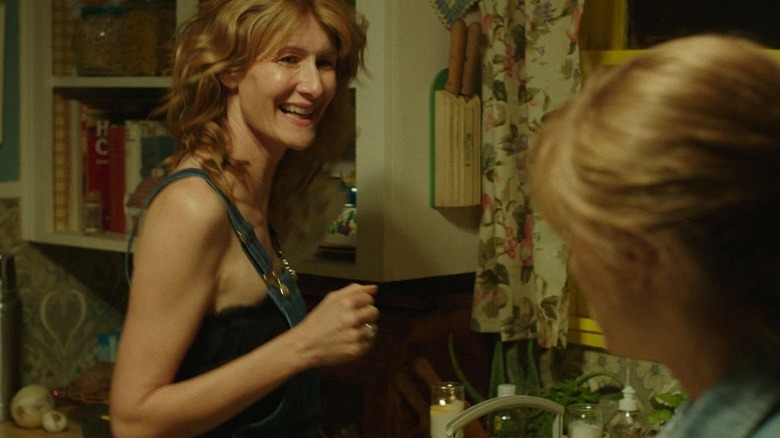 Fox Searchlight Pictures
"Wild," the film that earned Laura Dern her second Oscar nomination, is based on the incredible true story of Cheryl Strayed. Facing a sort of midlife crisis, Cheryl (Reece Witherspoon) decides to do something that nobody ever thought she could do — least of all herself. She sets out to hike the Pacific Crest Trail, a mammoth 1,100-mile journey, by herself. Along the way, Cheryl rediscovers who she is —and who she's meant to be — all while trying to come to terms with the loss of her mother, Bobbi (Laura Dern).
Jean-Marc Vallée crafts a strikingly intimate and beautifully told story of persevering through the darkest days and pushing personal boundaries. Much of Cheryl's inspiration comes from Bobbi, who we see entirely through flashbacks during Cheryl's trek on the PCT. Dern is extremely moving as Bobbi, beautifully channeling the emotions of a woman who has escaped horrible circumstances to become an open, warm, and loving mother. Like the film itself, she's inspiring and heartbreaking. The film isn't spoken about nearly enough, and it deserves your time.
6. Little Women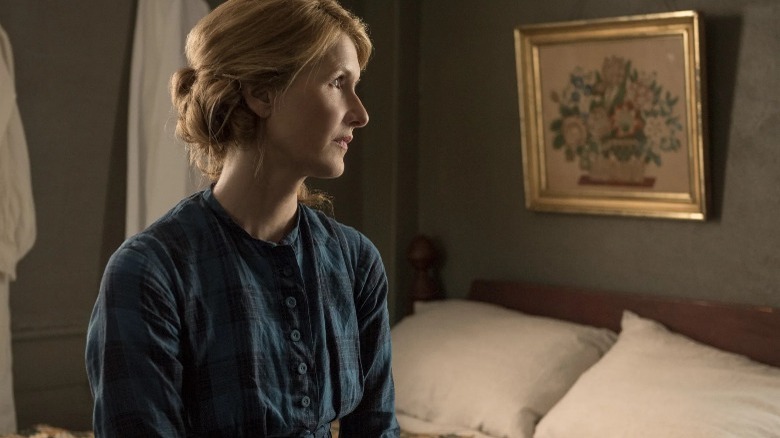 Sony Pictures Releasing
Written by Louisa May Alcott, "Little Women" has had many cinematic adaptations, including versions starring Katherine Hepburn in 1933, Elizabeth Taylor in 1949, and Winona Ryder in 1994. The latest adaptation, 2019's "Little Women," directed by Greta Gerwig, may be the best version yet. It's a beautiful story that follows the March sisters, Jo (Saorise Ronan), Amy (Florence Pugh), and Meg (Emma Watson), as they come of age with dreams that are greater than what society typically permits.
Laura Dern plays the March family matriarch, Marmee, a role that allows her to exude charisma and gentleness as a woman who wants nothing but the best for her children. She'll do whatever it takes to help them succeed. She's also full of surprises, stunning her daughter Jo when she  tells her "I'm angry nearly every day of my life." Frustrated by the societal pressures placed on women, Marmee is compelling, as she grew up in a time that was even more restrictive. Unable to follow any passions of her own, she gave up her dreams for her children. Dern's performance is a sensitive portrayal of a character who has often taken the backseat in previous "Little Women" adaptations. However, Gerwig's film allows Dern's Marmee to shine.
5. The Tale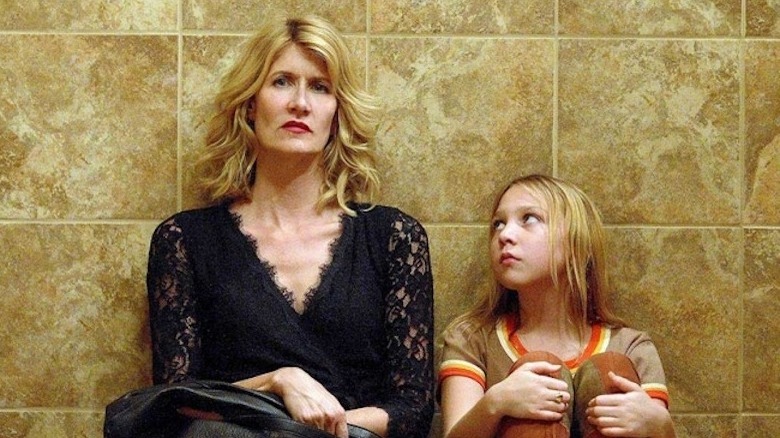 HBO Films
Jennifer Fox made her most personal film to date with "The Tale." Based on Fox's own experiences, Laura Dern plays Jennifer, a successful filmmaker who must reckon with her past when her mother (Ellen Burstyn) uncovers some startling stories that Jennifer wrote as a child. Jennifer is working on a documentary about the extremely sensitive subject of child sexual abuse, but the revelations found by her mother cause Jennifer to examine her past. This leads her to realize the true nature of some of her childhood relationships.
Anchored by a terrific Laura Dern performance, "The Tale" is tough viewing. It's especially challenging to watch Jennifer's scenes with her childhood self, but there's an indescribably affirming quality to the moments that make them bearable. Fox is incredibly brave to look at her past with such power and sensitivity. It's an angry film that finds righteousness in its anger, but it also has a soul-stirring, inspiring quality that stays with you long after the film is over. It offers hope and validation to sexual assault survivors, declaring that there is life beyond those horrifying experiences. Harrowing, complex, and beautiful, "The Tale" is possibly the most underrated film in Laura Dern's filmography.
4. Smooth Talk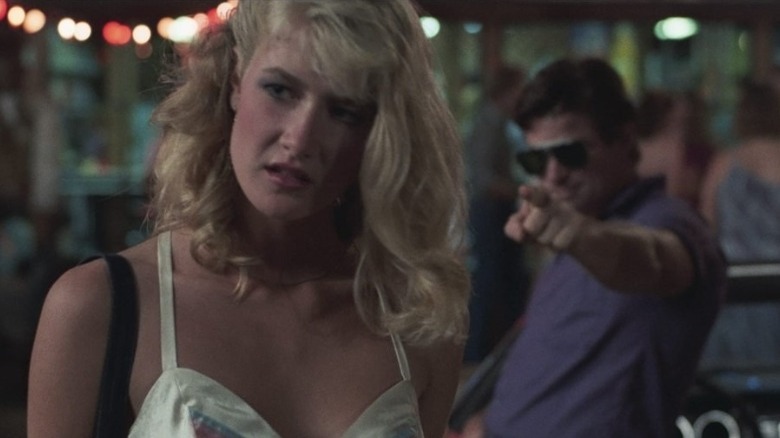 International Spectrafilm
Joyce Chopra's first fiction feature film finds an 18-year-old Laura Dern in the lead role. Displaying the abilities of a performer twice her age. Dern plays Connie, a 15-year-old who's beginning to feel like an outsider in her family. Connie is coming-of-age and coming into her sexuality — and she wishes to explore it. She starts going to the mall with her friends and sister to flirt with boys and find some summer romance. All the while, she's rebelling against her parents, especially her mother, Katherine (Mary Kay Place). During the summer, Connie goes on a journey of self-discovery that is replete with bracing sensitivity and intimacy. One day, she meets an enigmatic man named Arnold Friend, played by Treat Williams who has never been better — or more frightening. Connie's encounter with Arnold threatens to change her life forever.
Laura Dern is nothing short of a revelation in "Smooth Talk." In one of her earliest starring roles, she establishes herself as a force. "Smooth Talk" proves why she would go on to succeed as an actress for decades.
3. Jurassic Park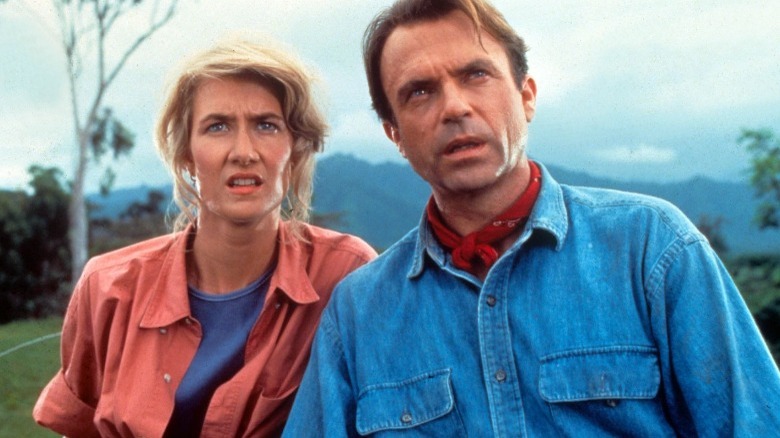 Universal Pictures
Does any film have a cooler concept than Steven Spielberg's "Jurassic Park?" A theme park full of freaking dinosaurs? What could be better? And what could possibly go wrong?  If only things were so simple. Despite park creator John Hammond's (Richard Attenborough) best intentions, breakdowns in security systems lead the mighty dinosaurs to wreak complete and utter havoc. While there's plenty of panic to go around, Ellie Sattler (Laura Dern) is cool, calm, and collected. With a Ph.D. in Paleobotany, Ellie knows all about the biology of the ancient world, and nothing is going to stand in her way. She's fiercely determined, and while others cower in fear, Ellie will dive head first into danger to get the job done.
While the franchise has some truly great moments, "Jurassic Park" undoubtedly has the most. After all, only Spielberg can make a shot of a glass of water incredibly thrilling. World-class practical effects, an ensemble of great performances, and John Williams' legendary score come together to create an unforgettable thrill. A cautionary tale and one of the most dazzling adventure movies ever made, "Jurassic Park" is one for the ages.
2. Citizen Ruth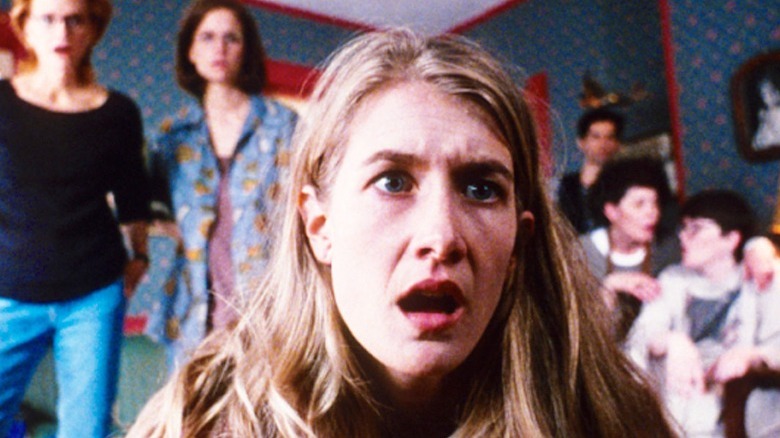 Miramax Films
Life hasn't been a walk in the park for Ruth (Laura Dern). She's an alcoholic and a drug addict. And she's the mother of four children, all of whom have been removed from her care for their safety. When Ruth faces her umpteenth arrest, she discovers she is pregnant once again. The judge offers Ruth a lesser sentence if she decides to have an abortion. Ruth is bailed out of jail by an evangelical couple, Norm (Kurtwood Smith) and Gail (Mary Kay Place), that's desperate for her to keep the child. It's not long before Ruth's story becomes national news, and she becomes the center of the abortion debate.
Alexander Payne's film is a wickedly funny satire about society's obsession with controlling women's bodies, a topic that feels alarmingly prescient. Dern is often thought of as a loving, joyful presence on screen but she has a fantastic time playing against type in "Citizen Ruth." She's never been as downright despicable and straight-up unlikable as she is here. Her performance as Ruth is prickly, nasty, forthright, and distressingly ignorant, but it makes for an unforgettable impression. Ultimately, it is one of Dern's finest roles in a brilliant and underseen movie.
1. Inland Empire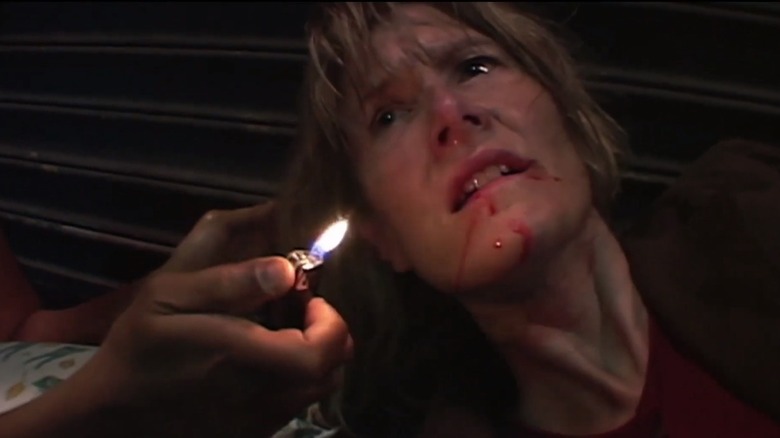 Absurda
How can one describe "Inland Empire?" David Lynch's three-hour magnum opus is ridiculous, hilarious, horrifying, and utterly beguiling. At the center of this chilling mystery is Nikki (Laura Dern), an actress who has begun working on a new film. As time goes on, she discovers that her life is gradually becoming more and more like her character's. Of course, there's more to the story, but "Inland Empire," like all of Lynch's films is most effective when you know very little going in.
Lynch's epic of madness contains Dern's most monumental performance, and it's also the best film she's ever been in. Lynch was so impressed by her performance that he campaigned for Dern to get an Oscar nomination by doing the most Lynchian ever: He placed himself on Hollywood Boulevard with a cow and a giant poster encouraging consideration for Dern's performance. The range Dern shows is difficult to wrap your head around on first viewing. She's an actress willing to do anything and take her character anywhere. The result in "Inland Empire" is dazzling. Unfortunately, the cow campaign didn't succeed, and Dern's legendary work on the film led to one of the all-time biggest Oscar snubs.