The 15 Best Joaquin Phoenix Movies Ranked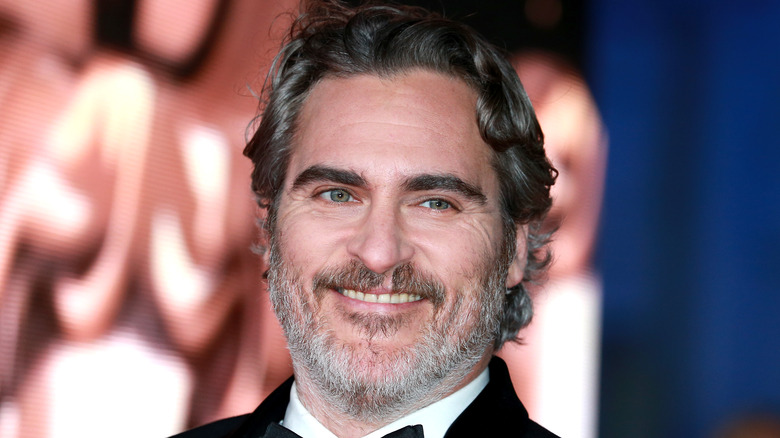 Cubankite/Shutterstock
Few actors working today can generate anticipation for an upcoming title quite like Joaquin Phoenix. While it's typically the filmmaker, franchise, or concept of a film that grabs the interest of cinephiles, Phoenix is one of those actors who is so consistently experimental that you're always guaranteed an interesting performance. The "Joker" Oscar winner has starred in a wide range of films that vary in quality, yet he's rarely turned in a performance that didn't automatically generate conversation.
What's remarkable about Phoenix is his consistency. After breaking out as a child star in the late 1980s, he was able to make the transition to teen and adult performances seamlessly. Yet even within these early parts, Phoenix didn't conform to generic roles and often worked in multiple genres. This is a trait that has stayed consistent until the present, where it's almost as if he is on a mission to work with every great director of the era. Phoenix has so many classics that trying to rank his greatest work was a challenge. Here are the 15 best Joaquin Phoenix movies, ranked.
15. Don't Worry, He Won't Get Far On Foot (2018)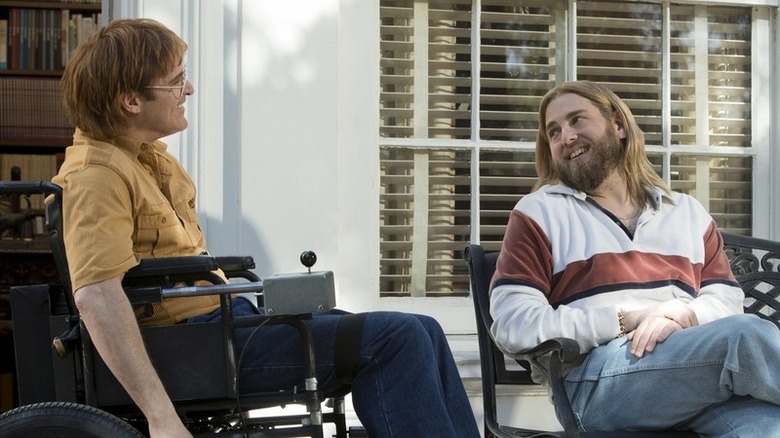 Amazon Studios
As an actor, Joaquin Phoenix is unafraid to deal with controversial or divisive subject matter. Thus, it was a natural fit for him to take on the role of the inflammatory cartoonist John Callahan in Gus Van Sant's 2018 biopic "Don't Worry, He Won't Get Far On Foot." Callahan's primal, off-color comic strips generated a lot of media controversy, but the man himself insisted it was just his way of expression and that his intentions were humorous, not political. The biopic explores the gripping struggles that Callahan went through before he put pen to paper.
Callahan was a serious alcoholic who was involved in a car accident with his drunk friend Dexter (Jack Black), which led to him becoming a paraplegic. He struggles to adjust to life as a paralyzed person, coping with the residual impacts of his drinking through the help of therapist Donnie Green (Jonah Hill), who encourages him to catalog his healing process through art.
14. The Village (2004)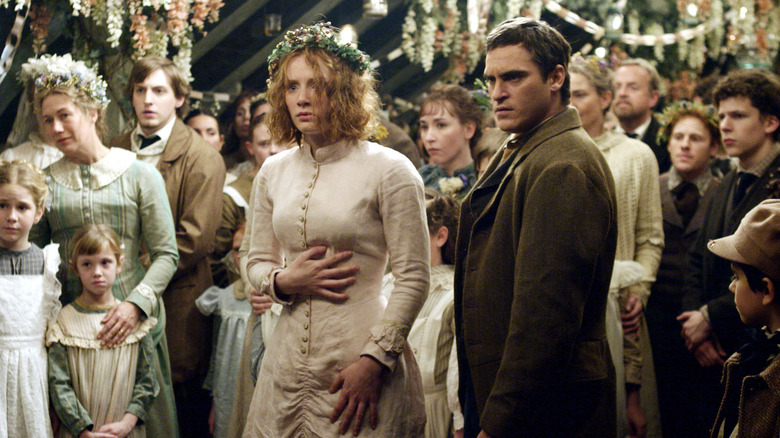 Touchstone Pictures
Joaquin Phoenix rarely feels typecast in the traditional roles that actors of his generation typically take, so it was almost surprising when M. Night Shyamalan cast him as a romantic lead in his 2004 period film "The Village." Both Shyamalan and Phoenix managed to subvert expectations with the way the film's plot twists unfold, and it remains one of the most underrated films in both of their filmographies. While some may have gone in anticipating a twist and been disappointed by the final reveal, "The Village" is a quieter film that focuses on the trauma of traditionalism.
Phoenix stars as Lucius Hunt, a young man living in a secluded community who yearns for the blind girl Ivy Elizabeth Walker (Bryce Dallas Howard). The marriage is forbidden by Elizabeth's father Edward (William Hurt), who mysteriously blocks Lucius' attempts to travel outside of their village to gather supplies. When a series of mysterious slayings begins to haunt the community, Lucius and Elizabeth work to solve the mystery.
13. Hotel Rwanda (2004)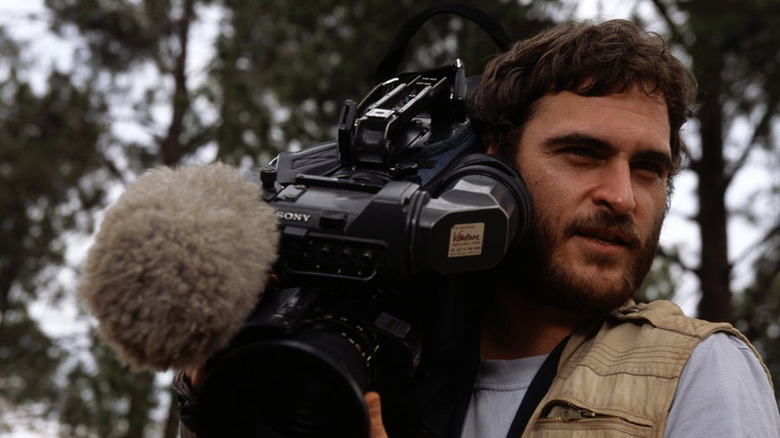 United Artists
The 2004 biographical drama "Hotel Rwanda" is one of the most important films of the 21st century, as it details the Rwandan genocide of 1994 in gripping historical detail. While the material is intensely disturbing and spotlights an underrepresented world tragedy, the story is one of perseverance and hope. It follows the efforts of the hotel manager Paul Rusesabagina (Don Cheadle) and his wife Tatiana (Sophie Okonedo) to hide refugees in their hotel and transport them to safety. Their efforts saved over 1,200 lives.
It's a story that requires a Black perspective at the center, so when Joaquin Phoenix shows up as the UN peacekeeper Jack Daglish he thankfully doesn't take over the story. Daglish is horrified to watch the tragedy unfold, but there's an element of the trauma that he can never truly imagine. Phoenix gives a sensitive performance that helps support Cheadle and Okonedos' powerful work.
12. Buffalo Soldiers (2001)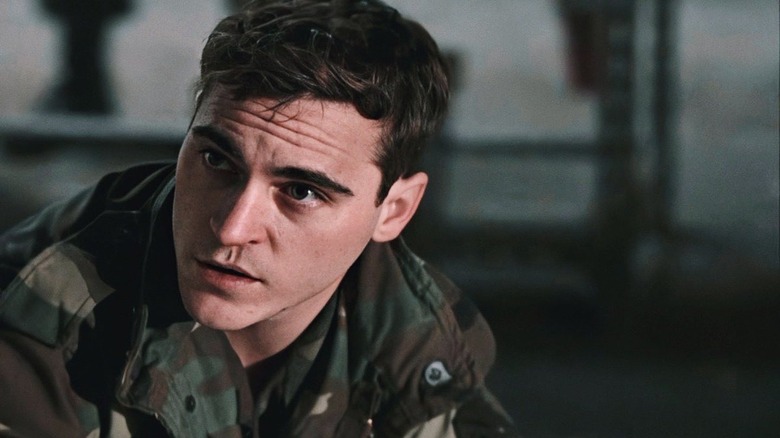 Miramax Films
The 2001 black comedy "Buffalo Soldiers" suffered from some of the worst timing possible. After it debuted at the 2001 Toronto International Film Festival where it was purchased by Miramax on September 10, the film's darkly satirical criticisms of the American military presence overseas were deemed unpatriotic in the wake of 9/11. The film's release was held for two years. It eventually debuted to a diminished audience and never received the widespread acclaim it deserved. This is unfortunate because both the film and Joaquin Phoenix's performance are highly underrated.
Phoenix stars as U.S. Army Specialist Ray Elwood, a hooligan who uses the ambivalence of his clueless commanding officer Colonel Berman (Ed Harris) to party, indulge in drug culture, and make a mockery of service. He comes into conflict with First Sergeant Robert E. Lee (Scott Glenn) when he goes out of his way to irritate him, including dating his daughter Robyn (Anna Paquin). Lee decides to make Ray's life a living hell.
11. To Die For (1995)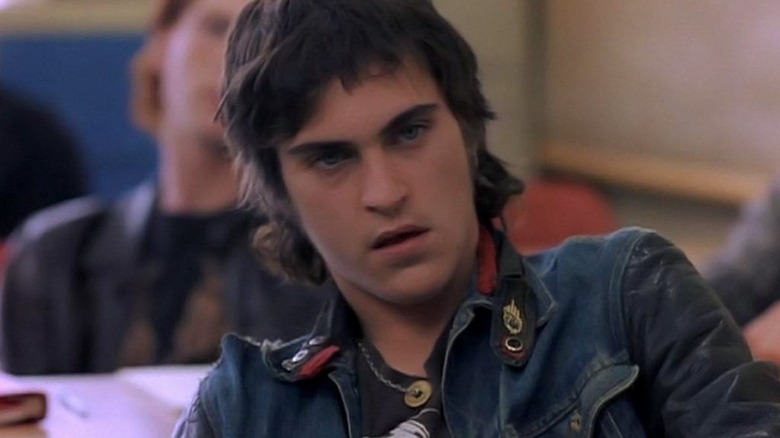 Columbia Pictures
Gus Van Sant's 1995 dark comedy "To Die For" was a film that was ahead of its time, as its satirical take on the cult of media personalities and pursuit of celebrity were relevant in the '90s, but seems downright commonplace in today's social media age. Nicole Kidman stars as Suzanne Stone-Maretto, an obsessive young broadcast journalist who rises through the ranks of the television news industry in order to become a TV reporter. She meticulously crafts her personality to be as engaging to viewers as possible while also dabbling in some serious crimes.
Joaquin Phoenix has a pivotal supporting turn as Jimmy Emmet, a lovestruck teenager who completely falls under Suzanne's spell. Jimmy is a dark and violent character, and Suzanne convinces him and his friend Russell Hines (Casey Affleck) to murder her husband Larry Maretto (Matt Dillon). Phoenix is able to play a dull, bored teenager who turns into a terrifying antagonist.
10. Inherent Vice (2014)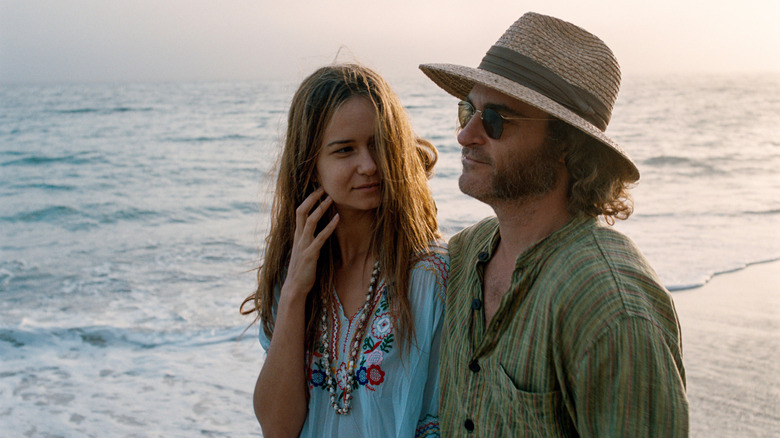 Warner Bros. Pictures
Paul Thomas Anderson's neo-noir detective saga "Inherent Vice" is a hilarious deconstruction that both pays tribute to and gleefully mocks the nature of the hard-boiled genre. Anderson's film is not an outright parody, often feeling like a profound meditation on absurdism. It features one of Joaquin Phoenix's funniest and most outrageous performances ever as Doc Sportello, who is halfway between Phillip Marlowe of "The Long Goodbye" and The Dude of "The Big Lebowski."
Doc is recruited by his ex-girlfriend Shasta Fay Hepworth (Katherine Waterston) to help her out of a dangerous situation, and he gets roped into a ridiculous conspiracy involving the local government, drug dealers, cops, and a plethora of ridiculous supporting characters. Doc is inept, but he ultimately does the right thing, and it's hilarious to watch Phoenix stumble between clues as he cracks the case. He has particularly strong chemistry with Josh Brolin's Lieutenant Christian F. Bjornsen.
9. The Sisters Brothers (2018)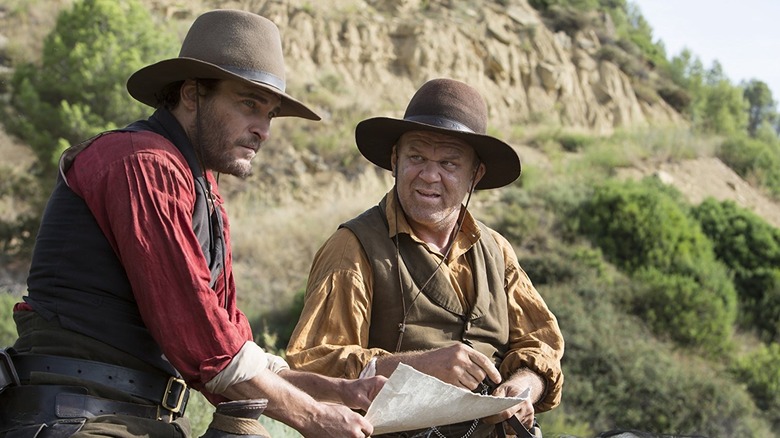 Annapurna Pictures
Without a doubt, "The Sisters Brothers" is one of the best westerns of the 2010s. While the film focuses on the world of gunslingers and bounty hunters, it's a remarkably sensitive film that shows vulnerability within its masculine characters. The movie doesn't absolve the characters for their violent actions but seeks to understand why they are drawn to this violent lifestyle.
The brothers Charlie (Joaquin Phoenix) and Eli Sisters (John C. Reilly) are a pair of bounty hunters who are hired to track down the inventor Hermann Kermit Warm (Riz Ahmed), who has supposedly discovered a method of detecting gold that is highly lucrative. Warm had formed a bond with the investigator John Morris (Jake Gyllenhaal), who has offered to protect him and join his mission to create a paradise city in Dallas. When the Sisters Brothers catch up with them, they decide to join their quest.
8. Signs (2002)
Touchstone Pictures
M. Night Shyamalan's 2002 science fiction film "Signs" is less concerned with meticulously laying out worldbuilding than it is in telling an emotional story about a family healing from tragedy. The inevitable plot twist was controversial in how illogical it was, but what's important is the emotional healing of the characters when they grow closer as a family. It's also a viscerally terrifying movie, and Joaquin Phoenix features in the film's scariest scene when his character witnesses an alien encounter on television.
The former pastor Father Graham Hess (Mel Gibson) has given up his faith and remains reclusive following the death of his wife Colleen (Patricia Kalember) in a car accident. His brother Merill (Phoenix) has moved in with him to help take care of his young children Morgan (Rory Culkin) and Bo (Abigail Breslin). Merill was once a prominent baseball player, but he never took the swing that would've made him a star player, regretting that he never lived up to expectations.
7. Parenthood (1989)
Universal Pictures
Ron Howard's "Parenthood" is a remarkable family comedy that finds painfully accurate moments of authenticity within the hilarious everyday struggles of a family. It's often a gut-busting film thanks to the amusing and embarrassing situations, but each character is incredibly well developed. Even as a teenager Joaquin Phoenix showed that he could have true emotional range and keep up with the first-rate cast. His section of the film is among the most impactful.
Helen Buckman (Dianne Wiest) is a divorced bank manager who struggles to connect with her teenage daughter Julie (Martha Plimpton) and younger son Garry (Phoenix), as her husband has completely moved on to a new family and doesn't interact with his children. Garry loves his mother, but he yearns for the presence of a male mentor and wants to contact his father. Garry gets a surprising surrogate father in Julie's slacker boyfriend Tod Higgins (Keanu Reeves).
6. C'mon C'mon (2021)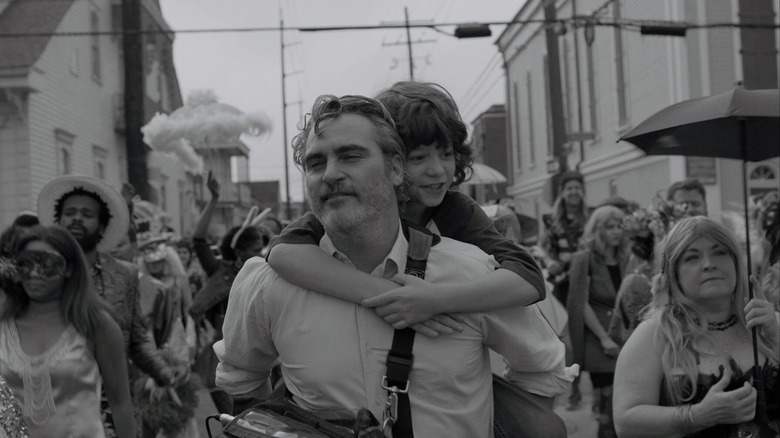 A24
Writer/director Mike Mills has made several heartwarming pictures including "Beginners" and "20th Century Women." He is someone who can tell emotionally accurate stories about human relationships without descending into melodrama. With "C'mon C'mon," Mills crafted a moving and emotional story of a family going through a crisis while growing closer as a result, featuring one of Joaquin Phoenix's finest performances.
Johnny (Phoenix) is a radio journalist going on a national tour interviewing children about their emotional upbringing for a research and documentary project. Johnny reunites with his sister Viv (Gaby Hoffman), whose husband Paul (Scoot McNairy) is suffering from a mental health crisis. Johnny wants to help his sister, so he agrees to take her son Jesse (Woody Norman) along with him on his trip. Johnny attempts to help Jesse process the complex state of his parents' relationship in order to bond with him. Phoenix was once a child star himself, so it's nice to see him give another young actor the chance to shine, and Woody Norman is an absolute revelation.
5. Gladiator (2000)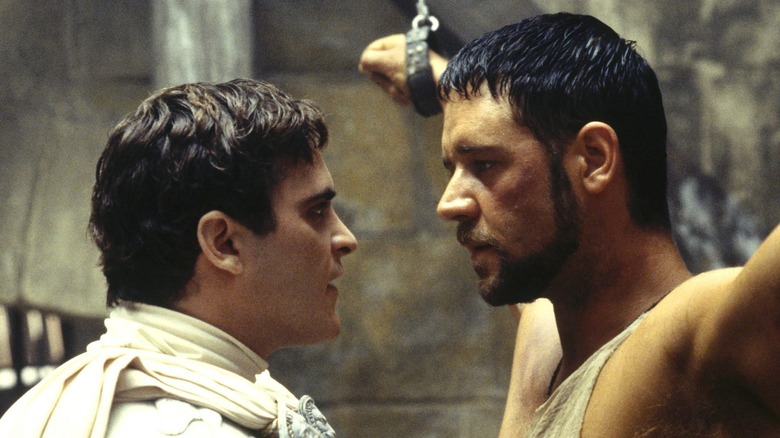 Dreamworks Pictures
What's incredible about Joaquin Phoenix is that he can often play complex characters that are meticulously crafted on the script level, demanding specificity within their depiction. However, he's also someone who can add a lot to a character that perhaps isn't as fleshed out. He likes to surprise the audience by challenging their perception of how a character should naturally develop. Ridley Scott's gripping 2000 epic "Gladiator" is one of the great sword-and-sandal films, but the emotional complexity of the story lies in the tragedy and perseverance of Russell Crowe's character Maximus Decimus Meridius. Phoenix's role as the villainous Emperor Commodus could have easily been a generic action movie bad guy, but he instilled a subtle vulnerability within the character that wasn't on the page.
Maximus is a renowned Roman General who has led many successful campaigns in the name of the Holy Roman Empire, but he's also a loving family man who wants to return home to his wife and children. He is a longtime friend of Emperor Marcus Aurelius (Richard Harris), who has grown to view him as more of a son than his actual child Commodus. Aurelius decides to make Maximus his heir, angering Commodus, who slays his father and massacres Maximus's family, sending him to a life of slavery to die within the pits of gladiatorial combat. Although he's ruthless, there's a great sadness within Commodus, as he knows he never possessed the traits that his father prized above all else.
4. The Master (2012)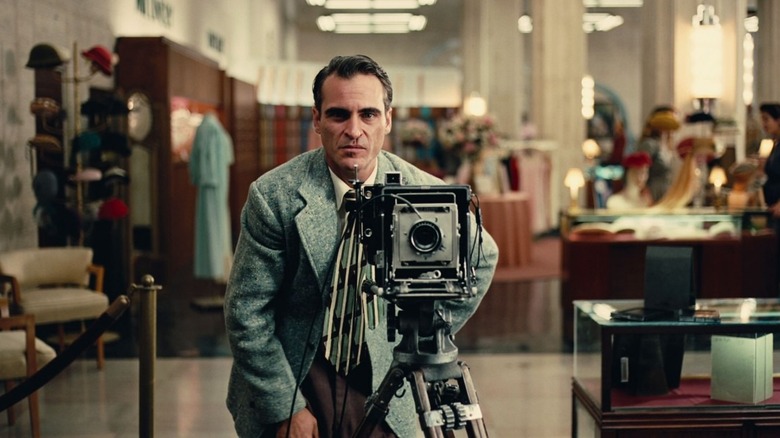 The Weinstein Company
It's no wonder that Joaquin Phoenix and director Paul Thomas Anderson are naturally aligned, as both artists tend to tell stories that are off the beaten path. Both are artists that you can guarantee interesting and emotionally challenging work from, but you can never tell what tone or story they will tackle next. Their 2012 collaboration "The Master" is one of the most challenging films of the past decade, rewarding cinephiles who return for multiple viewings. Anderson is so meticulous with his direction and Phoenix so detailed in his subtle performance ticks that not all of the nuances of the story are necessarily clear on an initial viewing.
"The Master" tells the story of elusive cult leader Lancaster Dodd (Philip Seymour Hoffman), who is inspired by Scientology founder L. Ron Hubbard. Freddie Quell (Phoenix) is a traumatized World War II veteran suffering from post-traumatic stress disorder who struggles to readjust socially. He grows fascinated with Dodd after taking part in one of his seminars. Dodd likewise grows interested in Freddie, inviting him to join his movement which has a vague set of beliefs on the essence and origin of humanity. Freddie grows more and more radicalized as he joins Dodd's inner circle, but eventually becomes convinced that Dodd is just making it all up as he goes along.
3. Walk the Line (2005)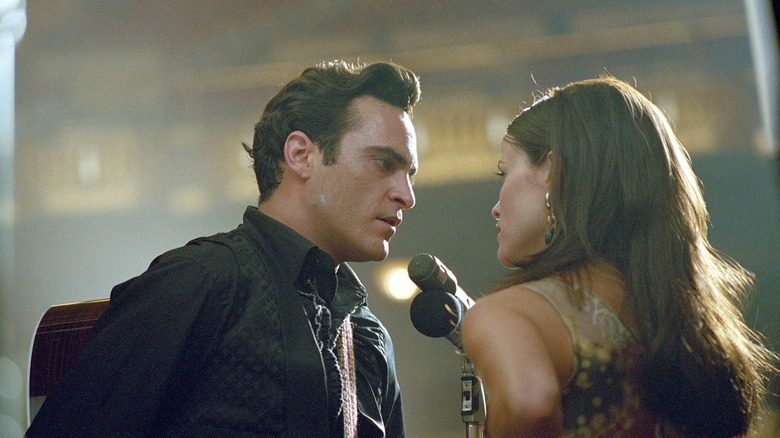 20th Century Fox
Joaquin Phoenix often transforms into characters that are purely from the imagination of the filmmaker, but he's also shown a remarkable ability to capture true figures from history. It's one thing to craft an original character out of thin air, but stepping into a persona that the viewer may already be familiar with is a far different challenge. This is intensified in musician biopics that require an actor to deliver iconic musical numbers which look and sound exactly like the famous performer.
James Mangold's 2005 biopic "Walk the Line" allowed Phoenix to deliver a performance as Johnny Cash that is downright irreplaceable. He completely captures the essence, charisma, and persona of one of the most famous country and rock stars who ever lived. His voice is nearly indistinguishable from Cash's signature bass-baritone, and he delivers amazing renditions of his greatest songs. If you play one of Cash's tracks back-to-back with Phoenix's cover version, it's completely understandable if you cannot tell the difference. It would be one thing for Phoenix to just transform into Cash, but "Walk the Line" gives insights on how Cash built his career and the events in his life that paved the way for his rebellious persona. Particularly engaging is Cash's on-again, off-again romance with his wife June Carter (Reese Witherspoon).
2. Her (2013)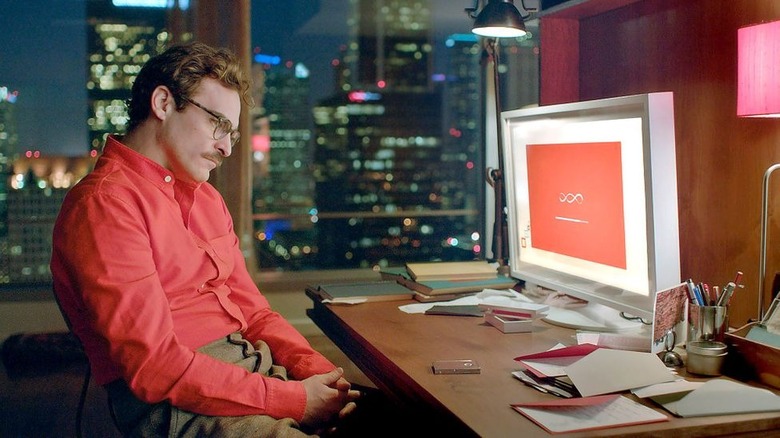 Warner Bros. Pictures
Joaquin Phoenix is an incredibly sensitive performer who can create emotionally devastating performances, and while he doesn't typically associate himself with old-fashioned movie star charisma, he can be very likable onscreen. Phoenix's relatable qualities don't stem from any desire to charm the viewer, but rather an empathy for strange and offbeat characters who struggle to fit within social norms. Spike Jonze's sci-fi romantic drama "Her" has a pretty "out there" premise that some may dismiss as a complete joke, but Phoenix committed to the material to deliver one of his most heartbreaking performances.
Set within a not-too-distant-future Los Angeles, "Her" drops us into a world where artificial intelligence is even more prominent than it is today. Technology has continued to advance to the point that regular interaction between humans is almost dismissed as strange. Phoenix stars as Theodore Twombly, a perpetually lonely writer who is suffering from a breakup with girlfriend Catherine Klausen (Rooney Mara). Theodore's coworker Paul (Chris Pratt) encourages him to try a new artificial intelligence system that will manage his affairs, and Theodore selects the voice of Samantha (Scarlett Johansson). In his loneliness, Theodore begins to have long conversations with Samantha, who becomes more and more curious about human nature. Eventually, Theodore discovers that he has actually fallen in love with this unseen presence, and attempts to make their nontraditional relationship work.
1. You Were Never Really Here (2017)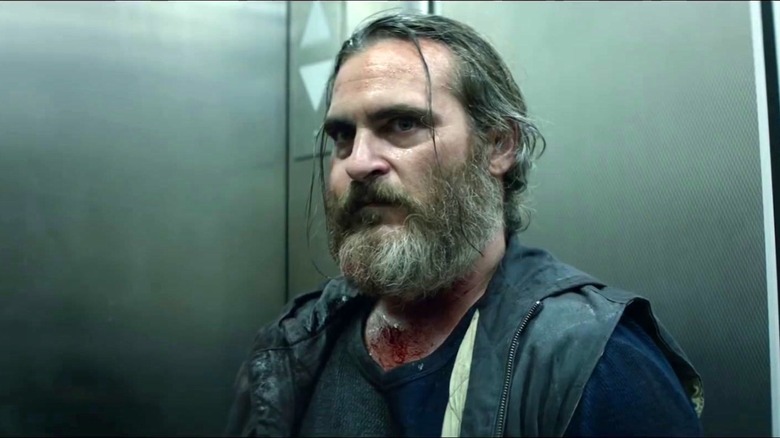 Amazon Studios
Lynne Ramsay has an incredible ability to psychologically torment viewers by grabbing their attention with shocking imagery, austere camera choices, and gripping emotional stories. Viewers can expect that a new Ramsay film is likely to be emotionally devastating, but what makes her films so impactful is the connection the viewer has with the characters. With her 2017 thriller "You Were Never Really Here" (released theatrically in the U.S. in 2018), she gets the most emotionally vulnerable and physically demanding performance of Joaquin Phoenix's entire career. It's a case where the impulses of the filmmaker and star were completely aligned, resulting in a film that will stand the test of time.
Phoenix stars as Joe, a former war veteran who struggles with post-traumatic stress disorder from both his time in combat as well as painful childhood memories of depression and self-harm. Joe seeks to utilize his military training for good by working as a bounty hunter of sorts that rescues kidnapped children from human trafficking. Joe is hired by Senator Albert Votto (Alex Manette), whose young daughter has gone missing. Joe's dark, brooding nature is contrasted with the genuine love he shows for his mother (Judith Roberts), and during the film's gripping action sequences Phoenix commits to the demanding physicality of wielding a hammer. He has a quiet resonance, often staying silent as Jonny Greenwood's gorgeous score plays.