Superhero Bits: Rihanna's New Black Panther: Wakanda Forever Song, A Vision Series & More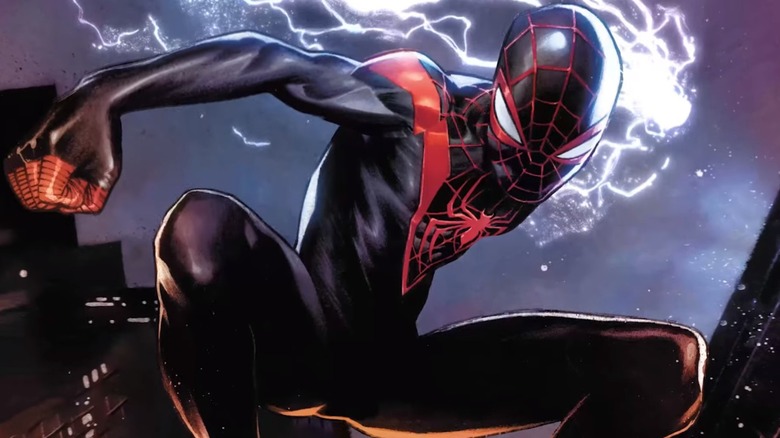 Marvel Comics
(Superhero Bits is a collection of stories, updates, and videos about anything and everything inspired by the comics of Marvel, DC, and more. For comic book movies, TV shows, merchandise, events, and whatever catches our eye, this is the place to find anything that falls through the cracks.)
In this edition of Superhero Bits:
The director of "Barbarian" wrote a movie set in Gotham City.
Listen to Rihanna's new song for "Black Panther: Wakanda Forever."
A Vision series might be in the works for Disney+
"Marvel Snap" has been a huge success so far.
How the story for the Guardians of the Galaxy game came to be
"Marvel's Guardians of the Galaxy" video game may not have been as big of a hit as many had hoped it would be, but the game did garner very favorable reviews and those who did play it generally liked it. That was, in no small part, thanks to the story at the center of the journey. The above video sheds some light on how that story came to be, with lead writer Kasper Hartman taking us through the process. Check it out for yourself above.
Marvel Snap did very well in its first week of release
"Marvel Snap" is a new free-to-play mobile card game that arrived recently, and Samuel L. Jackson even did a commercial for it as Nick Fury. Well, the strategy has paid off as the game was downloaded more than 5 million times in its first week, generating $2 million in revenue. As is always the case, these "free" games really can be huge for a company's bottom line. Just look at "Fortnite." Marvel appears to be getting in on the goods with this one.
Wait, is Marvel making a Vision show for Disney+?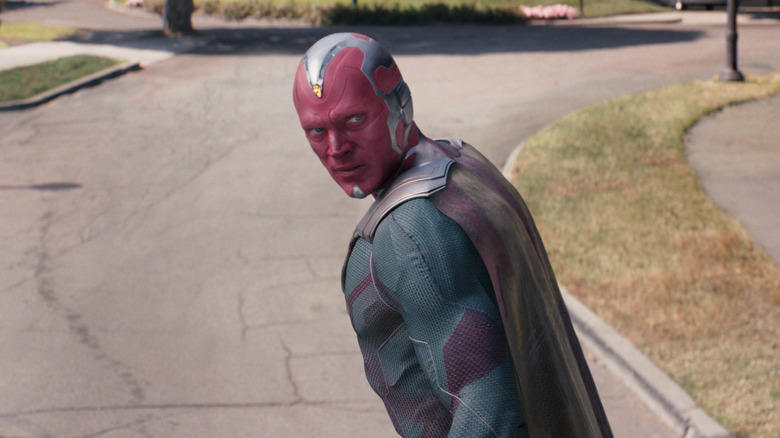 Marvel Studios
What's the time? It's rumor time! The ending of "WandaVision" left us uncertain regarding the future of Vision in the MCU. However, if reporter Jeff Sneider is to be believed, he's coming back for his very own show. On a recent episode of "The Hot Mic" podcast, Sneider revealed that Marvel Studios is gearing up for a series titled "Vision Quest," with a writer's room opening up shortly.
"I'm told that next week, Marvel will be opening a writers' room for a Vision show titled 'Vision Quest'."
If a writer's room is opening next week, we'll likely hear something more official on this front sooner rather than later. And, as it turns out, this rumor is true — confirmed by Deadline. 
Will Namor get a solo movie? Kevin Feige weighs in!
Namor is about to make his live-action debut in "Black Panther: Wakanda Forever, with Tenoch Huerta taking on the role. But is the Sub-Mariner destined to get a solo film in the MCU? During the movie's world premiere recently, a Namor cosplayer snuck the question to Marvel Studios head Kevin Feige who, somewhat surprisingly, addressed the topic in earnest. "We'll see," Feige said indecisively. "Depends on this." A seemingly honest answer. If this movie makes $2 billion, yeah we're probably going to see a whole lot more from Namor in the future, it stands to reason. So, in short, we'll see. But Feige has wanted this character on screen for a long time, so surely he'd like to see it be more than a one-off.
Barbarian director Zach Creggor wrote a movie set in Gotham City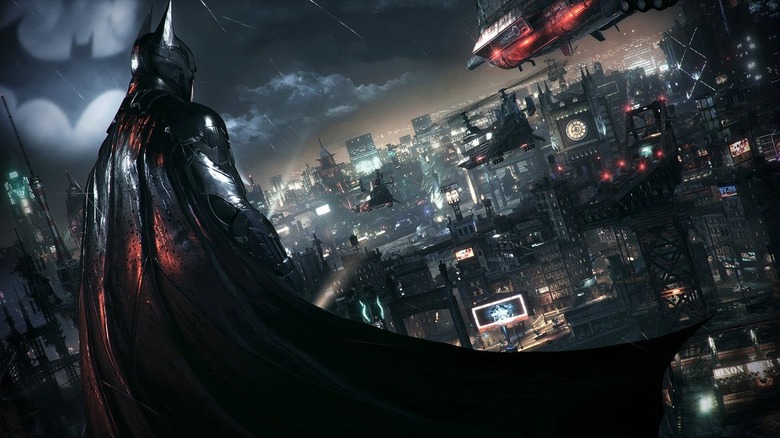 Warner Bros. Games
"Barbarian" has turned into one of the most unexpected hits of the year, meaning that director Zach Cregger is certainly going to be taking some meetings with big studios about big movies. But in a recent conversation with Comicbook.com, the filmmaker revealed that he actually wrote a movie that takes place in Gotham City that he is very excited about. The only problem? Nobody at Warner Bros. or DC knows about it...yet.
"There are conversations about existing I.P. franchise that I can't talk about and then there's a script I wrote before Barbarian that takes place, um, in Gotham City. And, uh, I actually love... I think that's my favorite thing I've written believe it or not, so I don't know what's gonna happen with that. Nobody from Warner Bros. or DC. I have not talked to anybody about it. I hope to one day."
Perhaps someone (paging James Gunn and Peter Safran) should get Cregger on the phone.
A new clip from Black Panther: Wakanda Forever has surfaced
With "Black Panther: Wakanda Forever" hitting theaters on November 11, Marvel is ramping up the marketing in a big, big way. To that end, a new clip from the film has surfaced, and it sees the nation of Wakanda under attack from a certain subterranean group that has it in for the surface world. The clip goes pretty heavy on Letitia Wright's Shuri and Winston Duke's M'Baku, with lots of action (and maybe some iffy CGI?) to fill the time.
James Gunn is not having it with your Marvel vs. DC rivalry nonsense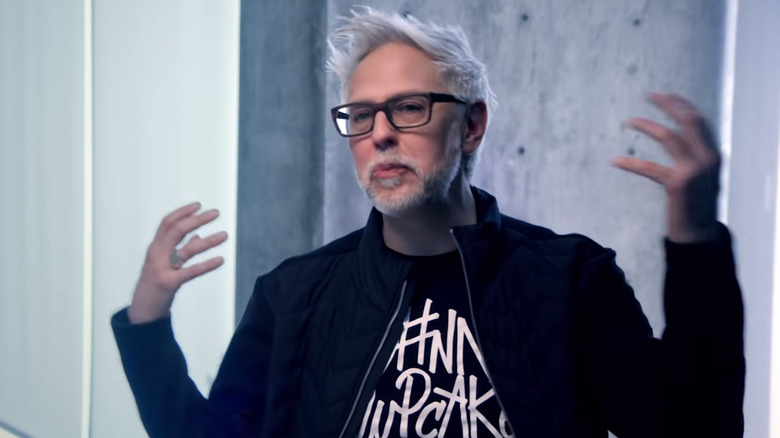 Warner Bros.
In case you have been living under a rock, "Guardians of the Galaxy" director James Gunn has a new gig as the co-head of the newly-formed DC Studios. So yeah, he's a big deal. But given that Gunn, director of "The Suicide Squad," has done a lot of work for Marvel Studios, this has renewed some Marvel vs. DC, tribal-like debate. Gunn is having none of it. Responding to a since-deleted tweet, Gunn made his position on the matter crystal clear.
"Not only do I love Kevin, he was the 1st person I told after I did the deal with DC (@JohnCena was the 2nd). Contrary to popular belief, a dollar less for Marvel is not a dollar more for DC. DC & Marvel have the common goal of keeping the theater-going experience vibrant & alive!"
So there we have it, the heads of Marvel Studios and DC Studios, respectively, get along and, ultimately, want the same thing. We can put this one to bed, right?
Listen to Lift Me Up, Rihanna's song for the Wakanda Forever soundtrack
We learned earlier this week that Rihanna's first song in five years is going to be for arguably the biggest movie of the year, "Black Panther: Wakanda Forever." Well, now that song is here and "Life Me Up" is available to stream from your platform of choice. The link above is for Spotify but it is available just about everywhere. Eventually, it will make its way out into the world as part of the full soundtrack but, for now, enjoy the single.
Marvel Comics releases a trailer for Miles Morales: Spider-Man #1
A new era begins for Miles Morales later this year with the launch of a brand new solo title from writer Cody Ziglar and artist Federico Vicentini. So, what is in store for Mr. Morales? The trailer for "Miles Morales: Spider-Man" #1 gives us an idea and, to put it simply, it appears as though our hero is in for a rough ride. The logline for the book reads as follows.
In MILES MORALES: SPIDER-MAN, a new villain called Rabble will emerge from the shadows. For years, this tech genius has plotted her revenge, but she is finally ready to unleash an assault on everything and everyone Miles Morales loves...and she isn't pulling any of her punches. By the time she is through, Spider-Man's world will be changed forever.
"Miles Morales: Spider-Man" #1 hits shelves on December 27.