Rihanna's Black Panther: Wakanda Forever Song Drops This Friday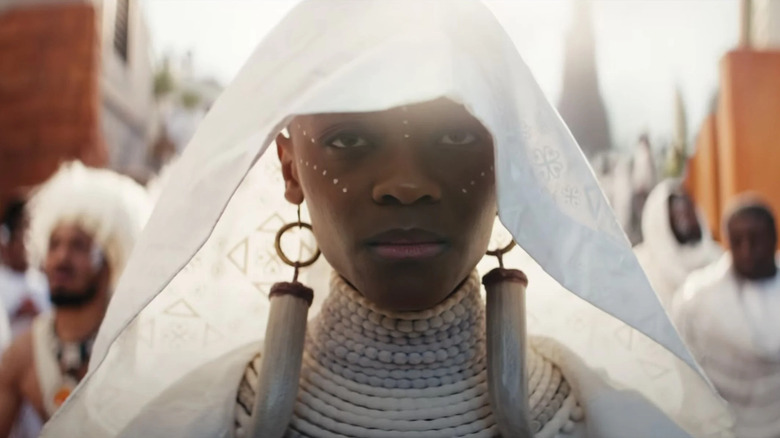 Marvel Studios
Rhianna has finally returned to save music and, while she's at it, cinema. The global popstar is making her much-anticipated return to the airwaves with a new original song for the soundtrack of "Black Panther: Wakanda Forever." The lead single, "Lift Me Up," will debut this Friday, October 28.
Per the press release, "Lift Me Up" was written, "as a tribute to the extraordinary life and legacy of Chadwick Boseman." Just in case you weren't sure about your ability to make it through the film without tears, Rhianna's got you covered (though let's face it, based on the incredibly emotional trailer, we were always doomed). The song is a collaboration between Tems, Oscar winner Ludwig Göransson, Rihanna, and Ryan Coogler.
Yes folks, we did it! We made it through the Rhianna drought and now our patience will finally be rewarded! We won't get to enjoy the song in full until Friday, but the benevolent songstress that she is, Rhianna has released a short snippet of the song to tease its release:
lift me up
10.28.22 pic.twitter.com/hIvhUQP8Bj

— Rihanna (@rihanna) October 26, 2022
This clip is 13 seconds long and doesn't include a single lyric, but I'll be damned if I don't play it 100 more times before Friday. For fans of Rhianna (which I assume includes the entire global population) this is a very big deal. This marks her big return to music, since 2016's "Anti." But it's also a very exciting development for anyone with plans to see "Wakanda Forever" — which is, evidently, a lot of people.  
Part of what made "Black Panther" so widely beloved was the score and soundtrack, a collaboration between Göransson and Kendrick Lamar that made serious waves. The soundtrack received plenty of high praise, not just as a companion to the film but as a rap album in and of itself. Those are big shoes for this sequel to fill and partnering with Rhianna is a surefire way to assuage any fears.
Get ready for another exciting Black Panther soundtrack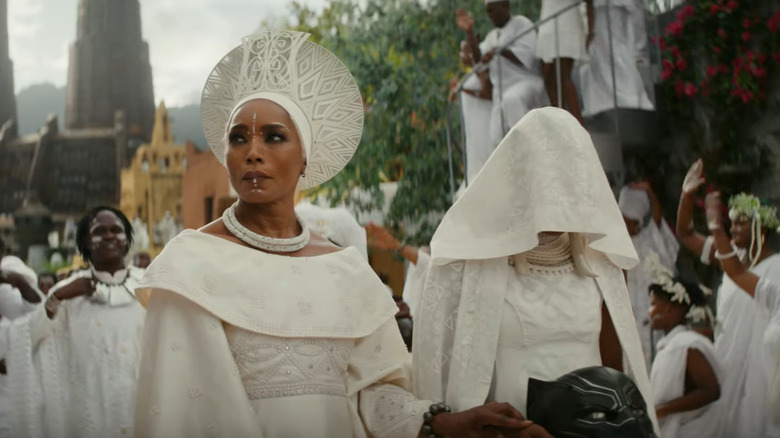 Marvel Studios
Tems, a Nigerian record producer and singer-songwriter, had this to say about the song:
"After speaking with Ryan and hearing his direction for the film and the song, I wanted to write something that portrays a warm embrace from all the people that I've lost in my life. I tried to imagine what it would feel like if I could sing to them now and express how much I miss them. Rihanna has been an inspiration to me so hearing her convey this song is a great honor."
After "Lift Me Up" arrives on October 28, the full soundtrack, "Black Panther: Wakanda Forever – Music From and Inspired By," will be available on November 4. The "Black Panther: Wakanda Forever – Original Score," composed and produced by Ludwig Göransson, will be available on November 11, the same day that the film arrives in theaters.
In Marvel Studios' Black Panther: Wakanda Forever – one of the most highly anticipated film events of the year – Queen Ramonda (Angela Bassett), Shuri (Letitia Wright), M'Baku (Winston Duke), Okoye (Danai Gurira) and the Dora Milaje (including Florence Kasumba) fight to protect their nation from intervening world powers in the wake of King T'Challa's death. As the Wakandans strive to embrace their next chapter, the heroes must band together with the help of War Dog Nakia (Lupita Nyong'o) and Everett Ross (Martin Freeman) and forge a new path for the kingdom of Wakanda. Introducing Tenoch Huerta Mejía as Namor, king of a hidden undersea nation, the film also stars Dominique Thorne, Michaela Coel, Mabel Cadena and Alex Livinalli.
"Black Panther: Wakanda Forever" will hit U.S. theaters starting on November 11, 2022.