Henry Cavill Promises That His Superman Return Will Tell An 'Enormously Joyful' Story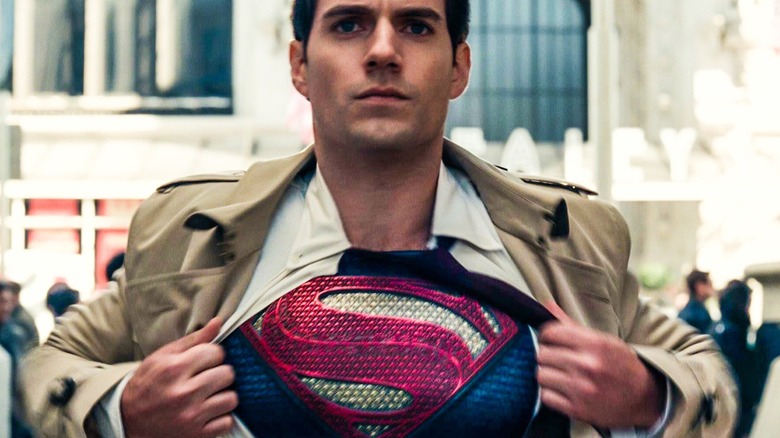 Warner Bros.
Who knew a quote like this would ever actually make headlines, but here we are.
Everyone under the sun is familiar with the story of Superman and his feel-good origins. As with the vast majority of modern adaptations of classic material, however, things took a turn for the morally grey when it came time for actor Henry Cavill to slip on the cape in Zack Snyder's 2013 big-screen reboot, "Man of Steel." Despite a famously well-received teaser trailer that seemed to foreground all those old-fashioned ideas about Superman inspiring hope and goodness and the drive to be the best version of ourselves, the actual movie itself proved to be ... slightly more divisive, as one might expect from a filmmaker with those particular set of narrative sensibilities.
Although even the biggest supporters of the movie at the time insisted that we'd see a more familiar incarnation of Superman the next time around, audiences received an even darker and more brooding take on the fan-favorite hero in "Batman v Superman: Dawn of Justice." The chaotic circumstances surrounding the neutered theatrical cut of the subsequent "Justice League" movie and the fan-driven campaign to restore "Zack Snyder's Justice League" perhaps best represents the clashing trains of thought behind Cavill's depiction of Kal-El/Clark Kent. Which version do audiences prefer: the do-gooder who spouts lines about truth and justice, or the existentially conflicted lost soul who can never be quite as good as the world needs him to be?
Well, that question may have been answered by the actor himself. In the wake of his post-credits cameo in "Black Adam" and his celebratory social media post, Cavill further addressed his return as Superman and made no secret of how he wants to portray the superhero.
'A bright future ahead'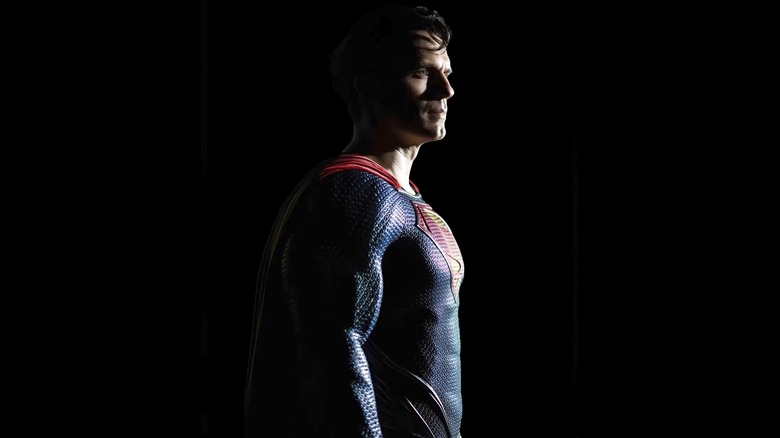 Warner Bros.
Much has been made about Warner Bros.' approach in establishing the DC Universe (not the DCEU!), specifically when it comes to the character of Superman. Audiences aren't interested in old-school, good-vs-evil storylines anymore — or so the conventional wisdom among certain circles claimed, at least — and the biggest boy scout of them all needed to be reinvented for more modern tastes. But perhaps that narrative was a bit too hasty, after all. With fans clamoring for the return of Henry Cavill in the role of what should be DC's flagship character (as opposed to Batman, for instance), the actor himself has spoken out about how he prefers to portray the biggest superhero of them all.
While talking to MTV's Josh Horowitz for his Happy/Sad/Confused podcast (via THR), Cavill eagerly responded to how he sees the future of Superman in the DC Universe after remaining stuck in limbo for the last five-plus years.
"There is such a bright future ahead for the character, and I'm so excited to tell a story with an enormously joyful Superman."
This would certainly be a far cry from how we've seen Superman depicted on-screen in his last few appearances, though it should be emphasized that this wasn't meant as a shot fired at Zack Snyder himself. In fact, it sounds like a performer finally getting the chance to put a fresh spin on a role that he's been passionate about ever since he was first cast. Although even Cavill has previously acknowledged the challenges of writing Superman stories, it's exciting to see his enthusiasm for what's to come next.
Will Cavill's next appearance as a much more familiar Superman be in another solo film, a beat-down brawl with "Black Adam," or something else entirely? We'll have to wait and see.