Superhero Bits: The Rock On The Black Adam Post-Credits Scene, Kang Is Going To Be Very Buff & More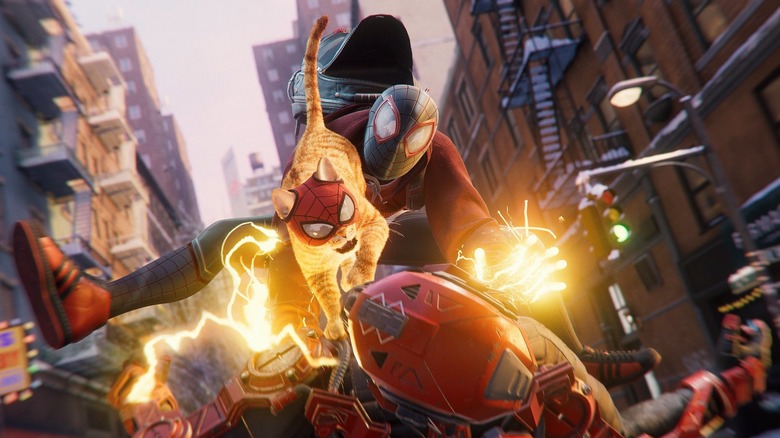 Insomniac Games
(Superhero Bits is a collection of stories, updates, and videos about anything and everything inspired by the comics of Marvel, DC, and more. For comic book movies, TV shows, merchandise, events, and whatever catches our eye, this is the place to find anything that falls through the cracks.)
In this edition of Superhero Bits:
"Marvel's Spider-Man: Miles Morales" comes to PC soon.
The Rock is not playing coy about the "Black Adam" post-credits scene.
DC is making a "Legion of Super-Heroes" animated movie.
Jonathan Majors got buff to play Kang the Conqueror.
Mickey Mouse and Minnie Mouse invade Marvel Comics covers next year
Disney is getting ready to celebrate 100 years in 2023 and, since Marvel is a big part of the family now, Marvel Comics is getting in on the festivities. As we can see here, Mickey Mouse, Minnie Mouse, and other Disney icons are going to appear on a series of Marvel Comics covers to help commemorate the occasion. Full details can be found by clicking here.
Stargirl season 3 Infinity Inc Part One promo
Here is the official promo for the seventh episode of the third season of "Stargirl" on The CW:
After Beth (Anjelika Washington) makes a major discovery on The Gambler's laptop, the team moves forward with a risky plan that effects the entire town of Blue Valley. Elsewhere, Jennie (guest star Ysa Penarejo) returns to the fold seeking help from Courtney (Brec Bassinger).
Glen Winter directed the episode, which was written by James Dale Robinson.
Legion of Super-Heroes animated movie arrives in 2023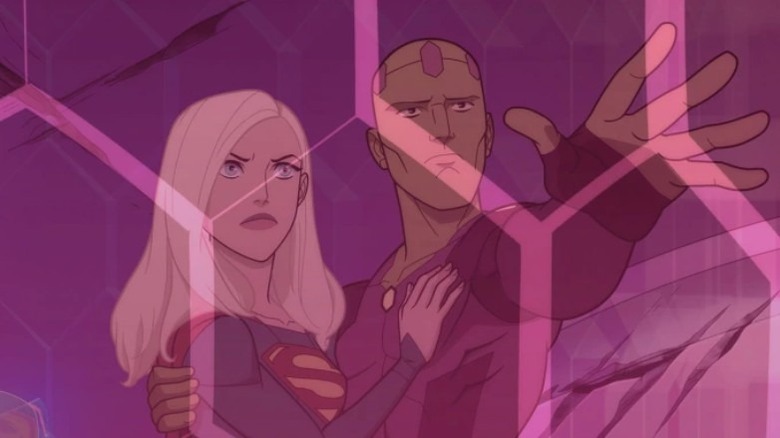 Warner Bros.
The Hollywood Reporter has the details on DC's next animated movie, which arrives in 2023 in the form of "Legion of Super-Heroes." The cast is A-list top to bottom, headlined by Meg Donnelly as Supergirl, Harry Shum Jr. stars as Brainiac 5, Darren Criss as Superman, Matt Bomer as The Flash, and Jensen Ackles as Batman. A synopsis for the film reads as follows:
The story picks up as Kara, devastated by the loss of Krypton, struggles to adjust to her new life on Earth. Her cousin, Superman, mentors her and suggests she leave their space-time to attend the Legion Academy in the 31st century, where she makes new friends and a new enemy: Braniac 5. Meanwhile, she must contend with a mysterious group called the Dark Circle as it searches for a powerful weapon held in the Academy's vault.
The ensemble also includes Cynthia Hamidi as Dawnstar, Gideon Adlan as Phantom Girl, Ely Henry as Bouncing Boy, Robbie Daymond as TimberWolf/Brainiac 4, Yuri Lowenthal as Mon El, Eric Lopez as Cosmic Boy/Chemical King, Darin De Paul as Brainiac/Solomon Grundy, Ben Diskin as Arms Fall off Boy/Brainiac 2, Victoria Grace as Shadow Lass, Jennifer Hale as Alura, Daisy Lightfoot as Triplicate Girl, and Zeno Robinson as Invisible Kid/Brainiac 3.
Iron Man gets a magic suit in Marvel's Avengers
🐉 Inspired by "Tony Stark: Iron Man No. 13," Iron Man's 'Magic Modified' comics-accurate Outfit depicts the suit he wore in his battle against the dragon Sadurang.

✨ Available tomorrow in the Marketplace! pic.twitter.com/g3Udknxi61

— Marvel's Avengers (@PlayAvengers) October 12, 2022
Those who are still playing "Marvel's Avengers" now have access to one of the most unique suits to arrive in the game since it debuted more than two years ago. As seen above, the game's item shop now contains a "magic modified" suit for Iron Man, which is ripped directly from the comics. Specifically, pages of "Tony Stark: Iron Man" #13. It will be interesting to see what this suit actually looks like in action as it's pretty far removed from what we're accustomed to seeing Tony Stark in when he's in superhero mode.
Black Adam arrives in Injustice 2 Mobile
The era of Black Adam is upon us, DC fans, and with The Rock playing the part in the movie, Warner Bros. is making sure anywhere the DC name is found, this character will be there. Case in point, Black Adam is now part of "Injustice 2 Mobile," and we've got a little reveal trailer to showcase his general, industructive brand of badassery. It largely resembles one of the major action sequences from the trailer for "Black Adam," which hits theaters next week on October 21. But, for now, "Injustice 2 Mobile" players can find him in the game.
Scott Derrickson could have made Ghost Rider 2, but he made Sinister instead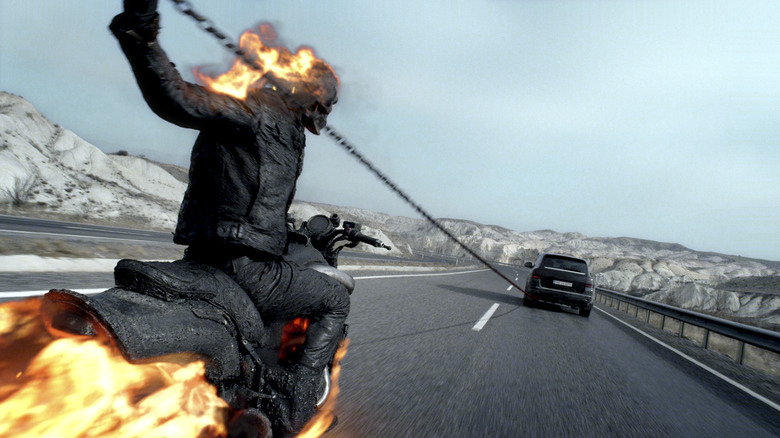 Sony Pictures
Scott Derrickson made a big impact on the MCU by directing 2016's "Doctor Strange," introducing the mystical side of the Marvel universe. But it turns out that Derrickson could have made a very different Marvel movie a few years earlier. In my recent oral history documenting "Sinister" for its 10th anniversary. Derrickson revealed that he was actually offered the chance to direct "Ghost Rider 2," aka "Ghost Rider: Spirit of Vengeance."
"So my attitude going into Sinister, the reason why I said yes to Jason [Blum] immediately was, I was like, 'Okay, this is it. If this is the last film I ever get to make ...' I was getting offered things like 'Ghost Rider 2.' If I had made that movie, I probably never would've worked again. And I was passing on the few things I was getting offered ... When Jason came to me and said, 'I'll give you a $3 million and final cut,' I was like, okay, great. Well, if this is the last movie I get to make, I'm going to make a movie that I want to see.'"
In the end, it all worked out, as "Sinister" became a big hit and that helped get Derrickson the "Doctor Strange" job.
The Rock all but confirms who is in the Black Adam post-credits scene
Dwayne Johnson is in full promo mode for "Black Adam" ahead of its release next week. The wrestler-turned-actor recently popped by "The Tonight Show" to speak with Jimmy Fallon about it. The host kept a bad poker face in discussing the movie's post-credits scene, teeing up the ball for The Rock to run with it. I won't spoil it here but the man does a very, very bad job of playing coy and all but says what we can expect in that scene. It's probably not a big surprise to anyone at this point but it's downright impressive how close he comes to just letting the cat out of the bag.
Jonathan Majors packed on ten pounds of muscle to play Kang
As we can see, Jonathan Majors is the subject of a new Men's Health cover story. As we can also see, the actor tasked with playing Kang the Conqueror in "Ant-Man and the Wasp: Quantumania" is buff AF. This is confirmed in the profile, as it is revealed that the actor put on 10 pounds of muscle for the role. My thought looking at those photos is...only 10? Marvel Studios head Kevin Feige weighed in on the actor, in a broad sense, with the following:
"Jonathan is an incredibly compelling actor who puts in the work yet makes it look effortless, and he's also just cool–everyone pays attention when he steps into the room."
One imagines everyone would pay attention to him in a room, yes. Be on the lookout for Kang to f***k it up on screen next year, and presumably for the next few years in the MCU leading up to "Avengers: The Kang Dynasty."
Spider-Man: Miles Morales gets a PC release date, new trailer
Lastly, following the success of "Marvel's Spider-Man" on PC, the folks at Sony and Insomniac Games have decided to bring "Marvel's Spider-Man: Miles Morales" to PC as well. The above trailer offers an overview of the benefits of playing the game on PC, while also revealing the release date. Luckily, it won't be a long wait as the game is set to arrive on a computer near you on November 18, 2022.