Olivia Cooke Wasn't Sure She Wanted To Win Her House Of The Dragon Role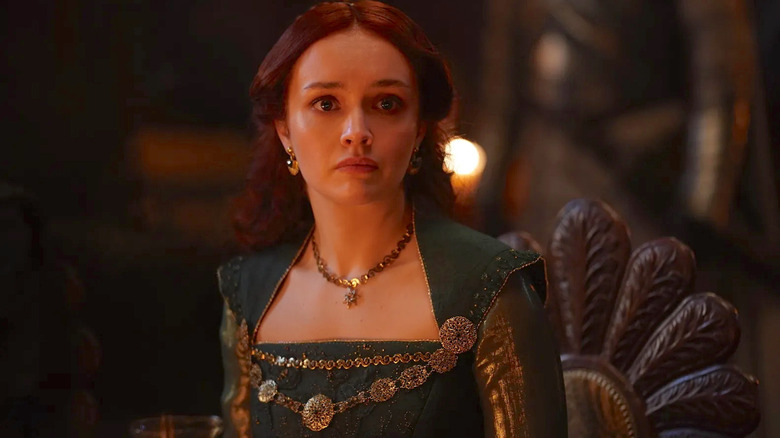 HBO
"Game of Thrones" may have one of the most widely derided series finales in the history of television, but that hasn't stopped HBO from searching for ways to continue expanding the universe of this still massively popular show. I was not a fan of the way the original series — which I loved — wrapped up and I have to admit that tempered my expectations for "House of the Dragon." I'm happy to report that the prequel is not only pretty great, but rather than being a retread, is building on the world original author George R.R. Martin created in unique and exciting ways.
The show has featured several major time jumps and while Olivia Cooke was cast first as Alicent Hightower, the younger version of her character was played by Emily Carey for the first half of the season. Some viewers were apprehensive when the young actors were replaced with their adult counterparts, but I think we can all agree that Cooke is killing it. Considering how intense "Game of Thrones" fans can be and the ridiculous amount of scrutiny the actors must endure, it's understandable that not everyone would want a piece of that particular pie. Cooke had to think long and hard about whether or not she would even take on the role in the first place.
'I don't know if this is what I want for my life'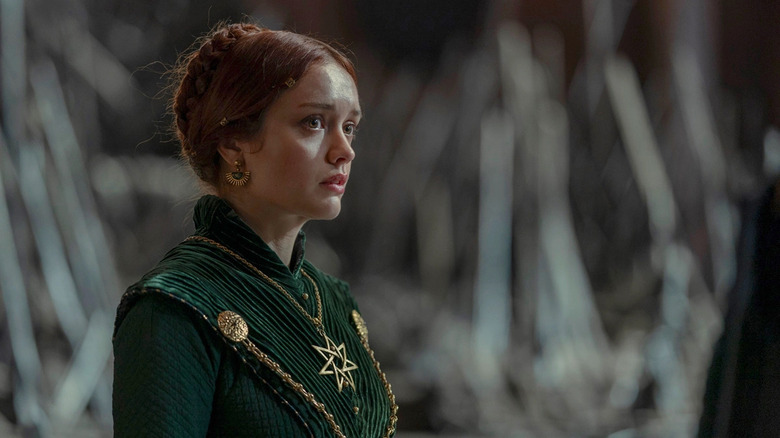 HBO
In an interview with The Guardian, Olivia Cooke explained that before "House of the Dragon," she had found a "sweet spot." After living in New York for quite some time, she'd returned to London, reconnected with friends and ultimately, found herself in a more secure place than she'd been in her early 20s. She even referred to the pause in her career thanks to the pandemic as "a tonic" and said that in London she felt like she'd "come home."
Cooke had appeared in projects as varied as "Bates Motel," "Me and Earl and the Dying Girl," and "Thoroughbreds," but she knew her relative anonymity could vanish if she landed the role in "House of the Dragon," not to mention the sense of peace she'd only recently acquired. She knew full well of the toll "so many opinions" can take. Cooke said, "When I was auditioning, I was definitely like: 'I don't know if this is what I want for my life.' But then I got to see the first two scripts, and it was good."
She went on to discuss the way Alicent has been used and abused by the patriarchy, calling her "an incubator who's been indoctrinated to be fine with it, and to know her place within the court." Cooke continued, "But that's not to say that she's not got agency, or power and intelligence — it's just a really interesting amalgamation."
'What have I done?'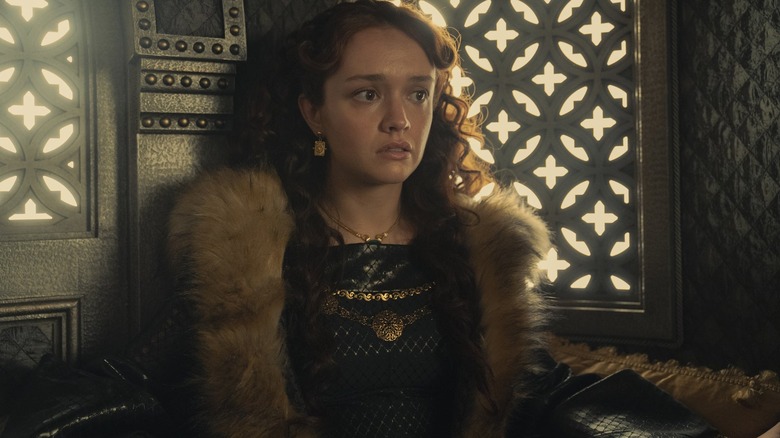 HBO
There was another upside to Cooke playing Alicent as well. The actress would be able to remain in London because "House of the Dragon" was filmed on Warner Brothers' new digital production stage in Watford. Cooke described it as "alluring" that she would be able to remain in one place for a year. Three months after auditioning the actress learned she'd been cast as Alicent. She said of the landing the part, "It felt amazing. But then also, obviously — oh my God. Is my life about to change in a really scary way? And: what have I done?"
Cooke is right about Alicent being very well-rendered. Emily Carey's performance laid some important groundwork in terms of the audience empathizing with her and Cooke has built upon that, giving us a truly nuanced portrayal of a very complicated character. The change in actors was not only rather seamless, but also worked really well in the context of the story "House of the Dragon" is trying to tell. After all, the women of the back half of the season aren't the same girls we got to know during those earlier episodes. Let's all be grateful Cooke took on the role as we impatiently await the season's penultimate episode.