Wendell & Wild Trailer: A Familiar Yet Unique Stop Motion Teen Horror From Two Greats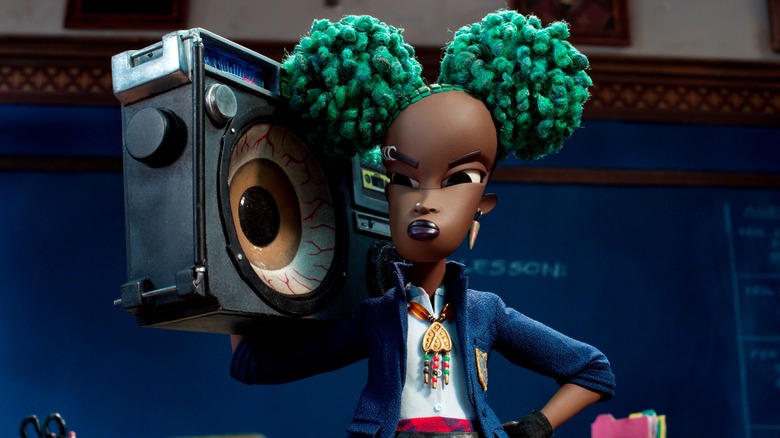 Netflix
The team-up you never knew you needed — director Henry Selick and producer Jordan Peele — is inching ever closer, friends. The upcoming Netflix animated film "Wendell & Wild" has a brand new trailer, and needless to say, the new sneak peek has us just as hyped up for its release as the last one (which was technically just a teaser).
In the new trailer, we meet Kat, a teenage "Hell Maiden" who comes face to face with a team of demons (voiced by Jordan Peele and his comedy partner, Keegan-Michael Key) who want out of the Underworld. It is clearly up to Kat, a young punk with nothing to lose, to wrestle with those demons (literally and figuratively) before their army of the dead takes over everything.
/Film's own Sarah Milner reviewed the film out of Toronto International Film Festival and found it "grim, and vibrant, and weird while also being poignant, and stylish, and funny — everything you could want for a PG-13 horror movie for kids" while also adding that Selick and Peele "blend" their different approaches and filmmaking styles "beautifully" in this new team-up project. Check out the new trailer for "Wendell & Wild" below.
Watch the Wendell & Wild trailer
What's cool about "Wendell & Wild" is that the story is pretty unique and special, while being packaged in quite a familiar container. When you watch the new trailer, it's hard not to be hit directly with some serious nostalgia. Selick is responsible for two very culturally significant and heavily stylized stop motion features in the past: the classic, legendary, and iconic "The Nightmare Before Christmas" (yes, in my opinion, those adjectives are worth using) and the terrifying tale of "Coraline." This new film seems to mesh the aesthetics of both of those movies into a familiar, yet altogether different, world. 
I, for one, am excited to see the full breadth of these worlds colliding and how "Wendell & Wild" will utilize its distinctive qualities — like a badass teen delinquent just trying to navigate her life as a "Hell Maiden," how cool is that? — to bring us something that hits the sweet spots of our sentimentality while feeding our need for new and well-rounded original horror and original animation. Plus, who doesn't want to see a Key and Peele reunion?
The film stars Lyric Ross as Kat alongside "American Horror Story" alum Angela Bassett, "Everything Everywhere All At Once" star James Hong, "Pulp Fiction" star Ving Rhames, and Sam Zelaya, with Keegan-Michael Key and Jordan Peele rounding out the cast as the voices of Kat's duo of demons.
"Wendell & Wild" will be available to stream on Netflix in the United States on October 28, 2022.