Wendell And Wild Leans On A Key Jordan Peele Trademark [Exclusive]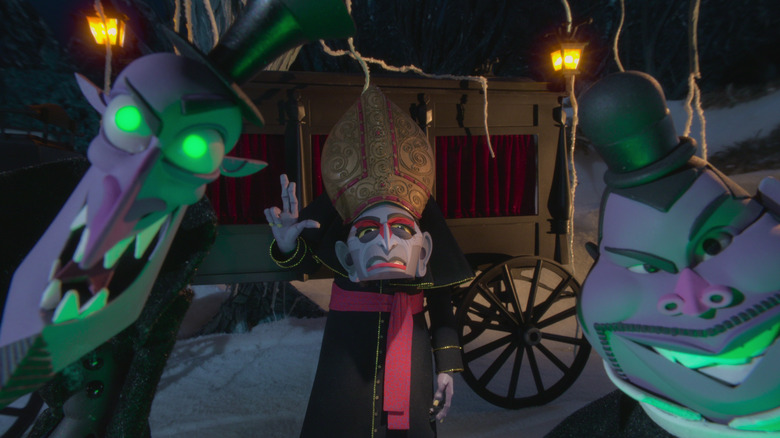 Netflix
Jordan Peele has quickly skyrocketed into becoming one of the biggest and most exciting names in horror. This is in no small part thanks to his unique style that mixes big scares with a sense of humor, all while using the genre's history of social commentary to deliver poignant stories that are timeless and also timely. From "Get Out" all the way to "Nope," you can trace a line as Peele becomes more comfortable in the director's chair and grows in ambition.
But it may come as a surprise to some viewers to know that Peele is already coming back to our screens mere months after making us look up in "Nope." That's right, it's two Jordan Peele movies in one year, with the upcoming stop-motion animated horror film "Wendell & Wild," which Peele co-wrote with acclaimed director Henry Selick ("Coraline") before "Get Out" was even released. 
Ahead of the premiere of "Wendell & Wild" at the Toronto International Film Festival, /Film had the opportunity to chat with Selick about the film, and during the conversation, Selick talked about including a key Jordan Peele trademark in the script.
'I always wanted the villains to be humans'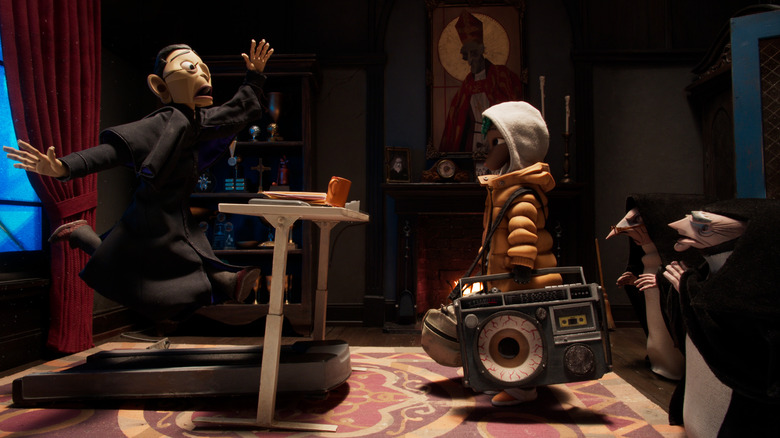 Netflix
"Wendell & Wild" follows the eponymous demon brothers who discover they can become free of their prison with the help of a young girl in the surface world, and get in all sorts of trouble after they promise her to bring her dead parents back to life. In the middle of all this, there is also a story thread about private prisons and private juvenile detention centers. 
"I wanted that in this film, which is fantasy, comedy, horror, and drama," Selick told us. "I wanted there to be a couple of connections to real life that are true and powerful. And there's two parts to it. One is I always wanted the villains to be humans. Not the demons, not Buffalo Belzer. I wanted to be humans."
Though Selick originally wanted the villains to be urban developers, he later started researching the world of private prisons where "the government pays them so much per prisoner to house them there." As Selick explained, the very idea of a place like this that rejects rehabilitation and where "they don't want to let anyone go because it's a steady paycheck," felt like the perfect place to start and create a movie villain. 
Talk about private prisons is not necessarily the first thing that comes to mind when you think animated movies aimed at all audiences, but it works. Kat, the protagonist of the film, spent much of her young life in juvie, just like the titular Wendell and Wild are essentially prisoners of their demonic father, forced to work on this amusement park wearing prison uniforms.
An anchor for the story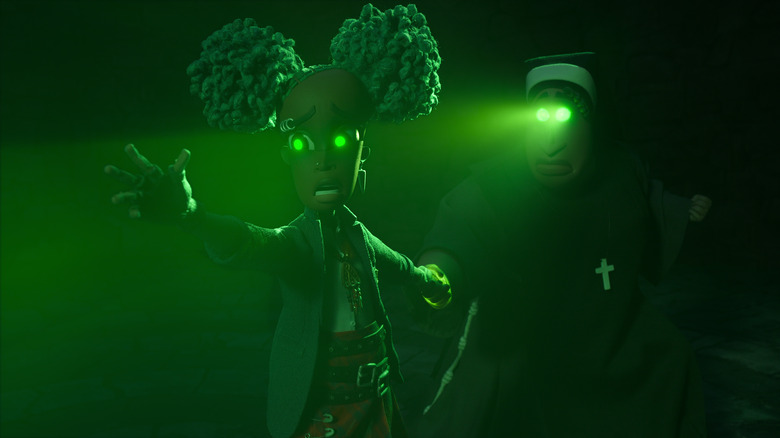 Netflix
"I talked to Jordan, and he felt, 'yeah, we can do this. It's not what the movie will be about, but it will be this strong flavor,'" Selick continued. "This poor kid, she lost her parents. She's put in these homes. She's bullied [...] she's stuck in this juvie justice system. And then these villains build a private prison that's ready for these juvies when they graduate from juvie justice."
Granted, this could get a bit heavy handed for a movie for kids, but the film manages to weave that element into the story in a way that doesn't distract from the fun of it, while still being present enough to feel like an important commentary. 
"We worked this out and [Jordan Peele] had a very good idea. He said, 'Look, the movie's never going to be about race. We have people of different races and so on, but that's not going to be the conflict.' And I agreed because we didn't want it to be about that. And also we didn't want to make this juvie justice and the private... We didn't want to make it about that, but that those were strong... I call them anchor points because we got this crazy big balloon of a movie. I wanted two points that tethered it to reality. "
A new movie from Henry Selick is already cause for celebration, especially since he hasn't directed anything since 2009 with "Coraline." Add Jordan Peele as a co-writer and producer, and the combination of styles is enough to make "Wendell & Wild" one of the most anticipated films of the year.
"Wendell & Wild" will be released on Netflix October 28, 2022.