Jordan Peele Wanted To Pitch Wendell And Wild Quickly, In Case Get Out Was A Bomb [Set Visit]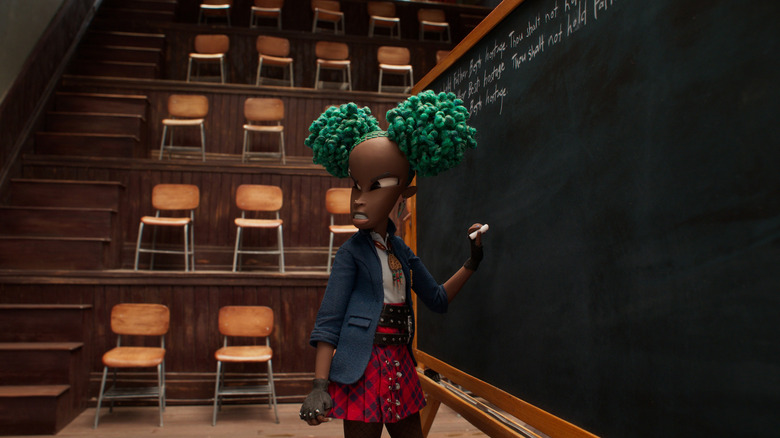 Universal Pictures
In the five years since his directing debut on "Get Out" in 2017, Jordan Peele has gone from one half of a beloved comedic duo to someone whose mere involvement with a project is immediately one of its biggest selling points. So it is with "Wendell and Wild," a stop-motion animated feature that marks the return of "The Nightmare Before Christmas" helmer Henry Selick in his first directorial effort since 2009's "Coraline," with Peele serving as both a co-writer and producer on top of lending his voice to the film.
"Wendell and Wild" reunites Peele with his "Key and Peele" co-creator Keegan-Michael Key as the voices of the titular characters, a pair of wily demons who convince 13-year-old human Kat Elliot (Lyric Ross) to help them enter the Land of the Living so that they might wreak havoc down upon our world. With a premise that reads like "'Beetlejuice' meets 'Key and Peele,'" the film lines up with the majority of Peele's work since his breakout success on "Get Out," blending comedy with horror and more than a touch of the bizarre. 
Back when he was pitching the movie with Selick, however, Peele worried his involvement would end up being more of a curse than a blessing. In a visit to the "Wendell and Wild" set attended by /Film and other outlets in April 2022, Selick revealed that Peele had wanted to pitch the film to potential buyers as quickly as possible, in the event "Get Out" failed to take off at the box office.
A Key and Peele sketch by way of Selick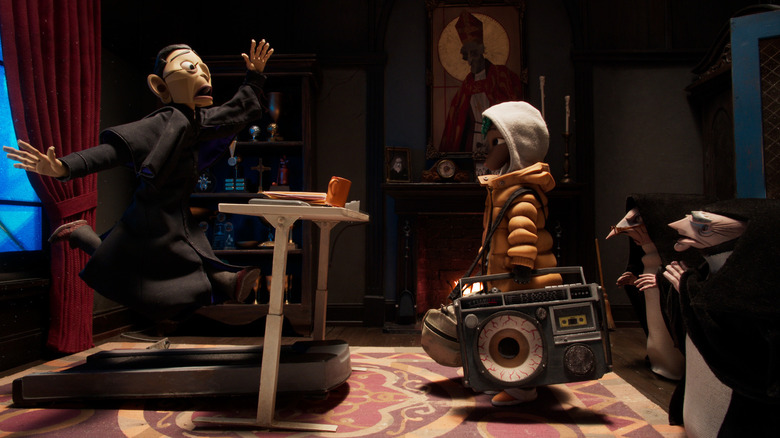 Netflix
Whereas Peele's directorial efforts to date have all been based on his original ideas ("Get Out," "Us," and "Nope"), "Wendell and Wild" began as a short story Selick wrote inspired by his now-grown-up sons. "When they were little, I pictured them as demons because they were somewhat demonic at times," he explained. Years after placing his idea on the shelf, Selick became a fan of "Key and Peele," enough so that he decided to contact its creators about working together:
"I just said, 'What the hell, I'll reach out.' They probably didn't know who I am or anything else, but I wanted to work for them because I'm not known for comedy in my films. There's always comedic elements, but I really had this desire and would love to work with them and bring what they do into a project that I'm on."
Indeed, the only pure comedy movie Selick had directed up until that point (2001's "Monkeybone") was also his biggest flop, so one can understand his reluctance to return to that well on his own. Helping matters, Selick had come to recognize the parallels between "Wendell and Wild" and a sketch from "Key and Peele," so much so that he realized the film seemed like it could almost be a skit from the show, albeit merged with his own off-kilter sensibilities:
"So, I shared my pages and talked it through and [Peele] got real excited and basically said, 'I want to be involved creatively. I'd like to be a producer.' He was just starting up his new company, Monkeypaw and that's really the genesis of the project. We worked on the story together."
'Suddenly, all doors were open'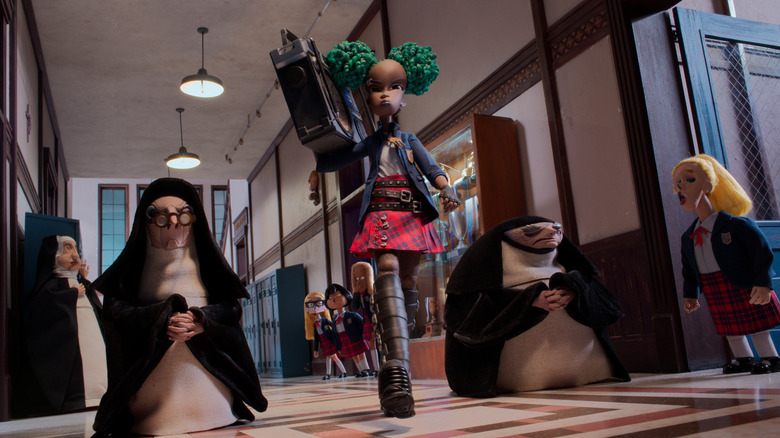 Universal Pictures
By the time the pair were ready to start pitching the project to backers, Peele was only two weeks away from releasing "Get Out" in theaters. As Selick recalled, "[Peele] said 'We've got to go out and pitch it now because what if Get Out's a failure. We got to..." Selick assured him it would be fine if the pair held off on trying to find a home for "Wendell and Wild," if only for Peele's sake of mind:
"I said, 'Look, you're too nervous to do this, we just have to trust it's going to work out.' Then 'Get Out' is this amazing hit because it's such a good film. Suddenly, all doors were open, but we knew that our film was going to be unusual and we weren't going to pitch it everywhere. It was just a handful of places, Netflix being the number one place we felt would give us the creative support for something unusual. That would also support stop-motion film because stop-motion, it's always been the stepchild of the animation industry."
It's little wonder Selick was confident "Get Out" would be a success, having clearly come to recognize Peele's artistic prowess after working with him on "Wendell and Wild." Selick has only continued to be rewarded for his faith in the filmmaker since then, what with Peele's name bringing a whole new level of attention to the project that it wouldn't have garnered without him (for the reason Selick said about stop-motion being an under-appreciated art form).
"Wendell and Wild" hits Netflix on October 28, 2022.